Not everyone drives in Norway, Some people have never learned to drive, while others choose to save money. Here's what it's like to live in Norway without a vehicle.
What it's really like to live in Norway without a car. Is it easy or even possible? It's all dependent on where you live. In this article we'll help you see the pros and cons to life on foot in the country.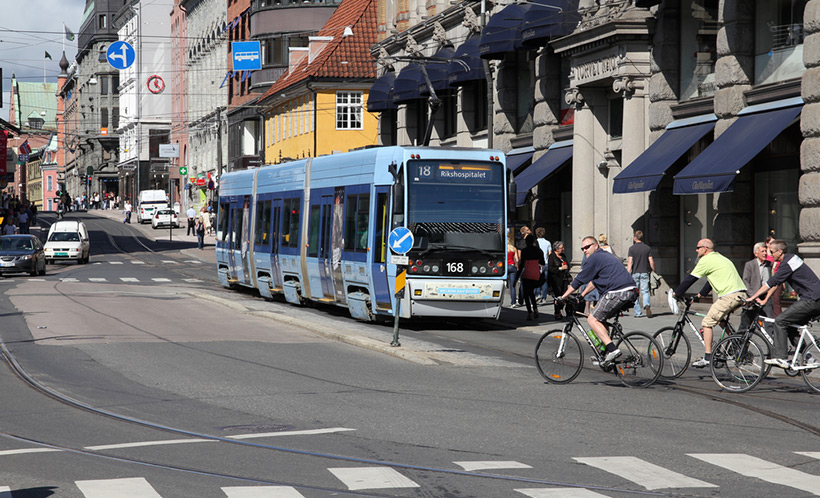 If you've ever dreamt of moving to Norway then you've might have wondered if it's possible to live there without owning a car. There are positive and negative answers to that question and they are dependant on a number of factors.
Getting around Norway
Living without a car in a rural location in Norway is going to make life more difficult. With less public transport available, trips outside of those small towns or villages are made significantly more problematic without your own vehicle.
Whereas, living without a car in one of the bigger cities—Oslo, Bergen, Trondheim and Stavanger—is easier. Let's start with Norway's capital and explore the many options that are available, then we can look at other parts of the country.
Living in Oslo without a car
Having lived in Oslo for almost one year now, I feel qualified to give my opinion and experiences of city living without four wheels.
As I outlined previously, I can honestly say that I have few issues with public transport in Norway's capital city. But I do live in a pretty central area in the city so I have several options any time I want or need to travel.
In Oslo's public transport system, there are all the familiar options you'd expect to find in other big cities around Europe. This includes the T-bane (metro), buses, trams, and train links to suburbs and other parts of the country.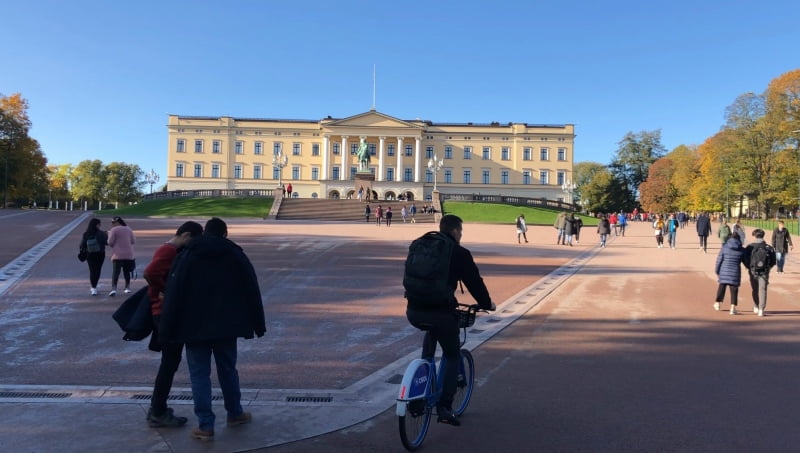 Personally, I find the trikk (trams) most useful. The service is frequent and reliable, and a convenient option for me to make the short journey to university when the weather isn't so good.
Oslo uses a city-wide travel app called Ruterbillet. You can expect to pay, at the time of writing, 37 kroner for a one hour adult ticket. In addition, there are also multi zone tickets and a 7-day ticket option. The app makes it really easy to buy.
A new and rather interesting transport option in Oslo is the introduction of self-driving buses. After a recent trial in the Akershus area of the city that involved two vehicles, Oda and Mads, plans are now afoot to expand the green driverless bus service across the city. Plans for around 50 busses are in the pipeline.
If none of those travel options are suitable or convenient for you, and you are more energetic and adventurous, then there is always the municipalities' bicycle and scooter hire to fall back one. Failing that, Oslo is a great city to explore on foot. The city's planning department are on an ongoing drive to make many central areas of the city pedestrian only.
Bicycles and scooters
Bicycles that you can hire have been around for some time now, and the good news is, all the major cities in Norway have them too. They are great for locals for that daily commute when the sun is shinning and a handy option for energetic tourists, offering a cheap and breezy way to see a city.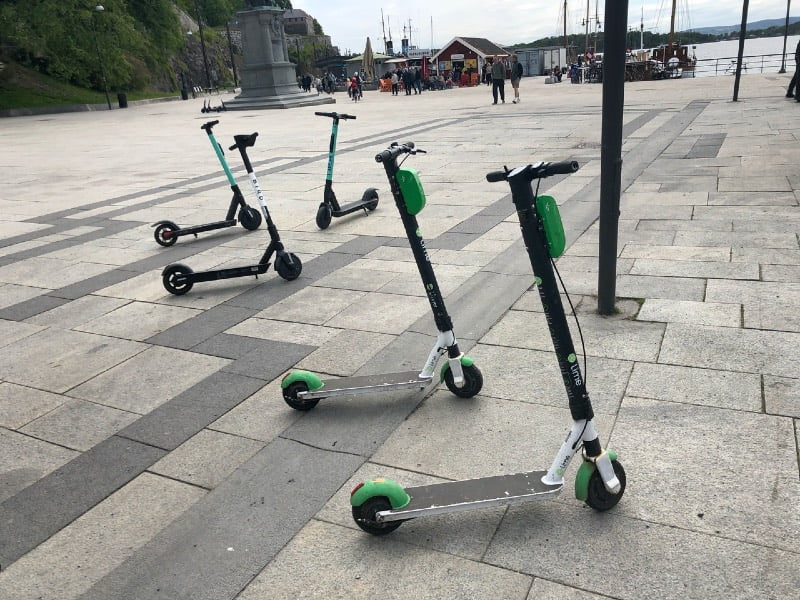 Scooters are a more recent addition to the city transport scene in Norway and one that some might call "the scourge of the city".
They are, though, if used in the correct manner, another nice option for moving about a city. Electric scooters are defined as bicycles by law and while they can be used on pedestrian footpaths, it's best to stick to designated cycle lanes wherever you can for your own safety and for that of those around you.
Living carless in other major cities
Outside of Norway's capital, in cites such as Bergen, Stavanger and Trondheim, public transport is also very assessable and – in most cases – reliable.
None of the others the cites that make up the big four have T-bane or metro. But, that in no way takes away from the impressive infrastructure of their respective public transport networks.
Norway's second biggest city, Bergen, has a solid transport network that includes train and bus services from central locations in the city. The light rail system is also a convenient option for traveling into Bergen from outer suburbs and will soon be extended further. It is also a good choice if you need to get to the city's airport.
Public transport in Trondheim and Stavanger is largely built around a bus network. That being said, there are commuter rail lines in both cities and a tram line in Trondheim.
If you live along the commuter rail they are a handy option, and can link you on to long-distance rail services to Oslo.
Various apps to help you get by
If you need a car, there are options outside of expensive car ownership. Aside from the regular car hire companies, there are more modern solutions in Norway that are aided by technology.
Bilkollektivet is a non-profit car collective that makes car sharing really easy. You simply become a member and pay a monthly fee. Reserve the vehicle you want in the app and when you want it. Finally, you pick it up and you're good to go.
The best thing about bilkollektive it is that tolls, fuel /quick charges and insurance are all included – members pay for time and kilometres travelled only. Currently, this service only operates out of Oslo and Stavanger.
Another popular car sharing scheme is Nabobil. The website and app lets you rent a vehicle from one of your neighbours only when you need one.
Nabobil boasts a collection of 7,500 cars in Norway. Of those, 650 in Oslo and Bergen can be unlocked via their app upon hiring. Prices are charged per day (200km included). You simply contact your neighbour on Nabobil's website or app to get started.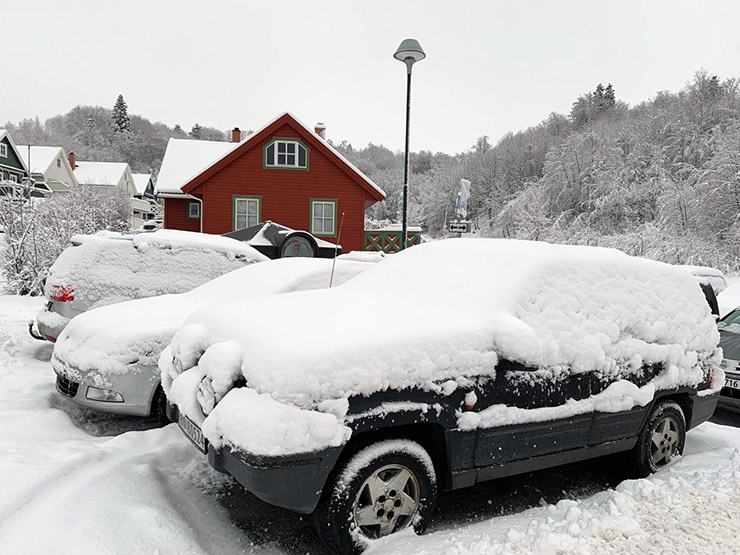 Living in rural towns and villages
The isolated parts of Norway offer more of a challenge getting around. If you live in one of these outreaches, though, things will (mostly) be within walking distance anyway; however, problems arise if you want to venture beyond the town or village.
If you are thinking of moving to a place like this without a car, then it's best if you can be on or close to one of the county's railway lines. This way, you still get the idyllic charm of rural life but a big city is only ever a train journey away.
Further advantages of living without a car in Norway
Another reason for avoiding driving is the cost of fuel, insurances and road tolls. There are around 190 toll stations in the Norway and whether you are a local or visitor, you are required to pay if you uses a designated toll route.
One final reason why living without a car in a country like Norway can have its advantages, is the obvious health benefits of being more active.
Without a car, you'll find yourself using your good old-fashioned legs more. And while you may still use public transport, you will walk to stops and stations.
You will also be walk to the local shops. Walk to visit friends on the edge of the city. It all adds up and it will keep you fit.