The Norwegian city of Stavanger hosts many of Norway's biggest events and festivals throughout the year. Discover what's on in Stavanger with our major events calendar for 2024.
Planning a trip to Norway this year? If you're passing through the Stavanger region on your travels, then why not time your visit to coincide with a special event or festival?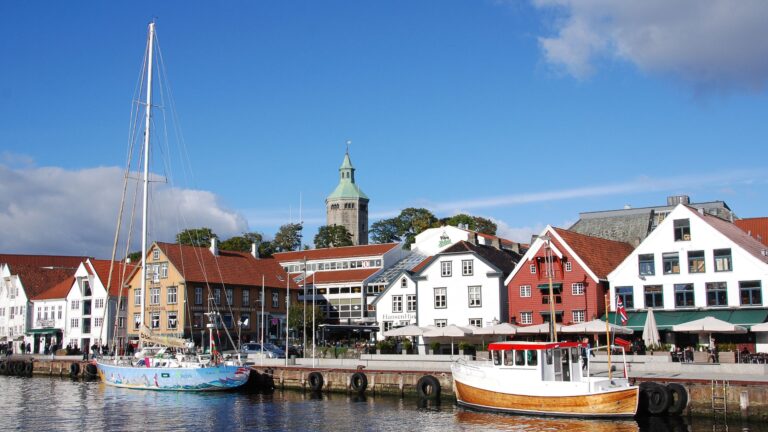 As Norway's oil and gas capital, Stavanger is home to a large international community, which is reflected in its cultural calendar.
We keep our eyes on the major concerts, festivals and other big events in Stavanger and the surrounding region so you don't have to! Whether you're a resident of Stavanger or Sandnes, or you're planning a visit, check out this guide to make the most of your time.
We cover the major events still to happen in 2023, plus what's planned for next year. Many 2024 events are yet to have their dates confirmed, so do check back. Are you visiting Bergen during your trip? If so, don't miss our similar guide to what's on in Bergen.
Stavanger Wine Festival
13-16 March 2024: It's the 24th year of Stavanger's showcase of all things wine-related. The city's restaurants will be filled with people, tasty experiences and exciting wine from all over the world. Ticketed events include the 'wine train', surprise dinner, lunch, plus events hosted by the individual venues.
Landstreff Stavanger
3-5 May 2024: Norway's leading music festival for 18 and 19-year-olds, Landstreff will be hosted for the 37th time in 2024. Tickets for this event sell out quickly.
Maijazz
3-8 May 2024: MaiJazz began life in 1989 and has since gone on to become one of Norway's leading jazz festivals. The almost-week-long event presents international jazz stars and the best in national and local jazz every year.
In collaboration with Stavanger Jazzforum, MaiJazz aim to develop and contribute to increased interest for jazz music in Stavanger and the surrounding region. This year's line-up will be announced soon. You can check out maijazz.no for full details.
Norway Chess
26 May – 7 June: It may surprise some, but Stavanger is a major name in global chess. Every year, the world's best chess players meet in the city to participate in the Norway Chess tournament.
Norway Chess has quickly become one of the most prestigious dates on the calendar. Norwegian Grand Master Magnus Carlsen is a proud ambassador of the tournament.
Mablis Festival
TBC June 2024: This fairly recent addition to the calendar is a music festival in beautiful natural surroundings at Vålandsskogen close to the city centre of Stavanger. Mablis seeks to be an inclusive festival and so is a family-friendly event with no age limit.
Gladmat Food Festival
26-29 July: As Scandinavia's biggest food festival, Gladmat attracts over 250,000 visitors to sample the flavours of the Stavanger region every year. The region enjoys a growing culinary reputation thanks to pioneering agriculture and Gladmat helps to showcase that work to a hungry audience.
Whether you're curious about the increased focus on local food production or want to tuck in to street food from around the world, Gladmat offers something for you. You won't leave hungry!
Blink Summer Ski Festival
TBC August 2024: Blink is Norway's summer ski festival. Yes, skiing in the summer is possible in a Norwegian city thanks to roller-skis!
Contestants from the national elite in cross country skiing and biathlon race through the streets of Sandnes, just a few miles south of Stavanger. The festival begins down at the Lysefjord, with a race from the quay in Lysebotn up the hairpin bends to Øygardstøl.
International Chamber Music Festival
TBC August 2024: One of the world's finest festivals of chamber music. Renowned musicians perform together with artists ranging from the young and promising to the truly great at venues across Stavanger. Plans for 2024 will be announced soon.
Utopia
TBC August 2024: One of the region's biggest music festivals attracts international artists in pop, dance and urban music to the heart of Stavanger. Buy your tickets for Utopia early as this event always sells out in advance.
Stavanger Marathon
31 August 2024: The annual Stavanger Marathon event includes a series of races both in and out of the city centre.
There's a 5k route is along the harbour promenade, with start and finish by the main square. Meanwhile, the half and full marathon includes skirting two lakes and shorelines before returning to the city centre.
Kapittel
TBC September 2024: Stavanger's international festival of literature and freedom of expression offers five days of literature, film and debate, with many events held in English.
Norwegian Organ Festival
TBC September 2024: A festival with a focus on organ music, concerts, workshops and more. Further details on the 2024 event are still to be announced.
Did I miss anything? Let me know.