The Stavanger region is renowned for having some of Norway's best beaches. One of the most impressive and easiest to reach is just outside Stavanger city.
Stavanger is known for its oil industry, wooden houses of the old town, and its access to the Lysefjord. But just a few minutes' drive from Stavanger Airport lies one of the region's gems, Sola beach.
The beach has previously been recognised as one of Norway's best beaches by the Sunday Times. I've seen the beach when flying into Stavanger Airport a few times, but never had the chance to visit.
So, on a recent visit to the city when I happened to be staying at an airport hotel, I took the opportunity to swing by. The beach is just a few minutes' drive from Stavanger Airport, but as I was without a car, I chose to walk.
The walk from the airport takes about 25 minutes and is easy if you don't mind walking through an underpass and a pavement on an open (so often windy) plain on the way to the coastline.
Introducing Sola Strand
Sola strand is shallow, so it's popular among surfers on windy days. And windy days are not uncommon on this section of the Norwegian coast! A few sandy and grassy dunes separate the coastal road from the beach itself.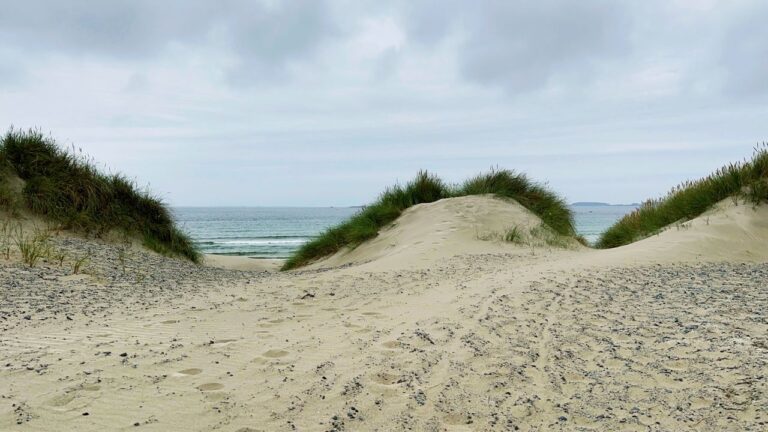 At the northern end of the 2.3km-long beach, you'll find Sola Strand Hotel and Solastranden golf course. There are some war memorials nearby, including bunkers and remnants of cannon positions.
Sola Strand is a good point to begin a coastal walk or cycle trip to explore more of the beaches of Stavanger. For example, the 5km southbound walk to Vigdel passes swimming spots both on the beach and rocky outcrops.
Sola Strand Hotel
The historic Sola Strand Hotel offers a dinner menu and spa treatments alongside its easy access to the beach. Its lavish Sunday early afternoon buffet is popular with locals.
The spa offers five treatment rooms and a wellness area including pool, saunas, foot bath, cold water tub and relaxation areas. Spa treatments are offered for body and face along with therapy baths.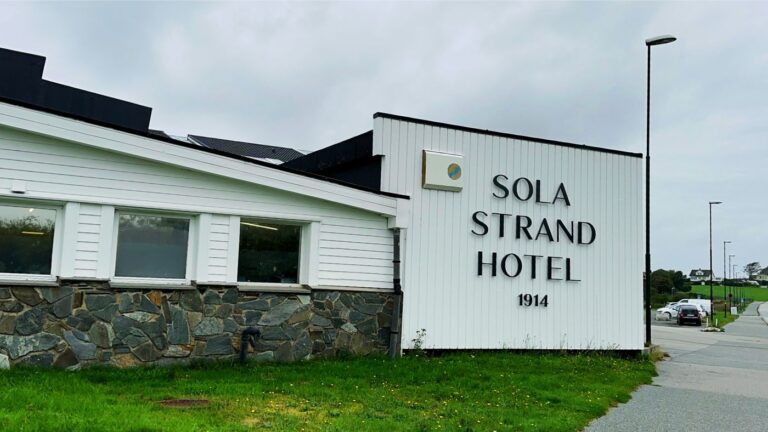 Of course, the hotel also offers varied accommodation, including some rooms with runway views. The hotel is handy for those planning to take an early flight from the nearby Stavanger Airport.
Interested in a stay at the hotel? Check out the latest rates and availability over with our partners at Booking.com.
Activities at Sola Strand beach
Of course, you don't need to do anything at the beach other than walk, or relax if the sun is shining. But for those with a more active lifestyle, there's a surprising amount to do.
By the hotel, Sola Activity Centre is the place for surfing. They offer equipment rental and lessons for surfing, kitesurfing and wing foil.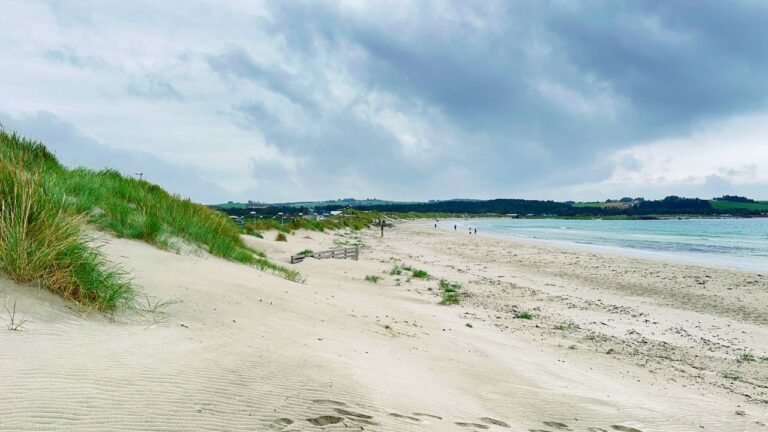 Birdwatching is also a common pastime here, as the beach and its surroundings attract a rich and varied bird life travelling north and south. And of course, there's the nearby golf course too.
Rules when visiting Sola beach
There are a number of rules in place that visitors should know about before visiting Sola Strand. Some apply to all beaches in Norway, while others are specific to this beach.
The area is under conservation protection due to its significant landscapes and biological diversity. Certain activities are restricted in specific times and areas to protect the local fauna, especially the birdlife.
There is a ban on surfing/windsurfing/kiting in bird protection areas from October to March, every year. Meanwhile, horseback riding, cycling, tenting, and camping in the sand dunes is forbidden year-round. Pets must be kept on a lead at all times.
Flying drones is forbidden because of the protected status, while any large gatherings must have permission from the local authorities.
Have you been to Sola Strand, or any of the other beaches in the nearby area? What are your favourite things to do? Let us know in the comments.