An introduction to the Nordic capital cities. From the sprawling Stockholm to the compact Reykjavik, here's what to expect on a city break in Northern Europe.
Regular readers will know my fondness for Norway extends to the whole Nordic region. I'm a regular traveller and try to visit the other Nordic countries as often as I can. I know that many of you do the same!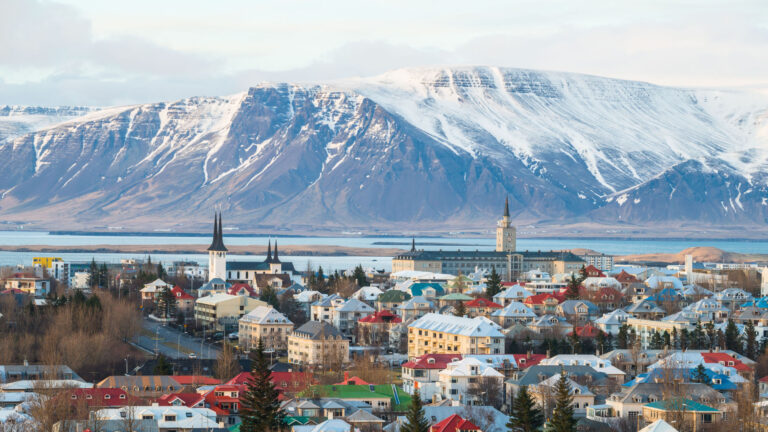 It's understandable. Whether you're drawn to the volcanic landscapes of Iceland, the picturesque fjords of Norway, the charming beaches of Denmark, or the serene lakes and forests of Sweden and Finland, Nordic travel promises unforgettable outdoor experiences.
Introducing Nordic cities
However, don't overlook the vibrant capital cities of these countries, as they offer a captivating blend of culture, history, gastronomy, and family-friendly activities, making them ideal bases for your Nordic vacation.
In these cities, functional public transit systems effortlessly transport visitors through rain or shine, allowing them to immerse themselves in the best of Nordic design, explore historic sites, and indulge in the delightful Scandinavian cafe culture.
Whether you're intrigued by the Nordic region's reputation as the "happiest place on earth," fascinated by the history of the Viking Age, or simply seeking a delightful city break, the Nordic capital cities cater to all tastes and interests.
Copenhagen, Denmark
Known as the birthplace of hygge, Copenhagen is brimming with family-friendly attractions, enchanting castles and gardens, and a thriving culinary scene. Its restaurant scene, in particular, lures visitors from all over the world, boasting an astonishing 15 Michelin-starred establishments.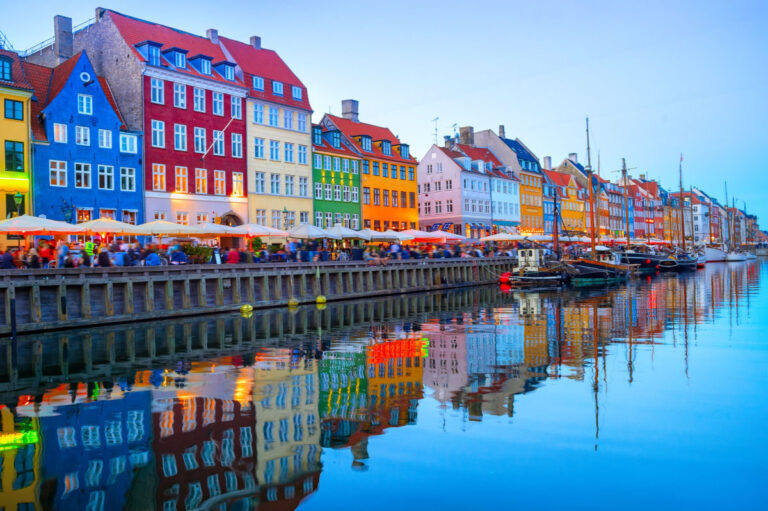 To conduct your own exploration of the Scandinavian way of life, grab a table at one of the many sidewalk cafes or restaurants scattered across the city. Despite not being a warm-weather destination, Copenhagen enjoys the mildest climate among the Nordic capitals.
The colourful Nyhavn canal is one of Copenhagen's most iconic sights. On a warm day, the restaurants and bars lining the waterway are a favourite spot among locals and visitors alike.
Families will find the Tivoli Gardens amusement park to be a must-visit. Generations of Danes have cherished this destination, whether delighting in the thrill of rides or simply strolling through the picturesque gardens.
Copenhagen's historical highlights include the baroque elegance of Frederiksberg Palace and its manicured gardens, the impressive Rosenborg Castle, and the National Museum, which houses the legendary Viking ship Roskilde 6.
If you're in Norway, travelling to Copenhagen is probably easier than the other Scandinavian capitals. There are direct flights from many cities, while from Oslo there are direct trains, buses and even an overnight ferry service.
Helsinki, Finland
In addition to its compact size, Helsinki is characterized by its vibrant cultural scene and the remarkable number of residents who call the Helsinki capital region their home. This bustling hub is home to almost half of Finland's 5.5 million population, creating a lively atmosphere that permeates the city's streets.
One of Helsinki's most alluring aspects is its reputation as a haven for Nordic design. The city is celebrated for its iconic design classics, including the timeless Iittala glassware and the bold patterns of Marimekko prints and fabrics.
To truly immerse yourself in the world of Finnish design, a visit to the Helsinki Design Museum is a must. Here, you can explore exhibitions that provide valuable context and insight into the dynamic design district that awaits your exploration.
As you traverse Helsinki, you'll find yourself captivated by the city's contemporary architecture. Whether intentionally seeking out notable buildings or simply allowing yourself to be swept away by the urban landscape, Helsinki's architectural gems leave a lasting impression.
The remarkable wooden facade of the Oodi Library stands as a testament to Finland's commitment to sustainable design, while the enigmatic Temppeliaukio Church, known as the rock church, beckons visitors with its remarkable blend of natural and man-made elements.
Reykjavik, Iceland
With convenient direct flights from numerous U.S. and Canadian airports offered by Icelandair, as well as additional routes from budget airline Play, reaching Reykjavik has become remarkably easy for most North American travellers.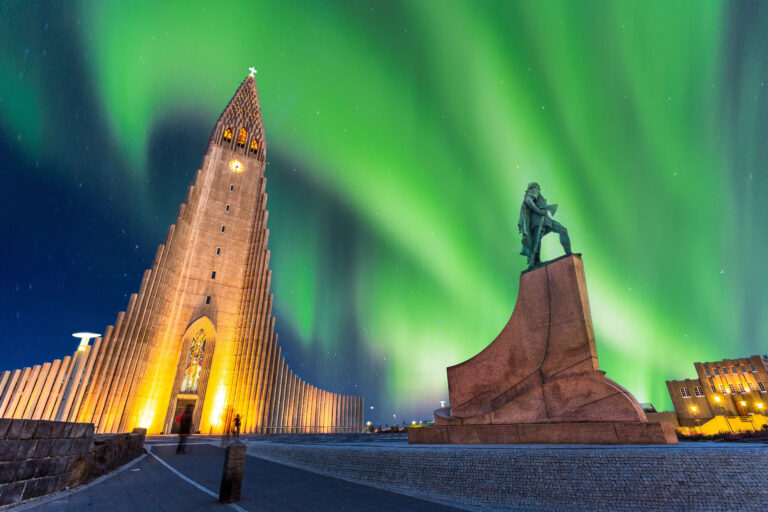 Named "Smoky Bay" in Old Norse due to the steam rising from hot springs, Reykjavik is an aptly named city, especially given its recent volcanic eruptions in close proximity.
While Iceland is renowned for its breathtaking natural beauty, many of Reykjavik's buildings prioritize function over form.
However, a few exceptions stand out, such as the imposing Hallgrimskirkja Church. While still an active place of worship, the church opens its doors daily to tourists who can ascend to the observation deck for an unbeatable panoramic view of downtown Reykjavik.
Other notable Icelandic landmarks in the city include the eye-catching modern design of the Harpa concert hall, which illuminates the waterfront during evening events. Nearby, the Sun Voyager sculpture pays homage to the Viking heritage that shaped Iceland more than a millennium ago.
Oslo, Norway
Over the past two decades, Norway's capital city has undergone a remarkable transformation. The waterfront district, once an industrial eyesore, has been revitalized into a cultural hub.
The Oslo waterfront now features a picturesque waterfront promenade, a modern library, the iconic Opera House, the Edvard Munch Museum, and the colossal new National Museum.
Nonetheless, the Vigeland Sculpture Park remains Oslo's top tourist attraction and one of Scandinavia's best free experiences. The park showcases over 200 sculptures that represent the life's work of sculptor Gustav Vigeland, set amidst sprawling parkland in western Oslo.
The Vigeland sculptures are just the beginning of Oslo's outdoor allure. From the tranquil islands of the inner Oslofjord to the encompassing forests, the city is surrounded by nature's playground.
Consider embarking on a boat trip to Hovedøya, a charming island replete with historic sites, nature trails, and rocky beaches. Alternatively, explore the hiking trails of the vast Nordmarka forest, which offers breathtaking vistas of the city and fjord below.
Stockholm, Sweden
Built across several islands, Stockholm, Sweden's capital, is teeming with historic charm and cultural treasures.
Start your exploration by wandering through the narrow alleyways, boutique shops, and inviting public squares of Gamla Stan, the old town island. The picturesque public squares invite you to linger and soak in the charming atmosphere.
To delve deeper into the captivating stories hidden within the city's streets, a visit to the Stockholm exhibition at the nearby City Museum is a must.
One of the unique aspects of Stockholm's public transport system is its transformation into an inspiring art gallery. Unlike conventional metro networks, Stockholm's subway stations are adorned with an array of captivating artworks.
As you commute through the city, you'll be treated to sculptures, mosaics, paintings, and installations created by more than 150 different artists. Each station is a testament to Stockholm's commitment to blending art seamlessly with everyday life, offering a truly immersive cultural experience for both residents and visitors alike.
Elsewhere in the city, the ABBA Museum and the Vasa Museum, showcasing the beautifully preserved Vasa warship, are immensely popular attractions. If you prefer a leisurely pace, consider joining one of the many passenger ferries that venture out to the enchanting islands of the Stockholm archipelago.
Other Nordic cities
Beyond the five capitals, there are numerous Nordic cities worthy of inclusion in your travel itinerary. Gothenburg in Sweden and Bergen in Norway offer a multitude of nature-based and cultural attractions for those seeking to explore smaller cities.
Reykjavik, though known as a popular winter destination for northern lights enthusiasts, can also be rivaled by Tromsø in Northern Norway. Tromsø is equally renowned for its aurora borealis sightings but also boasts a diverse array of attractions, from the Arctic-Alpine Botanic Garden to a cable car and picturesque mountain trails.
Additionally, Nordic cities outside the five main countries include Tórshavn in the Faroe Islands and Nuuk in Greenland. Although home to fewer than 20,000 residents, these capital cities of their respective island nations, both part of the Kingdom of Denmark, offer a surprising wealth of activities and experiences to enjoy.
Which is your favourite Nordic capital city? Are any on your must-visit list? Let us know in the comments below.