Nordic Walking is a fantastic way to improve your health with just a few small adjustments to something you already do everyday. Here's what you need to know about the fitness trend.
Are you looking for an all-body workout that doesn't feel like one? Nordic Walking could be the answer, especially if you are already a regular walker.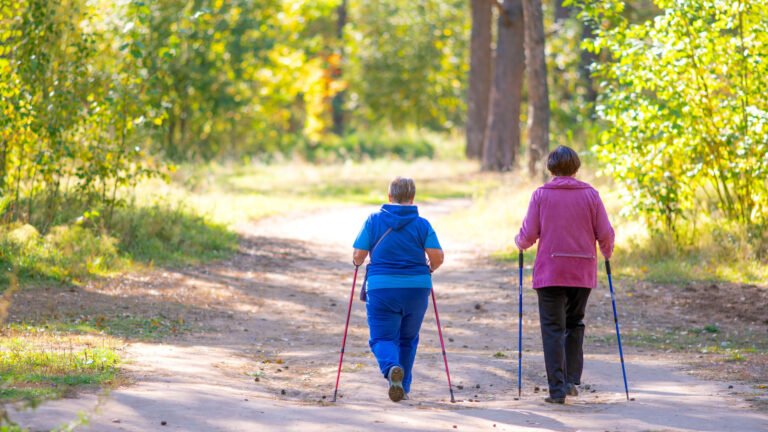 Originally developed as summer training for cross-country skiing, it's since been adopted as a fitness activity by many non-skiers. An estimated 10 million people take part around the world, many of whom are older adults.
If you're interested in getting started, read on to find an introduction to the fitness activity. You'll learn what it is, how it differs from hiking, what equipment you'll need, and how and where to get started.
What is Nordic Walking?
A fun, social activity, Nordic Walking is a walking technique enhanced with walking poles. The poles work your upper body at the same time as your legs. You are free to vary the intensity as it suits you.
Nordic walking combines cardiovascular exercise with a vigorous muscle workout for your shoulders, arms, core, and legs. The result? A highly effective training activity that's social and easy to do whether you're up in the hills or downtown.
The walking technique is important to get right but easy to learn. The upper body action is similar to classic cross-country skiing.
Why go Nordic Walking?
The all-body workout combined with the social aspect and ease of varying the intensity of exercise makes Nordic Walking the perfect activity for older adults.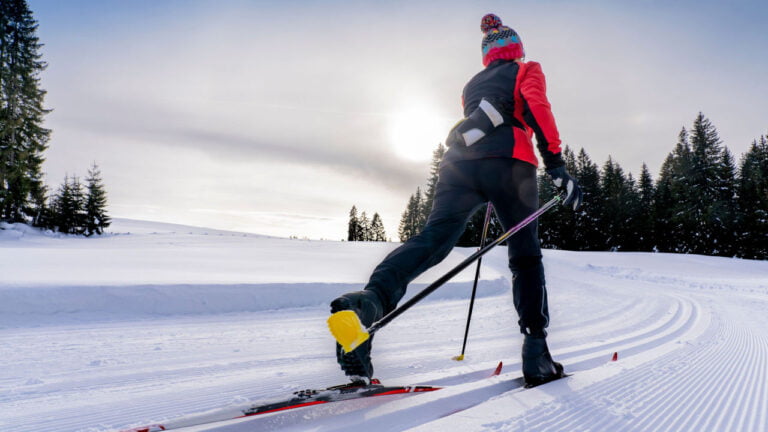 Cardiologist Aaron Baggish spent a year in Switzerland, where he learned of the activity's popularity: "You go to the train station on Saturdays and there are droves of people over 70 waiting to go up to the mountains to walk with Nordic poles."
What are the health benefits of Nordic Walking?
Nordic Walking doesn't burn more calories than more intense forms of exercise such as running. However, the activity is a great low-impact exercise option, or simply a way to boost the benefits of your regular daily walks.
Health benefits include:
Reduce fat mass and bad cholesterol
Release tension in your neck and shoulders
Improve your posture and gait
Strengthen your back and abdominal muscles
Reduce the impact on your joints
Help manage anxiety and depression
Baggish explained why Nordic Walking has so many fitness benefits: "When you walk without poles, you activate muscles below the waist. When you add Nordic poles, you activate all of the muscles of the upper body as well."
The result is that up to 90% of your muscles are worked, compared with 50% when walking normally without poles. Various studies have shown this leads to a higher calorie burn, in the region of 20% more.
What are Nordic Walking poles?
The walking poles are similar but do differ from trekking poles. Trekking poles have loose straps for your wrists. In contrast, Nordic Walking poles have a glove-like strap. These enable you to use your palm to push the poles down rather than your fingers.
Nordic poles are available in many sporting goods stores, outdoor gear stores and online. Lightweight aluminium and carbon material versions area vailable, with different tips suitable for urban walking or trails. Expect to pay from $25 up to $200 depending on your needs.
What is the Nordic Walking technique?
Given its origins as a cross-country skiing training activity, it's no surprise that anyone experienced with cross-country skiing should take to Nordic Walking like a duck to water.
Of the two main techniques, single poling is the easiest to learn. It mimics what your feet are doing, with you putting one pole in front of you for each stride. Your pole and foot will strike the ground and propel you forward at the same time.
Double poling involves planting both poles in front of you and pulling yourself forward as you walk a few steps.
Keys to both techniques are the vigorous swinging of the arms. This is something you may need to work up to, depending on your experience and physical fitness.
Also, you shouldn't plant poles striaght down into the ground as you would with hiking poles. Instead, they should strike the ground at a slight backwards angle, as with cross-country skiing poles.
Is there a risk of falling?
One of the reasons Nordic Walking is so popular with older adults is the added stability that walking with poles provides. This means that people with balance issues are ideal candidates to give the pasttime a try.
While there is always a risk of falling, placing the poles into the ground at the same time as stepping with your legs improves balance and reduces that risk.
According to Lindsay Bottoms from the University of Hertfordshire, one study showed that people who followed a Nordic walking training programme for three weeks had improved balance – even when walking without poles.
"It's no wonder Public Health England recommends Nordic walking for improving balance in older people," she said in her article for The Conversation.
How to get started
The only must-have item is the poles, so Nordic Walking is a relatively cheap activity to start. As with all exercise regimes, consult your doctor before a significant change in activity levels.
It's a good idea to team up with a partner or a friend or even a group, all of whom are starting at the same time. This way, you can provide each other with moral support and advice on technique if someone is struggling.
Also, why not check for existing Nordic Walking groups in your area? The activity is growing in popularity in the United Kingdom and the United States, among other places.
Warming up and cooling down is recommended, just as with any exercise. As for where to go, anywhere from a local sidewalk or park to a grassy trail are ideal places to start.
So, it seems clear that there are fitness advantages to choosing Nordic Walking over regular walking. That's especially true for those who can't handle higher intensity or high-impact workouts like running, but still want to increase the effectiveness of their daily walking.
Have you given Nordic Walking a try? Let us know your experiences in the comments below.