Oslo's waterfront is undergoing a transformation from being almost all containers and sketchy docks, to something more metropolitan, but also in sync with the Norwegian spirit of outdoorsiness.
When going for a harbour walk, you don't only get exercise and a great view of the fjord. The area is also home to some of the city's greatest attractions, museums, beaches, recreational activities, a variation of architecture, and a selection of restaurants.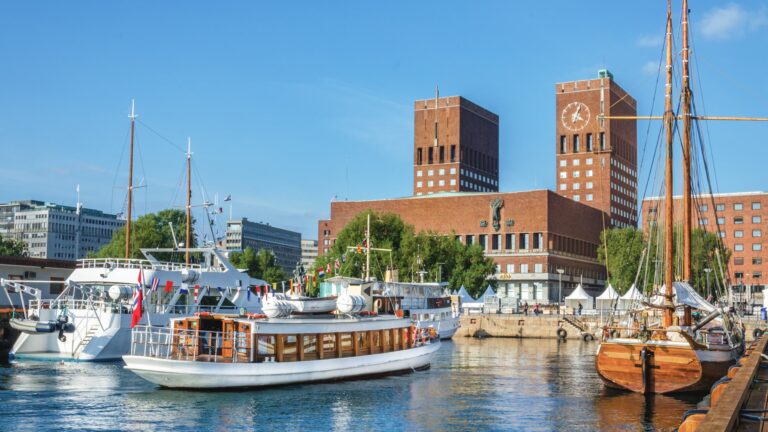 There are also some less-known treasures and activities worth exploring.
Fjord City is the name of the project to develop the Oslo waterfront from Frognerstranda in the west to Grønlia in the southeast.
Some areas are still under development, although a great deal is already built. Everything is planned to finish by 2030.
The harbour promenade of Oslo
The harbour promenade is the name of an almost 10 km pedestrian route from roughly Skøyen in the west to Kongshavn close to Ekebergparken in the southeast. Markings on the ground, fences, walls and lampposts lead you the right way.
Additionally, there are orange containers with information about the history and plans for future developments of each area. Some stretches are still temporary, but the larger part is now completed.
According to the city of Oslo, the harbour walk aims to be "an urban alternative to a 'marka' forest walk and an experience filled with information and surprises."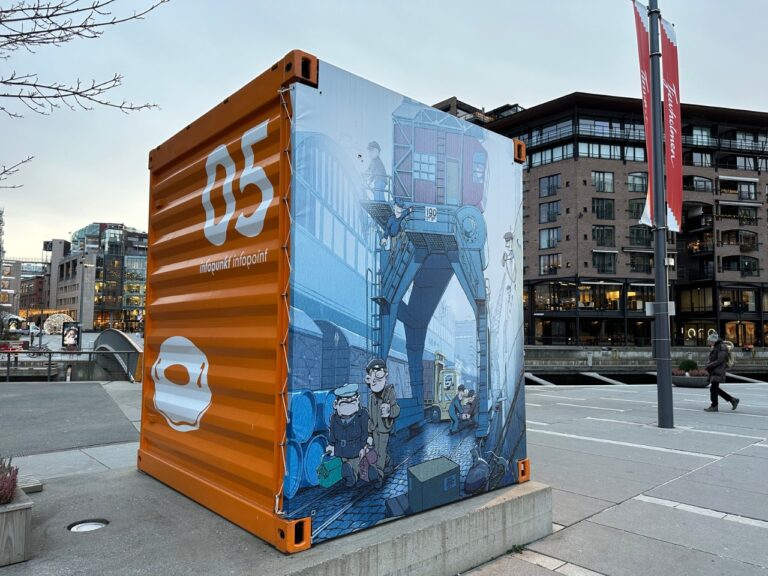 'Marka' is the word for the vast forests surrounding Oslo and other cities in Norway. And because going for nature walks is almost a part of the national soul, this may sound like a bold statement to a true Norwegian. Anyway, it signals great ambitions towards making Oslo more cosmopolitan and pedestrian friendly.
We'll get to some more highlights later, but the route goes roughly like this:
Follow the pedestrian/bike lane going from Skøyen until you get to Tjuvholmen. The route goes along highway E18, which has pretty heavy traffic. On the plus side; the view on the other side towards Bygdøy, is really nice.
When coming to Tjuvholmen, you walk around the partly man-made island, and down the ocean-side of Aker Brygge to Oslo City Hall. Aker Brygge and Tjuvholmen are completely developed and a mix of expensive residences, corporate offices, shopping, restaurants and museums.
The hike then continues past Rådhuskaia ferry port and follows the docks by the medieval Akershus Fortress, goes around Vippetangen and all the way to the iconic Oslo Opera house. Continue walking on the ocean side of the Opera and past the beach, then take the narrow walk bridge to Sørenga, and walk around the peninsula.
The part that goes past the Munch Museum is not yet finished, but a detour is highly recommended. The last stretch of the promenade goes west of Ekebergparken. For those who want to make the walk even longer, Ekeberg park is also worth a visit.
Highlights of the Oslo harbour walk
There is frankly too much to do and see in this area to cover everything. But here are some recommendations of things to explore along the way.
Architecture
Oslo's waterfront has a variation of architecture, but most is built very recently. Some of the new additions have been applauded by the public, press and architectural world, others have been named straight out hideous.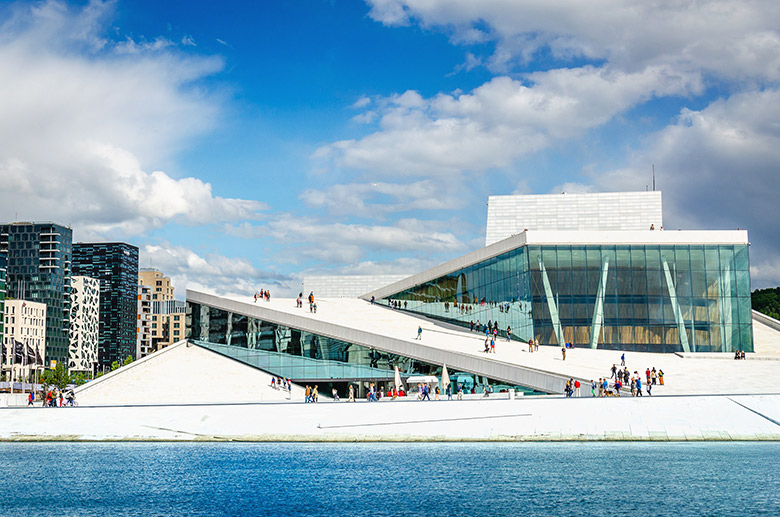 The Opera House
If you want to add some extra distance to your walk, take a stroll on top of the marble-covered roof of the highly praised Opera House.
The architects aimed to create a building which would give the public increased access to the fjord, and to view the city from different angles. The Opera building is one of Oslo's main attractions, and has added to the city's tourist appeal.
Deichman Library – great for children
The award-winning Deichman Library is in Bjørvika, close to the Opera house. This is a modern six-story public library, and the inside is quite unique and futuristic looking. The building also radiates outwards and glows at night.
Deichman has a movie theatre, media workshops, gaming rooms, and a small children's playground. There are even sewing machines for the public to use, and of course a vast selection of books, magazines and newspapers. The library organizes regular concerts and activities.
Deichman library appeals to children of all ages and is a popular family spot.
Ugly or not?
The National Museum in Aker Brygge, and Munch Museum in Bjørvika house some of Norway's national treasures. However, both buildings are strongly disliked by many Norwegians, and have been contestants of "ugliest building" awards.
The Barcode project in Bjørvika has this name because it looks like the small barcode that is on most products you buy in the stores. Barcode is a row of high-rise buildings built closely together, and is very visible when coming into Oslo by boat. It has been criticized by many for the height and shape of the buildings.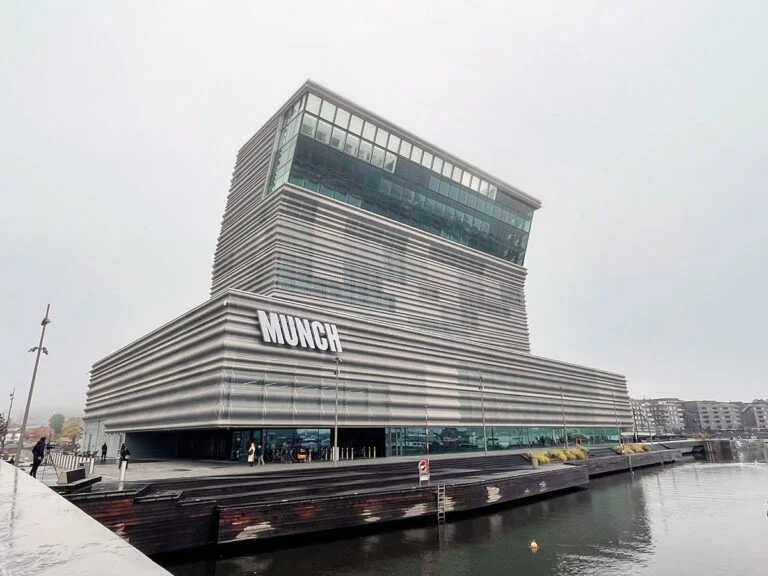 What do you think, ugly or not? See for yourself.
The Mother
Outside the Munch Museum, is Inger Munch's pier. It is named after Edvard Munch's mother, who died when he was 5 years old. The 9-metre-tall bronze sculpture was created by the British artist Tracey Emin, and is called The Mother.
It depicts a kneeling female who holds gently around something we cannot see. She is sitting in a meadow of wildflowers that change by the season, all native to the Oslo-area.
Oslo City Hall
Oslo City Hall is located between Aker Brygge and Akershus Fortress, and is also a very recognizable and almost iconic building, made in brick and with two towers. It also has the nordic region's largest carillon.
If you happen to be in the area on the dot of the hour from 7am until midnight, the bells play a short melody from a set playlist of songs. There is a great variation of music, from pop to classical music, and the list changes regularly.
If you want to experience a very different concert, the city hall's own carilloneur plays live concerts every Sunday at 3pm during June, July and August.
The city hall displays artwork from famous artists, including Edvard Munch. It is possible to book guided tours of the building and carillon.
Akershus Fortress
You can also add to your walk, by taking a detour around Akershus Fortress. This is a land-mark and Oslo's oldest building. The medieval fortress has several museums and a very interesting history.
But this is also a great place to take the children. If they get to run around in typical Norwegian unsupervised fashion, they will probably find it very adventurous. Inside the walls is a beautiful garden with a small pond.
There are ancient cobblestone paths and arches connecting the buildings, canons and bridges. There is also a small stable in front of the fortress, where the police keep their horses. The fortress also houses haunted house activities twice a week.
The view from the top is phenomenal. But be aware, there are some areas without fences.
The canons are also still in use. If you are in the area at 12 noon on the royal family's members' birthdays, they are saluted with none less than 21 shots. Warning: it is extremely loud, and for those who are not prepared, it may be a scary experience.
There are also salutes on May 17th (Constitution Day), May 8th (Liberation Day) and June 7th (Independence Day from Sweden in 1905).
Swimming in the fjord
You can swim in the fjord, and the city has made a great effort in order to make it accessible for everyone. The Oslo fjord actually warms up to a decent temperature, and the water is clean. There are several designated areas for swimming.
Tjuvholmen has a small shallow pebble beach. Although somewhat uncomfortable, it is suited for small children. There are also piers close by that attract older teenagers and 20 somethings.
This area of Tjuvholmen also has a sculpture park worth exploring and houses the Astrup Fearnley Museum of modern art.
Beside the opera, is a larger sand beach, which is extremely popular on sunny days. This beach also has lifeguards and showers.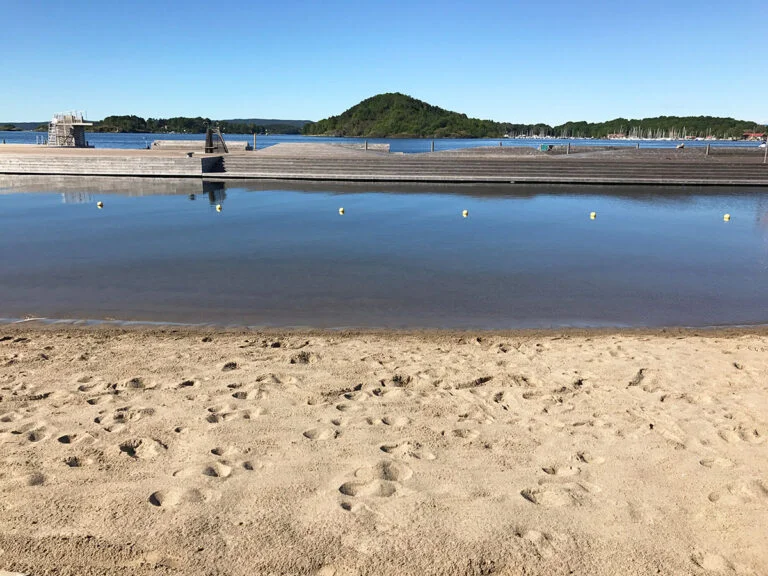 Sørenga has a sand beach with lifeguards, showers, a seawater pool and a diving tower. It also has jetties and docks nearby where swimming is allowed.
Additionally, there is an area close to the Munch Museum where people go sunbathing and swimming in the summer. This area doesn't have a beach.
Precautions
The quality and temperature of Oslo's beaches and lakes is posted on badevann.no.
Don't swim in the fjord 24 hours after a heavy rainfall, as bacteria levels may be too high. It should go without saying, but it can be quite dangerous to swim or dive outside designated areas.
Fresh fish and shrimp
People have been doing commercial fishing in the inner fjord of Oslo for centuries, and still do.
If you are out for an early morning walk, the local fishermen come into Rådhusbrygga in front of the city hall around 7am on Wednesday-Saturday, to sell their freshly caught fish and shrimp. You can expect a line-up, and the boats leave when the catch is sold.
There are several places in the fjord that are good for fishing, and you don't need a licence. For a map of the fishing places along the fjord, you can contact the Norwegian Hunting and Fishing Association.
Not that some species in Norway are protected all year, and there are also certain rules that apply to the fjord of Oslo. It is, at present, not legal to fish cod.
Saunas
Urban saunas have taken Oslo by storm, and several fjordside saunas are located along the harbour promenade. They are run by Oslo Sauna Association and you can buy single tickets or make a private group booking.
The experience of alternating between a hot sauna and a dive into the freezing cold ocean water, can actually be a pleasant experience, and is very good for circulation. However, it is not recommended for people who have heart problems.
For an even more unique experience, you can book a two-hour sauna-cruise on the fjord from KOK (literally meaning boil). The saunas are electric, come with a driver, and equipped with changing rooms with normal room temperature. They are operating when the fjord is free of ice, and depart from Aker Brygge and Langkaia by the Opera House.
SALT art and music
SALT art and music in Bjørvika, has Norway's largest sauna, Árdna, with room for 80 people, and in the summer, one of Oslo's largest outdoor servings. SALT is easily recognizable because of the large pyramidal houses called "hesjer". These are based on traditional coastal construction methods.
Losæter – urban farming
Losæter is located behind Sørenga, and may not be known to many, because it is at present, surrounded by construction. This is an urban farming art project, where local farmers grow ancient grains, crops, fruit, berries and vegetables.
It is open all year, but more interesting in the growing season, when there are chickens and beehives and an abundance of food. There is a public baking house and several activities, and even a horticultural therapy project. The food is usually not to be eaten by the public, but served in events and open dinners.
Other highlights along the route include:
Nobel Peace Center – at Aker Brygge
The Salmon Science Center – restaurant and educational center in Tjuvholmen
Oslo – Norway's largest ferry port
Christian Radich – tall ships
Vippa street food – Akershusstranda
Kongen Marina in Frognerstranda, restaurant, water sport rental, store and gas station for boats