Norway's capital city has a new residential neighbourhood complete with restaurants, cafes, seawater pool and a beach. This is your guide to Oslo's Sørenga.
Impossible to miss for locals or regular visitors, Oslo's waterfront continues to change at a rapid pace. Not a year goes by without something new popping up, often replacing former docks or industrial areas.
Although last year's long-awaited opening of the Munch Museum stole the headlines, an entire new development has sprung up behind it.
Formerly a container dock for Oslo, Sørenga has quickly become a popular waterfront destination, especially in the summer. It's a rare example of a brand new city centre neighbourhood.
A video tour of Sørenga
Before we dive into the detail, you can check out Sørenga yourself with this walking video tour:
The walk starts at the fjord sauna outside the Munch Museum before crossing the bridge over to Sørenga. Enjoy! Once you've watched the videos, read on for the full story.
Introducing Sørenga
Sørenga is a brand new neighbourhood located along Oslo's new Harbour Promenade. The area is immediately to the south of the new Munch Museum and southwest of the medieval park Middelalderparken.
On the site of a former container port, the land has been transformed with apartments, cafés, restaurants and great outdoor spaces.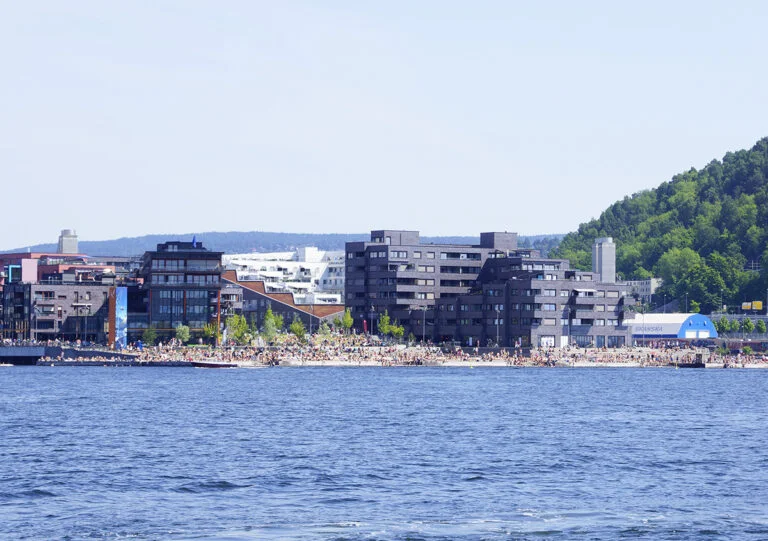 The story of the redevelopment dates back to the early 1980s, when Oslo municipality began to develop its "Fjord City" long-term vision. Twenty years later, the fjord city is very much a reality and Sørenga is the latest step.
Sørenga is part of the wider Bjørvika development area, which will be home to approximately 5,000 apartments along with up to 20,000 jobs in business, shopping and culture developments.
Sørenga seawater pool
The seawater pool is the number one attraction in the area when the sun shines. On sunny weekends, Sørenga is packed with locals although there is usually more space midweek.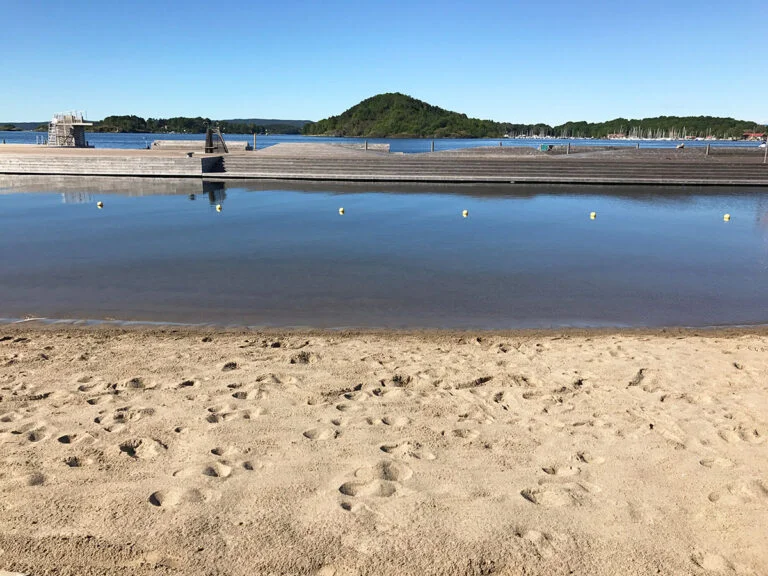 There is a sandy beach and a separate pool area designed for families and children. Stretching along the southern tip of Sørenga, a stepped wooden jetty provides space (usually!) for relaxing or sunbathing.
Outdoor activity centre
Friluftshuset is an activity centre run by the Oslo branch of DNT, the Norwegian Trekking Association. Inside the shop you can suggestions for hiking trips in Oslo, kayaking tips, and also buy maps, clothing and equipment for kayaking or hiking.
Kayak rental and kayak tours are available during the summer months, suitable for all ages. Typical opening hours are 10am to 5pm, or until 7pm midweek.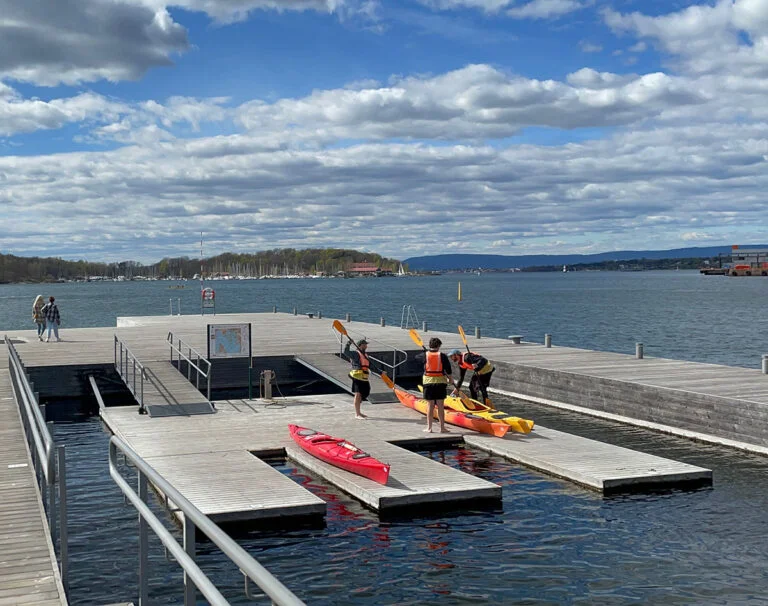 Friluftshuset also hosts a bouldering wall suitable for both beginners and more experienced climbers. Climbing boots can be rented from the shop.
Bouldering is climbing without a rope. A thick mattress protects you if you fall. Drop-ins are usually welcome. There are also bouldering classes available together with family sessions, specific sessions for children.
Living at Sørenga
There are a surprising amount of residential apartments at Sørenga. The modern architecture isn't to everyone's liking, but there is a pleasing diversity as several different architect firms won contracts for different developments, and a strip of parkland hidden away from the busy waterfront promenades.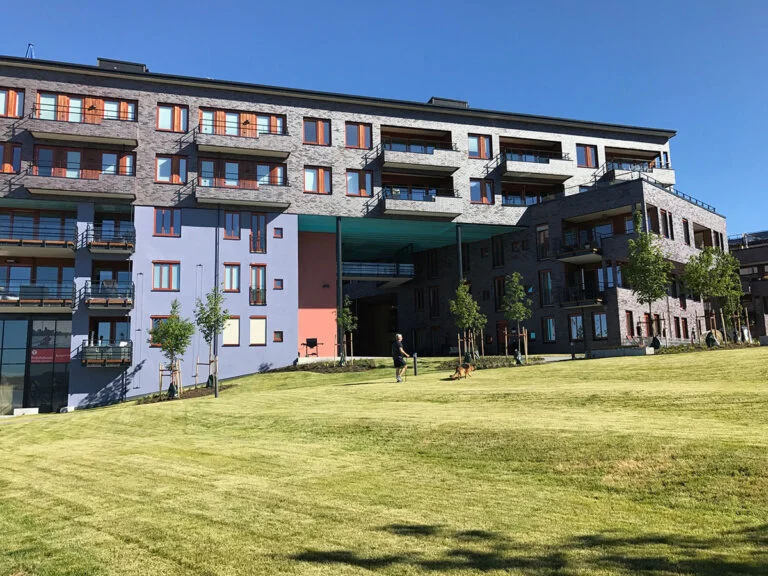 It's difficult for me to say what Sørenga is like as a place to live as I have never lived there. But the proximity to the rest of downtown Oslo has to be a major plus. There are also a couple of supermarkets, a kindergarten and good bus and tram connections to the rest of the city.
The biggest downside to life at Sørenga is the cost. It's one of the most expensive places to live in Oslo, and therefore one of the most expensive places to live in the entire country.
Cafes and restaurants
The promenade is lined with several cafes and restaurants, many with a good amount of outdoor seating.
Personally, I enjoyed a meal at the Mexican restaurant Coyo, which is just steps from the seawater pool. Of course given their location, these restaurants are far from the cheapest in Oslo. Prices are in line with what you would expect to pay at Aker Brygge.
Other popular restaurants include Seaport, Mirabel, New Flavours of India, and Bun's Burger Bar. I also called in to the Paradis gelataria, one of several outlets of the ice-cream chain in Oslo. Highly recommended on a warm day. Just be prepared to queue!
Have you been to Sørenga? How was your experience?