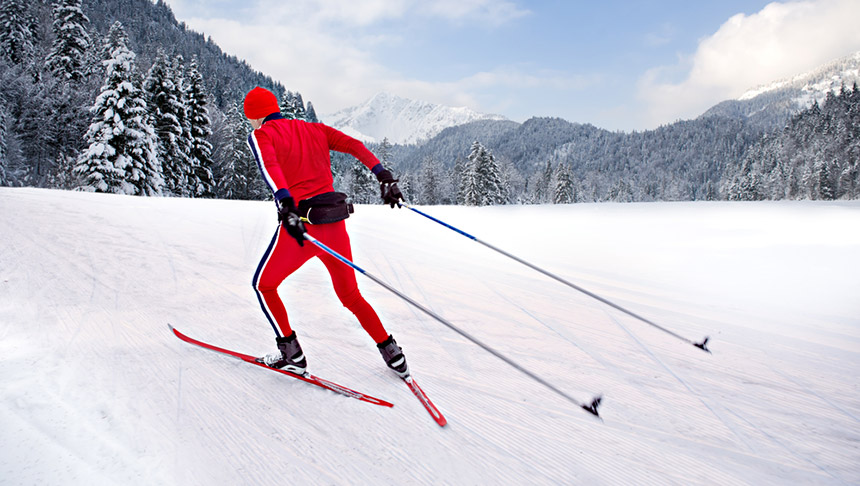 Skiing is Norway's national sport and popular throughout the world. Whether you prefer downhill, cross-country or Telemark, here are some facts about Norway's favourite pastime.
Skiing is in the genes of many Norwegians. Most love nothing more than to escape to the snowy trails in order to indulge in their passion.
Even in the country's capital city, Oslo, a day on the slopes or cross-country trails is only ever a short train journey away. The evolution of skiing is a fascinating one and one that has changed over time. Skiing has meant different things for different people throughout history, from transportation to pleasure and sport.
Read more: Cross-Country Skiing for Beginners
The physical act of skiing dates back some thousands of years and a lot has happened since those early beginnings. Here are some fun and interesting facts about the wonderful world of skiing in Norway and beyond.
Historical facts about skiing
1. The word "ski" is derived from the Old Norse word "skíð" meaning "split wood", "wooden board" or "ski". Skiing's origins can be traced back about 8,000 years. Following the Ice Age, it is believed that Stone Age hunters used early variations of skis in order travel in Europe and parts of Asia.
Read more: The History of Skiing in Norway
2. The first evidence of skiing in the Nordic region is some time around 5000 BC. In Rødøy, in Nordland county, Norway, wall markings show a man on skis complete with a pole. However, it is argued that the first signs of skiing was near lake Sindor in Russia. Here, just 1,200 km northeast of Moscow, the world's oldest skis were unearthed and dated to 6300–5000 BC.
Random facts about Skiing
3. On some slopes around the world, certain skiers can go faster than many cars. Sadly, it's not a Norwegian that holds the world record for the fastest skier on the planet. Instead, that title goes to Simone Origone. The Italian is the current record holder with a mightily impressive 252.632 kilometres per hour.
4. This next fact isn't strictly a fact about skiing but given I'm a word geek, I thought I'd add it. The noun "Skiing" is the only word in the English dictionary to have a double "ii" located directly in the middle. This fact might come in useful in a pub quiz some day – who knows.
5. Here's another language fact related to the word ski's Old Norse roots. In Norwegian and Swedish, ski is a noun, not a verb. To reference skiing, you would use å gå på ski, which literally means to walk/go on skis. A skier is known as a skiløper, which literally translates to a ski runner.
Sporting facts about skiing
6. Ski jumping originated in Norway in the early nineteenth century. Norwegain Ole Rye recorded a distance of 9.5 metres in 1808. But it wasn't until 1866 that the first ski jumping competition was held at Ofte, Høydalsmo in Norway. Another Norwegian, Sondre Norheim, is considered the be the true pioneer of the sport. He is known as the 'father of skiing'. Norheim was vital in the design of new sking equipment.
7. The Austrian Stefan Kraft holds the world record for the longest ski jump in the world. He achieved the amazing feat at the Vikersund ski jump in Norway in 2017.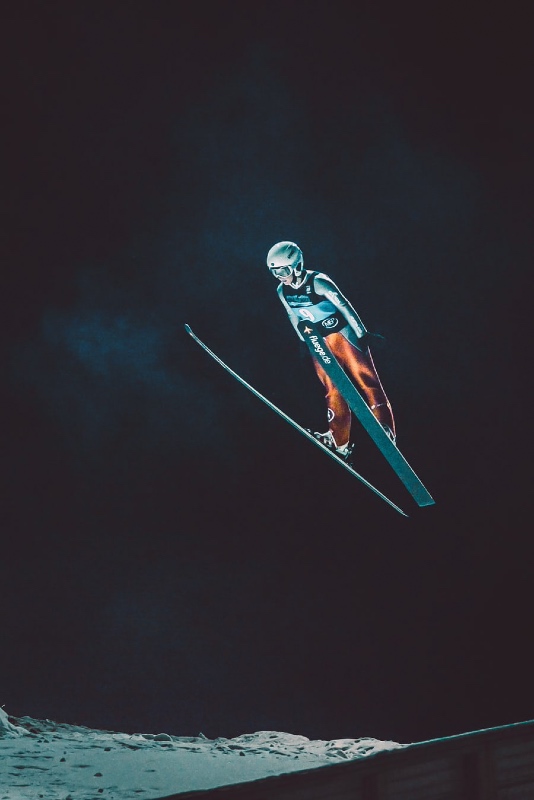 8. In 1924, in Chamonix, France the International Ski Federation formed. The FIS is the governing body of winter sports worldwide, covering the disciplines of Alpine skiing, cross-country skiing, ski jumping, Nordic combined, snowboarding and freestyle skiing.
9. In Norse mythology, there is reference to "Skaði", goddess of winter, but she is also reffered to as the "ski god". She was most at home in the snowy mountains and was known not just for her skiing skills but also for her bowhunting. Skaði possessed great beauty, wore a long snow-white hunting dress and her instruments and armour where often silver – all of which allowed her to blend seamlessly into her wintery landscape.
Facts about famous Norwegian skiers
10. Okay, not all Norwegian skiers. We'll start with a Croatian! The title of the greatest female alpine skier of all time goes to Janica Kostelić. She made her debut at the age of 16 before injury cruelly cut her career short and forced her to retire at 25.
Read more: Famous Norwegian Cross-Country Skiers
Despite her relatively short career she still achieved plenty in three Winter Olympics (six medals, including 4 gold),  four World Cups (55 podium positions and 30 wins) and several World Championships that included 5 gold medals. Many say, "she was born with skies on her feet" due to her sporting success and the natural way she skied.
11. Marit Bjørgen's five-medal haul in Pyeongchang 2018 made Bjørndalen the most successful athlete in Winter Olympics history. What's even more remarkable is that she took time out of her career to have a child, before returning to the trails. One BBC Sport commentator said Bjørgen "transcended the boundaries of her sport."
12. Ole Einar Bjørndalen was a professional Norwegian biathlete who, because of his success on track, earned the nickname "King of Biathlon". His medal haul includes 45 medals at the World Championships, 20 of which were gold; World Cup races were he achieved a total of 252 podium positions in individual and team events.
But Bjørndalen's most prized medals, are the 13 overall medals (eight of which were golds) he picked up from six winter Olympics appearances. He retired from the sport on 3 April 2018 as the world's most successful biathlete.
13. Last but definitely not least, Johannes Høsflot Klæbo is the most famous of skiing's newest generation. The Norwegian is just 23, but he's already amassed many titles and broken several records. Klæbo is the youngest man to win events at the FIS Cross-Country World Cup, the Tour de Ski, a World Championship and the Winter Olympics. In fact, he managed to win three gold medals on his Olympic debut in 2018.