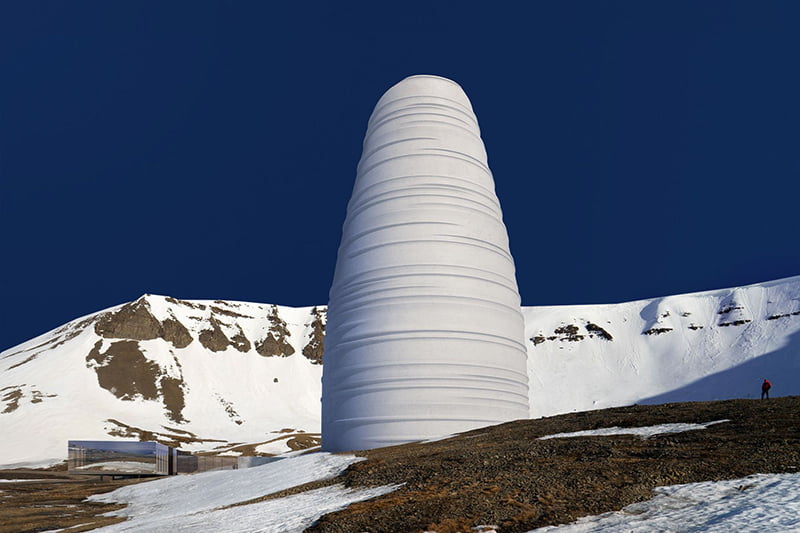 The design for a proposed visitor centre for Svalbard has been unveiled. Take a closer look at "The Arc"…
Svalbard is a place like nowhere else. The Global Seed Vault and the Arctic World Archive hold fascinating stories, but they are stored deep in the permafrost, well away from the public. The ambition of Arctic Memory is to open a new visitor centre to present these stories to the world.
In early 2018, a conceptual study was held with creative workshops in both Oslo and Longyearbyen. The concept for a visitor centre was agreed, which led to a feasibility study. As part of that study, a tangible design and visualisation has been produced with the aim of inspiring decision-makers to give the project the go-ahead.
The purpose of the visitor centre is to allow visitors the chance to learn more about the Svalbard Global Seed Vault and the Arctic World Archive. The latter is a separate vault designed to maintain the world's most valuable digital data.
Introducing the Arc
Rising out of the icy landscape like a giant alien igloo, the Arc is sure to divide opinion. It's been designed by the internationally-renowned architects at Snøhetta, the same people responsible for the design of Oslo Opera House and Norway's underwater restaurant, Under. Expert experiential designers Tellart were also involved.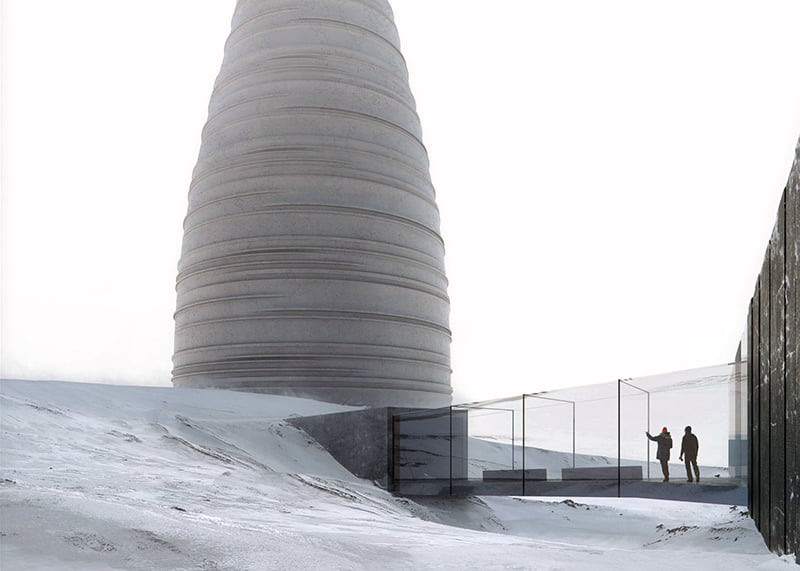 The proposed design splits the centre into two buildings. A wood-clad entrance and lobby is suspended above the permafrost. The striking exhibition space is home to the main programming for the visitor centre, and looks like a white-washed beehive.
The architects say that the two buildings are deliberately designed to contrast each other in form, texture and colour: "While the entrance building is rational and stoic, the exhibition building expresses a unique shape, scale and spatial sequence, designed as a timeless, scale-less form that is both familiar and otherworldly at the time."
A glass bridge links the entrance lobby to the exhibition area. Once inside, the space stretches into a vertical vault, where visitors can interact with digital versions of the vaults' inventory. The space curves into an arc, where digital projections cast glowing illustrations on the wall panels.
Read more: All About Longyearbyen
There is a diverse range of content stored in the vaults. It includes Edvard Munch's art collection and 1,500-year-old manuscripts from the Vatican, to film clips of the Brazilian football player Pelé and the largest collection of the world's seeds.
The building's atrium serves as the Ceremony Room, featuring a tree sprouting up from the floor. The architects say this is for visitors to take a moment to contemplate and reflect.
The visitor centre will also provide insights into how Svalbard's unique geology has transformed over millions of years.
All illustrations by Snøhetta / Plomp