When it comes to winter cosiness, few places pack the same kind of punch as Norway's former capital: Trondheim.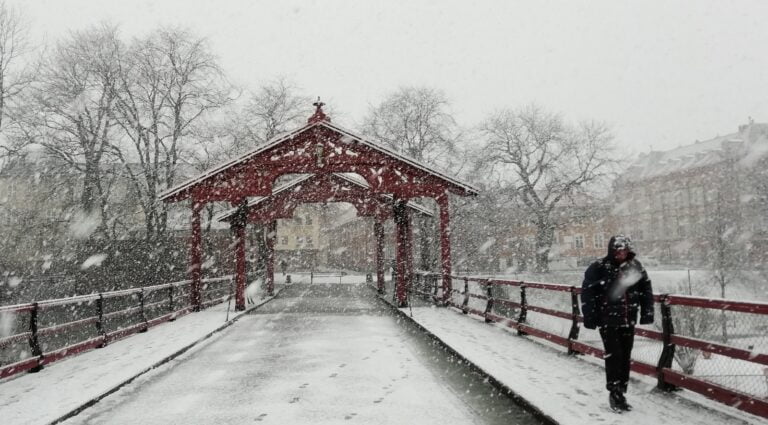 Whether you're there on business or to see the sights, let us give you an overview of everything you need to know before your visit.
And if you're considering moving to Trondheim and are just looking for tips on how to survive the winter, scroll down to the end section: we've got you covered too!
Winter weather in Trondheim
You'd be forgiven to expect Trondheim to be covered in snow from December to March. While that certainly can be the case, it is far from guaranteed.
It's also important to keep in mind what you're referring to when saying "Trondheim". If you mean the city centre and the main city square (Torget), which are almost at sea level, snow will make several appearances over the course of the winter, but will likely disappear and reappear, with the snowy periods being interspersed with warmer, melting ones.
Gain just a bit of altitude though, and there's more snow falling and less warmth to melt it, so the white stuff is more likely going to be present. The Byåsen area is a prime example of this.
If you come in December, expect lows of around -4°C and highs of around +6°C (25°F to 43°F). Expect January and the first half of February to be a bit colder, with lows of -6°C and highs of -2°C (21°F to 28°F).
What to wear in the Trondheim winter
The best way to be prepared for the winter in Norway is to plan for dressing in layers, with an outer, water resistant shell jacket, an inner fleece jacket and a base layer.
Mix and match as needed. If the temperature is suddenly warmer than expected, for example, you can ditch the fleece and just keep the shell.
A word about the base layer
For the base layer, if you expect to do anything strenuous at all, merino wool underwear is highly recommended. Think of a t-shirt, but instead of a thin cotton thread, the knit is of a thin wool thread.
Don't know where to find such a thing? Just buy it in Norway. You'll find it in any sports shop.
Merino wool doesn't itch, and like all types of wool it keeps you warm even when wet, which makes these clothes self-regulating – unlike cotton, which will actually suck the heat right out of you when wet.
This makes merino wool t-shirts the best thing to wear even on a summer mountain hike, when there's a large difference in temperature between the base and the summit (and you are typically drenched when you reach said summit). So just get one. You won't regret it.
Shoes
Shoes tend to be neglected by people who aren't used to winter in a cold country. They should be warm, yes, but they should also have a nice soft rubber sole.
Plastic soles are common down south, but they are rock hard when cold and provide you with very little traction on the ice, which will inevitably lead to falls both hilarious (for others) and potentially painful (for you).
Pro tip: test the sole's softness before you buy your shoes. It should give in a little when you press it with a finger.
How dark is Trondheim in the winter?
Trondheim lies at 63.4° of latitude and as such, has very short days in the winter. On the year's shortest day (usually December 21st or thereabouts), the sun rises at about 10 and sets at about 2:30PM, which gives the town about 4.5 hours of daylight.
Mind you, at that time of the year, the sun is stuck in rise/set mode all day, so it's never very far from the horizon. This means that if the cloud cover is thick, even midday will be in a kind of twilight.
Things to do in the Trondheim winter
The Trondheim Christmas market
If you are here in December, the Trondheim Christmas market is certainly worth a visit. The huge main tent set up for the occasion is guaranteed to put you in a Scandinavian Christmas mood, with open fires, live music and traditional fare inside.
Be sure to sample the gløgg: spiced, mulled wine served with raisins and sliced almonds.
Shopping-wise, look for knitwear, felt products and ceramics. Local specialties are also served from the various stands that dot the town's main square.
The boy's choir
What better way to view the cathedral than to enjoy it's acoustics with a concert given by the country's best boy choir?
Nidarosdomens guttekor (Nidaros cathedral's boy choir) holds concerts in the cathedral in the first half of December. See the Nidarosdomens guttekor website for dates and tickets.
The Christmas lights
Extravagant displays of Christmas lights on private properties aren't as common in Norway as they are in the United States.
That being said, the municipality of Trondheim, in collaboration with the local chamber of commerce, puts up displays of lights in many areas of the town centre for the Christmas shopping season.
Some of these are quite impressive, and the bulk of them tends to remain in place after the festive season, to brighten up what is, after all, the darkest time of the year.
So go for a walk or a shopping spree around town after dark (you won't have to wait too long) and get in a cosy winter wonderland mood.
The Northern lights
Trondheim isn't the best place to view the northern lights, but it should be said that they are still present from time to time (visible primarily between the months of October and March).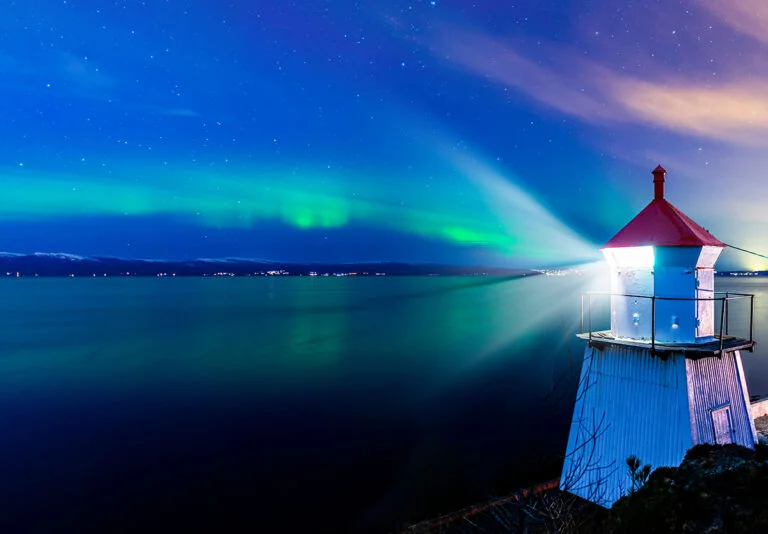 So while Trondheim is not be the best choice if northern lights are the main reason for your trip, it certainly is worth it to look up from time to time on a clear night, to see if they are there.
Read more: What Causes the Northern Lights
Otherwise, if you really want to see them, you'll increase your chances by going farther north to Tromsø, for example. Seek areas with less artificial lighting to increase your chances.
Skiing and skating in Bymarka
If you like cross-country skiing, Trondheim is a good place to be. As explained previously, the hills of Byåsen get more snow than the city centre, which makes them perfect for the activity.
This is where Trondheim shines, with it's Bymarka area: 82 km2 of parkland, a stone's throw from town, with countless trails open year-round.
In the winter, the trails are groomed by the municipality for cross-country skiing. And best of all? It's completely free! So put on your skis and go for an excursion. You can rest and have a hot drink and a pastry at one of the network of trails' many cabins.
If skiing isn't your cup of tea, you can put on skates instead and visit one of Bymarka's frozen lakes. Theisendammen is one of them. It is large enough that you'll spend several minutes doing a full loop. Since this is a lake, do make sure the ice is safe before you venture on it.
A local volunteer organisation clears the snow, checks the ice and posts updates about its safety on their Facebook page, but since it's all in Norwegian you might want to ask someone at the tourist office to check the information for you.
If skating on a lake is too scary for you, the municipality maintains small outdoor rinks in many city parks. There is also an outdoor rink in the Solsiden shopping and nightlife area.
Vassfjellet and beyond
A few kilometers south of town lies Vassfjellet, the largest downhill ski hill in the local area. It has a relatively modest vertical rise of 460 meters (about 1500 feet), but its convenient location not too far from town makes it possible to enjoy just a few hours on the slopes if time is tight.
Other downhill skiing options in the area are Gråkallen skisenter, an even smaller hill that lies in Bymarka, close to town.
If you're up for a longer drive, Oppdal has a nice ski resort about two hours south. Åre, located just across the Swedish border, boasts world-famous installations and multiple après ski options.
How to survive the winter in Trondheim
Ask a Norwegian how they survive the winter darkness and you may get a puzzled look.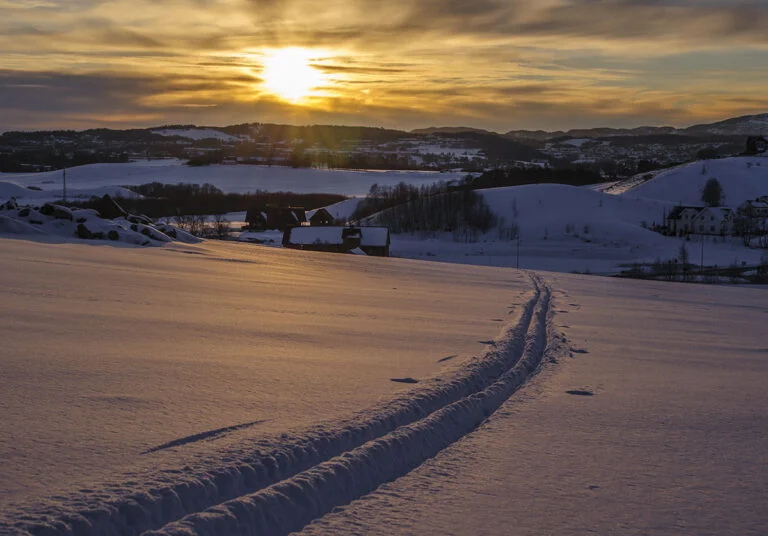 Short winter days are a fact of life here, and they are not necessarily seen as a bad thing by everyone. In fact, many people look forward to cosy evenings in front of the fireplace.
Norway has one of the world's largest consumption of candles per capita (I didn't check that, I just made it up based on my own observations… but I wouldn't be surprised if it turned out to be true).
Wool blankets are easily found on almost every sofa, and tea, coffee – or, dare I say it, red wine – on every coffee table.
The point is, if you spend a winter in Trondheim or anywhere else with short daylight, don't despair. Do as the Norwegians do!
See it as an opportunity to catch up on your reading, knitting, videogaming, Netflixing or just sitting there staring at the fire, pondering life and the universe.
Have you visited Trondheim or any other Scandinavian city in the winter. How was it? Tell us in the comments!