So I'm back from a fun week in Minnesota and it's time to catch up with my blogging!
Earlier today I published a post about my SAS flight to Chicago, and I have a whole heap of stuff to write about the Norwegian-American community. But in the meantime, here's a photographic tour around the Twin Cities – Minneapolis and St. Paul – a place that surprised me.
Off we go…
Downtown Minneapolis
I had few expectations of Minneapolis, I guess I expected a typical noisy, high-rise American city. Although there are a few blocks of high-rise buildings, downtown Minneapolis is surprisingly spacious, easy to walk around thanks to the Skyway system, and feels quite safe. It shocked me the number of people that used public transport or cycles to get around – more on that later!
We enjoyed several great meals downtown, but the highlight had to be the mammoth steaks at Manny's Steakhouse, recommended by pretty much everyone. Their tag line is "life is good at the top of the food chain."
It sure is 🙂
Warehouse District
A few blocks west of downtown, the Warehouse District is a lively nightspot but not somewhere I felt particularly comfortable in the daytime. Here we stopped by Pizza Luce, an awesome rock-and-roll pizza parlour with full bar, including many local ales and gorgeous cheesecake. Turns out this place is something of a Minneapolis institution – a great find!
Also in the area is the Target Center, home of the Minnesota Timberwolves and Minnesota Lynx basketball teams, and Target Field, home of the Minnesota Twins baseball team.
Riverside
The world-famous Mississippi River winds its way through both Minneapolis and St. Paul. In Minneapolis, the river runs north-east of Downtown and provides a curious mix of transport opportunity (cycle and walking paths) and outdoor museum (of the mill ruins and old stone bridge)
Loring Park
Our hotel was situated on the border of Downtown and Loring Park. It's a neighbourhood centred around Loring Park itself, a lovely green space within walking distance of the city centre. I spent a morning walking around the park, lake, and statue park, and was lucky enough to spot a white squirrel!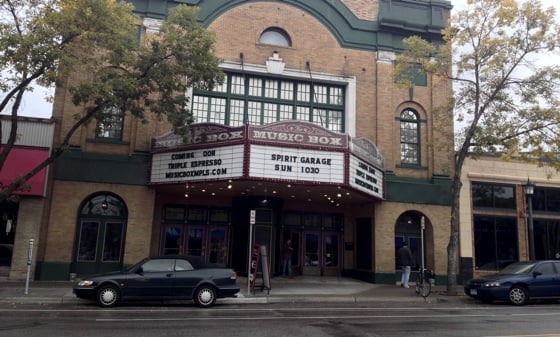 Uptown & Lake Calhoun
A trendy neighbourhood, Uptown teems with hipsters, coffee shops, thrift stores and an arty vibe I didn't feel elsewhere in the city. Immediately to the west is Lake Cahoun, one of several large lakes dotted around the cities.
Several people recommended a visit to the lakes and I chose my last day in Minneapolis for a relaxing stroll for my goodbye. I chose Lake Cahoun as it was closest to Downtown, and seemed easiest to reach on the bus.
As I made the 5km stroll around Lake Cahoun I couldn't help be reminded of Edgbaston Reservoir in Birmingham, a peaceful place yet with a constant reminder you are in the middle of a city.
In Lake Cahoun's case, this comes with the Minneapolis skyline in the distance and a plane roaring overhead every couple of minutes. But don't get me wrong, for a place in the middle of an American city this is surely as peaceful as it gets!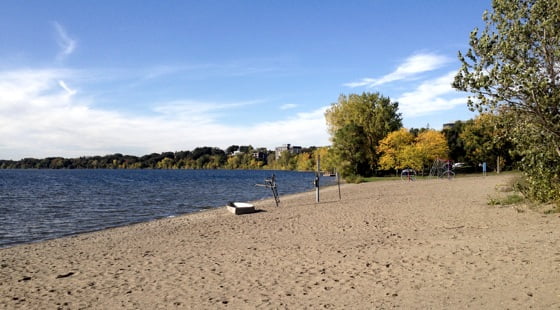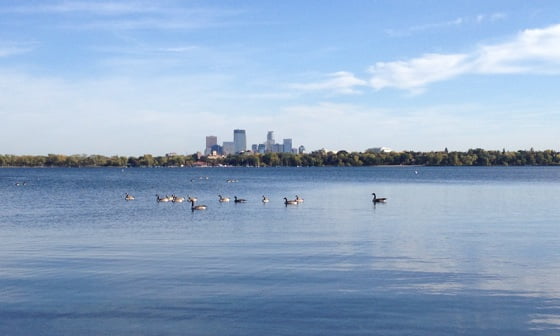 Midtown
An otherwise uninteresting suburb (unless you're hankering for a taco), Midtown for me is all about the Midtown Greenway, a 9km former railway track now used as a trail for walking and cycling. Set below street level, the Greenway offers the fastest way of commuting between west and east, and handily connects with the Metro blue line. A great initative and another example of Twin Cities residents getting out of their cars.
Minnesota Wild
Let's Go Wyy-uld! I've watched Ice Hockey in Norway before, but I couldn't pass up the opportunity of seeing an NHL game in person. Love it or hate it, there's something unique about attending live sport in America. Baseball or basketball doesn't do anything for me, the NFL team weren't playing, so we were left with Minnesota Wild vs Anaheim Ducks in the NHL.
Most of the Minnesota teams play in Minneapolis, except the Wild who call the Xcel Energy Center in St. Paul their home. A short bus ride and walk took us to the arena and good fun was had – except for the result – Wild lost with just four seconds of overtime remaining. Gutted!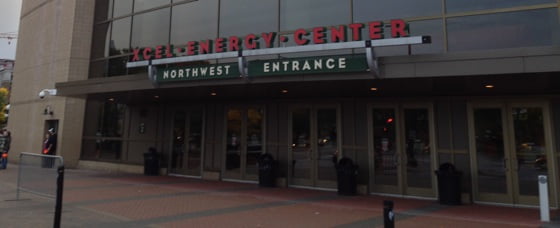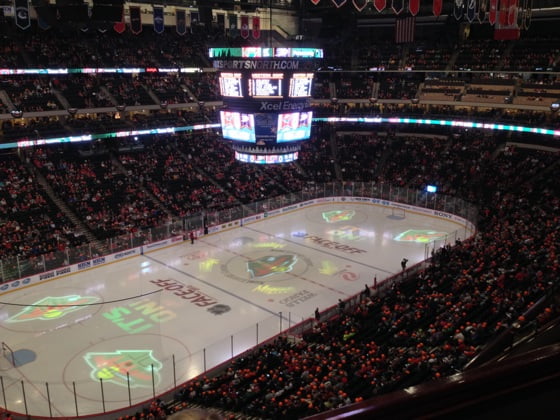 Downtown St. Paul
Despite being smaller and less well-known (at least internationally), the little brother of Minneapolis is actually the capital of Minnesota. St. Paul is easy to reach by public transport, just 20-30 minutes on the express bus and soon to be even easier with the opening of the new Metro green line in 2014.
However, the hockey aside, I don't feel like I captured the essence of St. Paul. I walked around much of the city but didn't feel like I was anywhere other than a workplace. Especially down by the Mississippi, where roads dominate and it feels like a real missed opportunity for the city (much like in Oslo before the Bjørvika development)
So I decided to look up and capture some photographs of the interesting architecture instead!
State Capitol
I couldn't visit St. Paul without walking uphill to see the State Capitol. It's an impressive building, but the best thing is the view of the city you get from the surrounding park. Lovely!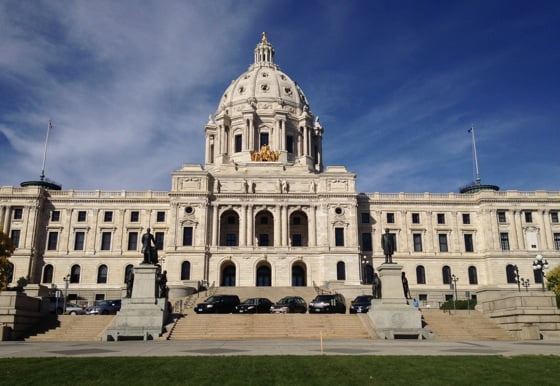 Mall of America
Last but definitely not least, the amazing Mall of America. Yes, I just used "mall" and "amazing" in the same sentence! Because this is not just a shopping mall. An entire theme park – the Nickelodeon Universe – sits at the core, alongside a Sealife Centre, a Radisson hotel, a multiplex cinema, a comedy club, a Cirque de Soleil show in a marquee outside, and a dazzling array of bars, restaurants, and of course, shops!
I spent the equivalent of two full days here and didn't come close to seeing everything on offer. I'll leave you the final few photos plus this quote from Wikipedia that sums up what a draw this place is:
Opened in 1992, the mall receives 40 million visitors annually while the Minneapolis-St. Paul metro only receives 18 million visitors each year
So ladies and gentlemen, that was the Twin Cities. Missing posts about Norway? Don't worry, normal service will be resumed now that I'm back in Norway!