A postcard written from a recent arrival to the city of Oslo from a trip across the border. First impressions of Gothenburg, Sweden!
Dear Oslo,
Wish you were here!
Gerry and I enjoyed our short hop across the border. Turns out, Sweden is just like you! But a bit blonder. And with funny dots over their ö!
First we went to the Museum of Modern Culture to see an exhibition called Destination X. It wasn't very big, so they painted the title all across one of the walls, look!
We did enjoy the exhibition though. It discussed the reasons for travelling and migration all across the world, ranging from tourism and entertainment, to necessity. One particularly poignant piece was a collection of objects found in the Sonoran Desert, like children's backpacks, clothing and toys. On a lighter note you could also spin a wheel to choose your next trip. Gerry did, and wasn't pleased with the result.
And! There were other postcards, or notes, from people all over the world who visited this little museum in a little corner of Göteborg. Cute!
After a long walk back to the city centre we had lunch and oh Oslo, you have a lot to learn here! We found a little place called Nicolina's, whose owner, lets call him Bjørn, encouraged us to part with 70 Swedish Kroner for his lovely Lebanese buffet.
Except Bjørn's Lebanese buffet wasn't really Lebanese, and the Italian spaghetti was actually rice noodles. But anyway, it was lovely. For less than the cost of the beer I bought in your city centre last week. I'm starting to see why so many people live here and commute to you during the week!
Gothenburg itself wasn't like you though. It reminded me more of Trondheim, but you know, three times as big. There's a big river winding its way through the city, with wide open boulevards contributing to a real feeling of space. There's room to move here! It also means it takes longer to walk around, which explains the large amount of cyclists (blonde ones of course)
Ting Ting!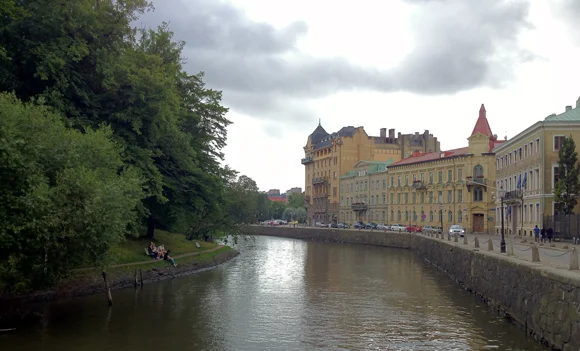 We then strolled around the old town, which didn't quite have the charm of Kampen or Gamle Stavanger, but was still full of character and tales of Gothenburg's past. Sadly, it was filled with modern Gothenburg, i.e. mothers pushing enormous prams, and hipsters. Swedish ones! They are just like the Grünerløkka hipsters, but with better haircuts. There were more cyclists here too.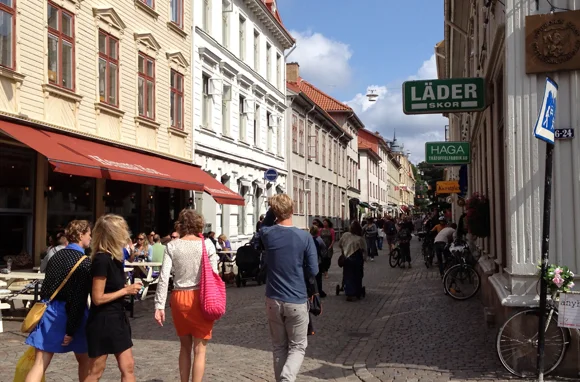 We walked back to the city centre via the harbour and stumbled across something I shouldn't tell you about – a casino! Don't tell your police, but I'm sure the guy I saw stumbling out drunk at 4pm was Norwegian…
The harbour was pretty. A big old ship drew in the tourists like flies round s**t, before a bloody great bang scared them (yes, I mean us) half to death. Stupid reenactments.
I know you were jealous that we went across the border, but there was no need to send a boat for us! We were always going to come back, honest!
While you were spying on us, did you see the Opera House? They have one right by the water too, just like you! Except you can't walk on the roof here, mores the pity.
So all in all Oslo, we enjoyed Göteborg. It was pretty, but not quite as charming as I'd expected. But there was a lot going on, plenty of museums, bars, unique shops and nightclubs, that made us want to come back and spend a bit longer here.
So that's what we'll do!
Miss you Oslo.
Love,
David & Gerry in Göteborg
xx