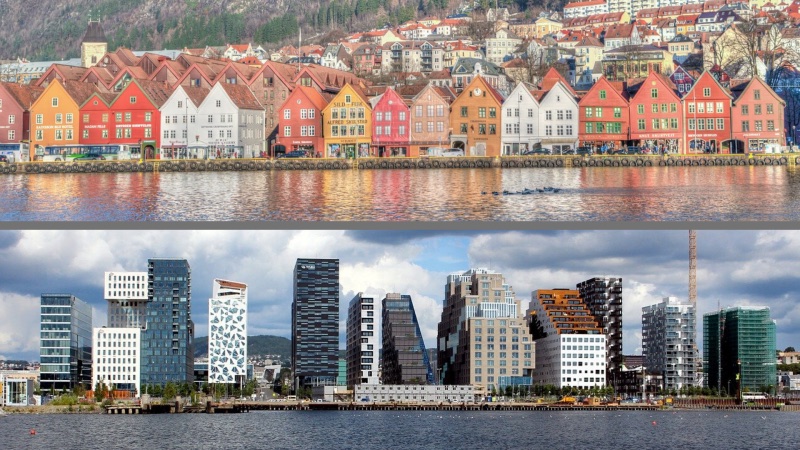 Architecture in Norway is a mix of many styles both modern and traditional. There is certainly plenty to absorb in the country both as a tourist and for those who appreciate varied architecture.
When people picture Norway they probably think of quaint, wooden houses, medieval churches or perhaps the colourful downtown streets of Oslo. But in terms of architecture, the country is much more than that.
For example, in recent decades, newer and more exciting structures have started to take centre stage. Some of these new modern masterpieces have been designed with the natural environment firmly in mind. Other times, they must work alongside the old, traditional buildings still standing.
Both have meant that Norwegian architecture has become a global example of natural design, and how the new and old can work alongside each other.
Bryggen, Bergen
The wooden trading houses of Bryggen are a shining example of traditional Norwegian architecture. So much so, the area is one of Norway's UNESCO World Heritage sites.
In the Middle Ages, Bergen was the main port of export for dried fish and fish oil from northern Norway. German merchants began to join the trade, offering grains in return. A Hanseatic trading centre was established to manage this trade.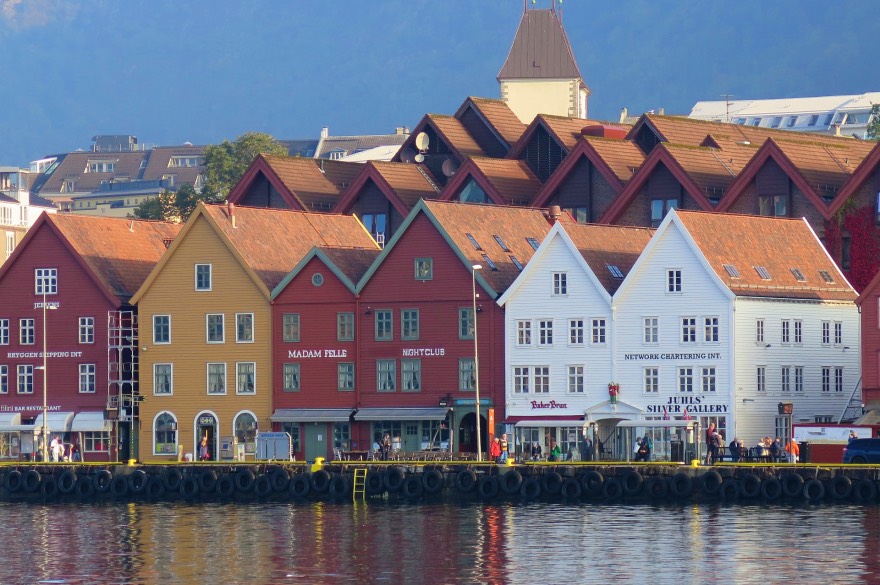 The area was ravaged by fire several times, so the buildings today date from the early 18th century. They were, however, built in keeping with the traditions and the original compact, urban structure including the narrow wooden passages. Recent renovation work continues to use traditional methods and tools wherever possible.
The Hanseatic museum (currently under renovation) lets you step inside one of these houses to get a feel for the dark, cramped conditions.
Oslo Opera House & Barcode
Let's start with one of the most iconic and recognisable new buildings in Norway, Oslo Opera House. It was designed by the world-renowned Snøhetta and opened in 2008.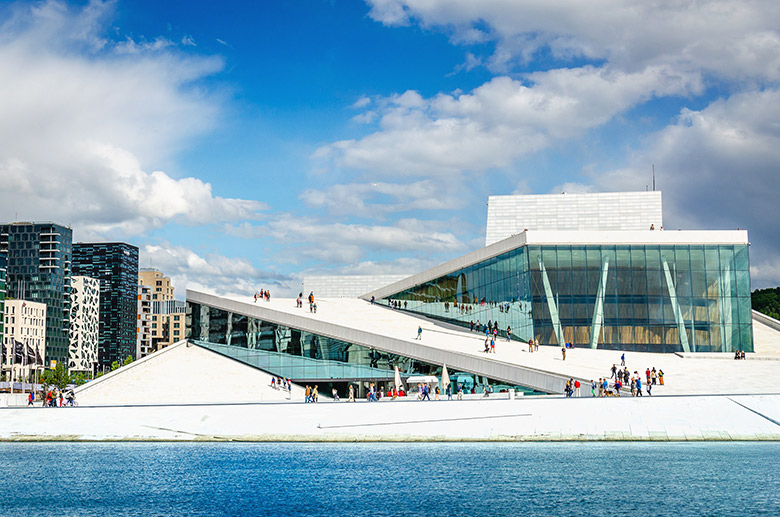 But even though it's only been around for little over a decade, it has already become a much-loved landmark in the country's capital. The Opera House has also won various awards including the World Architecture Festival Cultural Award in 2008 and the Mies van der Rohe award in 2009.
The building's contemporary style was designed with its location on the waterfront in mind. Its exterior is angular and sloping while the bright white granite and Italian marble help to create the look of an iceberg.
The Opera House was one of the early stages in the development of Oslo's waterfront. The striking modern buildings of Barcode now provide the backdrop to the Opera House. Built on former industrial land, Barcode is a row of slender, high-rise office buildings creating a new business district for the capital.
Norwegian stave churches
Stave churches are wooden structures that originated in Northern Europe in the medieval period. Today, most remaining stave churches are located in Norway and are typically found in rural locations.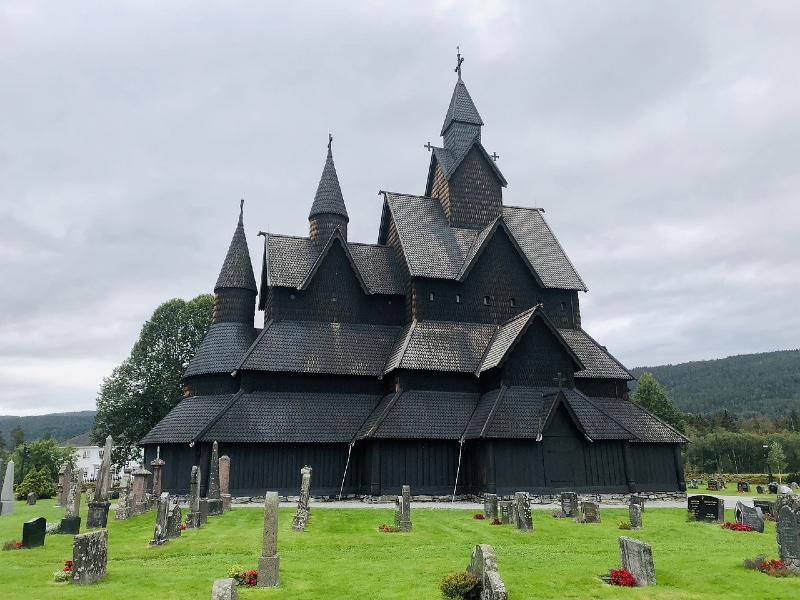 I'm including these striking buildings in general because they remain such impressive feats of architecture and design. For more specific examples, take a look at these articles on the churches at Borgund and Fantoft.
The word "stave" means upright plank. In the construction of the churches, timbers are used to support the building's elaborate outer layers.
They are made almost entirely of wood. Because of this, most have highly detailed carvings etched into walls and feature points on the outside.
The New Porsgrunn Church
There are occasions when new buildings aren't quite so well received or they divide opinion. This is especially true of Norwegian churches. The new Porsgrunn East church is one such project that continues to raise eyebrows.
In 2011, the former church burnt to the ground in a fire. After some years of planning and deliberation, its replacement, the New Porsgrunn East Church was ratified before opening its doors in 2019.
But there was some controversy over the new structure and it was in no doubt charged by the choice of a modern design over that of a more traditional one. The new church definitely offers something quite different from its predecessor, and it can be said to be an acquired taste.
Victoria Terrasse, Oslo
Victoria Terrasse is a collection of buildings located in the central part of Oslo not far from the Royal Palace. The Terrasse has a bright, white façade which is contrasted against a grey roof that depending on what time of the day you view it, can offer something different each time.
The luxury apartment complex was designed by Henrik Thrap-Meyer with the help of Wilhelm von Hanno, Paul Due and Richard Steckmes. It was built between 1884 and 1890.
One famous former resident was the famous playwright Henrik Ibsen. The Norwegian lived in a part of the building for four years between 1891 and 1895.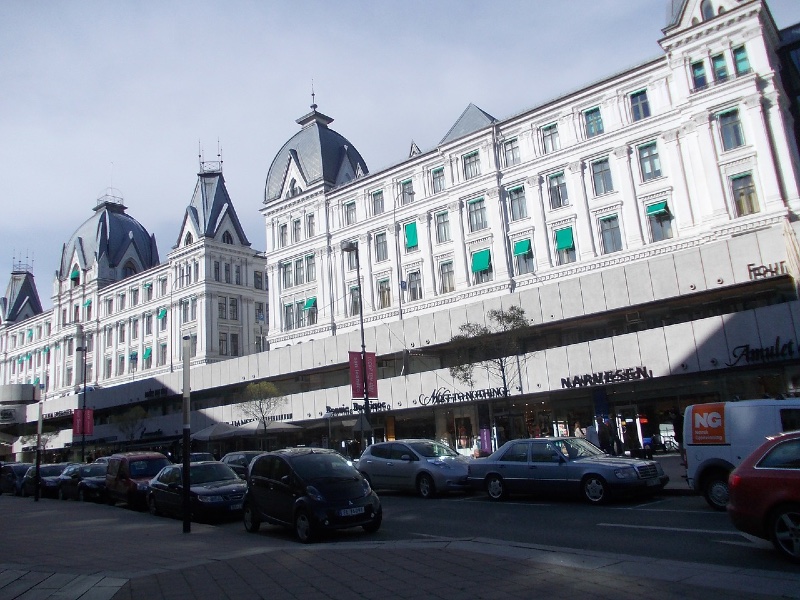 But it is another former occupant that gives the building a dark history. When the Germans occupied Norway during the Second World War, Victoria Terrasse was used by the Gestapo to keep jailed Norwegian citizens and people with a political interest in the country.
Many of these prisoners were interrogated and tortured in the complex and some even leapt to their death from the upper floors in order to avoid the abuse.
Powerhouse Brattørkaia in Trondheim
In August 2019, the Powerhouse Brattørkaia was officially opened in Trondhiem. The building's dark exterior is clean, fresh with a certain sleekness to it.
Inside, it is a monster of a building, with some 18,200-square-metres of floorspace over eight floors. Its prominent position on the waterfront, not far from the city's railway station, ensure it is easily accessible.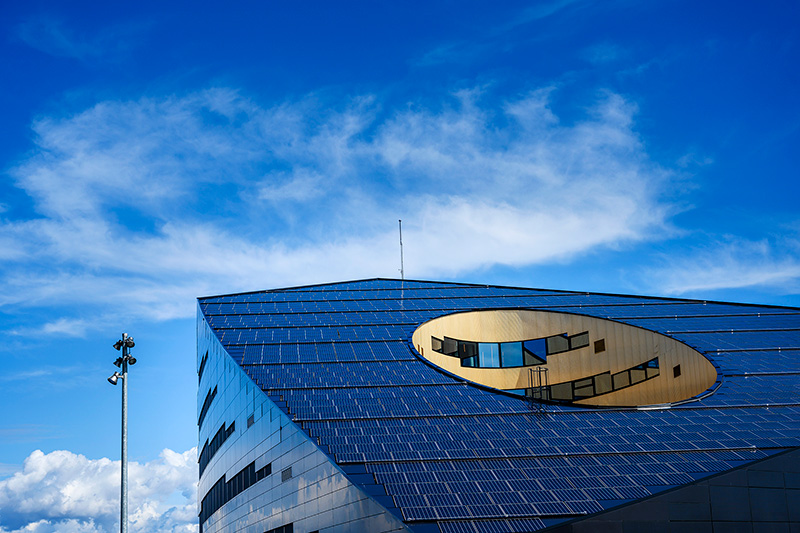 Powerhouse Brattørkaia is the biggest energy-positive building in Norway and is central to the ongoing smart city project in Trondheim. It was formed through a collaboration involving several partners, all of whom had previously worked together on similar projects.
Nidaros Cathedral
Another famous piece of architecture located in Trondheim is Nidaros Cathedral, or Nidarosdomen in Norwegian. It was founded around the year 1070 and was built on the burial site of Olav Haraldsson.
The construction of the cathedral, like many churches from that period, took some time. It wasn't officially completed until 1300 while more recent renovations were completed in 2001.
The Nidaros Cathedral is one of Norway's finest examples of Romanesque and Gothic architecture. The soapstone that it's made from is perfect for carving ornate details both inside and outside. Inside, the church has a capacity for around 1,850 people.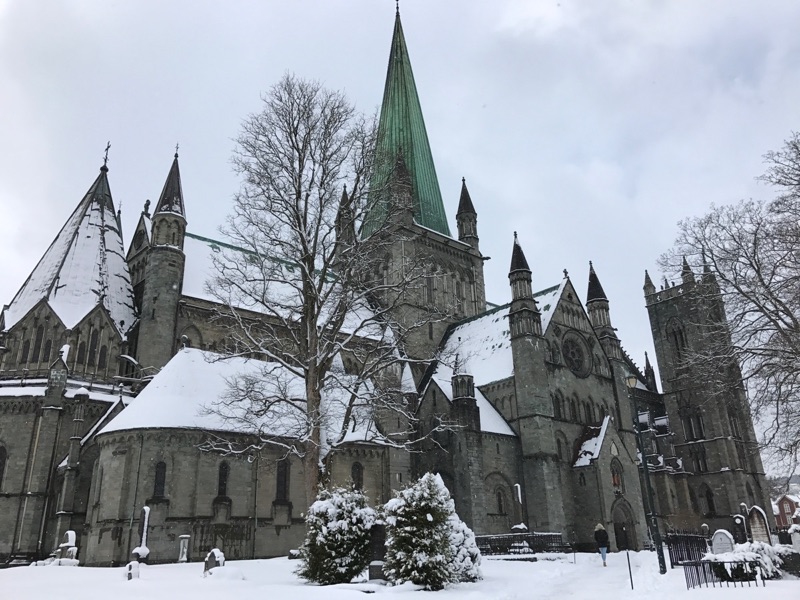 Equinor Fornebu
The Equinor Fornebu is an office building in Oslo but not just your average office building.
It's the home of the state-owned energy company Equinor whose Oslo offices are based there. The striking building is made up of five blocks, each block has three floors and is 140-metre-long and 23 metres wide.
The building was opened in 2012 and houses 2,500 employees across its 11,700 metres-squared floor space. It's a daring design and one that challenges the eye offering something quite different with the changing light of each season.
It was designed by the architect A-Lab and is said to represent Statoil as an innovative and ground-breaking petroleum company. It was built on the site of Oslo's former main airport and is the figure head of Equinor's urban regeneration project.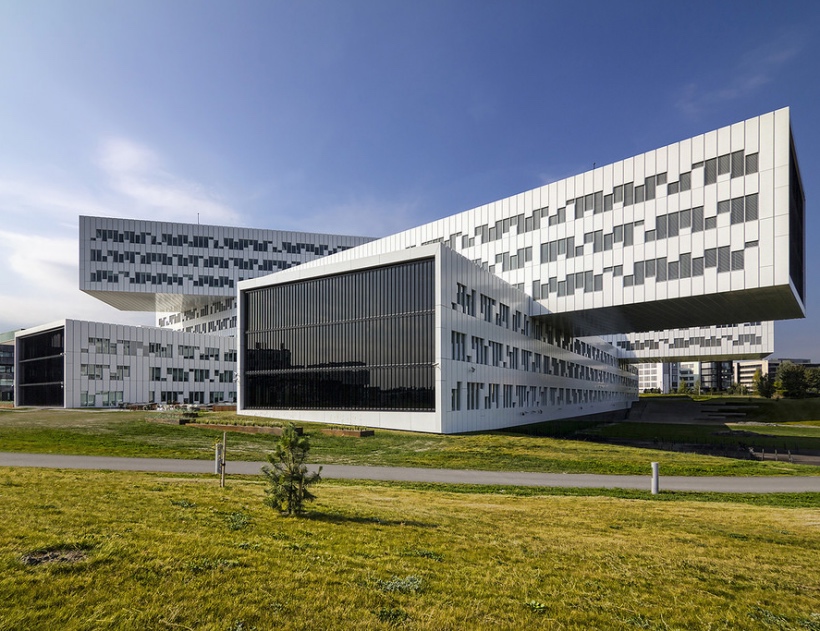 Kilden Performing Arts Centre
Kilden Performing Arts Centre (Teater og Konsethus) opened in Kristiansand in 2012. Since then, it has become one the city's most impressive pieces of new architecture.
The building brings many people together and is the focal point of cultural arts in the community. Its uniqueness sets it apart from other projects not only in Norway but also on the international stage.
The performing arts centre has a wooden exterior, one that has been designed to look like the waves out at sea, tying it perfectly to its harbour-side location. Inside, there are various shapes and hall sizes across a floorspace that stretches over 16,500 square-metres in total.
The building was designed by ALA architects Ltd (Helsinki, Finland) in cooperation with local company SMS architects AS.
Other examples of new architecture
Aside from buildings, there are also an impressive array of other structures in Norway. Some of them are the country's new roadside projects that have seen investment recent years with many of  them becoming popular tourist attractions. One of those attractions is the stone circle formation Solspeilet near Jørpeland in Rogaland.
It is known as the Norwegian Stonehenge and is a piece of artwork by Norwegian artist Stian H Skjæveland. It's a structure that's made up of one tall, smooth and modern column surrounded by a circle of 12 individual uneven stones. Solspeilet is located on a tiny island just off the Ryfylke highway and is well worth a visit.
Read more: The Plus: Norway's Sustainable Furniture Factory in a Forest
Another structure on the Ryfylke highway is the new roadside viewing place at Høllesli. The platform offers an alternative to Preikestolen (Pulpit Rock) and also offers great views out over Lyesfjord below.
Finally, the eye-catching new Oslo library opened just recently and is another example of a modern building that splits opinion.