The festive season is upon us once again! Here's what you can expect to be served during the Christmas season in Norway.
One of the things that fascinated me most about moving to a new country is the food and drink culture.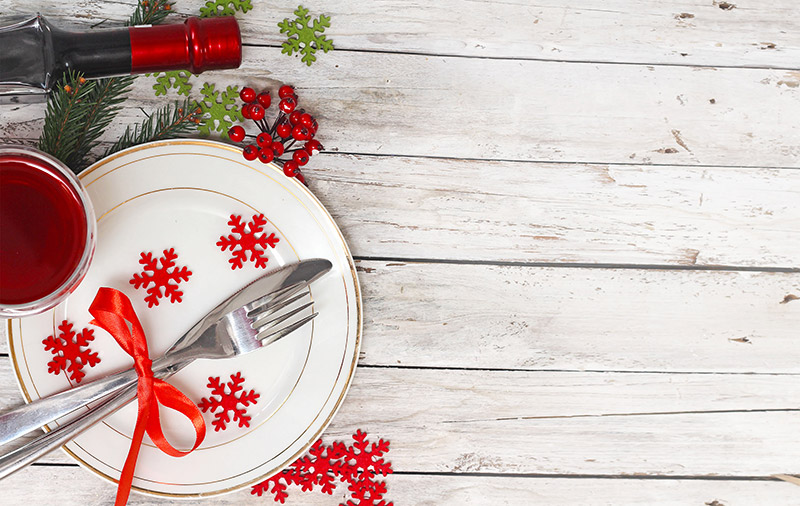 I don't just mean the actual food that's eaten, but the culture around it. There's no better time of the year to study these differences than at Christmas.
As with many countries at this time of year, food and drink are an important part of Norwegian Christmas traditions. That goes for the whole month of December too, and not just on Christmas Eve.
For the main meal, the English tend to eat turkey. Americans veer towards ham, roast beef, or goose. But Norwegians have totally different traditions for their Christmas dinner. Things are also quite different when it comes to the food and drink eaten throughout the season.
Festive food traditions in Norway
I grew up in the UK celebrating on the 25th December. I know some of you reading this will have done so, too.
But here in Norway, the focal point of the celebration is very much the evening of the 24th December. Gifts are exchanged and the family gathers together for the main Christmas meal. Christmas Day itself is a much quieter affair.
But what do Norwegians eat on Christmas Eve? It actually varies quite a lot, typically along regional lines and family traditions.
The most common popular dish Christmas Eve dish is ribbe, or seasoned pork belly. It's usually served with sauerkraut and redcurrant sauce. Pinekjøtt (dried sheep) is popular in the western counties, as is cod or other fresh fish. More on these later!
While Christmas Eve is the main meal for Norwegians, there's plenty more opportunities for festive food. That's thanks to the Norwegian julebord. Yep, the good old fashioned Christmas party!
Every company, school, sports club and social group hold their own julebord, meaning Norwegians often attend at least one during late November or December.
These gatherings are an important part of Norwegian culture. Traditional food is usually served along with large amounts of alcohol. Whereas Norwegians normally dress casually, the julebord is one of the rare occasions when they dress up in formal attire. If you're about to attend your first julebord, don't show up in jeans!
Now, let's take a look at the food and drink in much more detail. I hope you're hungry!
Ribbe
The most popular Norwegian Christmas Eve dish, ribbe is eaten by more than half of Norwegians on the big day. Whichever style of cut is used, a serving of ribbe always includes the crispy rind.
Ribbe is served with sweet and sour sides. Typically these are sauerkraut, red cabbage and/or sprouts. Christmas sausages, cranberry sauce, fried apple slices with honey are other common accompaniments.
The sauce can be anything from a regular brown gravy to one flavoured with cranberry, juniper, red wine, or many other possibilities.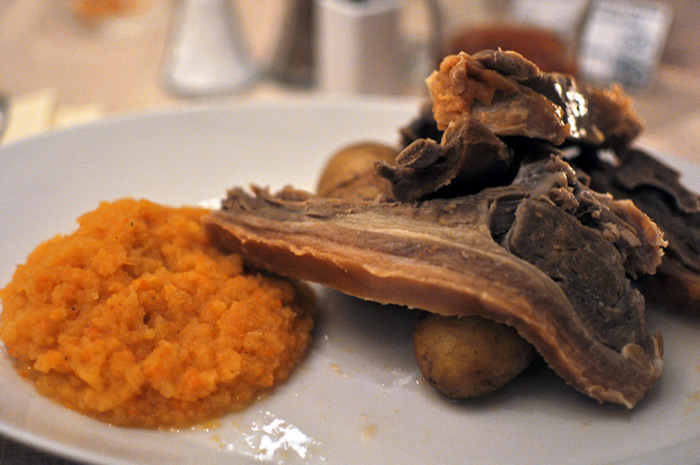 Pinnekjøtt
Pinnekjøtt translates literally into English as 'stick meat.' The dried and salted sheep ribs have long been a traditional Christmas dish in the western counties, but can now be found all over Norway.
Up to 70% of Norwegians eat pinnekjøtt at some point over the festive season.
Although it's known to come from western Norway, the precise origin of the dish is unclear. Some believe the name comes from the birch sticks used in the traditional recipe for steaming the ribs. However, preparation methods vary. Some boil them, some roast them or even cook them over coals.
Cod
Especially popular in coastal communities, cod takes third place for the main Christmas Eve dish. It's important that freshly-caught cod is used, and served with simple accompaniments. Most commonly, those are boiled potatoes, carrots and a white sauce.
Lutefisk
The dish that splits opinion more than any other on this list! Although heavily associated with Christmas (especially in Norwegian American communities), lutefisk is more commonly eaten in the two months leading up to Christmas rather than as the main Christmas meal.
That being said, in some Norwegian homes you will absolutely find lutefisk on Christmas Eve!
According to forskning.no, lutefisk has been a common Christmas dish for a lot longer than people realise. It was eaten on Catholic holidays as long ago as the mid-16th-century.
Christmas porridge
Grøt, or Norwegian rice porridge, is a common dish thoughout the year. Julegrøt is the festive version! Recipes vary wildly but will usually include festive touches such as cinnamon, raisins or cranberries. Here's one example recipe that uses wholegrain rice.
Christmas cookies and cakes
Have you ever heard of the seven sorts? Christmas cookies are an important part of any Norwegian Christmas celebration.
Ranging from shortbread to gingerbread and everything in between, the name comes from the seven traditional choices that should be offered in a home over the festive period.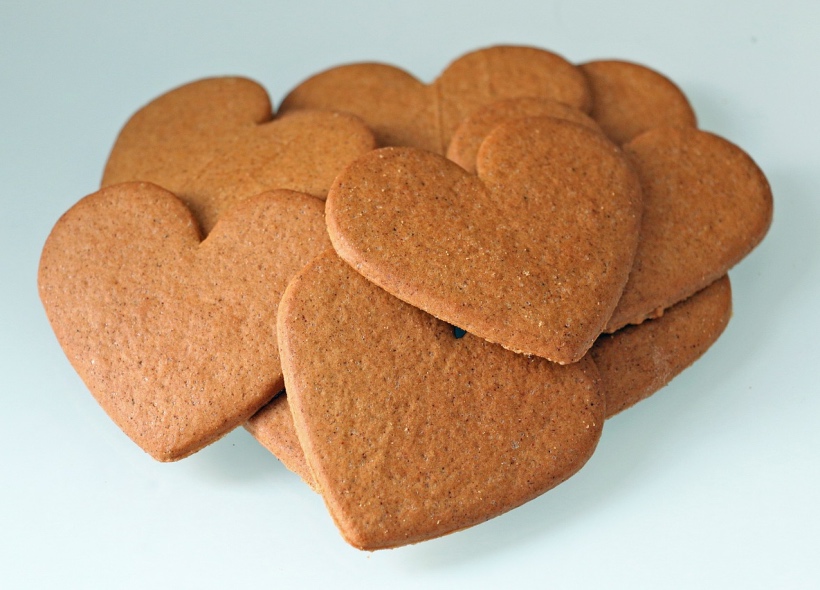 The problem is, no one's quite sure what those seven are! There are actually around twenty common types made around Christmas time.
Perhaps the most commonly available is the pepperkake, a crispy gingerbread cookie pictured above. These extremely more-ish bites are heavily publicised in Norwegian supermarkets in the two months prior to Christmas. They also tend to be super cheap. Bonus!
Another popular variety is the krumkake, a thin waffle cookie rolled into a cone and often filled with whipped cream. Sirupsnipper (syrup snaps) are similar to pepperkaker but much sweeter, diamond-shaped, and with an almond baked in to the centre.
Christmas drinks in Norway
In the run-up to the festive period, most breweries release batches of juleøl. These are Christmas versions of their beers, most usually darker and spicier than their regular brews. For those who don't drink alcohol, more and more breweries are producing non-alcoholic versions of their juleøl.
Although if you don't drink, I'd recommend julebrus instead! Also produced by the breweries, julebrus is a sweet, red, cherry-flavoured soda loved by Norwegians young and old.
Gløgg is another popular drink in Norway, especially at Christmas markets throughout December. The Scandinavian take on mulled wine, gløgg is a hot red wine drink with added sugar or syrup and spices such as cinnamon. It's often served with raisins and almonds.
Vegetarian Christmas food in Norway
You may have noticed that Norwegian Christmas food tends to lean heavily towards meat and fish. That does mean that selections for vegetarians are often limited. If you don't have a problem with fish, you'll be fine.
Back in the UK, the traditional non-meat Christmas dish was always a nut roast. At least in my part of the country, anyway! I asked several Norwegians in the course of writing this article, and none of them could name an equivalent that is regularly served in Norway.
So, while there is probably going to be vegetarian food available during December, the exact dish will probably be a surprise!
What's your favourite Christmas food in Norway? If you don't live here, what would be on your on Christmas Eve table?