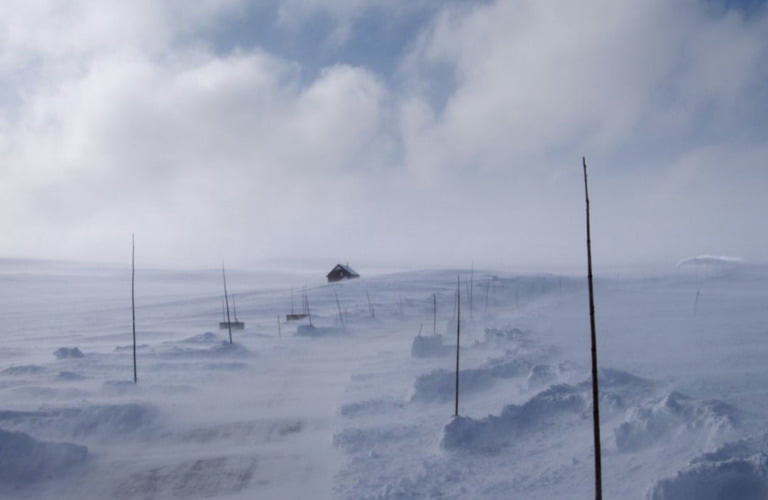 Norway's Hardanger mountain plateau is raw Norwegian nature at its absolute finest.
What sums up Norwegian nature to you? While international tourists often think of the fjords and the northern lights, Norwegians are more likely to suggest Hardangervidda.
Let's find out why!
Wecome to Hardangervidda
The Hardanger mountain plateau, known in Norwegian as Hardangervidda, is the largest of its kind in Europe. The plateau itself covers more than 6,500 square kilometres of south-central Norway and much of it has protected national park status.
Home to a cold year-round alpine climate and one of Norway's largest glaciers, much of this sprawling mountainous area is unspoiled. Only one road (a designated national scenic route) and the Oslo to Bergen railway interrupt the scenery.
These stunning landscapes are a draw for lovers of the outdoors. Hiking, climbing, fishing and cross-country skiing are all popular.
Are you planning a trip or just curious to know more? Let's take a closer look at Hardangervidda National Park.
Where is Hardangervidda?
The plateau is very easy to spot when you have a satellite image or a topographic map. That's because the 6,500 square kilometres (2,500 square miles) mountain plateau stands at an average elevation of 1,100 metres (3,600 feet).
In fact, it's also easy to spot on a regular map due to the (almost) complete lack of roads and towns.
Hardangervidda National Park
Established in 1981, Norway's biggest national park protects 3,422 square kilometres (1,321 square miles) of Hardangervidda at the very heart of Norway.
So vast is the park that it actually falls within three of Norway's counties: Viken, Vestland, and Vestfold-Telemark.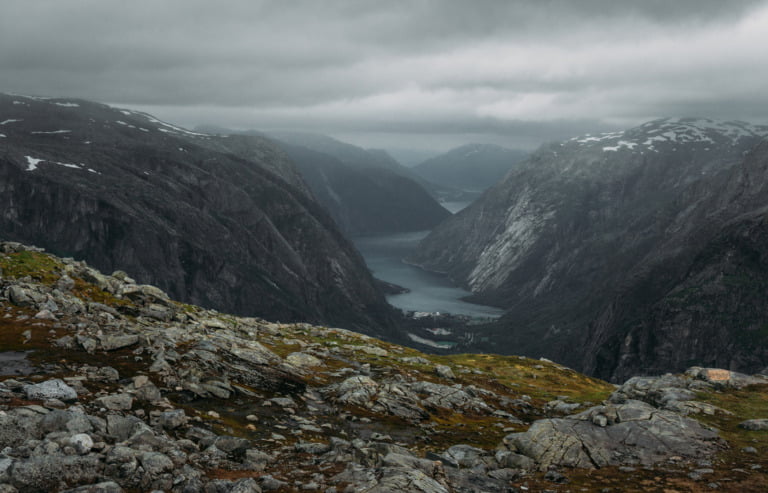 It spans from Numedal and Uvdal in the east and Røvelseggi and Ullensvang in the west across much of the plateau.
The history of Hardangervidda
In the days before planes and cars, people had no choice but to cross the epic plateau on foot and/or with the assistance of animals.
We know this as several Stone Age settlements have been found in the area. Such settlements were likely used by nomadic people in connection with the migration of reindeer.
It's believed that during the Stone Age, the climate was warmer and parts of Hardangervidda were wooded. We know this from preserved pine logs that have been found preserved in boggy ground well above today's tree line. This gives us an idea of how the plateau could be impacted by future climate change.
Ancient trails also cross the plateau, which would have been used by people travelling from western to eastern Norway.
Hiking on Hardangervidda
Norwegians love to hike. The park is a popular destination for Norwegian hikers on weekends and longer vacations during the summer. It also draws international tourists keen on exploring Norway's nature on foot.
Read more: Hiking in Norway
As in many other national parks, Norway's Trekking Association (DNT) maintains a series of cabins and marked trails throughout the area. These are used by hikers in the summer, but also to provide shelter and overnight accommodation for long-distance cross-country skiers.
Wildlife on Hardangervidda
The entire plateau sits above the tree line, a fact that heavily influences its flora and fauna. Its alpine climate means Hardangervidda is the furthest south home to many species of animals.
Most notably, thousands of wild reindeer call the park their home. During the year, they migrate from the lichen-filled winter grazing lands in the east to the more fertile west to breed.
Although around one quarter of Norway's wild reindeer population live in the park, it's harder to catch sight of them than you might expect. Wild reindeer are shy and travel in large groups, avoiding the few areas where people tend to gather such as along route 7.
If you are keen to see wildlife on your visit, you'll have much better luck with moose. Known as the king of the forest, many moose also live on the tree-free mountain plateau. They are easiest to spot at dawn and dusk, but take care!
How to visit Hardangervidda
It can be difficult to know where to start when visiting such a vast place. There are two visitor centres for people visiting the national park who are curious to know more.
Hardangervidda National Park Centre is located at Skinnarbu on the shores of lake Møsvatn in the southeast corner of the park. Route 37 gets you there, where you'll find an interactive exhibition about wild reindeer, among other things.
On the opposite side of the park, the Norwegian Nature Centre is an astonishing 224km (139 miles) drive away from the other centre! It's more accessible for most people given its location in Eidfjord on the main route 7 that crosses the plateau.
Route 7 is one of Norway's designated national scenic routes. Eidfjord is a popular tourist stop for people driving from Oslo to Bergen or visiting the Hardangerfjord region.
The Oslo to Bergen railway crosses the northern side of the plateau in the vicinity of the Hardangerjøkulen glacier. If you look out of the train window in the area around Finse, you can expect to see winter landscapes even during the summer months.
Are you planning a trip to Hardangervidda? Hit that Pinterest sharing button and share your plans with your friends!