Whether you're a resident or tourist, travel between Oslo and Bergen is a common need. Here's what you need to know about your options for travelling between Norway's two biggest cities.
Oslo and Bergen are the two biggest cities in Norway. Between them, around one million people live in the cities with many more in the surrounding urban areas.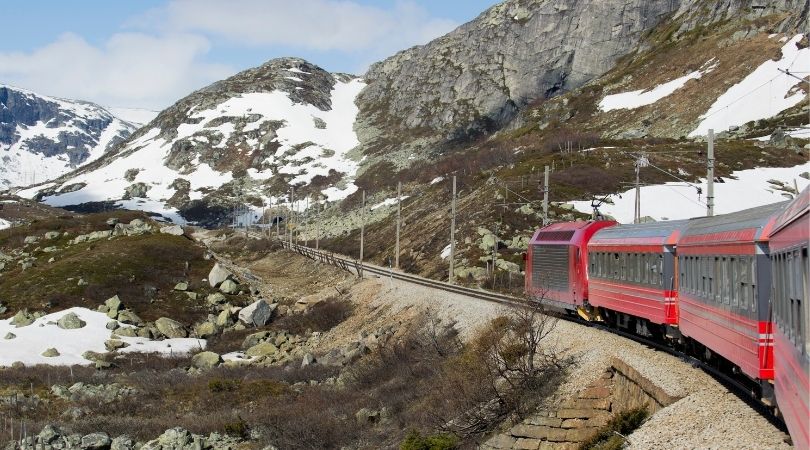 In a typical year, the cities attract huge numbers of tourists, many of whom plan to visit both. Here's our guide to all the options you have to travel between Bergen and Oslo. Enjoy!
The geography problem of getting around Norway
As the crow flies, Oslo and Bergen are just 188 miles / 303 km apart. That doesn't sound like much, yet travelling between the two cities takes much longer than you might expect.
The reason is simple. Norway is one heck of a bumpy country! Western and Eastern Norway are separated by the colossal Scandinavian mountains. To travel between the two big cities, you need to find your way over or around the Hardangervidda mountain plateau.
The sprawling plateau is Europe's largest and is a cold, forbidding place year-round. One of Norway's largest glaciers is located here, and it is a popular tourist destination.
This geography means that all modes of ground transport are slow. Yet they are supremely popular among tourists as they double as scenic tours while at the same time moving between two destinations of interest. For this reason, many locals prefer to fly, especially on business travel when time is money.
Read more: How to Travel From Oslo to Tromsø
Now, whether you're in Norway for business or pleasure, let's look in detail at the options you have.
Flying between Oslo and Bergen
Regular daily flights take place between Oslo Airport Gardermoen and Bergen Airport. It may seem absurd to fly such a short distance, but thousands of people do, every single day.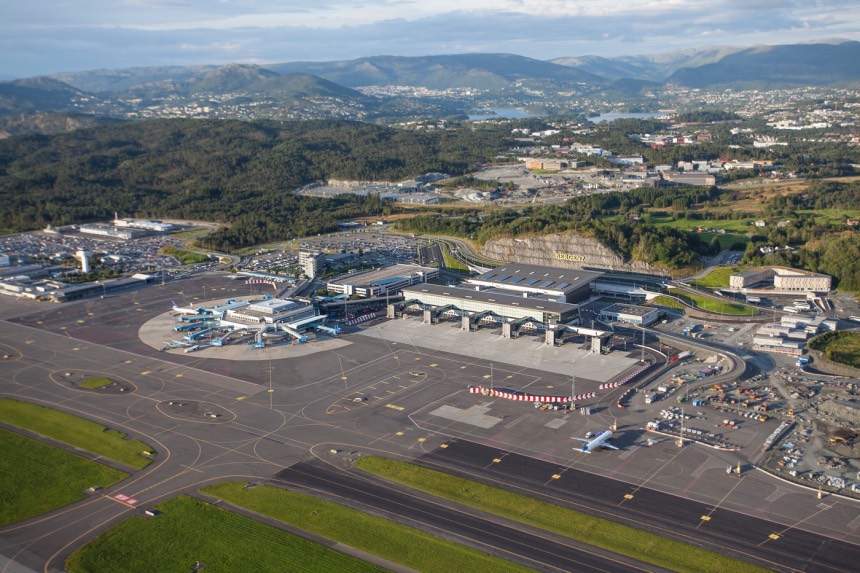 Whereas driving can take up much of the day, the flight time is just 40-50 minutes. Of course you have to factor in travel time to and from the airport too.
Tourists should bear in mind factors like an unfamiliarity with the airport, the need to check-in baggage, and the likely use of public transport rather than expensive taxis will all increase travel time.
Both Norwegian and SAS operate daily flights between the two cities. Previously, both Wizz Air and Flyr operated flights on the route. However, Wizz Air subsequently withdrew from Norwegian domestic operation and Flyr declared bankruptcy.
Oslo Airport Gardermoen
Although Oslo Airport is almost 50km away from the capital city by road, the airport express train takes just 20 minutes. The cheaper local train is a good alternative is you're not carrying much luggage.
If you're visiting other parts of Oslo, the airport coach network is worth looking into. As with everywhere else in Norway, taxis are the priciest option.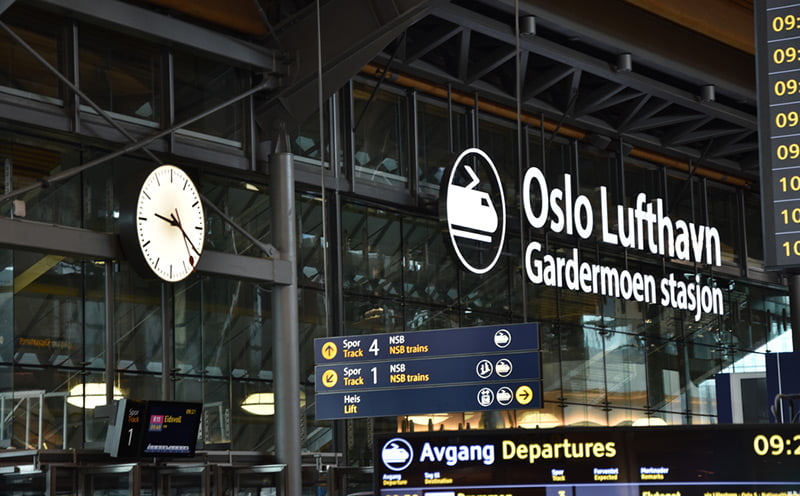 Bergen Airport Flesland
Bergen Airport is linked to the city centre by a recent extension to the city's light rail network, Bynanen. At just 39kr the ride is cheap, but takes 45 minutes. There is also a bit of a walk to Bryggen, where many popular hotels are located.
Alternatively, you can take the quicker but more expensive airport bus or a taxi. The coach is quicker than the light rail and stops at Bryggen, but at 119kr it's much more expensive. A taxi is quickest especially if you are staying in an out of the way place, but is of course the most expensive option.
Oslo to Bergen by train
Known as the Bergen Line, the railway connecting Oslo and Bergen is one of the most famous railway journeys in the world. If often features in top ten lists and has received coverage in countless travel magazines and TV shows all around the world. And with very good reason.
Here's how one British traveller described it:
"Little did we know as we spoke of how this was the most beautiful thing ever that in fact, we were seeing the pre-amble to ascending Europe's highest mountain plateau where the beauty was cranked up to 11. Here, the mountains were dusted with snow, the lakes were half-frozen and it was hard work getting back on the train, such was the desire to just explore the area, move into a wooden hut with a grass roof and marry a woman called Helga."
The journey takes around six and a half hours. The best scenery (travelling from Oslo) occurs from around the three-hour mark to the five-hour mark as the line crosses the sprawling Hardangervidda, so make sure you're fed and watered by that time!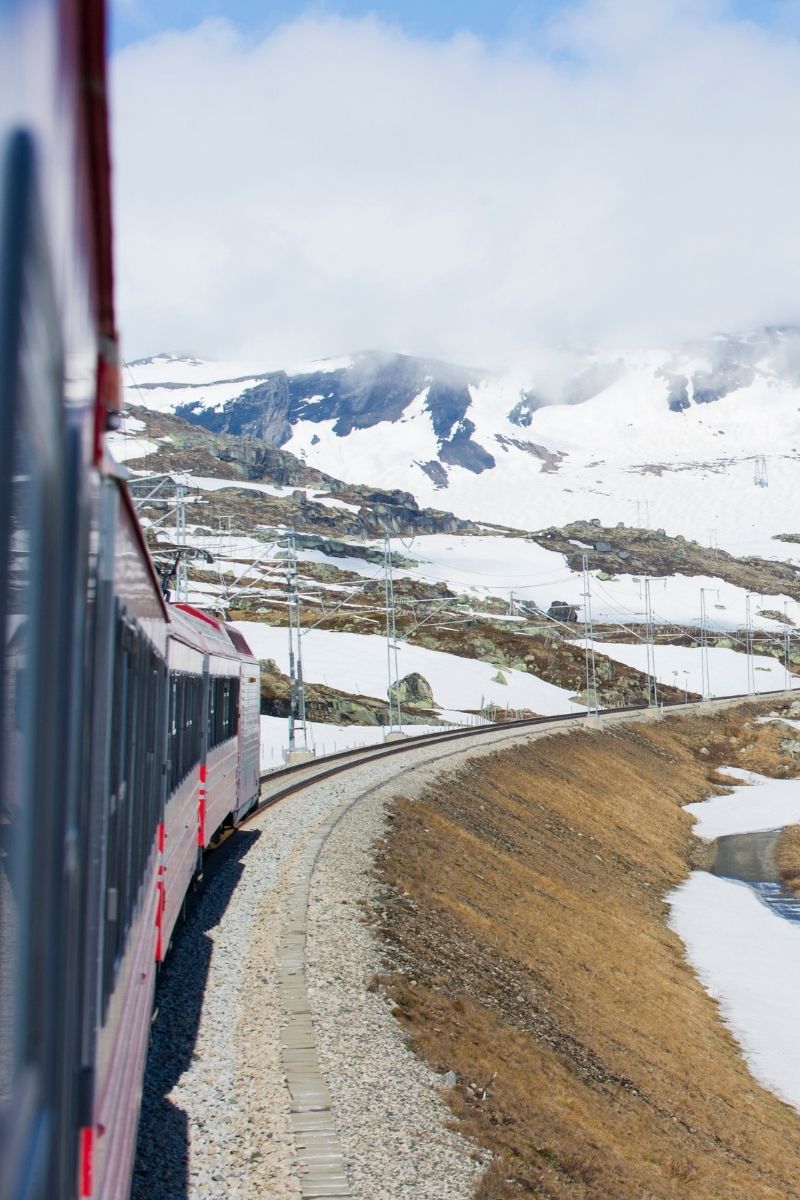 A word of warning for those travelling in the winter. Remember, light conditions will be extremely poor in the late afternoon so you're likely to miss much of what makes this journey great.
Something that surprises many tourists taking the route is the lack of Norwegians using the route as an intercity service. As a one-off the journey is great, but for regular travellers the six-hour journey time isn't attractive.
Read more: How to Travel From Oslo to Trondheim
You'll find plenty of locals on board, but they tend to travel just for part of the journey, especially to/from the towns and cities close to Oslo or Bergen.
The cheapest tickets can be bought in advance but are non-refundable. They start from around NOK 299. The most expensive are the on-the-day fares, if space is available, which run well over NOK 1,000. Check departure times and fares and book your tickets in advance on Vy.no.
Night train
Have you taken the Bergen Line one or more times previously? For those who have, you're likely less bothered about seeing the scenery again, although I enjoy the journey each time!
If you are a repeat visitor, you can take advantage of super cheap advance fares by taking the overnight train. If you think you can sleep in a standard train seat (they have a slight recline) then you can grab a seat from as little as NOK 299.
A sleeping carriage is included on the night train but each compartment comes at an additional cost of around NOK 1,000, although they do sleep two.
How to drive from Oslo to Bergen
Driving between Oslo and Bergen is a popular choice for both locals and tourists, albeit for different reasons.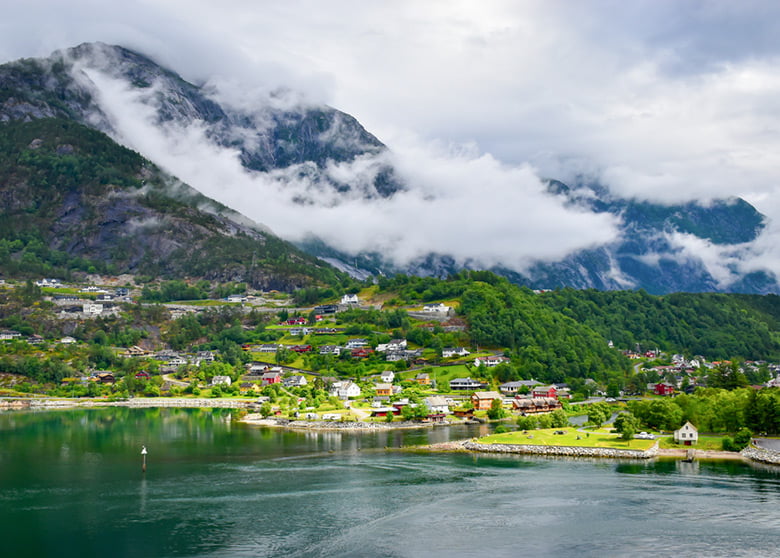 For locals used to the roads, it gives them the quickest option besides flying. For tourists, it provides an opportunity to visit fjords, mountains and a whole host of memorable road trips along the way.
Bear in mind though that driving in Norway is an expensive business. That's especially true when entering cities, thanks to high road tolls and parking charges.
With that in mind, you may be better off only hiring a car when leaving the cities, for example when heading off on a road trip around the fjords. If you are driving from downtown Oslo to downtown Bergen, you'll be stung at both ends of your journey.
The quickest way from Oslo to Bergen by car is usually via the E16. Interesting places to stop along the way include Borgund stave church, Flåm and Voss.
A shorter alternative (albeit usually longer in duration) is via route 7, route 13 and the E16. If you're planning a slow road trip including overnight stops, good places to stop include Gol, Geilo, Eidfjord and Voss. Among the highlights on the way, don't miss the Vøringsfossen waterfall.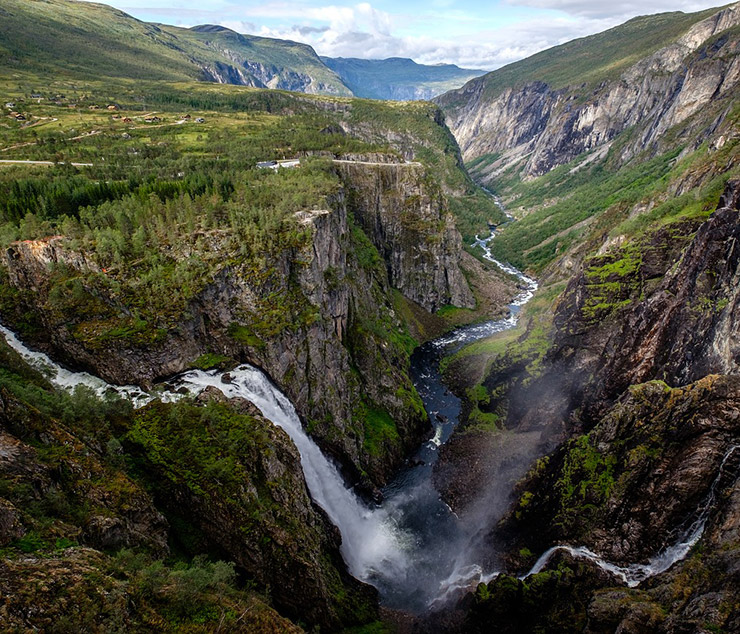 While the roads are the primary west-east roads in Norway, they are single-track for much of the way and the second route in particular crosses Norway's mountains at a high altitude.
This means that driving conditions can be tricky at night and snow is a possibility all year round. Even though an interrupted drive takes around seven hours, you should allow plenty of extra time.
Are there buses from Oslo to Bergen?
NOR-WAY BusExpress offers two options for bus travel between the two cities. Both routes involve a change of bus, so plan your trip carefully to ensure the best combination of price and total duration.
The most popular route is through the Valdres valley via Fagernes, Flåm and Voss. A change of bus is required at Fagernes for all those making the complete trip. The same company also offers a route over Haukelifjell, changing buses at Seljestad.
Should I take the Norway in a Nutshell from Oslo to Bergen?
An extremely popular tourist trip, the Norway in a Nutshell tours can be booked as round-trips from Oslo or Bergen, or as a one-way trip between the two cities.
If you are the kind of person who doesn't like booking their own travel and wants someone to take care of everything, this is a great option for travelling between Oslo and Bergen while enjoying some of Norway's best scenery.
Just be aware that this is a self-guided tour so you are still responsible for catching the relevant bus or train at the stated time!
Have you travelled between Norway's two biggest cities? What's your favourite form of transport? If you enjoyed this post, why not share it on Pinterest? Hit the social sharing button for the perfect pin.