Are you planning a trip to Norway's oil capital to hike the famous Pulpit Rock? Find out what other hiking trails the Stavanger region has to offer. Whether you're renting a car or using public transport, there's options here for you!
Stavanger is a hotspot for anyone who wants to combine exploring a charming Norwegian city with discovering what the great outdoors have to offer.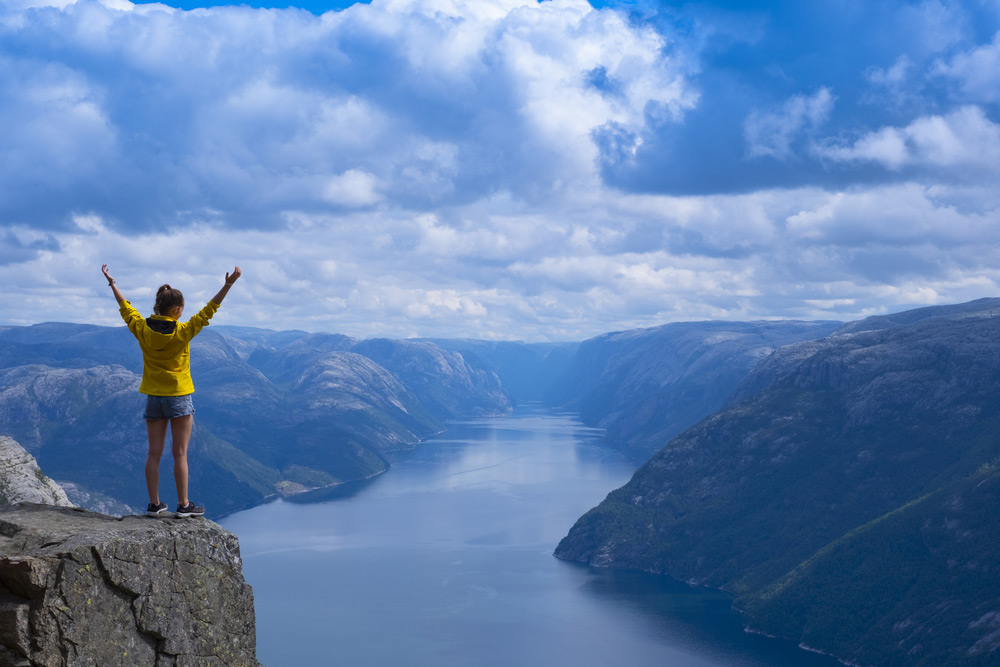 After all, the city is situated a quick 30-minute drive through the newly-built Ryfast Tunnel from the gorgeous Lysefjord, one of the most beautiful fjords in Norway.
Here you'll find an abundance of spectacular viewpoints and hiking trails. Plus, it's just an hour's drive from Magma Geopark, a UNESCO park landscape formed 1,500 million years ago.
In other words, Stavanger makes for the perfect Norwegian city to visit if you'd like to spend some time hiking while still discovering the local culture and cuisine. These are some of the best trails in and around Stavanger:
Pulpit Rock (Preikestolen)
Arguably the most-known hike of them all in Norway, the Pulpit Rock hike is easily accessible from Stavanger, even with public transport. The trail leading up to the mountain plateau is doable by almost anyone of average fitness, provided you bring sturdy hiking boots and enough food and water.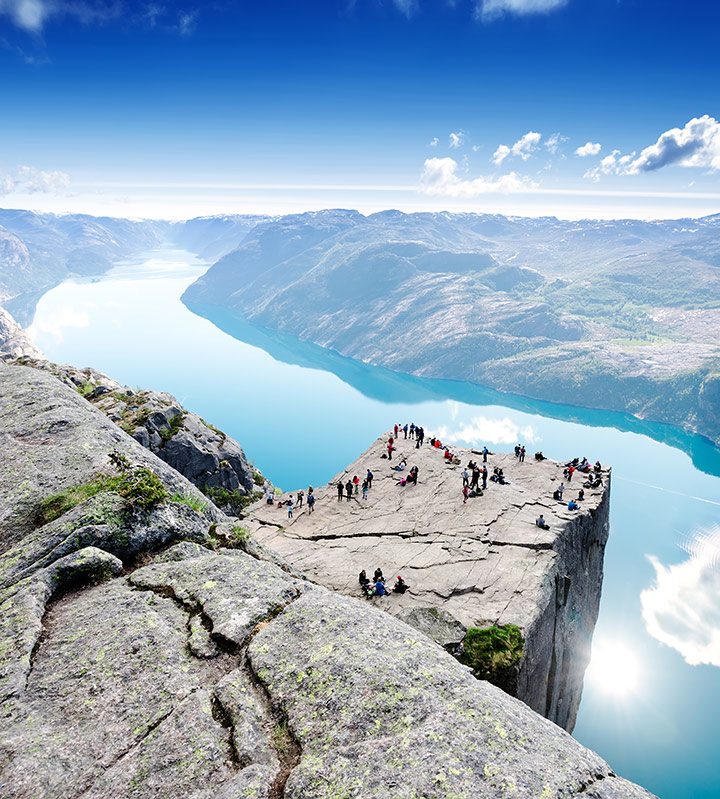 8km in length in total, the trail is often underestimated by tourists leading to plenty of rescue missions every summer.
Read more: Hiking in Norway
Once you've climbed the exhausting stone stairs and made it past the narrow path with a drop of 600m leading to the actual 25x25m plateau, the view of Lysefjord from above will be something you're unlikely to ever forget.
Kjerag
For those who cannot get enough of the Lysefjord and are looking for even more of a challenge, the Kjerag boulder at 1000m above the fjord makes for a daring adventure.
A picture of you standing on the boulder that is stuck between two mountain walls is surely worth the demanding 10km hike that has you climb more than once.
Read more: Interesting Facts About Stavanger
Kjerag is definitely not a beginner's hike, so it's not as crowded as Pulpit Rock further down the fjord. Getting here requires getting the ferry from Lauvvik or Forsand. While it's possible to use public transport, it requires careful planning and several transfers, hence why it's easier to go by car.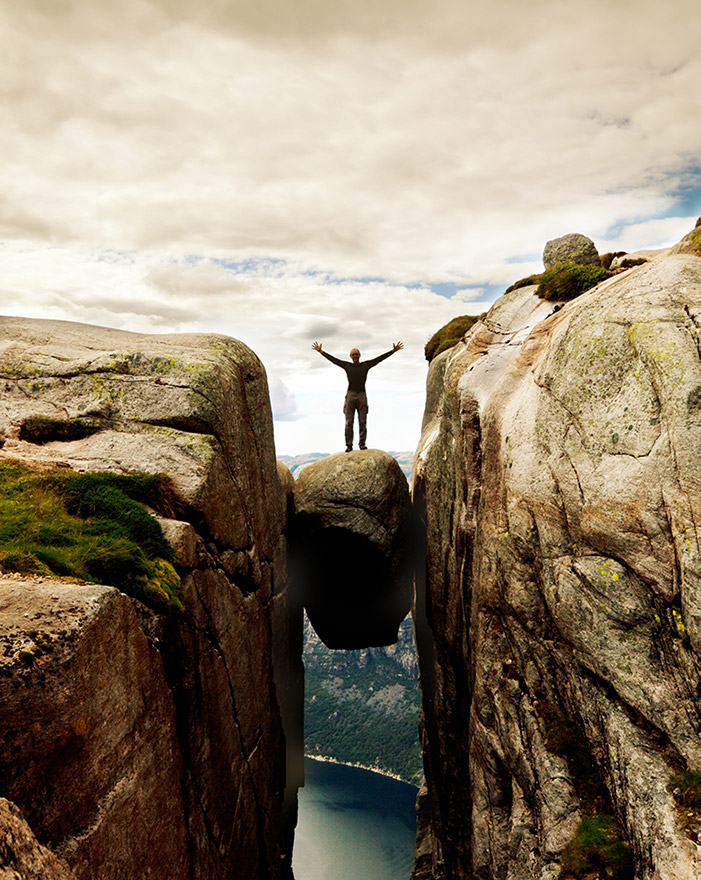 Flørli 4444
Another spectacular Lysefjord trail leads you up the 4,444 steps of Flørli, a village catering to the local hydropower plant that was abandoned when the plant turned electric. The 4,444 steps of the wooden staircase form the longest of its kind in the world and offer a gorgeous view of Lysefjord from above.
While the trail itself is pretty straightforward – literally – it is 1,5km long, leading from the fjord up to 740m above sea level, so good stamina and plenty of water is required for this.
Dalsnuten
Dalsnuten is the perfect hike if you're short on time and want to stay close to the city – and you don't necessarily need a car to get there either! A one-hour ride by bus, the start of the hiking trail is located at Gramstad in Sandnes, Stavanger's neighbouring community.
There are two trails to choose from to get to the top of Dalsnuten at 323m above sea level. There's a slightly trickier and rockier one and an easier trail, which are both around 2km long. The hike shouldn't take you more than 3 hours in total, including a break to take in all of Stavanger and Sandnes from above.
Store Stokkavannet
Situated just a couple of kilometres west of the city centre, Store Stokkavannet lake can easily be reached by bus and makes for a lovely 8km stroll through the woods.
The trail is very popular among the locals and is used by many bikers and runners. During those rare really warm summer days, the lake is also the perfect place to take a dip!
Månafossen
At 92 metres, Månafossen is the highest waterfall of Rogaland County. There are several different hiking trails to choose from, but the actual trail leading up to the first viewing plateau to see the waterfall is actually more of a climb – a 400m long one.
Read more: The Most Famous Waterfalls in Norway
There are plenty of ropes for support, however, so that the trail is definitely suitable for anyone of average fitness and even families with children. If that's not enough of a challenge for you, you can easily continue the trail further to Friluftsgården Mån – an old farmhouse abandoned back in 1915 that is now used as a cabin and local history museum.
Trollpikken
Known as the "troll's penis" due to its shape, this rock formation at Magma Geopark first got international attention after vandals destroyed it and the local municipality had to re-erect it in 2017.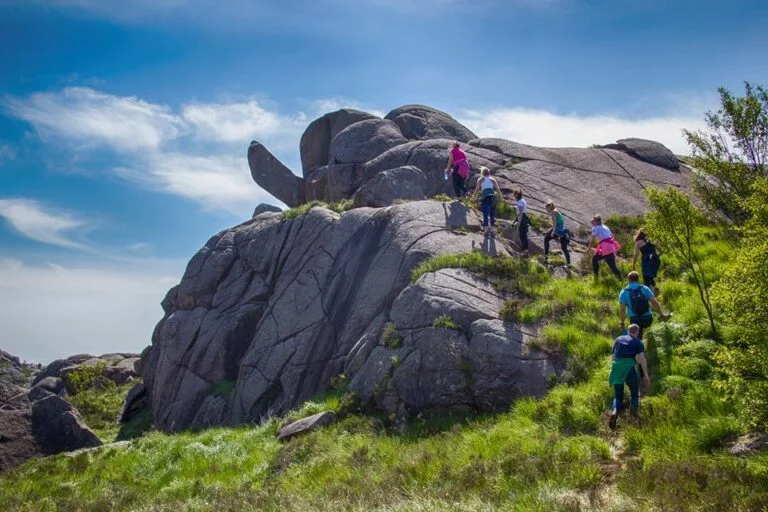 The trail leading up to it can be found near Egersund, approx. a 1 hour and 15min drive from Stavanger. At a total length of approx. 5km, the trail is pretty easy and suitable for anyone, provided you bring good footwear.
Even if you don't decide to climb the actual rock formation (it's slightly tricky and possibly not the smartest thing to do for anyone suffering from a fear of heights), the view of the magma and glacier-shaped landscape from the plateau that Trollpikken is dangling from is absolutely mesmerising and sort of makes you feel like you've landed on the moon.
Have you been hiking in the Stavanger region? If so, what's your favourite trail?