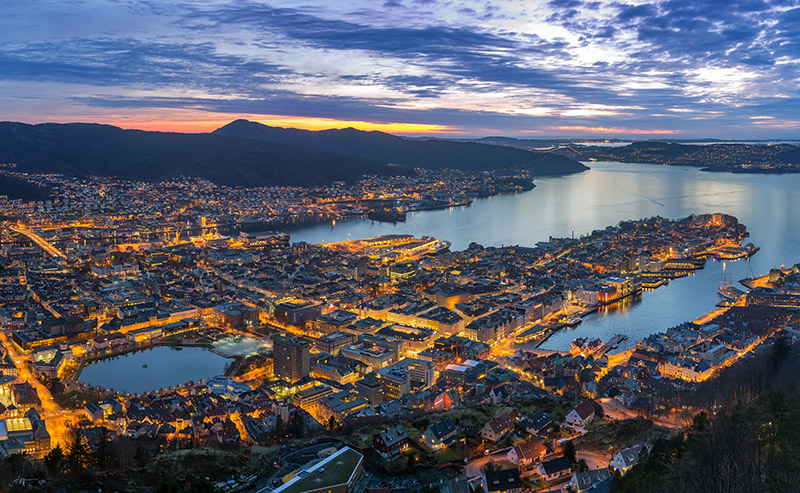 Bergen has some great hostels to make staying in Norway's second city a little more affordable for the budget-conscious traveller.
A trip to Norway can be expensive compared with other European destinations. It's worth it for the spectacular sights and scenery that the country has to offer but can challenge tight budgets. One way to save money is to check out the range of hostels that are on offer to ensure your accommodation doesn't break the bank.
Recently we gave a run-down of Oslo's best hostels and this time it's the turn of the second city as we turn our spotlight on Bergen. Bags packed? Then let's get going!
Marken Gjesthus
Located right in the middle of Bergen, just 250 yards from the train station, Merken Gjesthus provides the perfect base to explore all that Bergen has to offer.
Read more: Bergen Travel Guide
With 29 rooms ranging from single to 10-person, there are styles and prices to suit everyone from the lone traveller to tourist groups. Bed linen is provided, and towels are available to hire if you don't have your own.
A shared kitchen has the facilities required to cook your own meals and staff are always willing to help you find places to dine that won't cost you an arm and a leg. There's a café bar and a supermarket just around the corner, as well as other amenities.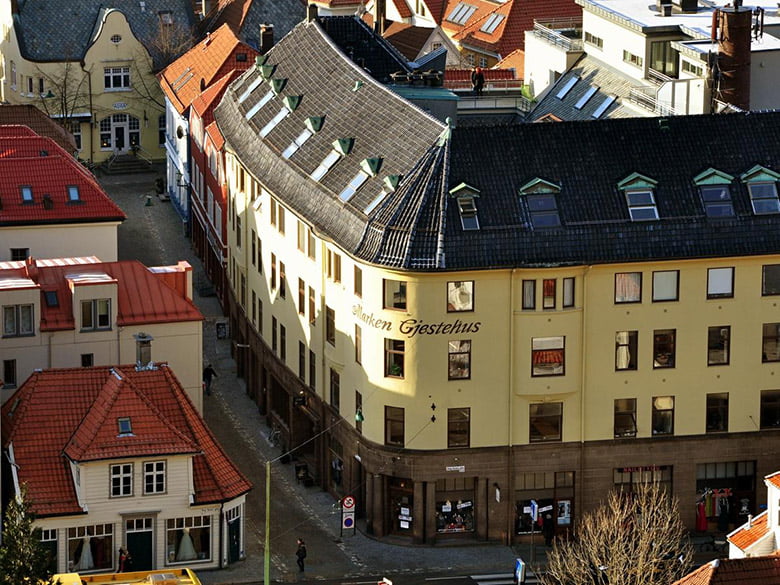 On site you can entertain yourself with books, DVDs and board games as well as the TV room. Next door there's a pool and snooker hall.
Check prices and availability on Booking.com
It's worth noting that in the winter months, check-in closes at 16:30 so you have to make arrangements for a late check-in procedure. If you're travelling by car, parking is not available. You'll have to find somewhere else in the city to leave your vehicle, which can be pricy.
At the time of writing, Booking.com has a 'Very Good' rating of 8.5 for this hostel and reviews are overwhelmingly positive.
Good: 'Beds were very comfy, rooms and kitchen were well-equipped, clean throughout, location was perfect, easy walk anywhere in downtown and close to train/bus stations. I arrived at 2am after a flight and found the location no problem. Late check-in process was incredibly simple. All around great stay.'
Bad: 'The shower was dirty, blankets too small'
HI Bergen Hostel Montana
If you fancy a spot of hiking then the HI Bergen Hostel Montana is your best bet. Located within 100 yards of Mount Ulriken, the highest mountain in Bergen, Montana is your base for the outdoors life. But a 15-minute bus ride gets you into central Bergen, so it works for the city life too.
Boasting a range of shared and solo rooms, some with private bathrooms, Montana can accommodate families, groups and solo travellers alike. With free wifi throughout you can stay connected to home if you need to.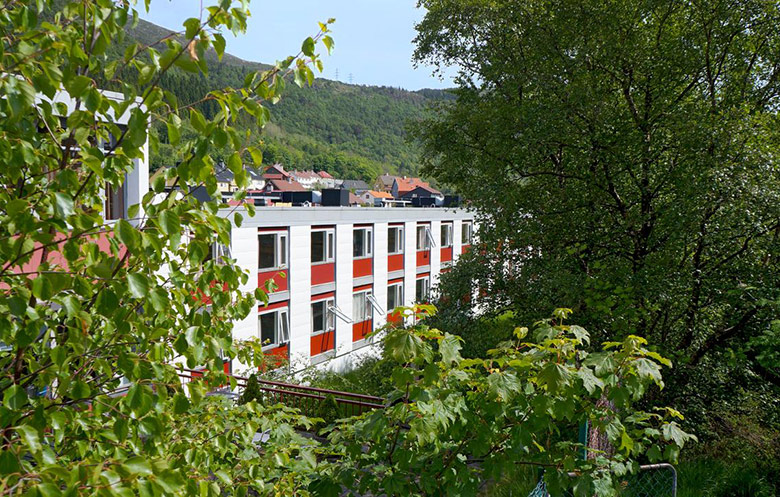 To prepare you for your hiking, the hostel has a fitness centre so you can tone up those calves! The hostel also includes a varied buffet breakfast in the price to set you up for the day ahead.
Packed lunches can also be bought to take with you if you're exploring away from civilisation. Otherwise, the shared kitchen facilities will allow you to cook your own food from the nearby supermarket. Montana also has BBQ facilities for the summer.
Check prices and availability on Booking.com
If you're checking in late during the winter months, make sure you inform the hostel as check-in closes at 22:00. Bed linen and towels are provided at extra charge. Parking is free at the hostel and there's no need to reserve a space in advance.
At the time of writing, the Montana gets a 'Very Good' average score of 8.2 on Booking.com.
Good: 'Plenty of parking and nearby to a bus into town which can save you lots. Lots of information available from the friendly staff and random tours offered. Laundry downstairs is excellent value for money as is being able to cook your food from the shop 100m away. Breakfast had variety and afternoon tea occasionally includes waffles.'
Bad: 'Showers and toilets could be cleaner.'
Bergen YMCA Hostel
Another centrally-located hostel, the Bergen YMCA Hostel will provide a great base for exploring the city of Bergen. It's just 100 yards from the famous fish market and the UNESCO World Heritage site of Bryggen Wharf is less than a 5-minute walk away.
With the typical range of rooms, both shared and solo, no traveller should have any trouble finding something that fits their needs. The hostel has lockers and luggage storage as well as free wifi so you can plan your days with help from the internet.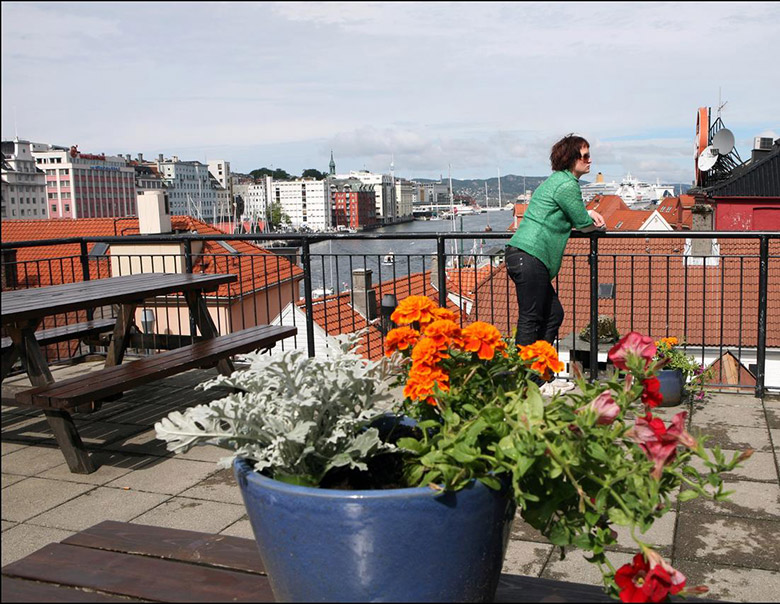 There's a supermarket close by so you can make full use of the shared kitchen. No food is provided but there is also a café on hand to purchase prepared food if you need to. Also, all of Bergen is at your disposal so it's not difficult to find food to suit!
Check prices and availability on Booking.com
It's worth noting that children cannot be accommodated at the YMCA, so families will need to check out a different hostel. There is also no parking available. Towels are not included so you will need to pay extra if you don't bring your own.
At the time of writing, the YMCA has a 'Very Good' 8.0 average on Booking.com.
Good: 'Amazing location, super friendly staff, clean room and shared spaces, great fully equipped kitchen, cheap supermarket next door, electronic locks on all doors.'
Bad: 'There's no staff at all from 15.30 and on'
Bergen Budget Hostel
Another city centre location, the Bergen Budget Hostel will allow you to experience all of the delights of the city known as the 'gateway to the fjords'. Most of the best known attractions, such as the Hanseatic-era warehouses of Bryggen Wharf, are within easy walking distance.
Bed linen is included with all of the Budget's range of private and shared accommodation. Free wifi will help if you need to access the internet during your stay. Neither children nor pets are allowed so if you're travelling with your extended family then you'll need to look elsewhere.
The shared kitchen will allow you to cook food from the nearby supermarket or there's a pub right next door to meet your food requirements.
Check prices and availability on Booking.com
It's worth noting that the Budget Hostel is super-self-service. There's no check-in desk, instead you receive e-mail instructions on how to check-in.
Gaining a 'Good' rating of 7.4 on Booking.com, here's what a couple of the guests had to say.
Good: 'Very nice and very clean bathrooms and kitchen, great location near the harbor, right next to the hostel there is an excellent restaurant,with buffet only for 72 NOK.'
Bad: 'There is no staff, so if you need something, you need to email/text them before you get there. One of the sinks was clogged. Lockers were small and needed coins, and there were no other places to store luggage.'
Planning a trip to Bergen? Let us know what you're looking forward to most about the second city in the comments below!