Find out what to expect on the three-hour sightseeing cruise of Norway's Lysefjord.
Looking for something to do in Stavanger? Many people love to hike in the surrounding areas. But if you're not a fan of hiking, you could do a lot worse than join a sightseeing cruise to the Lysefjord.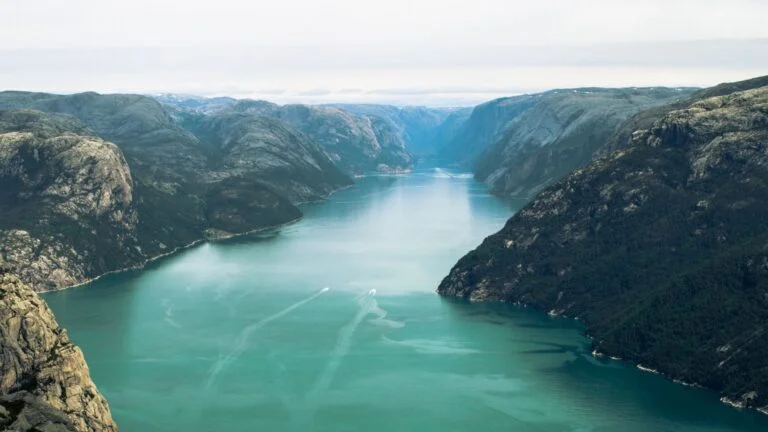 That's exactly what I did earlier this summer. The reason was simple. The Lysefjord was the last one of the main Norwegian fjords that I had yet to see. As it's one of the major tourist attractions in south-west Norway, I had to put that right!
A quick web search later and I'd booked a trip to the Lysefjord. With my smartphone in tow, I took plenty of videos and photos to share with you.
Watch the sightseeing tour in 60 seconds
First things first, check out this quick video to give you a better idea of what to expect than words possibly can! You can watch below, or find a higher quality version on YouTube if you prefer:
As you saw, there's plenty to see on this trip! If you enjoyed the video, read on to discover more.
Introducing the Lysefjord
The southernmost fjord in western Norway's fjord region, the Lysefjord is known for its hiking opportunities within a relatively short distance of Stavanger—about 25km away.
Located in the Ryfylke area of Rogaland county, the Lysefjord is 42 km long. Its name—which means light fjord in Norwegian—is believed to have come from the light-granite rock lining both sides of the fjord.
Boarding the ship in Stavanger
The ferry was simple to find in the centre of Stavanger. Pick up a map at the tourist information office or online when you book a ticket if you're unsure.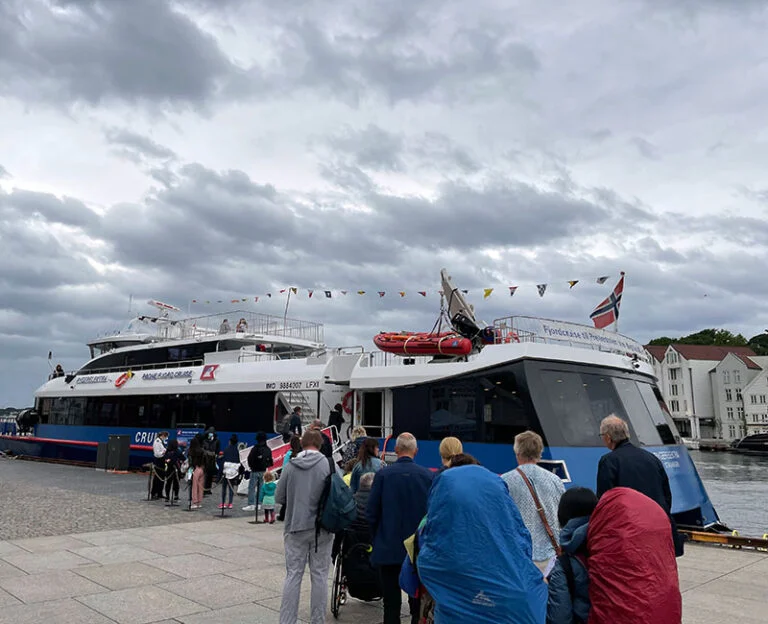 While I was a little reluctant to join a packed cruise during the restrictions of 2021, I needn't have worried. Capacity was lowered because of Norway's restrictions so there was plenty of room onboard.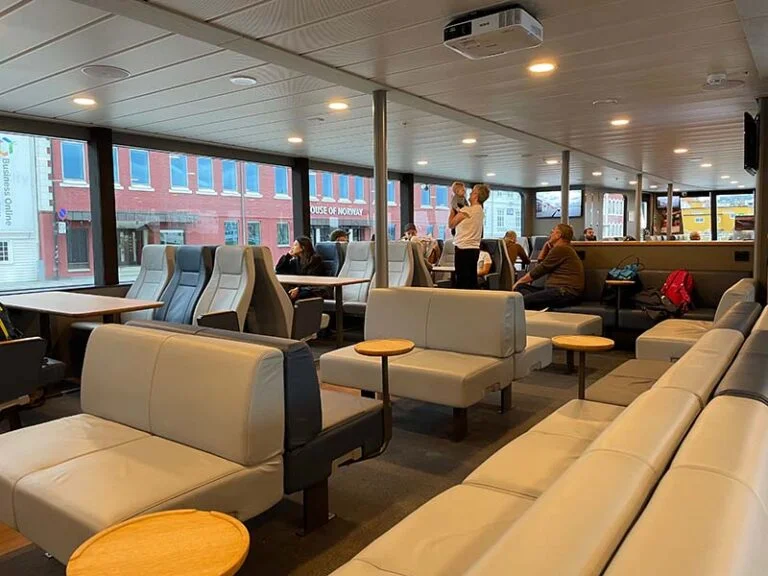 As you'll see from the video and images, there's a large indoor section with comfortable seating. A small kiosk sells coffee, snacks and even beer and wine. And yes, there are several bathrooms on board.
There's several outdoor spaces, notably a large deck to the rear of the ship, an open area at the top, and a smaller deck at the front.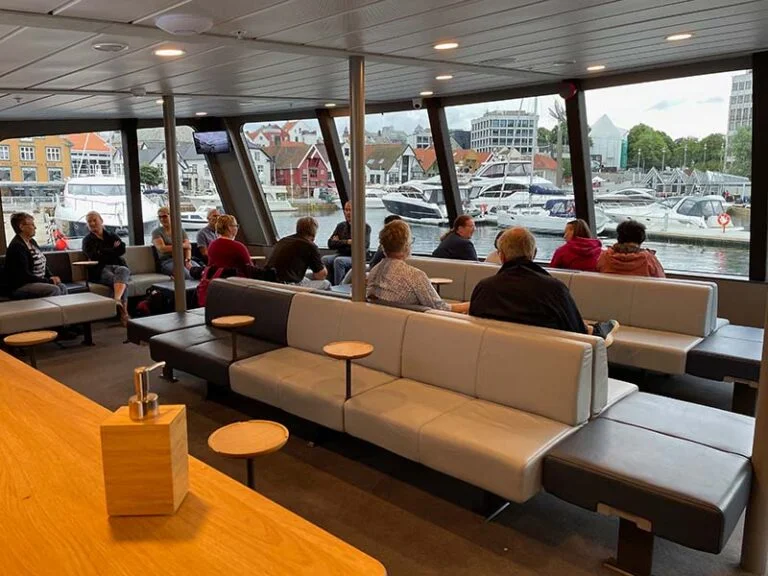 The ship was well designed for Norway's weather conditions with large windows and even some windowed shelter on the main outdoor deck.
The journey to the Lysefjord
It took around one hour to get to the fjord itself. That was plenty of time to buy a snack from the kiosk—a coffee and Kvikk Lunsj of course—but there was also plenty to see on the way.
The ferry takes a scenic route and passes close to islands. Occasional commentary in English, Norwegian and German provided insight into the small coastal communities we passed.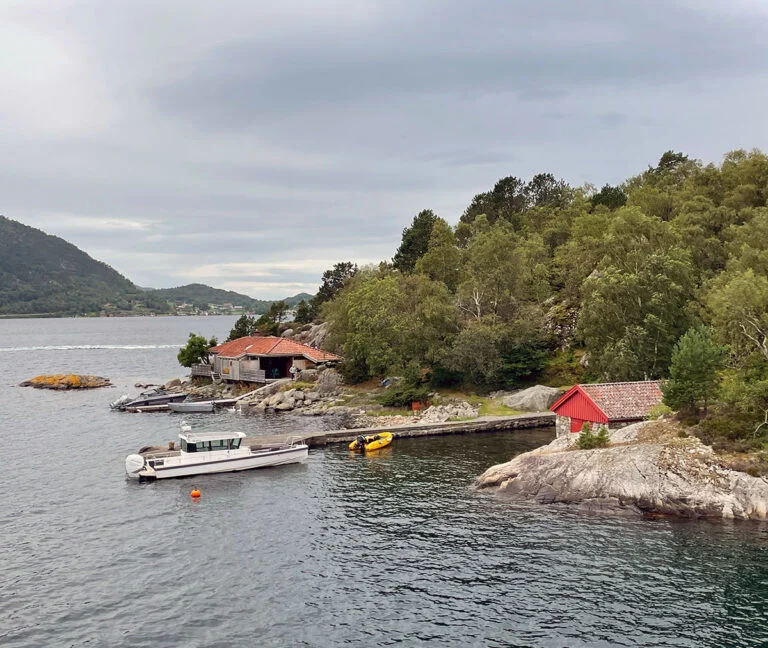 This helped pass the time and when we arrived at the Lysefjord it was hard to believe we had already travelled so far.
Highlights on the Lysefjord
Lysefjord bridge. It's impossible to miss the entrance to the fjord. This impressive bridge marks the entrance and is the only way to cross the fjord by car.
Vagabonds cove. I didn't quite catch all of the story, but this attractive cove apparently got its name as the hiding place for a couple of traders trying to escape paying their taxes!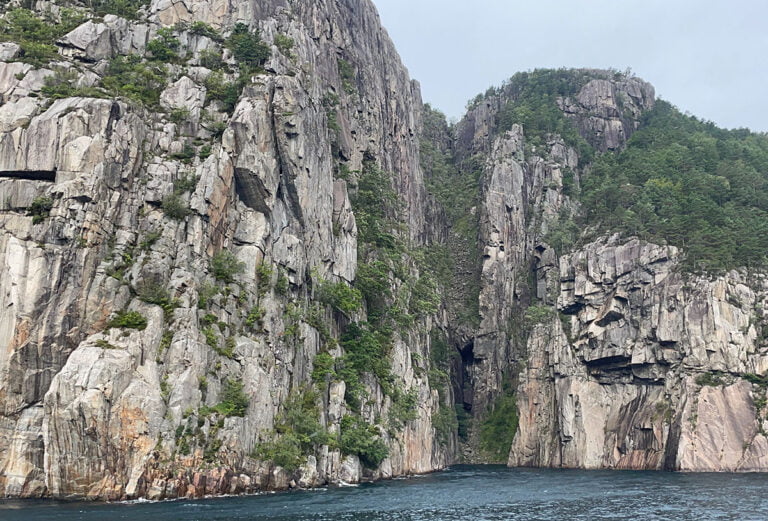 Goats. The highlight for the younger members of the cruise—and plenty of the older ones too—was this small family of mountain goats.
They are very familiar with the vessel and can be relied upon to come and say hello, receiving food from the crew.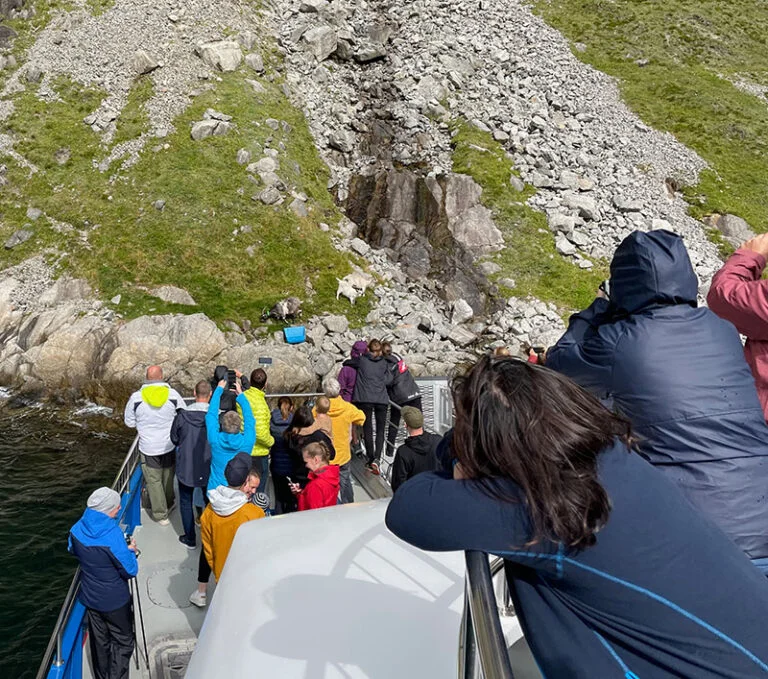 Preikestolen. Known in English as the Pulpit Rock, Preikestolen is one of Norway's most famous sights. However, it takes about four hours to hike there and back!
From the fjord, passengers get a very different view of the famous clifftop. It's hardly the same as seeing it from the top, but it does give you some fascinating perspective. It looks so small!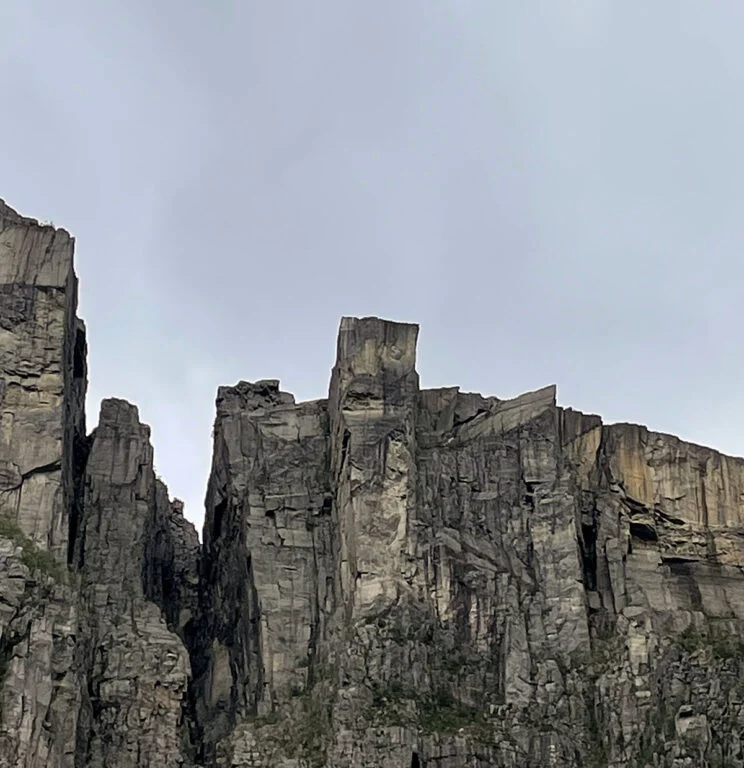 Hengjane waterfall. Pouring down the side of the fjord from a height of 400 metres, Hengjanefossen is a spectacular sight. It also marks the turnaround point for the cruise.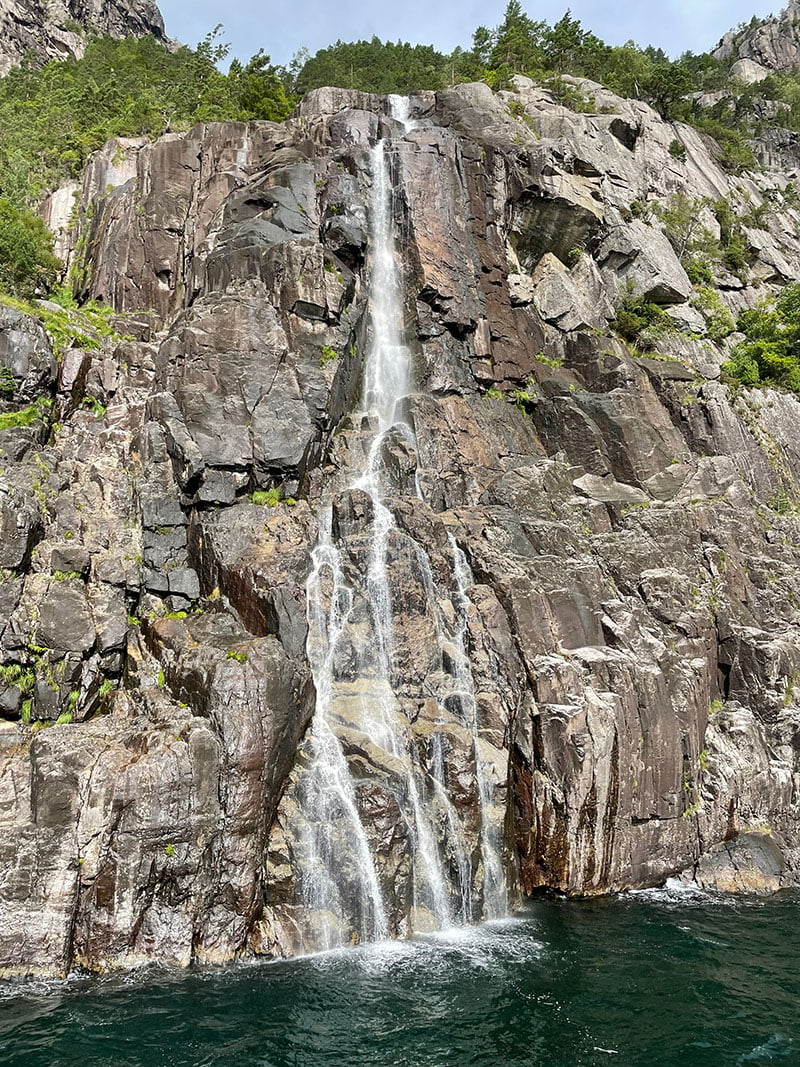 The return trip to Stavanger is more direct and so I'd recommend bringing a book or something similar to keep you occupied. While there is onboard Wi-Fi, it's not especially fast or stable.
Practical matters
At the time of writing, this Lysefjord sightseeing cruise operated by Rodne cost NOK 580 for adults. Tickets for children under 16 cost NOK 320, while under 4s go free. A family ticket for up to 2 adults and 4 children costs NOK 1600.
Booking tickets online is the best way to ensure your place. You can also buy tickets in person before boarding, as long as there are spaces left.
Rodne offers several fjord trips, including some that drop off hikers and/or pick them up later in the day. They do have different departure times, but even so, be sure to book the correct one!
I hope you enjoyed taking this virtual trip with me. If you enjoyed it, please consider sharing it on Pinterest so others can enjoy it too. Just hit those social sharing buttons. Thanks!