Planning a couple of detours into your itinerary is the best way to make the most of a road trip in Norway. Here's our best advice on how to do so.
A road trip in Norway can be an unforgettable experience. The country has much to offer and many return from their journey with their heads full of incredible vistas.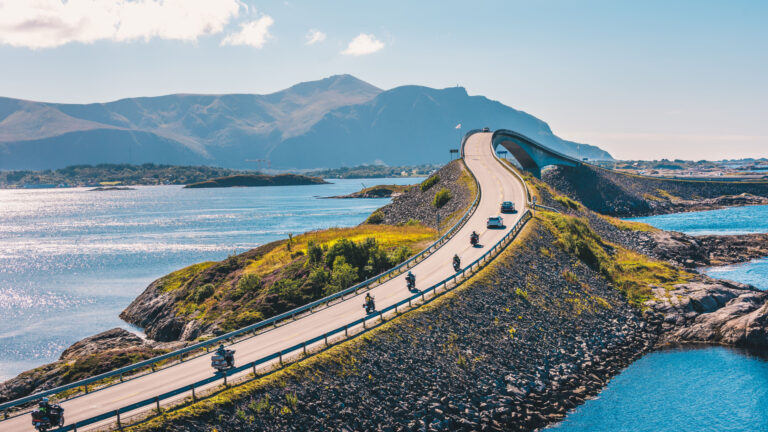 Some, though, unknowingly miss a lot of great sights. There is no reason for this, as the most charming roads are hidden in plain sight.
In this article, we will attempt to help you make the most of your Norwegian road trip. If you are wondering how to plan your road trip, what traps to avoid and what to look out for as you decide on your itinerary, we have got you covered.
Road trips in Norway: pace yourself
Too many people, in their mad dash to Nordkapp or to whatever other far-flung destination they have set for themselves, stay on the main roads the whole way.
The problem then is that you will miss great sights, including some that would have required very little extra time.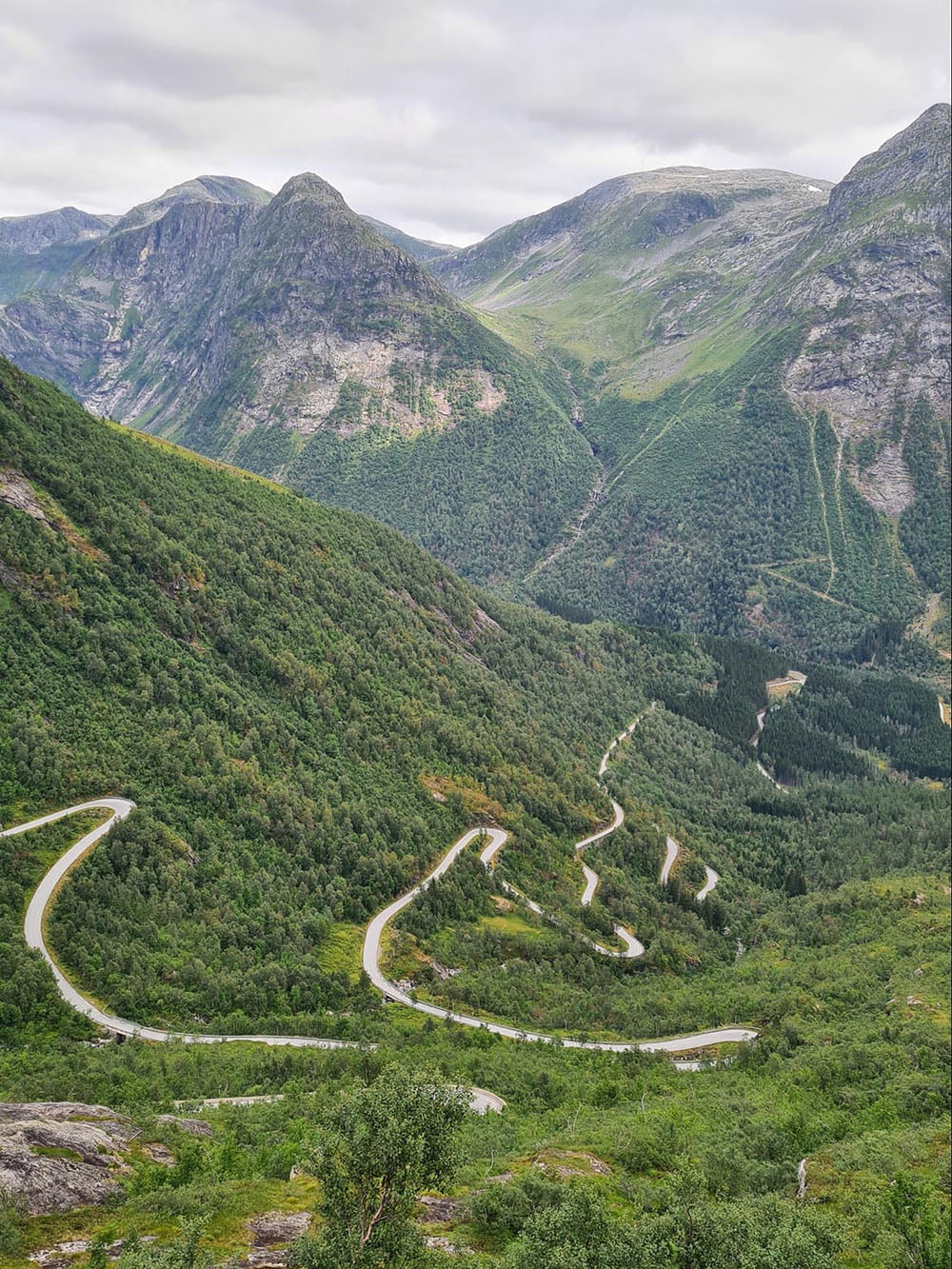 A good rule of thumb in Norway is to plan for a slow pace throughout. Do not expect to cover 1,000 km a day, or even 700 km. A comfortable place to be is about 400 km. On some days, that number will be a bit higher, and some others it will be even lower.
The journey is very much the destination, in Norway. You will find yourself wanting to make many short photo stops along the way, and maybe wanting to have lunch at a particularly scenic spot.
If you plan for too much driving every day, you will lose the flexibility you need in your schedule for these spontaneous stops.
How to choose your road trip detours
Luckily, choosing your itinerary is not that difficult. First, pick the main destinations.
Do you want to see Bergen and its UNESCO-listed Bryggen harbour district? Do you want to see Trondheim and the world's northernmost mediaeval cathedral? How about Lofoten and its racks of drying cod?
Once you have some must-see destinations lined up, take out a map and sketch out an itinerary. At first, you can just plan to use major roads, just to get an idea of the driving times involved.
Online options like Google Maps are invaluable for figuring out driving times. As the average speed on Norwegian roads tends to be lower than in many other countries, your own estimation based on distances may be off by quite a bit.
Once you have a rough idea of the total driving time, you may already find that you have to prune down the number of destinations to keep the schedule realistic. Once that is done, you're ready to go on to the next step.
Consider including Norway's scenic routes
The way to ensure your road trip brings you to the best vistas is to plan some detours along the way. These detours should consist of, or lead to, some of Norway's 18 designated scenic routes.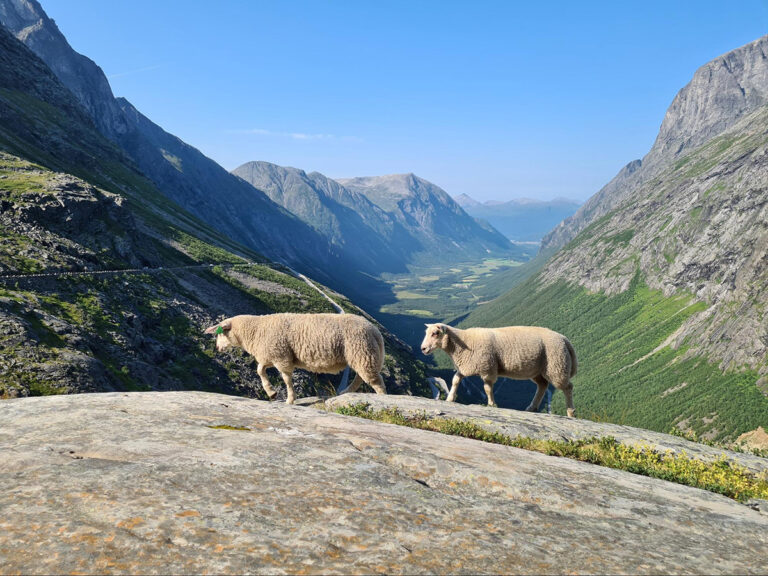 There are many guides on the market suggesting scenic routes in Norway, but buying one of them is not necessary. The official scenic routes website has a very convenient list with maps and pictures.
Try to find ones that are close to your main itinerary, and see how you can integrate them to your plans.
Of course, the 18 designated routes are not the only detours you an include. Far from it! The 18 routes are a starting point though, and all have a good standard of facilities.
That's because the scenic routes program invests substantial sums in creating rest stops and lookouts with interesting architecture. Far from detracting from the natural beauty of the surroundings, these stops use architecture to highlight it.
Many of these stops are located in areas where people used to stop by the side of the road and risk causing accidents.
Detour example: Rondane
A perfect example of what we are describing is route 27: a superb scenic detour to take if you are driving between Oslo and Trondheim.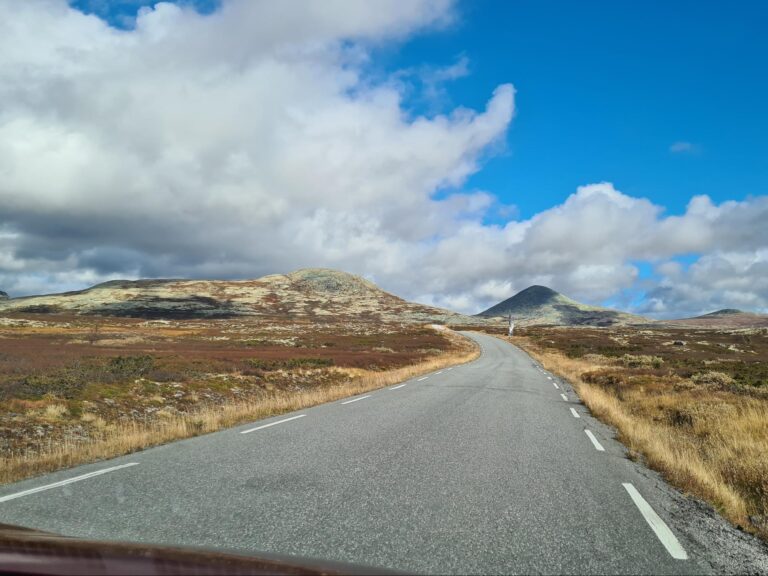 The trip takes you through the distinctive mountains of Rondane National Park, where many artists and writers have found inspiration over the years.
Sohlbergplassen is a viewing point at Atnsjøen lake. The platform curves gently around slender pine trees, framing the view towards the lake and peaks of Rondane. The roof terrace at the Strømbu rest stop is another popular place for admiring the views.
In fact, it's strictly speaking more of a shortcut than a detour, although it's a shortcut only when considering distance travelled, not time. Especially considering you'll want to stop several times to take in the views.
We have lived in Norway for over 10 years, driving between Oslo and Trondheim on many occasions. Despite this, it took us until the autumn of this year until we finally tried this road.
Do not be like us! Do not let the desire to "get there quickly" get in the way of a great scenic detour.
Detour example: Gaularfjellet
Gaularfjellet is a historic route over the mountains between the Sogn and Sunnfjord districts. Split into several sections, it totals 114km in length with a total elevation gain of 784 metres.
The route is best known for its serpentine mountain climb, spectacular viewpoint and numerous waterfalls along the watercourse. If you're staying or passing through Balestrand on the shores of the Sognefjord, it's a great choice of detour.
Following the hairpin turns up the mountain, the viewpoint Utsikten is the architectural highlight of the scenic route. Opened in 2016, it has quickly become a tourist attraction in itself.
Driving towards it, one gets the impression of approaching the entrance to a James Bond villain's lair. The stunning landscapes only reinforces the impact of the structure's striking architecture.
The triangular concrete platform features 'wings' that give visitors different perspectives on the mountain valley and hairpin turns below. Meanwhile the restroom block (only open in the summer) provides an obvious benefit to drivers.
Detour example: Lofoten
The famous Lofoten road trip is a bucket list item for many travellers. From the roadside of the E10 you can some of the very best scenery Lofoten has to offer. But not all of it!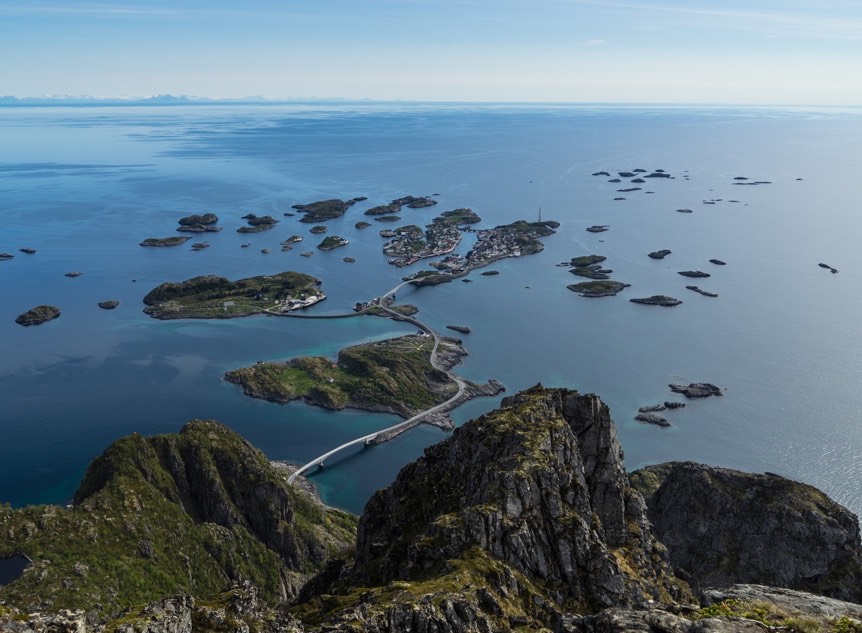 Even though the E10 through Lofoten is one of Norway's scenic routes, there's so much more to see by taking some quick detours. For example, the one-hour detour down to the island village Henningsvær and back is well worth your time.
The narrow road twists and turns at the base of a steep mountain before leaping across bridges between islands. Eventually you reach Henningsvær, surely one of the most picturesque fishing villages in all of Norway.
What's your favourite Norwegian road trip? Have you found any interesting detours on your travels? Let us know in the comments below.