Do you have an early flight or a late arrival into Trondheim Airport? Here's what you need to know about the airport hotel.
When we visit family it almost always involves a change of plane in Amsterdam or Copenhagen. These connecting planes from Trondheim airport usually leave at 6am or 6.30am. As we don't own a car, getting to the airport at this time can be a pricey endeavour with a very early start thrown in.
That's why we have become semi-regular guests at the Radisson Blu Trondheim Airport hotel over the years. It's the only hotel at Trondheim airport itself, meaning you can wake up one hour before your flight and still not need to rush.
But airport hotels are a costly addition to a travel itinerary, so are they necessary? In this article we'll take a closer look at the Trondheim airport hotel to help you decide if it is right for you.
Where is the hotel?
As I've said above, the hotel is located at the airport itself. It's physically between the airport and the train station.
If you pick up your bags from the domestic terminal, you will be at the hotel reception in less than two minutes. Just turn right as you exit the terminal building.
Discover availability and rates at this hotel on Booking.com
It is possible to check in online via an email you receive a few days before your reservation. However, I have only once been able to get the system to work no matter what device or browser I'm using. Normally, check-in at the hotel itself is quick and easy anyway.
The rooms
Given the hotel's proximity to the airport, many of the rooms overlook the runway or the apron used by Widerøe planes. You may have to pay slightly more to get a runway view, but it's worth asking when checking-in, especially if the hotel is quiet.
Of course, if you are staying just to sleep and there won't be any time to look out of the window, you can overlook this advice! The same goes for staying during the winter months when it's dark.
The most important thing to note is that the hotel is quiet. Even with planes landing late and taking off early, I have never been woken up by aircraft noise.
Generally speaking, the rooms are a bit more spacious than city-based Radisson hotels. But you still shouldn't expect American standard rooms. Nevertheless you have everything you would expect, including a kettle or Nespresso machine, en-suite bathroom, and a desk and chair. Ice is available from a machine by the elevators.
There is a TV with mostly Norwegian channels. BBC World News is available although the last time I stayed a couple of channels including the news channel didn't seen to be working.
If you are travelling as a family it's worth noting that you can add an extra bed in a regular room for a charge of NOK 250. Also, children under 12 stay free of charge if they sleep in the same bed as their parents.
Restaurant and bar
Named Longhorn, the hotel's restaurant and bar is open every day. Food is served food from from 5pm to 10.30pm, although the bar stays open a bit later.
I have had several good experiences at Longhorn, and one terrible one. The food is good if a little overpriced, as is the norm at airport hotels across the globe. Beer is also extremely expensive, even by Norwegian standards.
Whenever I've eaten or enjoyed a drink at the bar it has been very quiet and service has been good, except for one time just a few weeks ago.
There was a large conference taking place and what looked like a late cancelled flight meaning the hotel was full. Unfortunately, this left just one person to deal with the approximately 40 or so people in the restaurant and bar. Needless to say, the waiting times were astronomical.
In normal circumstances people would simply go somewhere else, but there are no other options given the location. Even the Narvesen kiosk in the airport terminal had already closed as it was a Saturday night (there are very few flights out of Trondheim on Saturday evenings).
I understand there will be staffing issues when a flight is cancelled and suddenly a hotel goes from half-empty to full, but this must be a semi-regular occurrence at an airport hotel. It was disappointing to see there weren't any contingency plans for such an event. Still, hopefully this was very much a one-off.
Alternatives to the airport hotel
A nearby alternative is the Scandic Hell hotel, with similar prices and facilities. The hotel is a 10-15 minute walk away from the terminal.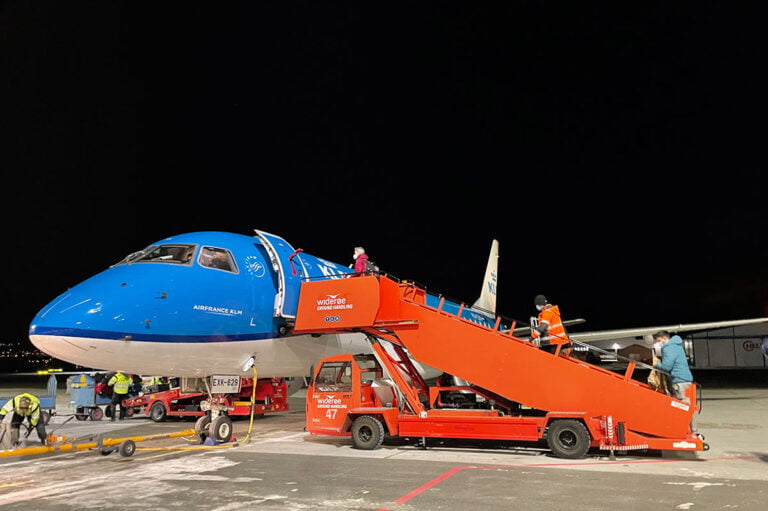 A signed footpath that runs past the Radisson hotel and railway station entrance. If you are travelling without a lot of luggage this may be a good alternative option.
You can of course also stay in Trondheim. Depending on your flight time, this is usually a perfectly good option. I'd only recommend considering the airport hotel for flights that leave before 8am or arrive after 10pm.
Should you stay at the Radisson Blu Trondheim Airport Hotel?
I cannot decide this for you, of course. The final decision is up to you, and it very much depends on your own circumstances and your travel preferences.
Discover availability and rates at this hotel on Booking.com
The hotel is comfortable but it is a no-frills hotel with very few facilities beyond the bar and restaurant. There's no gym or pool, for example. So this isn't somewhere to stay more than one night especially considering its location.
But this hotel has a very clear benefit. You can be at the security clearance gate within a three minute walk! So if saving an hour or two during a hectic travel itinerary is worth it to you, then go for it.