These islands within easy reach of Oslo offer historical sites, peaceful walks and sheltered swimming.
People taking a quick 'city break' to Oslo often bemoan the fact they can't enjoy the best of Norwegian nature. That's always a big surprise to me, because you absolutely can!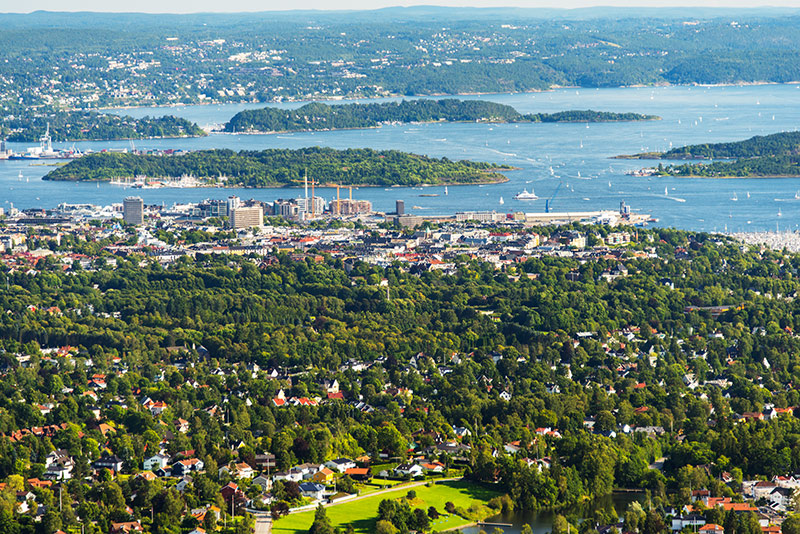 Not only is the city greener than many other European capitals, it's also on the shores of the Oslofjord. There are opportunities for recreation all around.
Enjoy the great outdoors in Oslo
While the famous western fjords and spectacular mountains of Lofoten are out of reach, there are ways to enjoy friluftsliv in the very heart of the Norwegian capital.
Look at any aerial photo of Oslo and you'll see several small green specks dropped into the fjord in front of the city. Welcome to the islands of Oslo!
Read more: Fun facts about Oslo
Each island has its own distinctive character, from the beaches and history of Hovedøya to the residential vibe of Lindøya, yet all share a familiar look.
That's because cabins built on certain islands have to adhere to a strict colour scheme of red, blue, green or yellow. When you add in the green of the grass and trees and the blue of the ocean, it's a truly colourful experience.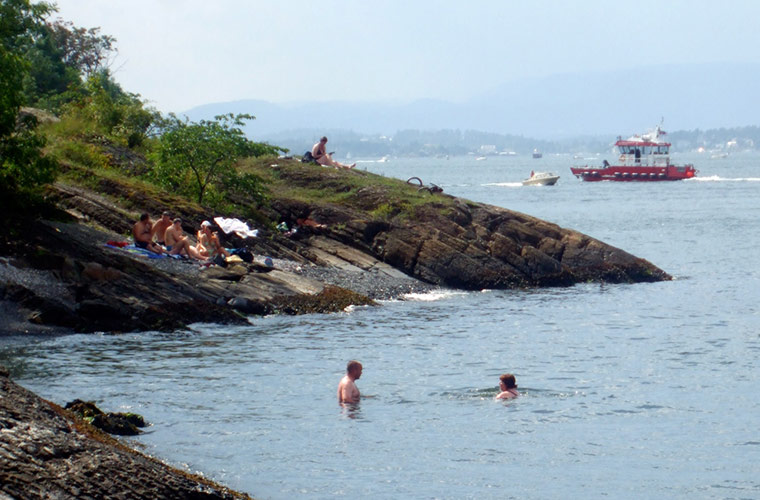 Which island is right for you?
Whether you want to relax or have some fun, there's an island for you:
Hovedøya: Historic ruins, good swimming, beach, nature reserve
Lindøya: Summer homes and a friendly community feel
Gressholmen: Oslo's former seaplane airport now a boatyard, habitat for birdlife
Langøyene: Wild camping permitted, good beach and sheltered swimming
Other islands include Bleikøya, home to a former sanatorium that housed children suffering with tuberculosis in the 19th-century (it is now a private residence), and Nakholmen, a small island populated with around 200 holiday cottages owned by city dwellers.
Read more: The Most Notable Norwegian Islands
We'll look at each of the islands in more detail later on, but first, how do we get there?
How to get to the Oslo islands by ferry
The islands are plugged into the city's public transport system thanks to a series of small passenger ferries. They all leave from the clearly marked pier in front of Oslo City Hall, which is within a 20-minute walk from anywhere downtown.
The ferries run year-round (every 1-2 hours depending on the route), although departures are much less frequent outside the summer months. During the summer, they are frequent enough for you to visit two or three islands during the day.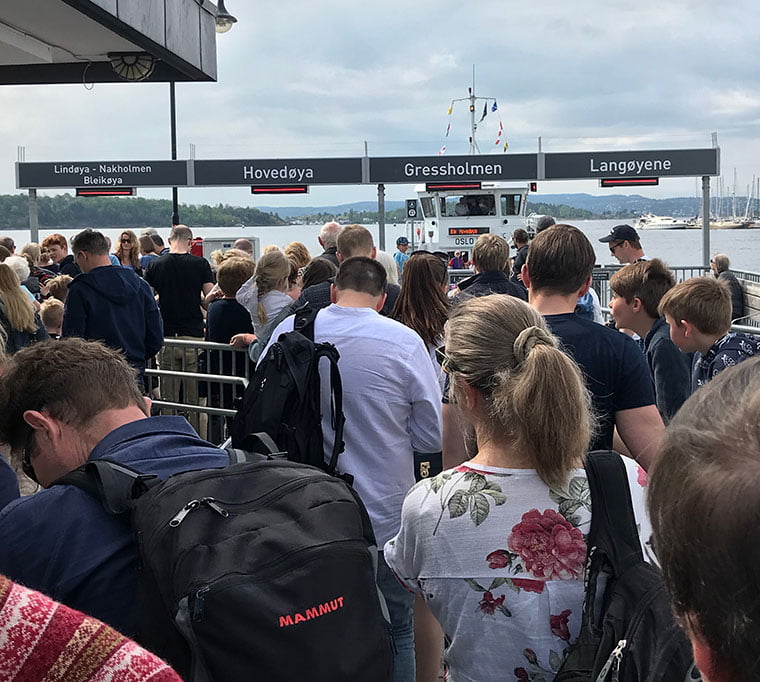 A huge plus for Oslo residents or those staying more than a couple of days is that the regular Ruter public transport tickets are valid on all these ferries. So if you have a monthly pass, you're sorted. An Oslo pass? Yep! A day ticket? You're good!
You can also buy single tickets for the same price as a bus/metro ticket, currently 35 kroner. The 24-hour tickets are 105 kroner, and both should be bought from the machines at the Oslo pier. If you get on the ferry without a ticket, you'll be fined.
Bear in mind that these islands aren't seen as tourist attractions, so there isn't much in the way of facilities. Some of the larger islands have kiosks or small shops, but the opening times are erratic. Always take food and something to drink with you, and if the kiosks are open you can treat yourself to a waffle and some coffee.
Now then, about those islands…
Hovedøya
The largest, closest to the city, and most popular of the islands, Hovedøya is great for swimming, relaxing on the beach or rocky coastline, or playing ball games on the large grassy area.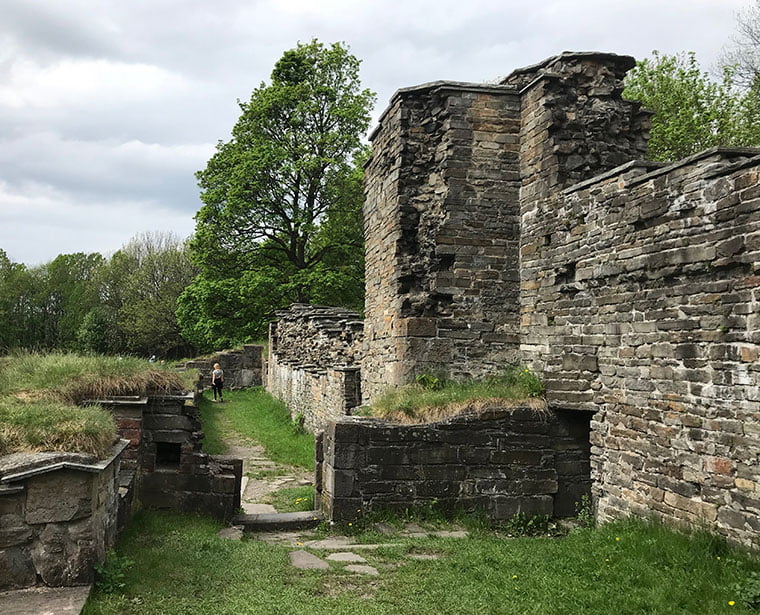 History buffs will enjoy wandering around the ruins of the 12th-century cistercian monastery built by English monks and the remaining cannon batteries from the (many) years the island was used by the Norwegian military because of its key strategic position.
A few steps from the jetty, the beautiful timbered Lavetthuset is now home to a gallery and studio space, while a simple kiosk (summer opening only) with outdoor seating is handily located next to the monastery ruins.
Despite all of this, the majority of the island's 469 acres are forested and protected as a conservation area. You're free to wander the trails, but just don't take away any samples of the diverse plant-life or rocks that can be found here.
Lindøya
There's more summer cabins on Lindøya, about 300, than any of the other islands.
This gives it something of a community feel in high season, akin to wandering through a pretty suburb of Oslo. A small shop serves the islanders, some of whom spend the month of July or even longer living here.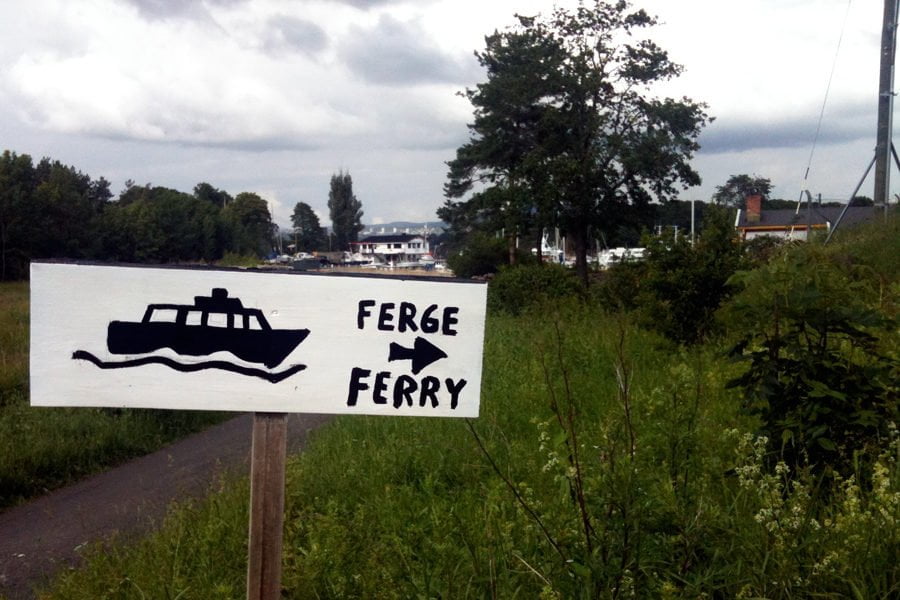 The best swimming spots can be found on the island's southwestern corner. Lindøya is the only one of the islands to have two ferry stops served by different routes, which gives you more flexibility when visiting.
Gressholmen
Seaplanes landed at Gressholmen between the First and Second World Wars in what was then the main airport for the city. Few traces remain now of the former airport buildings, which now serve as a boatyard.
The otherwise hilly island is connected to Heggholmen and Rambergøya with causeways that form an important bay for sea birds. The picturesque Heggholmen lighthouse on the island's northwestern tip is a popular place to walk to, not least for the views back to the city.
Langøyene
One downside of the Oslo islands is that camping overnight is not permitted, except here on Langøyene. Originally two distinct islands now connected by a large flat grassy area ideal for sports, the island is known for its grill parties and even a small summer festival.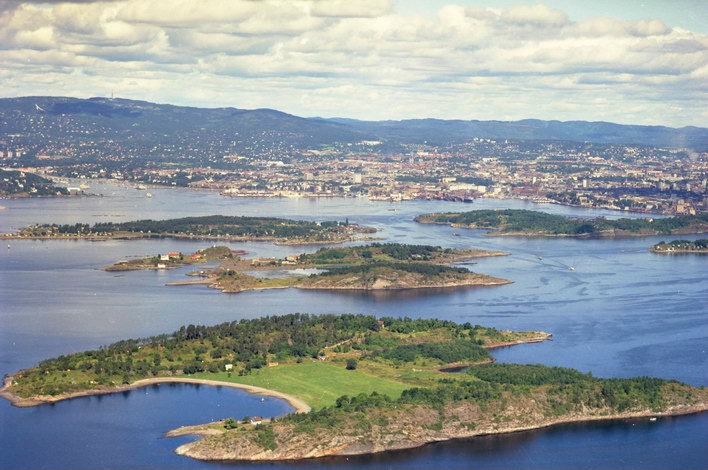 The south-western side of the island is home to a lovely sheltered beach and shallow swimming area. It's also the furthest island from Oslo, so much so that it's technically part of Akershus county albeit owned by the municipality of Oslo.
The rules of the islands
As already mentioned, Langøyene is the only place where overnight camping is permitted. Also, between mid-April and mid-September, open fires are not allowed.
There are public campfire sites on the islands, which can be used all year. Ask a local if you're unsure where they are. Take care in periods of dry weather, as grass, shrubs and trees can easily catch fire from discarded cigarette stubs, for example.
How many of the Oslofjord islands have you been to? Which one is your favourite – and why?