Norway's experimentation with modern architecture continues. This bridge doubles as an art gallery in Norway's largest sculpture park.
'The Twist' spans the Randselva river at the Kistefos Museum and Sculpture Park In Jevnaker. The park is located about 80km northwest of Oslo, near Hønefoss.
The old wood pulp mill, the oldest of its kind in Scandinavia, is now a museum of industry. But the site is just as well known for the sprawling sculpture park featuring works from Anish Kapoor, Olafur Eliasson, and Yayoi Kusama.
An 'art bridge' in the forest
The wild riverside grounds now has a new attraction to add to the area's appeal. The new 'art bridge' completes the park's cultural loop, allowing visitors to experience the outdoor artworks without needing to double-back.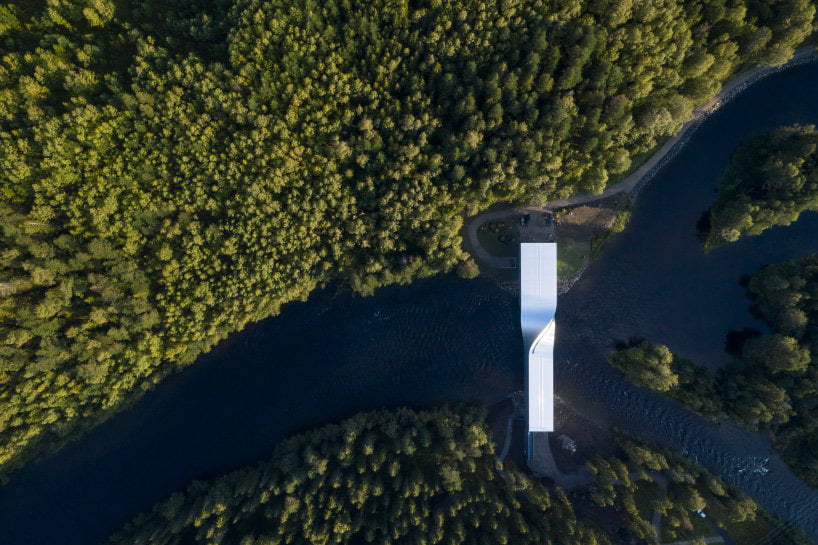 Named 'The Twist', it's the latest project from renowned Danish architects the Bjarke Ingels Group. It's their first project in Norway and is already catching the attention of architecture fans around the world.
Twisting inside and out
From the outside, the aluminum clad structure contorts in its middle, creating the effect of a 90-degree twist. It first reminded me a little of the Turning Torso in Malmö.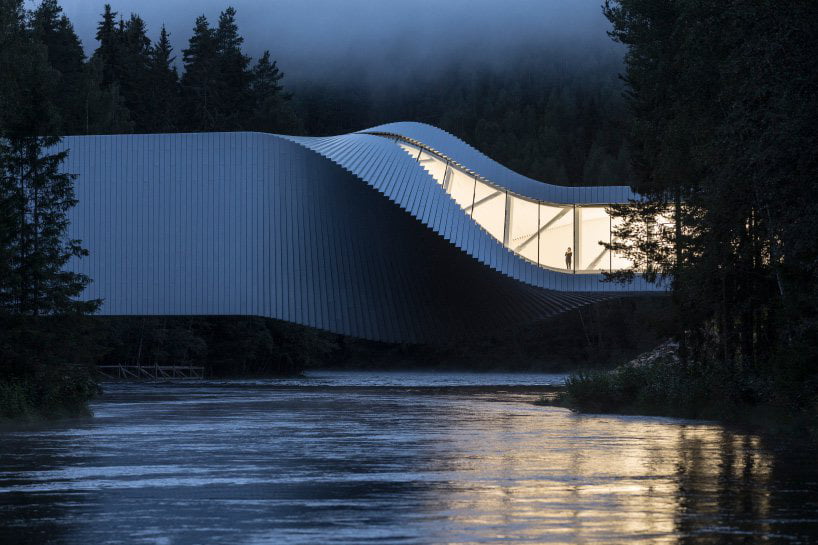 Inside the structure, the stacked aluminium panels are slightly shifted, creating a fan effect. But while the effect is eye-catching, the architects have designed the interior to put the focus where it's deserved: the wilds of Norway. Floor-to-ceiling glass windows line one end of the bridge, giving those using the bridge a panoramic view of the river.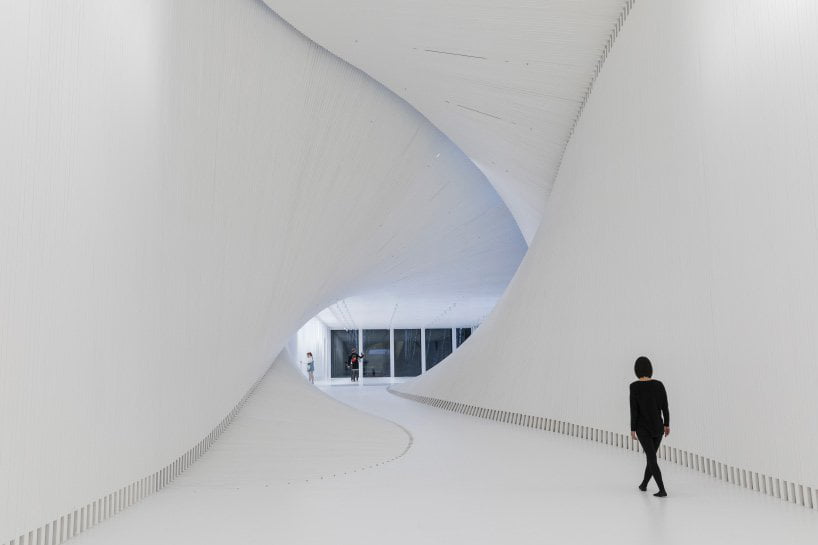 A modern design for multiple uses
Creative Director Bjarke Ingels says the bridge spans several traditional categories: a museum, a bridge, and an inhabitable sculpture:
"As a bridge it reconfigures the sculpture park turning the journey through the park into a continuous loop. As a museum it connects two distinct spaces – an introverted vertical gallery and an extraverted horizontal gallery with panoramic views across the river. A third space is created through the blatant translation between these two galleries creating the namesake twist. The resultant form becomes another sculpture among the sculptures of the park."
Temporary exhibitions are planned for the space, starting with 'Hodgkin and Creed – inside out'. This exhibition pairs Howard Hodgkin with Martin Creed and features important works from public and private collections.
The bridge was officially opened in September with quite the party in attendance. Her Majesty Queen Sonja, His Royal Highness Crown Prince of Denmark Frederik, Prime Minster of Norway Erna Solberg, and Ministers Siv Jensen and Trine Skei Grande were all present.
What do you think of The Twist?