Here are nine haunted places in Norway you probably don't know about but should. Don't read this one alone!
Are you someone who finds few words more exciting than "unexplained phenomena", "tragic circumstances" and "mysterious death"?
Or maybe you're someone who doesn't believe in ghosts but still enjoys the history behind a place? Or, if you're anything like me, maybe you're someone who's intrigued by a promising story of a haunting but would absolutely freak out at the slightest hint of anything supernatural?
Whoever you are and whatever your feelings towards the dead, undead and everything in between, here are nine best places in Norway that you probably don't know about but absolutely should.
Read more: Dark Tourism in Norway
Before we get started, a quick note. A lot of these places are open to the public. However, if you do visit, we encourage you to be respectful and sensible in your activities. Also, don't do anything that would put yourself or others in danger. After all, you don't want to end up being featured on the next list!
1. The Bloody Monk of Trondheim's Nidaros Cathedral
The Nidaros Cathedral is allegedly home to two notable figures. The first is Olaf Haraldsson, or Saint Olaf, who is the Viking king most responsible for converting Norway to Christianity. His grave is said to be directly under the high altar of the cathedral.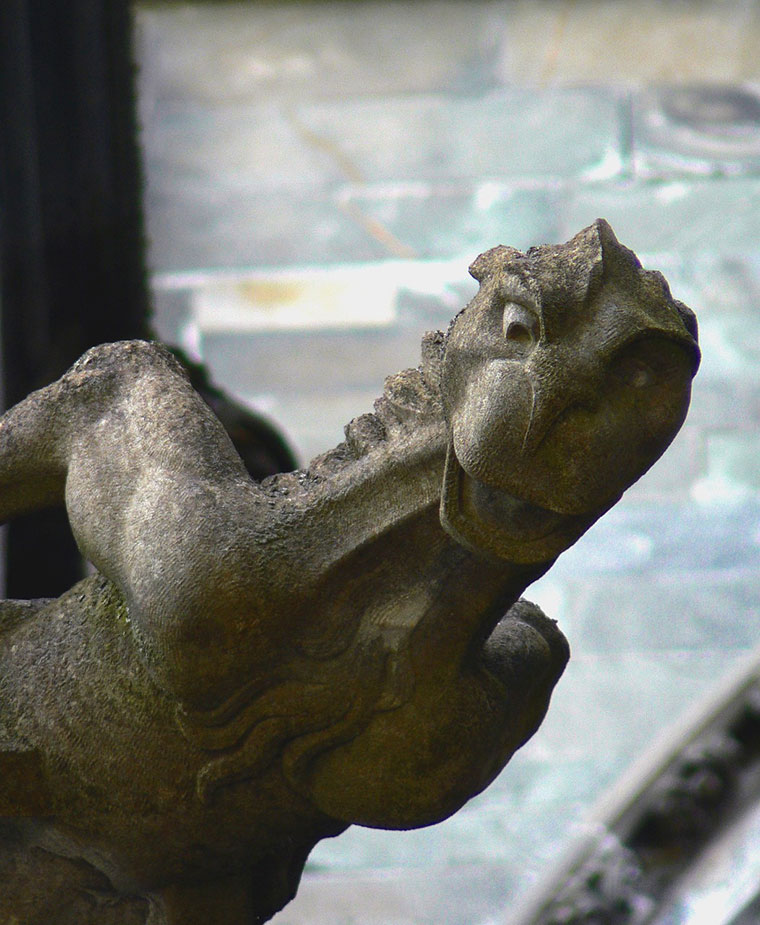 The second is just as dead but much less restful. In January 1924, Marie Gleditsch was attending evening mass when she saw a handsome man dressed as a monk. This may have seemed odd, as no monks have ever been associated with the cathedral. Odder yet, the man walked through a choir member and, in some accounts, tried to choke the priest.
Even more horrifying, the man looked as if his throat had been freshly slashed, with blood dripping from the open wound. Marie looked away, and when she looked back, the monk glared at her and vanished. Gleditsch's account is the first and most descriptive sighting of the monk to date. But maybe you'll be similarly (un)lucky if you visit.
2. The Blue Room of the Hotel Union Øye
There are plenty of reasons to stay at the Hotel Union Øye in Møre og Romsdal, from its breathtaking surroundings to its stunning rooms. You can even stay in the same room as Sir Arthur Conan Doyle. Or you can stay in the Blue Room – as long as you don't mind sharing.
In the 1800s, a young servant girl named Linda fell in love with a German officer. He was already married, but that didn't stop them from having a relationship. Whenever they saw each other, they stayed in the Blue Room (the story doesn't say why – perhaps they really liked blue).
He promised he would ask his wife for a divorce – but that did not happen. In some stories, he did ask for a divorce, but his wife refused, and he killed himself in response. Either way, when Linda found out that they were not going to get married, she threw herself into the river and drowned.
Ever since, guests staying in the room have reported hearing sobbing in the night. Others have said they've woken up to find her in the room with them.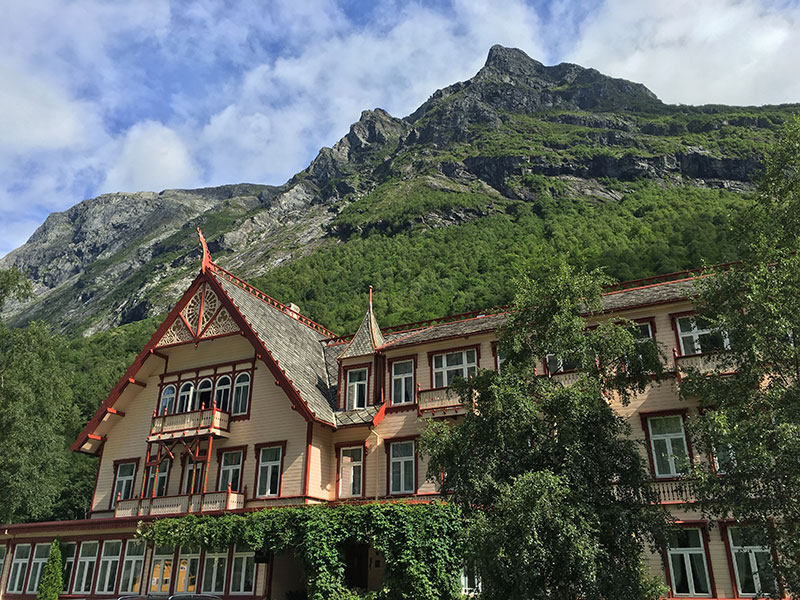 Every guest checking into the Blue Room is given a silver bowl of garlic. If you've had a really long trip or just don't feel in the mood for any ghostly shenanigans, you can keep the bowl in your room. However, if you're curious, all you have to do is leave their bowl outside their door and wait.
3. The Bitter Bride of Stavanger's Utstein Kloster
Utstein Abbey is the only medieval monastery in Norway that's still in operation. As a former monastery, it has housed many men – but it's a woman's presence that still lingers in the place today.
Read more: Interesting facts about Stavanger
In the eighteenth century, the monastery was bought by the Garmann family. Christoffer Garmann lived there with his wife, Cecilia, who unfortunately died in childbirth in 1759 at only 25 years old. Despite his promise to her on her deathbed that he would never marry again, Christoffer got engaged to a woman 36 years younger than him about 20 years later.
Hoping to escape his promise to his wife, he arranged for the wedding to happen in Stavanger Cathedral. But Cecilia found him anyway, appearing in front of him in the middle of the ceremony. Christoffer died eight days later.
But Cecilia remained behind, wandering the monastery in her wedding dress… presumably to make a point. Today, it's possible to have your own wedding at Utstein Abbey – though I would take any vows made there very seriously.
4. The Englishwoman of Telemark's Dalen Hotel
The Dalen Hotel calls itself "the fairy-tale hotel" and it's easy to see why: the architecture was inspired by stave churches and Viking aesthetics, giving a unique twist to the traditional wooden building. If you stay there, you'll be walking the same hallways as Norwegian and foreign monarchy, as well as the hotel's most longstanding guest.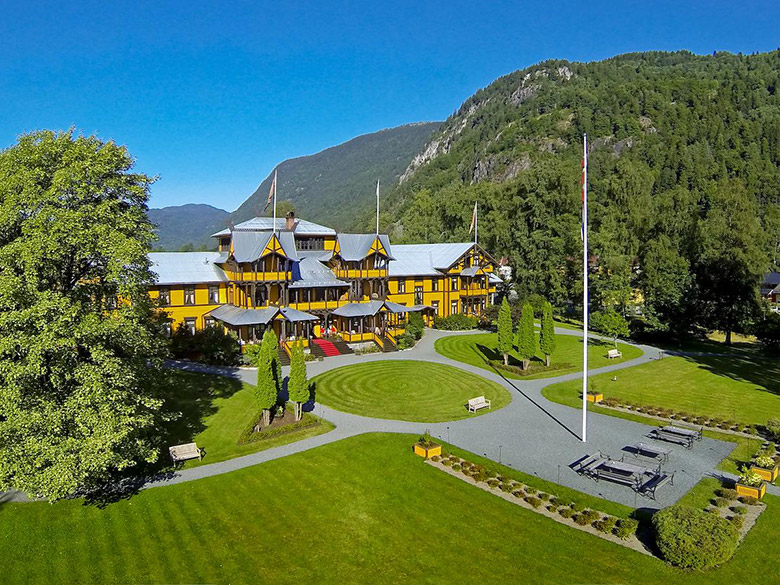 The story goes that at the end of the nineteenth century, an English woman named in Miss Greenfield stayed in room 17, where she gave birth. However, no one knew about this until the staff managed to force the door open and found it empty except for a dead baby – although the story doesn't specify whether it was killed or died of natural causes. Miss Greenfield was arrested in England, but she killed herself before she could stand trial.
Read more: This is Telemark
Since then, a baby has been heard crying in room 17, and Miss Greenfield's presence has been noticed so much that the hotel always sets a place for her at the table. She seems to be content as a silent observer… but if you stay in room 17, it's probably best to leave any babies at home.
5. The Abandoned Asylum of Buskerud
The old Lier Psychiatric Hospital opened in 1926. Between the 1930s and 1960s, the hospital started "experimental treatments", which included subjecting patients to lobotomies (incidentally, the hospital has one of the highest rates of this procedure in Norway), LSD, and medically induced comas for days at a time.
Due to the disproportionate ratio of patients to nurses, there were lots of reports of violence. In an interview with NRK, an ex-nurse at Lier said: "I nearly start crying whenever I think about what we did at Lier Hospital". Unsurprisingly, there was also a lot of death within those walls.
View this post on Instagram
As any place with a dark history of human suffering, the mental hospital has gained a certain reputation for being haunted by the poor souls who were trapped inside. However, a lot of the old buildings have now been demolished to make way for new housing, and the remaining buildings are also scheduled to be renovated as apartments.
So, while there's not much to see right now, you may be able to stay onsite in the future. Please note, the site is closed off to the public. We absolutely don't condone breaking and entering, and we will not pay for your lawyer if you do so!
6. The Ringing Telephone of Bærums Verk
Even though it's home to around 8,000 people, Bærums Verk village is also an attraction in itself, and a testament to the old ironworks that were in operation between 1610 and 1874.
Many of the buildings are original structures that have been renovated and repurposed, such as Værtshuset, the old administration building, which was built in 1640 and is now a restaurant. But the building has a lot more to offer than just excellent food in pleasant surroundings.
In the 1700s, the building was owned by Anna Krefting, who has occasionally still been seen on the second floor. But the majority of the strange occurrences are attributed to Conrad Clausen, who operated the iron works for eleven years until his premature death in 1785 at 31, and whose old bedroom is now the lunchroom.
The strangest of all these occurrences is the telephone in the meeting room, which always rings at exactly the same time. Those brave enough to answer have only heard a strange, static noise from the receiver.
So, if you eat at the restaurant remember to be pleasant to everyone you see. You don't want your own phone to start ringing in the middle of the night.
7. The Demon Dog of Oslo's Akershus Fortress
Built in the 1300s, Akershus Fortress has survived various invasions and the Nazi occupation. Today it houses several museums, is still an active military base, and hosts a variety of events. It's also famous for being one of the most haunted places in Norway, and with good reason. In fact, the fortress contains so many ghosts that it's difficult to pick any one story out.
Many of them are thought to be prisoners who spent their last days locked inside the castle walls, and whose whispering and chain rattling can still be heard echoing through the halls. Mantelgeisten, a faceless woman in a long robe, is thought to be such a ghost and has often been seen returning to her cell. But some of the ghosts are much less… human.
Read more: The History of Oslo
Who needs weapons when you have Malcanisen the demon dog guarding the gates? It is said that if he approaches you then it's best to get your affairs in order, as everyone who encounters him dies within three months. There have also been sightings of "nightpyres": burning women the size of babies with truly awful smiles. Their appearance is thought to precede a fire at the fortress.
If you're looking for things to do in Oslo, the fortress is well worth a visit – but we recommend wearing running shoes. Just in case.
8. The Pushy Priest of the old Nes church
Initially built in the 12th-century, Nes church was burnt down by the Swedes in 1567. It was then rebuilt in the shape of a cross in 1697 before the Swedes burnt it down again in 1854. The church was not rebuilt, although conservation work started in the twentieth century, and the ruins are now the perfect place for everything from small picnics to concerts.
Despite its history, there are no ghosts of unfortunate churchgoers who were burned alive, and Swedes visiting the ruins are no more at risk of a haunting than anyone else. Yet visitors have reported experiencing a pressure on their chest, difficulty moving, troubles with their electronic equipment, and glimpsing shadows and figures disappearing behind corners.
The main suspect behind these experiences is Jacob Christian Finckenhagen, a priest at the church who died in 1837. By some accounts, Finckenhagen was a rather formidable figure in the community and died a rich man, despite his lowly occupation.
Some stories say that he died of old age, while others say he hung himself in his church. Other stories claim that the ghosts are actually his children, who are allegedly buried behind the altar.
Whether it is Finckenhagen or not, it's no surprise that a man with such a strong presence in life would leave an impact on the community that lasted beyond his death.
9. The Hanged Man of Finnskogen
Finnskogen, or "the Finn forest," got its name due to the number of Finns, known as Skogfinner, or "Forest Finns", who settled there in the 1600s.
It encompasses the border between Norway and Sweden, and is an area rich in wildlife, including Norway's dwindling wolf population. But if you venture inside, you may encounter things far more frightening than wolves.
In the depths of the forest, there used to be a small farm named Bekka gård. The farm vanished long ago, but the cellar remains. Those who stumble on it and manage to squeeze through the small doorway have not had pleasant experiences.
One such story is that of a funeral procession that spent the night there on the way to escorting a body to its grave. When they woke the next morning, the body was gone. Perhaps the ghost of the man who was hanged on a nearby tree and is said to "live" (in the broadest sense of the word) in the cellar took him. Perhaps if you spend the night, you'll find out.
Have you visited any of these places? Or perhaps you know of some places that we've missed out? Either way, we'd love to hear about your experiences, both natural and unnatural!