The kransekake is a common sight at Norwegian weddings and Norway's national day. Here is the story of one of the most famous cakes in Norway.
Prepare for your mouth to start watering, dear readers! In the world of cakes, the kransekake from Norway stands out. Known as the 'wreath cake' or 'ring cake', it's not only beautiful to look at but also delicious to eat.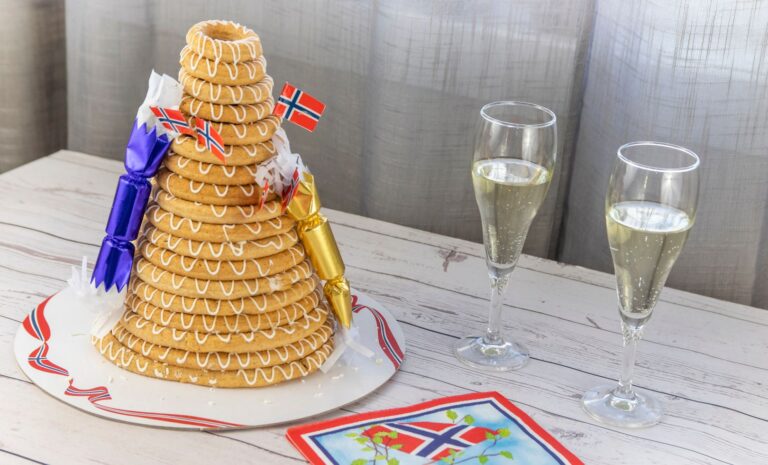 Built layer upon layer, in concentric circles that graduate in size, the kransekake tells a story of centuries-old Nordic customs, familial gatherings, and the joy of celebrations.
Composed mainly of almonds, sugar, and egg whites, its texture is chewy, its taste subtly sweet, and its form distinctive. Its no wonder this show-stopper is considered one of the best Norwegian cakes.
Whether you're a lover of cultural gastronomy or simply on the lookout for a centrepiece for your next celebration, the kransekake deserves its moment in the spotlight. Read on as we unravel the story of this Scandinavian gem.
The cultural significance of the kransekake
Today, no significant event in Norway feels complete without kransekake as a striking centrepiece. It is without doubt an integral part of modern Norwegian culture.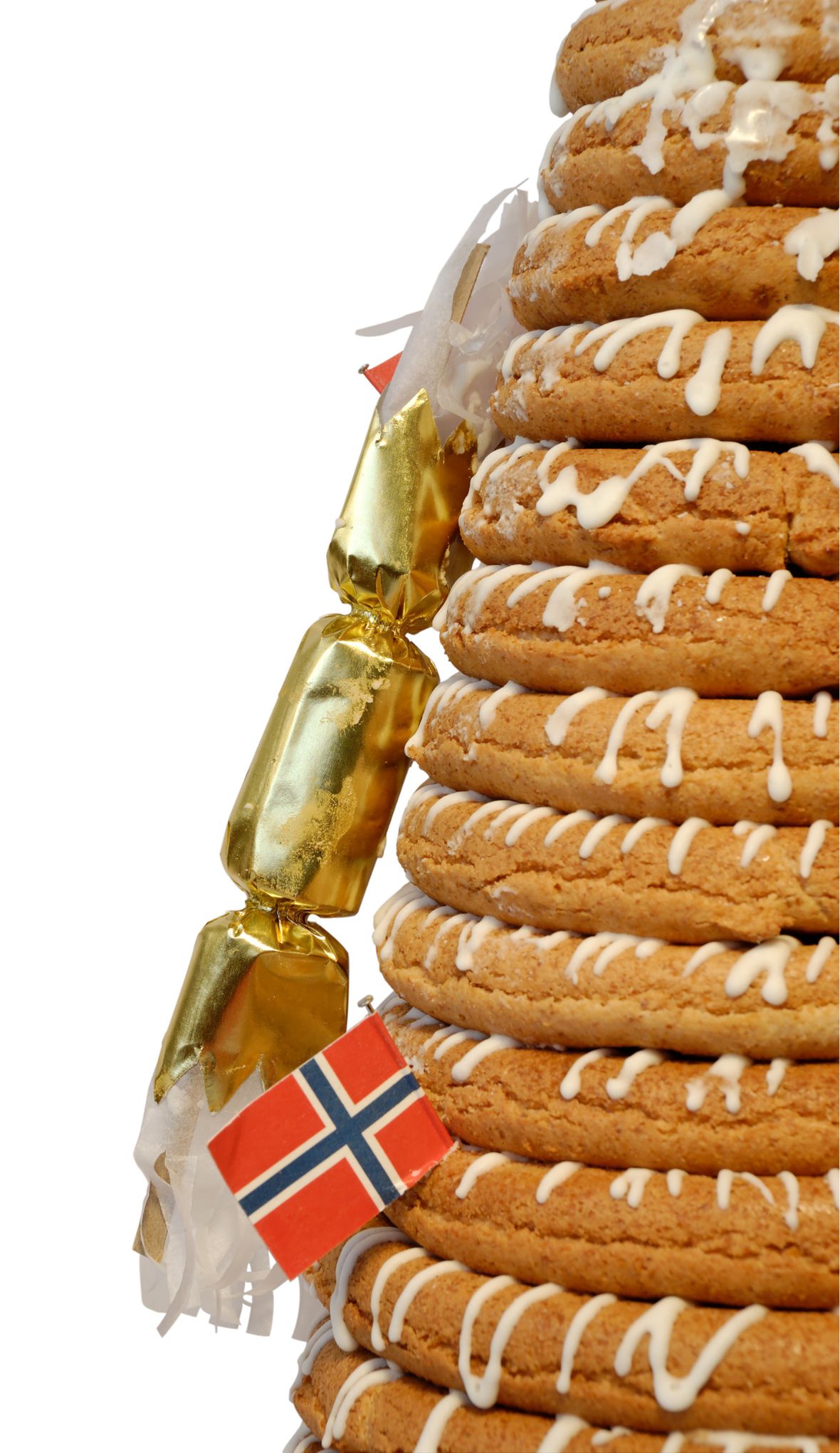 But this is not a modern cake. The kransekake's roots trace back to 18th-century Denmark and Norway.
Initially, it was a cake reserved for the elite, gracing the tables of the nobility during their grand feasts. However, its popularity grew and soon became a staple at significant events for Norwegians.
A Norwegian wedding cake
During weddings, it's common for the newlyweds to lift the top ring. The number of rings that stick to the top one is said to predict the number of children the couple will have.
On Norway's Constitution Day (17 May), you'll often find kransekake at parties and parades, showcasing both national pride and culinary tradition.
On a recent 17 May celebration in Oslo, I stayed in the Radisson Blu Plaza hotel. What did I find in the morning? A kransekake took pride of place as decoration in the breakfast buffet.
The art of making kransekake
At its core, the kransekake is a blend of simplicity and artistry. The ingredients are minimal—primarily almonds, sugar, and egg whites.
However, it may be simple in its ingredients but it's complex in flavour. The dough is crafted into individual rings of varying sizes, which, once baked, form a crisp outer layer, while the inside retains a dense, chewy texture.
The cake's sweetness is perfectly complemented by the rich, nutty flavour of the almonds.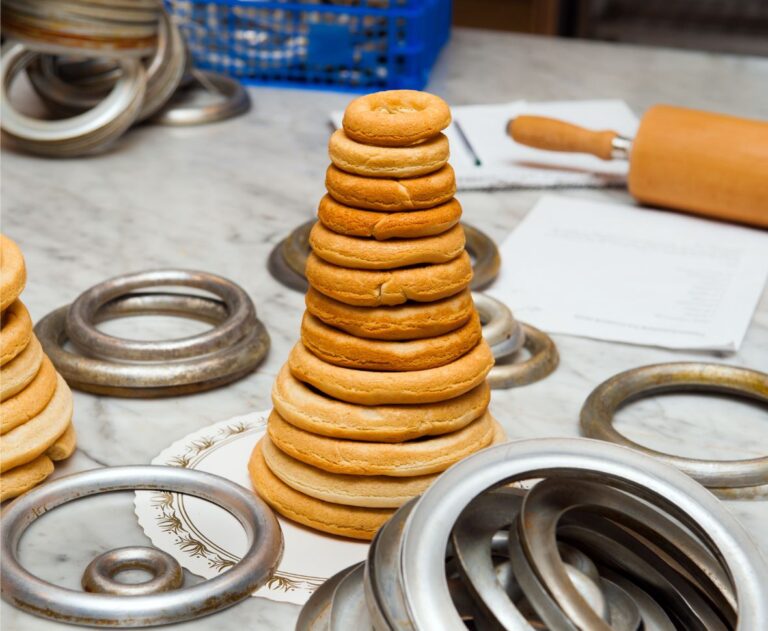 Of course, given the cake's distinctive towing appearance, the challenge lies in its construction. To craft a good kransekake involves the following five steps:
Dough Preparation: The almonds are finely ground, mixed with sugar, and then combined with egg whites to form a sticky dough.
Shaping: Using special kransekake molds or free-hand techniques, the dough is shaped into various-sized rings.
Baking: The rings are baked until they're golden.
Assembly: Starting with the largest ring at the base, the rings are stacked in decreasing size order, held together with icing, creating its signature conical shape.
Decoration: The final touch is often a drizzling of white icing, and for festive occasions, it might be adorned with Norwegian flags or other decorations such as small Christmas crackers or ribbons.
Are you looking for a kransekake recipe? If so, check out this one (in Norwegian) from Norwegian supermarket Many.
Are you going to make your own kransekake? If so, you'll need a set of kransekake ring moulds, unless you want to try doing it yourself. For a guaranteed fit and a uniform look, ring moulds are highly recommended. These ring moulds from Amazon (sponsored link) are a great option.
Buying kransekake
If you don't have the time, patience or skills to make your own version, it's possible to buy a kransekake in Norway. Specialist cake manufacturers will offer their own version, but you can also pick up pre-made varieties in a Norwegian supermarket.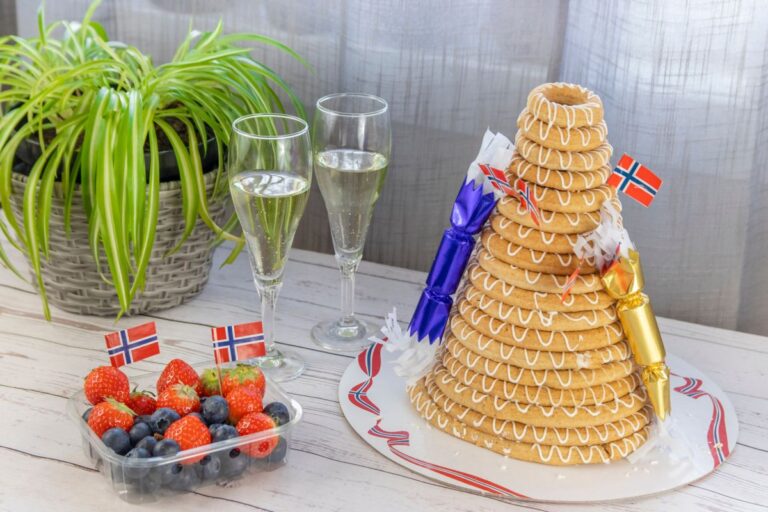 It's also possible to buy pre-made kransekake rings to eat as a snack.
Serving kransekake
The kransekake's almond-rich flavour pairs wonderfully with coffee or a sweet dessert wine.
When it's time to serve the kransekake, it's customarily dismantled from the bottom. Guests are often invited to pull out a ring, ensuring the cake remains standing for as long as possible, adding an interactive and fun element to the celebration.
The kransekake holds a special place in Norwegian traditions. Its presence at celebrations highlights unity, festivity, and a deep appreciation for Norway's cultural heritage.
Whether experiencing it as a first-time treat or revisiting cherished memories from family gatherings, the kransekake consistently captivates and satisfies.
Have you ever made a kransekake? How did you get on? If you have any tips to share, feel free to use the comments section, below.