Build up your general knowledge by diving into this fascinating collection of facts about the Nordic countries.
The Nordic countries are known around the world for their unique history and culture. But there's a lot of misconceptions floating around too.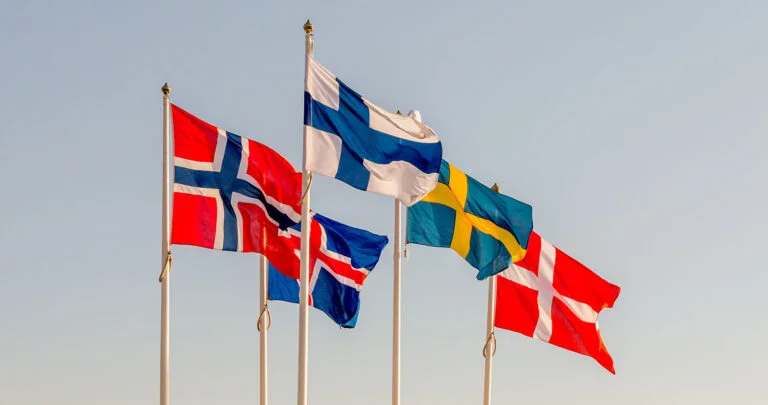 Beef up your knowledge ahead of your next pub or office quiz with this introduction to the region, by way of a series of facts about each country in turn. We'll start off by talking about the region, before diving into details. Enjoy!
Basic facts about the Nordic region
1. Definition of Nordic countries. Five nations are considered to be the Nordic countries: Denmark, Finland, Iceland, Norway and Sweden. The territories of the Faroe Islands, Greenland and Åland are also included.
2. Nordic region and Scandinavia isn't the same thing. The definition of Scandinavia is a tighter one. Just Denmark, Norway and Sweden are Scandinavian nations. Danish, Norwegian and Sweden are known as the Scandinavian languages, while Scandinavian Airlines operates a base in each country. That being said, the term Scandinavia is often used in popular culture to refer to the entire Nordic region.
3. There is close cooperation. Even though some are EU members and some are not, all Nordic countries and territories work closely together at diplomatic level. This is done through the Nordic Council and the Nordic Council of Ministers. Their vision is to "make the Nordic region the most sustainable and integrated region in the world."
4. In Scandinavian languages, they say 'The North'. In Danish, Norwegian and Swedish, the word Norden is used to refer to the Nordic region. This translates literally to the north, but means the northern lands when used in this context.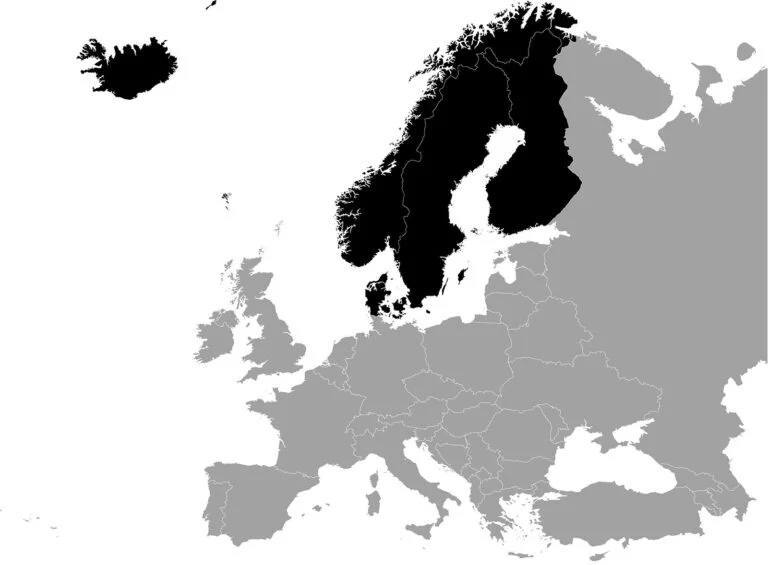 5. The Nordics are part of Northern Europe. All the Nordic countries are considered part of Northern Europe. But so are the three Baltic states: Estonia, Latvia and Lithuania. Also, the UK and Ireland are sometimes included in the definition of Northern Europe.
6. The Nordic cross flag. All the Nordic countries use the same design concept for their flag. Known as the Nordic cross, the off-centre cross design is instantly recognisable as an icon of the region, whichever nation's colours are used.
Of the territories, the Faroe Islands and Åland also use the Nordic cross. Greenland is the odd one out, with a design using the Danish colours but with a distinctive design.
Facts about Norway
7. Norway's capital hasn't always been Oslo. Both Bergen and Trondheim have served as the nation's capital at various points during its history. Elements of the country were also ruled from Copenhagen during the various Scandinavian unions. Haakon V chose to live in Oslo, which helped it to become the capital. During his reign, he began the construction of Akershus Fortress.
8. Norway is the world's electric car leader. There are bigger markets in terms of unit sales, but electric cars have taken over the car market in Norway like no other country. Sales of traditional petrol/diesel cars now make up less than half all new car sales.
9. The Nobel Peace Prize is awarded in Oslo. With just a few exceptions, Norway's capital city has hosted the Nobel Peace Prize ceremony every year since 1901. The other Nobel prizes are awarded in Stockholm, Sweden.
10. There are two official versions of the Norwegian language. Language in Norway is a complicated topic. On top of the many, diverse regional dialects, there are two official written varieties of the language: Bokmål and Nynorsk. The use of Nynorsk is more prominent in rural areas.
11. Modern and ancient skiing were invented in Norway. In the 19th century, Sondre Norheim invented the Telemark ski, which led to the modern skis we use today. But an ancient rock carving in northern Norway suggests people used skis for transport thousands of years ago.
12. Norway's fjords pierce a coastline almost 29,000km long. The coastline of Norway is hard to measure, but estimated at 28,953 km (17,991 mi). Together with the long coastline, the huge Norwegian fjords are the defining feature of Norway's geography.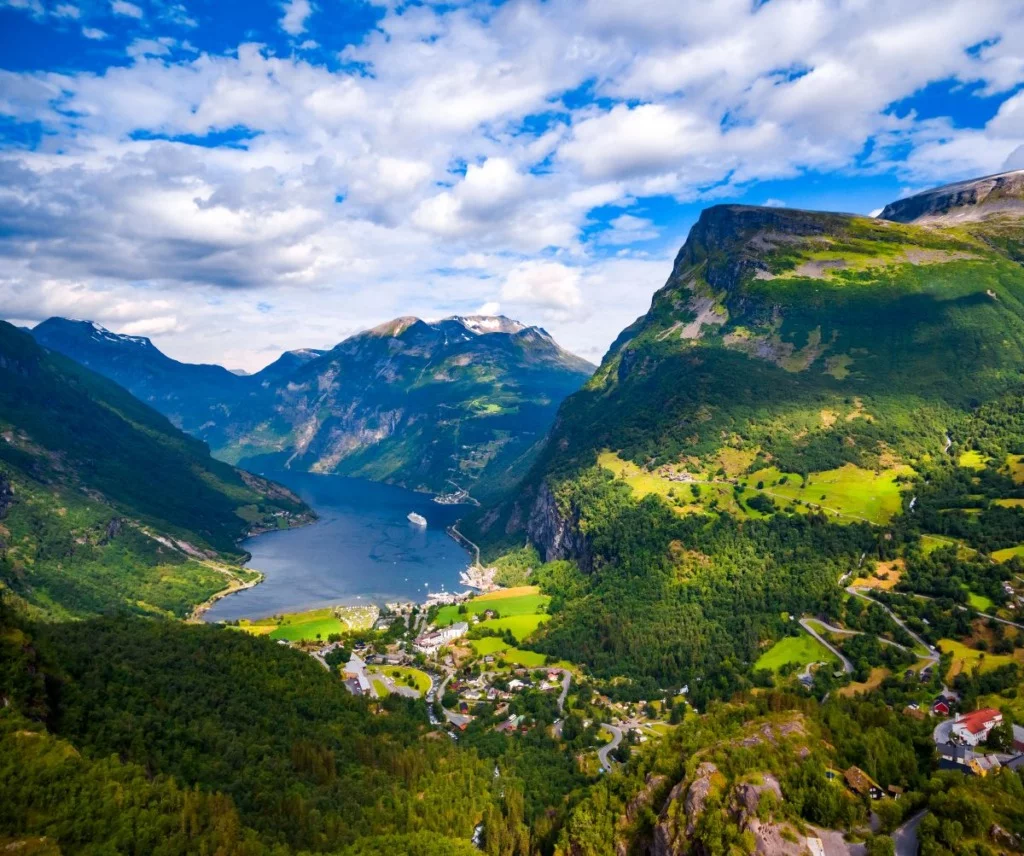 Interested in learning more? Here are a whole lot more fascinating facts about Norway.
Facts about Denmark
13. Denmark is a flat country. In stark contrast to the other Nordic countries, Denmark is mostly flat. Its highest point–Yding Skovhøj–is just 172 metres (566 feet) above sea level.
14. Denmark is the home of Lego. The name 'lego' is a shortening of the Danish term 'leg godt', which translates as 'play well'. For the first 15 years of Lego's existence, they made wooden toys.
15. Denmark is home to two of the world's oldest theme parks. The origins of Dyrehavsbakken in Klampenborg date back to 1583 when a natural spring was discovered, whereas Copenhagen's Tivoli Gardens opened in 1843. Located at the heart of the Danish capital, Tivoli is the most visited amusement park in Scandinavia.
16. The hygge craze originated in Denmark. But many Danes are truly perplexed at how the concept, a core part of Danish lifestyle, has been commercialised to sell candles and blankets in other countries.
17. Copenhagen Airport is the region's busiest. With just over 30 million passengers during 2019, CPH was the region's busiest airport prior to the global health crisis of 2020-21.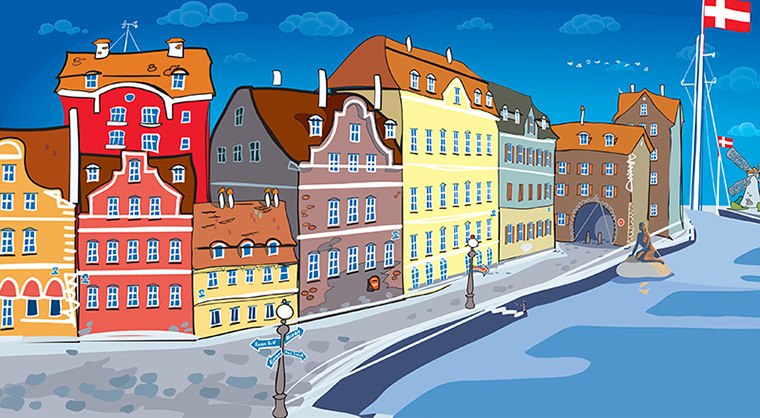 Want to learn more about our Danish friends? Here are some more fun facts about Denmark.
Facts about Sweden
18. Sweden is the most populous Nordic country. With a population of 10,379,295 at the end of 2020, Sweden has the biggest population in the region. In fact, the population of the other four main Nordic countries only comes to 17 million.
19. More than half of Sweden is forested. An estimated 57% of Sweden is covered in forest, an area equivalent in size to the United Kingdom. The Swedish Forestry Act states that there is an obligation to replant forest after felling trees.
20. Stockholm's metro doubles as an art gallery. The Swedish capital Stockholm hides a fascinating network of art underground in its metro system. More than 150 artists were given most of the metro stations as a blank canvas. They are now full of mosaics, paintings, sculptures and more.
21. Many global brands originated in Sweden. What does brand Sweden mean to you? Electrolux, Ericsson, H&M, IKEA, Saab, Scania and Volvo are just a handful of global businesses with Swedish roots. And then there's ABBA, of course!
22. Oat milk was invented at a Swedish university. Lund university food scientist Rickard Öste went on to found Oatly in 1994. Oatly and other oat milk brands have gone on to become popular in supermarkets and cafes worldwide.
This is just a tiny insight into our friends across the border in Sweden. Want more? Check out these fascinating facts about Sweden.
Facts about Finland
23. Finland is the world's happiest country. According to the latest World Happiness Report, Finland ranks number one. It also tops the list on a rolling average of the last few reports.
24. Almost half of Finland's foreign population lives in Helsinki. At the beginning of 2020, there were 423,494 people with a foreign background living in Finland. Of those, 49.3% lived in Finland's capital region.
25. The Finnish language is unrelated to Scandinavian languages. A real outlier in the Nordic region, the Finnish language belongs to the Uralic language family. However, Finns do learn Swedish in school along with English.
26. Finland is the birthplace of the Moomins. Swedish-speaking Finnish illustrator Tove Jansson created these bizarre creatures, which would go on to star in multiple books, comic strips and TV series. The island of Kailo is home to Moomin World, a theme park open during the summer.
27. Outside of the cities, Finland is forest and lakes. Forest covers 74% of Finland, more than any other country. the entire country.Pine, fir and birch trees are most common. In the space that's left, there are 187,888 lakes in Finland larger than 500 square metres (5,400 square feet).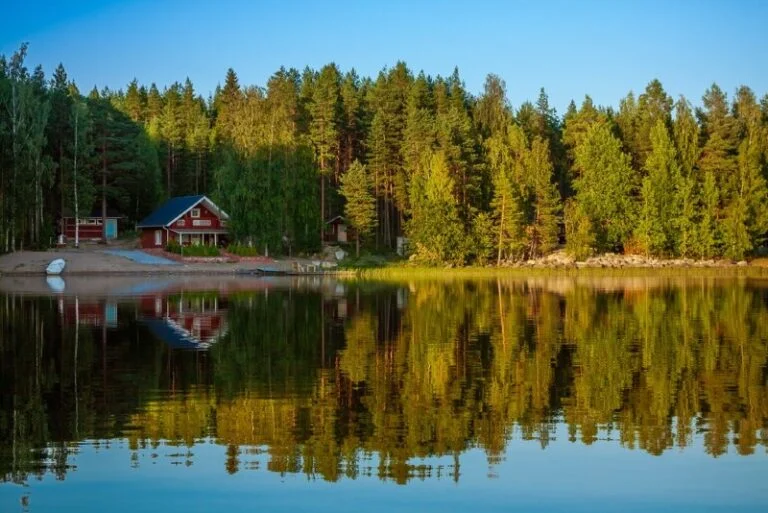 I think Finland is the Nordic country that most people living outside the region know least about. If that's you, check out more fun facts about Finland.
Facts about Iceland
28. Iceland is the smallest Nordic country, by far. Not in physical size, but in population. Just 364,000 live in Iceland, less than each capital city in the other Nordic countries.
29. Most people in Iceland live in Reykjavik. Of Iceland's small population, 60% live in the Reykjavik region. This encompasses the city itself and its neighbouring urban municiaplities.
30. Iceland's nickname "the land of fire and ice" is fully deserved. There are more than 100 volcanoes–several of which are active–and 11% of the country is covered in glaciers. This makes the natural landscape of Iceland is hard to beat and is the country's major tourist draw.
31. Iceland has no standing army. Although crime novels are crazy popular, actual violent crime in Iceland is very rare. Its isolation also means there is no standing army, the only NATO country not to do so.
32. Iceland has fjords too. Norway is best known for its fjords, but Iceland also has two fjord regions, in the east of the country and the Icelandic westfjords.
So that's a very brief introduction to this fascinating island. Do you want to know more? Then check out these fun facts about Iceland.
Read more: Introducing the Nordic Capital Cities
Facts about other Nordic territories
33. The Nordic region's highest mountain peaks are in Greenland. Norway is known for having the tallest mountains in Scandianvia, but Greenland's top them when it comes to the Nordics. Gunnbjørn Fjeld is a rocky peak protruding through glacial ice to a height of 3,694 m (12,119 ft) above sea level.
34. Sami people live across Norway, Sweden, Finland and Russia. We can't write about the Nordic region without mentioning the Sami people. These indigenous Finno-Ugric people inhabit Sápmi, a vast region consisting of parts of northern Norway, Sweden, Finland and Russia's Kola Peninsula.
35. Swedish is spoken on Finland's Åland Islands. An autonomous region of Finland, the residents of Åland primarily use Swedish. This makes the island a popular holiday destination from eastern Sweden.