Stuck for something to do? How about enjoying some of the best TV Norway has to offer? In most cases, you don't even need to understand Norwegian!
With more than a billion people around the world presently facing some form of home quarantine, quality TV has never been more in-demand. Have you ever considered watching a Norwegian show?
The last few years has seen a load of genuinely good series make it onto the international stage. Best of all? They are all either filmed, dubbed, or subtitled in English.
A golden era of Norwegian TV
Norwegian TV has always been made primarily for a domestic audience. If there were any international aspirations, it was to near neighbours Denmark and Sweden.
But the rise of streaming services combined with the unexpected worldwide success of Skam (more on that later!) changed everything.
Read more: The Norwegian Phenomenon of Slow TV
All of a sudden, TV executives realised that shows filmed in a native language could break out after all. The popularity of Netflix has persuaded many people to try out foreign shows for the first time. The network has invested huge sums in producing original foreign shows, including in Norway.
Now, let's take a look at some of the most popular Norwegian TV shows available for you to watch right now. Some of these are on Netflix and others are on other services. Availability also varies by region.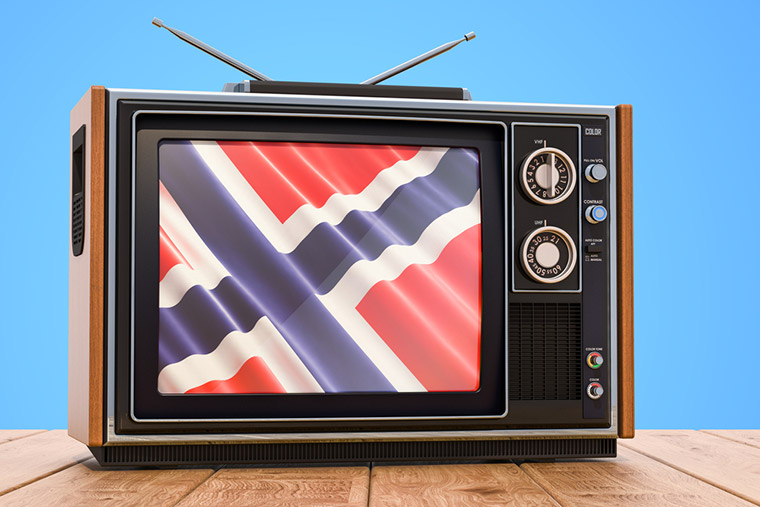 As we're based in Norway, we can't tell you if and where shows are available in your country. Sorry! But you've heard of Google, right?
Norsemen (Vikingane)
Viking movies and TV shows are nothing new, yet very few of them are comedies. Introducing Norsemen! This is one of the few series ever (maybe the only one?) to have been filmed in two languages. Yes that's right, every single scene was shot twice, once in English and once in Norwegian.
The show itself? Well, the Guardian termed it as "Monty Python meets Game of Thrones" and that just about sums it up! Set in a Norwegian village in the early days of the Viking Era, Norsemen offers international audiences a rare glimpse of Norwegian dry humour.
Played by Kåre Conradi, the self-delusional Orm takes on the role of village chieftain while his brother Olav leads a raid. Hilarity ensues! While the show is charming, there is a fair amount of violence and gore packed into the six episodes. At the time of writing, Norsemen/Vikingane is available on Netflix.
Ragnarok
Two seasons deep with the third and final on its way, Ragnarok on Netflix has nothing in common with the Marvel movie, nor the Norwegian black metal band of the same name.
I'm sure most readers of this site will know that Ragnarok is an old Norse legend about the world's end. This show addresses that mythology, wrapped up in a high school drama with an environmental message.
If that sounds confusing, well, that's because it is. The show does indeed seem to leap around in focus a bit and the pacing of the six episodes is a little off. That being said, it's a fascinating concept and an entertaining show.
There are a few plot flaws, but that's the same with most fantasy shows so I'm happy enough to overlook those. Aside from the fantasy elements, the characters are spot on and some of the best representation of "actual Norwegians" I've seen on the tele!
As we wrote when the show was announced back in 2018, it holds the honour of being the first "Netflix original" made in the Norwegian language.
The brains behind the show are Adam Price's SAM Productions, the creators of the Danish worldwide TV phenomenon Borgen.
Beforeigners
Beforeigners is the first Norwegian language production from HBO Europe and is attracting critical acclaim from far and wide.
"Time travel and murder combine in HBO's riveting Beforeigners series. It's a thoughtful, moving, often ribald and funny tale of worlds colliding," says Ars Technica.
The show's concept centres around "time migrants", people from the Stone Age, Viking Age and the 19th century who appear in modern-day Oslo. Yet it quickly morphs into a murder mystery. Two cops team up, one of which is the first officer with a time travel background.
One fan of the show is Lorelou who appeared on the very first episode of the Life in Norway podcast. She described Beforeigners as a "satire of western societies", offering up five reasons to watch:
"You get to listen to ancient forms of Norwegian language, observe interesting customs from the past, as well as Sami language and traditions, which are rarely (never?) on screen internationally," she says.
Occupied (Okkupert)
While most of the shows on the list so far have just a handful of episodes, Occupied is for you if you want to truly binge. First aired in 2015 on Norway's TV2, Occupied is now three seasons old so there's plenty to get stuck into. Best of all, you don't need access to TV2! The series is available on Netflix in many international markets. But is it any good?
It's a political thriller with climate change at its centre. Set in the near-future, Norway's Green party sweeps to power following a catastrophic hurricane. They stop production of oil and gas in a bid to prevent any more climate-change disasters, but this causes Russia to stage an occupation. The curious twist? Russia has full support from the European Union.
Season one follows a series of characters including investigative journalist Thomas Eriksen and his family. Through their eyes, we follow the changes taking place in Norway, the political fallout and the rise of a Norwegian resistance group. We also meet Martin Djupvik from the Norwegian security service and Russian Ambassador Sidorova.
The brain behind the show's conception belongs to Norwegian crime writer extraordinaire Jo Nesbø, creator of the Harry Hole series. Vogue called the series "the most relevant thing on TV right now, a hyper-entertaining drama that treats the climate emergency with the seriousness it deserves."
So relevant is the series' premise that Russian authorities were none too pleased. The Russian Embassy even released a statement upon the show's release: "Although the creators of the TV series were at pains to stress that the plot is fictitious and allegedly has nothing to do with reality, the film shows quite specific countries, and Russia, unfortunately, was given the role of an aggressor."
Bloodride
This one is definitely not for everyone. You'll likely know if it's for you based on this NME review: "Netflix's Norwegian horror anthology is 'Black Mirror' for technophiles." If that's piqued your interest, move on to the trailer:
I haven't had the chance to watch Bloodride yet, but I'll be giving it a whirl soon. If you've seen it, let me know in the comments below.
The final two shows on this list are older, but no less interesting!
Lilyhammer
The bizarre story of New York mobster Frank who ends up in Lillehammer on a witness protection program attracted almost one million viewers for its NRK1 season premiere in 2012. These days the full three seasons are available on Netflix in most global regions.
Read more: Lilyhammer: Comedy Meets Crime
Not only did the Norwegian-American concept appeal, so did the casting of Steven Van Zandt, guitarist from Bruce Springsteen's E Street Band. His portrayal of big city American translated into small town Norwegian life is fascinating. It's sure to be of interest to anyone who thinks they might want to move to Norway!
Although the series was cancelled after three seasons, it ended on a high. The show dominated the comedy section at the Monte Carlo TV Festival, winning Golden Nymph award for best European series. Van Zandt also picked up the gong for best actor.
Lilyhammer also paved the way for much of what is great about Netflix today. It was the streaming service's first original production (they joined NRK early in the show's conception) and its success blending Norwegian and English pointed the way to the diverse stories, cultures and original language productions of today.
Skam
Last but definitely not least, the Norwegian high-school sensation Skam. There were a lot of unique aspects to what would go on to become NRK's most successful ever production.
Skam's original release format was a series of small clips released throughout the week "as they happened." The clips were then pieced together and aired as a full TV at the end of each week. Each character also had real social media accounts, which allowed fans to follow along and interact based on those "real-time" snippets.
Each of the four seasons focused much of the story on the viewpoint of one character. The show wasn't afraid to tackle big issues ranging from mental illness and online bullying to the struggles of a Muslim girl balancing her traditions with the less restrictive Norwegian lifestyle.
Following the success of the NRK show and notably its worldwide fan base, the show was sold to many countries around the world. Now, several international remakes are out there. One Life in Norway writer tried to explain why he loved the series so much:
"What continues to amaze is the wide age range Skam draws. It seems to appeal to the young, middle-aged and the old alike, and Norway's original, at least, remains an accurate portrayal of the dramas, loves, relationships and friendships of teenagers in the 21st century, and this is perhaps the reason that Skam's popularity shows no signs of slowing anytime soon."
So, if you're looking for something new to watch and you fancy giving a Norwegian series a try, I hope this article has given you some ideas. What's your favourite Norwegian TV show?
If you enjoyed this article, why not share it on Pinterest so others can find it too? We've got just the pin for you. Just hit those social sharing buttons.