Scandinavian Airlines System (SAS) celebrates its 70th birthday this year.
A few years ago, few people thought the airline would make it to this milestone. In the face of stiff price competition from Norwegian, the historic airline faced bankruptcy.
A rumoured buyout from Lufthansa failed to materialise, but SAS sold most of its interest in Norwegian domestic airline Widerøe and made several other changes to focus on its core business.
The turnaround was nothing short of remarkable. SAS reported a SEK 956 million net profit in the 2014-2015 fiscal year, in contrast to a SEK 719 million net loss the year before.
Today, SAS, is 50% government-owned and 50% publicly held and traded on the stock market. The Swedish government owns 21.4%, while the Danish and Norwegian governments own 14.3% each.
A look back at 70 years
In 1946, the first official SAS flight took place in 1946 between Stockholm and New York. In 1954, the airline began to fly a "polar route" between Copenhagen and Los Angeles, three years before becoming the first airline to offer around-the-world service over the north Pole between Copenhagen, Anchorage and Tokyo.
During the sixties, SAS became the first airline to introduce an electronic reservation system, and four years later were the first western airline to employ a female pilot.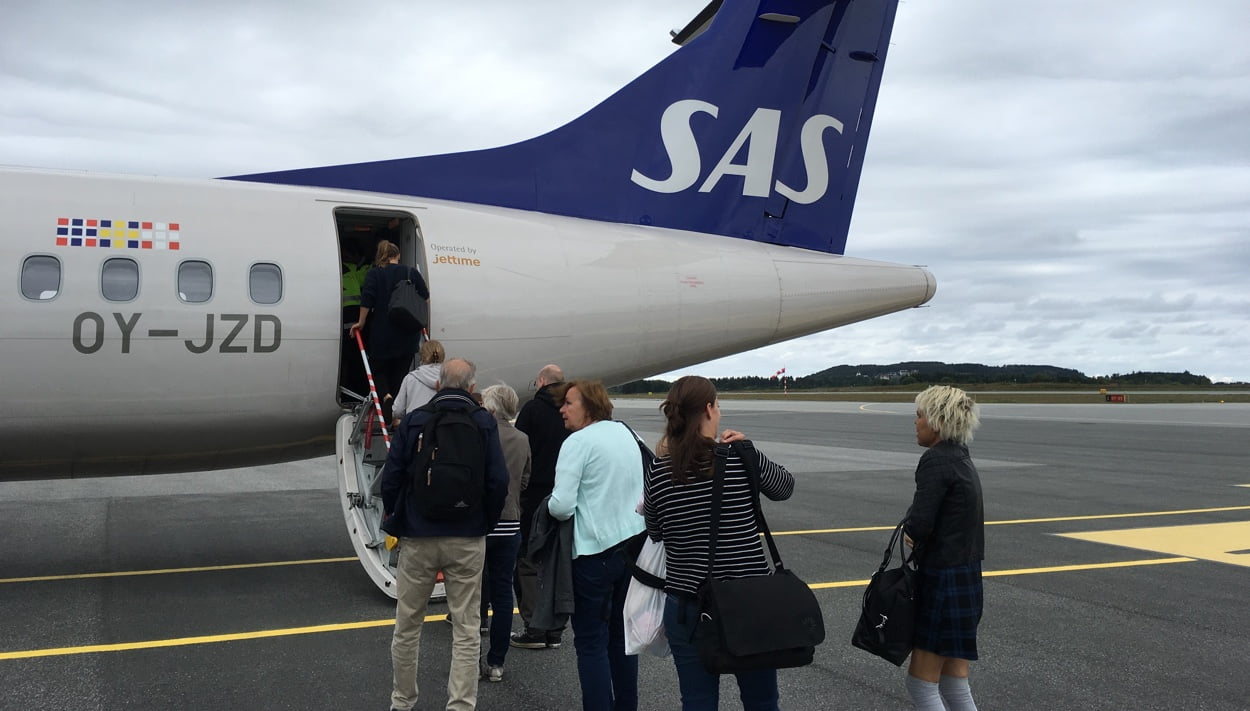 In 1971, SAS introduced the Boeing 747 on the Copenhagen to New York route, and eight years later introduced business class on all intercontinental routes.
During the early 1980s the entire airline industry faced a slump, and in an attempt to save itself, SAS switched its focus to the frequent business traveller. Within three years the airline had increased the number of full-fare business passengers by 23% at a time when the overall market was stagnant.
In 1997, SAS joined forces with Thai Airways International, Air Canada, Lufthansa, and United Airlines to form the Star Alliance. Today the alliance has 27 member airlines and connects passengers from Scandinavia with destinations all across the globe. The most recent airlines to join the alliance include Air India and Taiwan-based EVA Air.
An uncertain future
While still in financial difficulties in 2013, SAS surprised many by ordering 12 new Airbus long-haul aircraft and starting a process to overhaul the cabins on all existing long-haul planes. A further 30 Airbus 320-NEO aircraft were ordered this year.
Last month (July 2016), nearly 2.5 million passengers flew with SAS, marking an all-time record for the month. July also saw SAS set a single-month load factor record, with 88.2 percent of all flights at full passenger capacity.
Despite these record numbers, the airline continues to face still competition from Norwegian, who announced that it had more than 2.93 million passengers on its commercial and charter flights in July, a nine percent increase over the same month last year.
Competition is especially intense on domestic routes within Norway, and between the Scandinavian capitals of Oslo, Stockholm and Copenhagen. Whatever the future holds, congratulations on SAS for surviving 70 years in such a cut-throat industry.