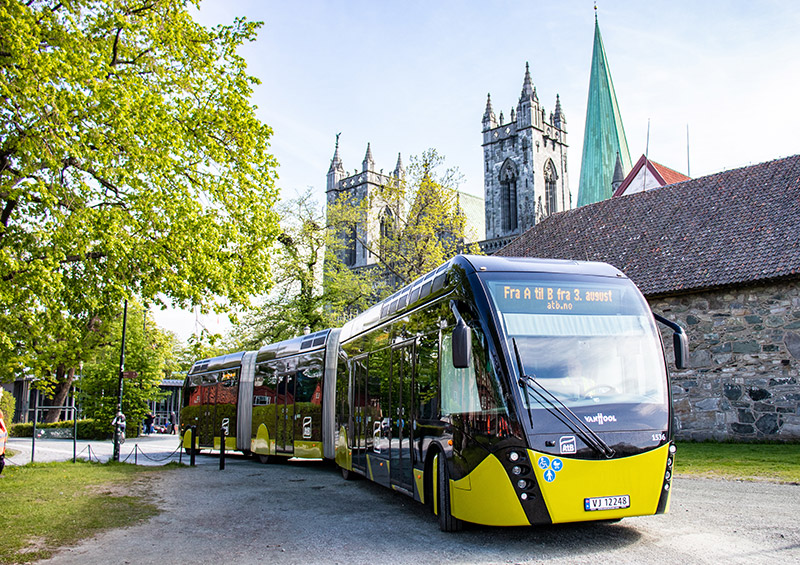 From 3 August 2019, the entire bus network in Trondheim changes with new buses, stops and routes. Here's everything you need to know.
After years of planning and months of roadworks, Trondheim's brand new bus system is finally ready. The new network goes live on 3 August.
Three new rapid transit bus routes provide the backbone of the network. A fleet of new metro buses will serve the three routes, which are designed to be as effective as a train or light rail route. The concept is based in part on the success of Belfast's Glider system of metrobuses.
Why the change?
Bosses at AtB, the city's transport authority, claim say that Trondheim is growing. It's expected that 30,000 more people will live in the city by 2030.
"The new public transport system becomes flexible, with buses running more often and accommodating more passengers. Fewer travellers must take a detour through the center of Trondheim. Regional buses will continue like today," says a spokesperson.
The new metro routes
There's a lot more to the new network than just renumbering existing routes, however. Because the three main routes are designed as rapid transit, the stops are positioned farther apart, in some cases up to 700 metres. Local routes will still serve every stop.
Entirely new metrobus stops have been built in some locations. These stops are longer with more shelter space and are designed to ease connection onto the local lines.
Each line will run a minimum of every 20 minutes, with more frequent departures at key times. Numbered 1-3, the three new metro bus routes are as follows:
Read more: Public Transport in Trondheim
Line 1: Kattem/Tiller to/from Ranheim, via City Centre. Line 1 runs every 10 minutes during rush hour. The route starts at Kattem, a housing estate in the south of Trondheim. It runs into the city centre via Heimdal and the E6, before turning east. The route then runs along Innherredsveien to Strindheim and onto Ranheim.
Line 2: Lund/Heimdal to/from Lade/Strindheim, via City Centre. Line 2 also runs every 10 minutes during rush hour. At first glance the route (south to east via the centre) looks very similar to line 1, but there are differences. Line 2 serves the Saupstad estate, central train station and the Lade peninsula on its way to Strindheim.
Line 3: Byåsen to/from NTNU, via City Centre. Serving the NTNU campuses and accommodations at Gløshaugen, Moholt, Voll and Dragvoll, line 3 is designed for students. As such, it's the line with the most frequent departures. During rush hours, there should be a line 3 metro bus every 7.5 minutes.
The route starts at Migosenteret and runs through Byåsen down to Ila, then into the city centre. It turns south past Nidaros Cathedral and follows a similar route to the current route 5, through the University campus at Gløshaugen and onto Dragvoll, via the student villages at Moholt and Voll.
One important change to note is that to use one of the new metro bus lines, you must buy a ticket in advance. The easiest way to do this is by downloading the AtB Mobillett app. You can buy a ticket (single use or monthly pass) using your phone and you're all set.
The local routes
The three new routes serve large chunks of the city, but there are many thousands of people who don't live within walking distance of a metro bus route. Local routes will cover the rest of the city. Some of these run to and from the city centre, but many are designed to connect people on to the metro bus network.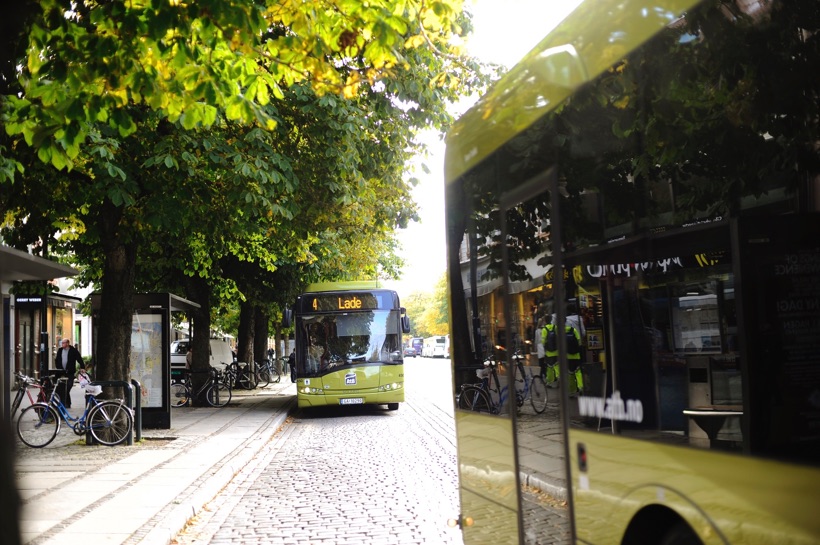 This is one of the more controversial features of the new network. Someone who previously had a 25-minute commute on one bus may now need to take a 10-minute local bus service to a metrobus stop. Network bosses say that in many cases people will enjoy a quicker service even taking into account the waiting time. That remains to be seen.
Personally, my old local bus route will be renumbered from 3 to 24, but remains fairly similar. Although it will now take 2-3 minutes longer to reach the city centre, there has been an improvement going the other way. The line now terminates at City Syd shopping centre, when the centre is open. Overall, I'm happy. But as I said, let's wait and see how all this works in reality, especially during the winter.
In addition to the new fleet of metro buses, there will be more than 30 new electric buses running on local routes.
The new metrobuses
The new fleet of 58 metro buses have been tested on the streets of Trondheim throughout the past few months. The 24-metre-long metro buses are easy to spot with their distinctive shape and green and black livery.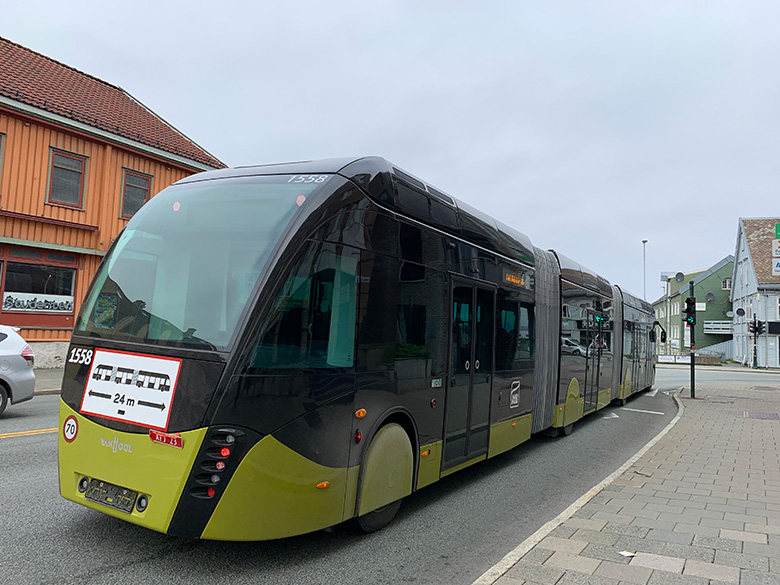 AtB has released some interesting facts about the new metro buses, including:
There will be up to 50 USB charging points in each bus
Each bus operates on two axles, improving capability for winter driving
Each bus seats 51, with a capacity for a further 91 people standing
One negative comment I've heard so far is about the lack of seating on board. AtB are trying their best to put a positive spin on it:
"New and modern buses provide great comfort for those travelling, with lots of light, large floor areas and little noise. It is well organized for both sitting and standing. If you have an extra need to sit, you will find marked areas and seats in all buses. The wheelchair and stroller areas will be easily accessible. For standing passengers there is good overview, support pillows and many holding rods," states the website.
What bus do I take in Trondheim now?
When the system launches I expect a week of chaos as passengers and drivers get used to the new system. It also wouldn't surprise me if small changes are made to the network once the system has been up and running for a couple of months.
For these reasons, I can't go into detail on all the routes here, as things are likely to change! The best thing to do is to use the journey planner function on the AtB website. You can also call into the customer service centre on Prinsens gate.