An in-depth review of The Kingdom by Jo Nesbø: Two brothers. One town. A lifetime of dark secrets.
Jo Nesbø will probably always be best known for his Harry Hole series of 'detective narrowly avoiding his own demise' books.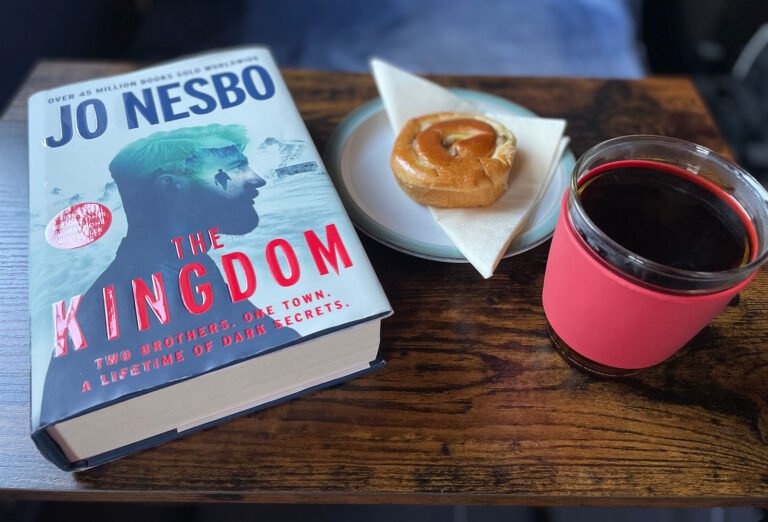 But quietly, outside of the fanfare of the series that gave us The Snowman – one of the best books I've ever read – he's been busy.
Little by little, Nesbø has been building a separate body of work that is as different from the unorthodox detective as Lofoten is from Oslo. His latest entry into this canon is The Kingdom and it might just be his finest work yet.
As always with these long-form book reviews, I'll be delving into spoilers at some point. I'll let you know when that comes. Firstly, I'll start you all off with a little overview of what The Kingdom is about.
Order The Kingdom with free worldwide delivery on Book Depository. Also available from ARK (Norway) and Amazon.
Overview of The Kingdom
Two brothers Roy and Carl Opgard, grow up with their parents – one America-obsessed and the other a tame housewife. They live on a large but mostly barren farm in the mountains, that their father refers to as The Kingdom.
Roy is the strong, silent type who takes after his father. Carl is the shy, sensitive type who takes more after his mother.
We meet the boys at a young age. Carl is desperate to show his father that he's a strong boy. He goes out hunting but somehow never quite has the courage to pull the trigger and kill anything.
One day, Carl goes off on his own with the family dog. Roy hears a gunshot and shortly afterwards Carl comes running. He takes Roy to see the poor dog, wounded badly but still alive. Roy takes Carl's knife and puts the hound out of its misery.
Together, they agree to pretend that it was Carl who did it – a show of strength for their father. His father pretends to believe them and then, quietly, points out to Roy that if he's going to lie in future, he might want to wash his hands first!
Carl to the rescue?
Fast forward to the modern day and Roy is still living on the farm. He's awaiting the return of his beloved brother from several years of living in the US. Carl duly returns with his new wife in tow. Together they settle in to the master bedroom while Roy relegates himself to the room that the boys shared as kids.
The small, quiet mountain town where everybody knows everybody and the economy ticks over is seemingly in jeopardy. Plans are afoot to build a new highway that will pass them by completely.
This news is especially bad for Roy who runs the service station in the town. Over the years he's built up a regular flow of customers by being the only option for many city-folk heading to their cabins.
Read more: The Best Norwegian Crime Books in English
Carl, however, has a plan to save the town and put it firmly on the map. All he has to do is convince the residents of the town to invest a small amount each, with the promise of huge rewards once the resort opens.
Being the charismatic prodigal son that he is, he easily manages to persuade enough investors. But not everyone is convinced.
The local sheriff, for one, is very suspicious of the plan, and also suspects not only that Carl is not being completely honest about the deal but also that some accidents from the boys' past might not be as accidental as they seemed.
Overall impressions
The Kingdom is a change of pace for those familiar with the Harry Hole novels, where it's rarely long before you find yourself in the middle of the action. Here it's much more of a slow burner, taking time to set the scene.
One thing Jo Nesbø does very well is to build and describe a world that's at once familiar and believable. Even if you've never set foot in Norway in your life, you've almost certainly encountered a sleepy small town that's one new road away from complete extinction.
Order The Kingdom with free worldwide delivery on Book Depository. Also available from ARK (Norway) and Amazon.
On top of this, the characters are three dimensional and you understand how their actions are shaped by their experiences. So, even though the novel takes its time to create its world, it makes the payoff at the end that much more worthwhile.
If I must rate the novel, I'd probably give it 4 or 4.5 out of 5. This may be swayed by the fact that I've loved every word of every Nesbø novel to date! That said, if you like a slow-burning mystery novel where relationships are as important as events then you'll struggle to be disappointed with The Kingdom.
I found it a real page-turner so even though it's 500+ pages long, it won't take you too long if you have the time to spare.
That gives you the plot summary and my opinion, now it's time to delve into the details! If you carry on reading, you'll encounter some spoilers. So if you want to read the book fresh, then head off now and come back once you're done. Otherwise, read on!
Brotherhood
As you might expect, brotherhood is one of the primary themes of The Kingdom. The two brothers at the heart of the novel have a storied past and a complicated relationship. Roy, as the strong brother, is often involved in dealing with the mess left behind by Carl's more sensitive side.
Right from the start, we see their relationship being tested. Carl brings his new wife, Shannon, on his return to The Kingdom and Roy is not entirely sure what to make of her. Eventually Roy's relationship with Shannon develops to the point where they are in some ways closer than Carl and Shannon are.
Americana
Another major theme running in the background of The Kingdom is Americana. Roy's father, and then Roy, are obsessed especially with the old classic cars like Cadillacs.
Roy can recognise the sound of Carl's DeVille even before he sees it, when he's returning to the farm for the first time.
Master of misdirection
One of the most enjoyable aspects of Nesbø's writing, whether it's a Harry Hole sequel or a standalone novel, is his masterful use of misdirection. The Kingdom is no exception. We know that Nesbø uses foreshadowing to give us ideas of what to look out ofr. All authors do it, though some are better than others.
Read more: Five Norwegian Novels to Read Before You Die
But with Nesbø in particular, he leads the mind in so many different, and often opposing, directions so you're never quite sure which part will land, and which will have been a bluff. One of the best examples of this is a question I was asking myself a lot for the first half of the book…'what exactly is Roy's hiding'?
Roy's secret
From the start it's mentioned or hinted that Roy has a dark secret. I'd imagine this will read differently for different people.
To me, Nesbø seemed to be suggesting that Roy was gay, living in a town whose small-minded community might not accept that. At one point he is asked directly by the sheriff and rather than denying or confirming simply bats the questions aside.
There's even a hint that he might have taken the strongest possible actions to protect his secret from being found out. That possibly doesn't chime with a hidden sexuality – it's rarely worth killing for after all – but in Nesbø's world, you never know what people will do with the right, or wrong, motivation!
From there, this develops into a suggestion that Roy might have been sexually involved with his younger brother as they were growing up. It becomes obvious that Carl was abused by someone, which doesn't really fit with the relationship the brothers have.
But time can heal wounds, and the mind can suppress them. Maybe, now that Carl is a successful businessman, he has come back to get his revenge on Roy.
But it's finally revealed that Roy had been having a years' long affair with a married woman, Rita Willumsen, the wife of the local used car dealer and loan shark.
Blood is thicker than water
As you will often find in books with a strong family theme, there's often a test of that familial bond. Will Carl and Roy's bond prove to be stronger than the bond they each form with Shannon.
As the book reaches its stunning conclusion and the final facts are dragged into the light, it's still not entirely clear until the very end. How the brothers, divided by a woman who has starkly altered their relationship, will salvage or ruin their relationship is ultimately what drives this story to the final pages.
Cain and Abel
Another fine example of misdirection is the story of Cain and Abel. This is one of the best-known brotherhood stories in the Western world and Nesbø uses it to good effect.
In the bible story, Cain is a farmer and Abel is a shepherd. Both make sacrifices to God but God favours Abel's sacrifice. Consumed with jealousy, Cain murders Abel. Cain is then sentenced to a lifetime of wandering in the Land of Nod.
Carl's middle name is Abel, though we're told it's named after the former American Secretary of State Abel Parker Upshurr. Roy has the middle name Calvin after President Calvin Coolidge. It's not quite Cain and Abel but it's definitely close enough to bear in mind.
So, we're being subtly set up for Roy to murder Carl out of jealousy. Indeed, this is a large amount of the misdirection that Nesbø employs. Is Roy clever enough to manage it and is Carl clever enough to avoid it?
The world's most dangerous bend
"The Highways Maintenance Department had been on the point of erecting a crash barrier when they discovered the last 200 metres were private road and Opgard's responsibility."
Ultimately, the road leading to The Kingdom has a lot to answer for. One particular bend seems to encourage cars to disappear over the edge down a long was to Huken below. It's so notorious that everyone is surprised that the town council never do anything about it, even though it's on private land.
Read more: Audiobooks in Norway: How to Listen to Your Favourite Authors
The initial victims are the brothers' parents who set out one day to visit the boys' Uncle Bernard and up driving over the bend.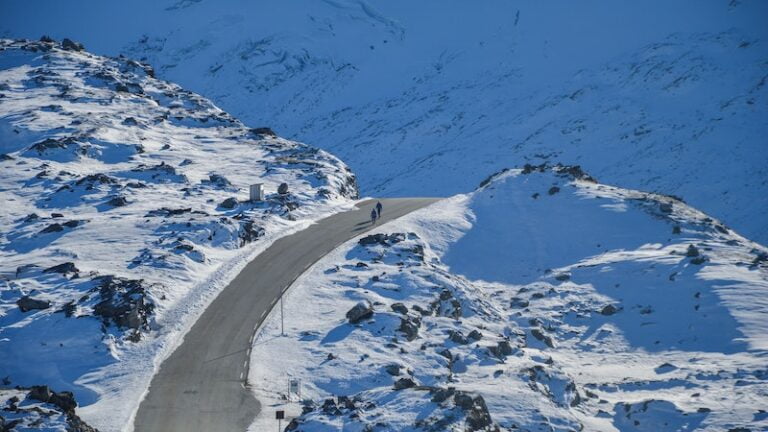 The sheriff investigates and can't come to any conclusion as to why there are no brake marks. Was the boys' father depressed? The sheriff never finds the answer but he's never convinced it's a simple matter of misjudging the bend.
Later, a car belonging to a Danish hitman goes careening over the edge after he'd confronted Roy at the farmhouse. That car, a Porsche, skids on ice that had mysteriously appeared overnight.
The final car is the ultimate spoiler, so I'll save it in case you're reading this before reading the book, but it brings KRIPOS to investigate and Officer Vera Martinsen provides the final closure on the bend and its secrets.
"For three cars to go off the road over a period of eighteen years at a place that should obviously have been better protected seems to me not merely reasonable, I think in fact it's strange there haven't been more accidents."
Final conclusions
As with all standalone novels, we end with a final conclusion. There's no room for a sequel and so everything is tied up nicely. Any misdeeds committed by our protagonists are wrapped and buried forever.
Order The Kingdom with free worldwide delivery on Book Depository. Also available from ARK (Norway) and Amazon.
This allows us to spend our time with Roy and Carl and then earn a satisfying ending. A 'real' police officer from the city comes along and puts an end to the supposed mystery of so many cars falling off at the bend by pointing out that in fact there should probably be more.
So, after all is said and done, it was a health and safety issue all along. Who knows what might have become of Roy and Carl if the Highways Maintenance Department had installed a crash barrier!
Have you read The Kingdom? Tell us your thoughts below.