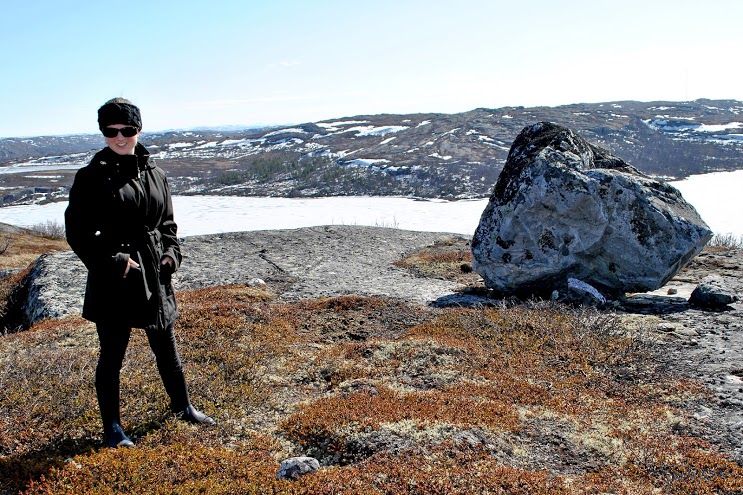 I recently discovered the Barents Observer, a bilingual English/Russian internet newspaper reporting on news from and about the Barents Region and the Arctic. The site is run by the Norwegian Barents Secretariat in Kirkenes.
Joining me for the latest Life in Norway interview is Andrea Hill, a Canadian journalist who spent five weeks in Norway working for the Barents Observer earlier this year. She kept a blog during her stay, and was kind enough to talk to me in more detail about her experience of the Norwegian Arctic. Andrea works with the Postmedia News parliamentary bureau in Ottawa and is a recent graduate of Carleton University's School of Journalism.
How did you end up working at the Barents Observer?
I spent five weeks this spring working for the BarentsObserver in Kirkenes, Norway as a recipient of Carleton University's Norwegian High North Journalism Award. This award, sponsored by the Norwegian embassy to Canada, sends two journalism students from the Ottawa university to Kirkenes where they learn how to report on Arctic issues and become more familiar with the political, environmental and social realities of the Barents region.
What are the specific challenges of journalism in the high north?
Arctic reporters need to be political reporters, environment reporters and business reporters. They need to be able to report on issues related to security, energy, sovereignty and indigenous populations. The Arctic is a rapidly changing region – temperatures are warming, sea ice is shrinking and new technologies are making it easier to exploit northern resources – and it is finding itself more and more in the media spotlight. Yet there are relatively few journalists in the north relative to southern regions.
I've not yet been to Kirkenes. What was your impression of the town and would you recommend a visit?
Kirkenes is a charming town in northeastern Norway, less than 20 kilometres from the Russian border. Houses, small shops and the iconic Kimek shipyard building are surrounded by beautiful and rugged terrain. I was in Kirkenes during the midnight sun and enjoyed long hikes at all hours of the day and night when I had an opportunity to stroll across frozen tundra, walk alongside an Arctic hare and explore the many bunkers left behind from WWII.
Almost all residents are multilingual and it was easy for me to navigate and communicate with people as an English speaker. Even signs in the Border Museum – which chronicles the town's involvement in the Second World War, explains the history of the Kirkenes mining industry and showcases local art – were in English.
Kirkenes proved a fascinating place for a nature buff to travel to during the midnight sun and I hope to one day return to experience the polar night.
I love Tromsø – what were your impressions of the city?
Tromsø, the second-largest city in the Arctic Circle after Murmansk in Russia, likes to boast that it is home to the world's northernmost university, beer brewery, cathedral and botanical garden. After my time in Kirkenes, I was blown away by how big and bustling Tromsø is – it certainly defied my preconceived image of a small, quiet Arctic town. The surrounding ocean and snow-capped mountains make this a beautiful place to explore.
I spent most of my time in Tromsø meeting with leading polar researchers. Tromsø is a big Arctic research hub that houses the University of Tromsø, the Tromsø University Museum and the Fram Centre. The city is positively teeming with scientists and researchers studying a variety of Arctic issues and I'm sure it will continue to play a pivotal role in Arctic research moving forward.
How easy was the journey from Kirkenes to Murmansk, and would you recommend Murmansk as a place to visit?
My trip from Murmansk from Kirkenes was relatively uneventful – although certainly bumpy. I made the trek by way of a five-hour bus ride that involved stops at the border to have visas and passports closely scrutinized and stamped. Once in Murmansk, I was toured around by members of the Barents Secretariat and local students who were able to navigate the city, translate and tell me about the city's history and culture. I saw many of the city's highlights, including the massive Murmansk monument and the Lenin icebreaker, and sampled many traditional Russian foods, including soups and dumplings.
Though I enjoyed my time in Murmansk, I would be apprehensive to return without a local guide since English is not prevalent. Given the requirements for obtaining a Russian visa, it may also be difficult (or impossible) for someone to travel there without a guide of sorts.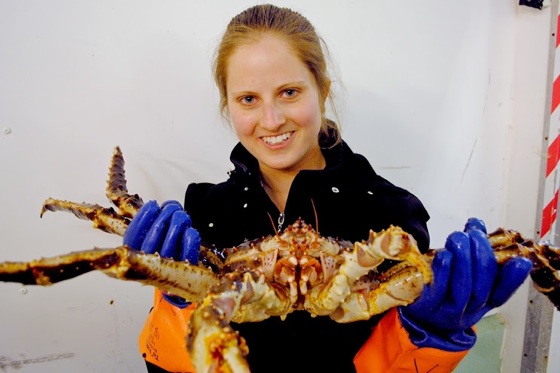 The area is a cultural melting pot, with Norwegian, Swedish, Finnish, Russian and Sami people all interacting. Was this a happy mix, or did you experience cultural issues?
As a guest of the Barents Secretariat, I was constantly working with people dedicated to cross-border cooperation. I was surrounded by multilingual youth who were well-travelled in the Barents region and who were passionate about learning more about their neighbours. The Barents Youth Council, which had many representatives in Kirkenes for the Barents Summit, is made predominantly of young people dedicated to breaking down political and cultural barriers.
I also frequently worked and met with Sami people who were excited to tell me about their culture and way of life. Because of Kirkenes' unique position on the border of Finland, Sweden and Russia, it seemed to foster an attitude of enthusiasm and curiosity, as opposed to tension.
How do you compare the National Day in Norway (17th May) with the National Day of Canada?
Whereas back home, Canada Day celebrations focus mainly around firework shows in the evening, the same is not true in Norway because by the time the middle of May rolls around it is too light in the evenings for fireworks to be seen. Instead, Norwegians celebrate their national day through parades.
There were two such parades in Kirkenes – a children's parade in the afternoon and a public parade in the evening that featured representatives from local organizations, sports teams and clubs. In both parades, men wore suits and many women donned the traditional Norwegian bunad.
Marching bands played, Norwegian flags were waved vigorously and people both in the parade and on the sidelines sang, shouted and whistled. The two parades snaked around the entire town, so onlookers could dart through the streets to witness the parades from several vantage points.
You covered the Barents Summit – can you tell us what it actually is, and what was discussed there?
The Barents Summit first met in Kirkenes in 1993 to put forward a Kirkenes Declaration to "contribute substantially to stability and progress in the area and in Europe as a whole" in the aftermath of the Cold War and collapse of the Soviet Union. To mark the 20th anniversary of this document, a new Kirkenes Declaration was presented in the spring of 2013 by top government officials from across the Barents region.
This new declaration – which is not a binding document – announced the formation of the Joint Barents Transport Plan which will allow Barents Council countries to coordinate efforts to build inter-Barents roads, railroads, harbours and airports. In the spirit of improved connectivity, officials also announced that Barents countries would work to find ways to "ease and promote" border crossings and create visa-free travel for short-term stays in Barents countries. This has become increasingly important in the last 20 years as the number of people crossing the border has grown substantially.
My thanks to Andrea for the fascinating interview! For more information, see Andrea's portfolio or follow her on Twitter. Photo credits: Jonas Karlsbakk and Amund Trellevik.