You don't have to have a car to enjoy Lofoten. Here's how to get to and around the Lofoten Islands in Northern Norway by bus and ferry.
Road trips are hugely popular in Lofoten, but a car isn't essential to enjoy these stunning islands. Ferries are commonplace and the bus network is sparse but reliable. Such public transit is a good option is you don't mind some advance planning.
This summer, I spent almost a week in Northern Norway's Lofoten Islands. It's one of the most beautiful parts of Norway and incredibly popular with road trippers. Yet we chose not to hire a car this time.
Not having your car certainly does limit your experience and there are parts of the islands you won't get to see. But, as we found, it also allows you to slow down, relax, and enjoy the destinations you do visit in much more depth.
It can also save you massive amounts of money and stress. Car rental prices reached new heights in Lofoten this summer while parking is expensive and notoriously difficult especially at the western end of the archipelago.
How to travel to the Lofoten islands
Many people travel to Lofoten by air or boat, then rent a car once they arrive. For those intending to continue your journey by public transport, I recommend Svolvær as your first destination.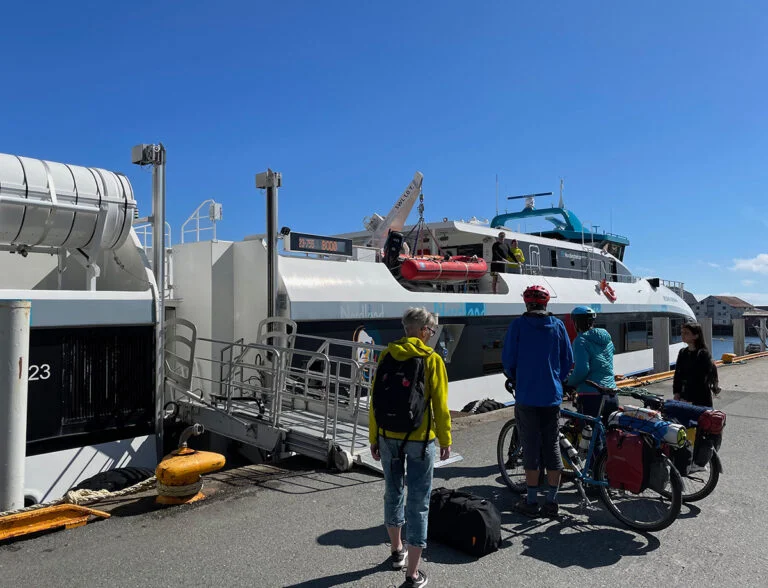 That's because there are several ways to reach Svolvær including direct Widerøe flights from Bodø and an express passenger ferry, also from Bodø. There's also the Hurtigruten coastal ferry from Bodø via Stamsund.
Bodø itself can be reached on the train by the Nordland line from Trondheim. You can also get to Svolvær by bus from Narvik.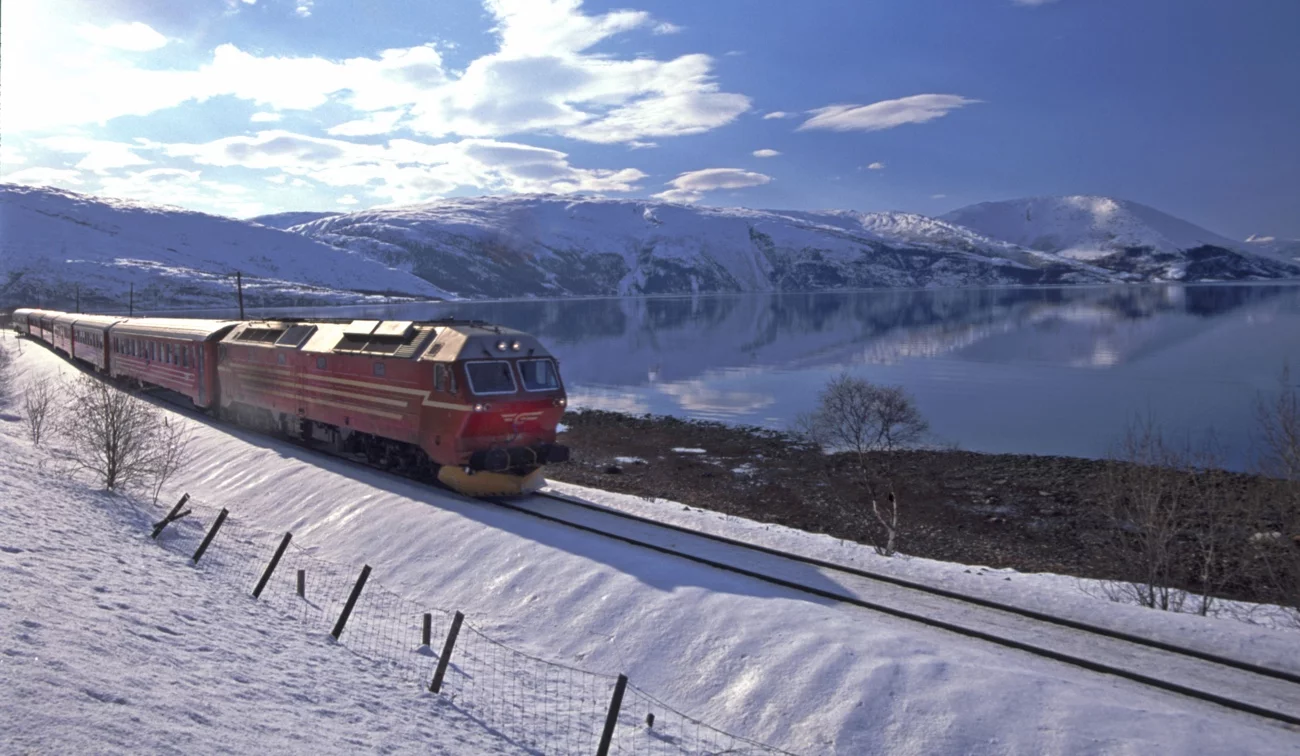 Once in Svolvær, there are buses to other parts of Lofoten as well as ferries and other tourist-oriented boat trips.
If you arrive in Lofoten on the ferry from Bodø to Moskenes, there are fewer public transport options. Most people using that ferry either bring a car onboard or have a rental car waiting for them in Moskenes.
Introducing the bus system in Lofoten
Public transport in Lofoten is managed by Nordland County. The easiest way to plan your travel is by using the Reis Nordland website and buying tickets on the Billett Nordland app.
Buying tickets using the app saves NOK 20 on all tickets, so it's well worth downloading if you plan to use the bus more than once or twice. Otherwise, payment can be made by debit or credit card when boarding the bus.
Buses are not as frequent as in cities and in fact, many services across Lofoten only run a couple times per day. This means you must plan in advance to make the most of your time.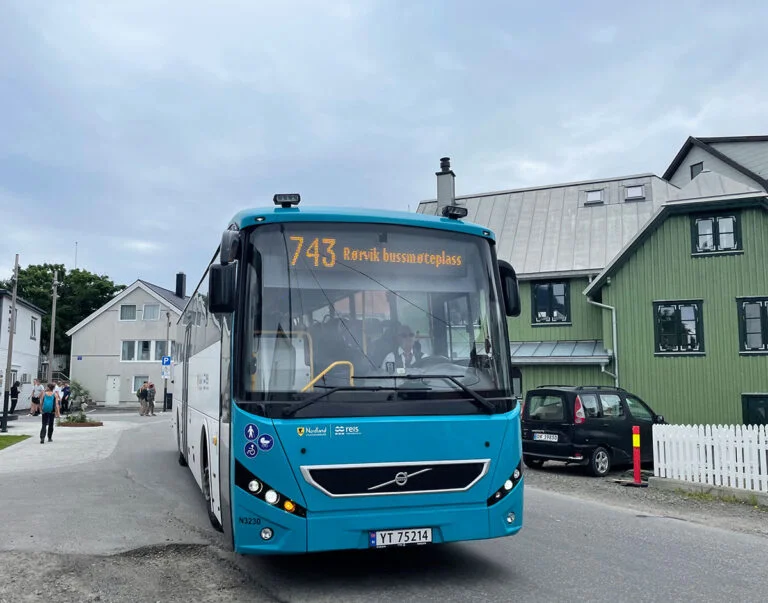 The bus system is designed with connections in mind. For example, there are regular buses that run along the E10 between the two main towns of Svolvær and Leknes. All buses stop at the Rørvik beach.
From here, a coach is waiting to take passengers to and from the fishing village Henningsvær, a 20-minute drive away. This saves passengers travelling between the two towns an extra 40-minutes on the journey if every bus was to call at Henningsvær.
This works well for passengers because at these interchanges, buses will wait if one of the other buses is running late. While this can of course cause delays to other buses, it does ensure the reliability of the system.
Principal bus routes in Lofoten
While I won't go into detail because schedules change, I will go over the main routes in Lofoten. Bear in mind schedules, routes, fares and route numbers do change, especially seasonally. So check before you make any concrete plans.
300: Narvik – Svolvær – Leknes – Å: This is the principal route across Lofoten, from the E6 on the mainland at Narvik all the way to Å at the western end of the archipelago. As such, it can be a busy route.
Running typically twice per day, the route is often split into legs and may involve a short break in some of the towns. At the time of writing the fare for the full route is NOK 514. Narvik to Svolvær costs NOK 385, with Svolvær to Leknes coming in at NOK 170.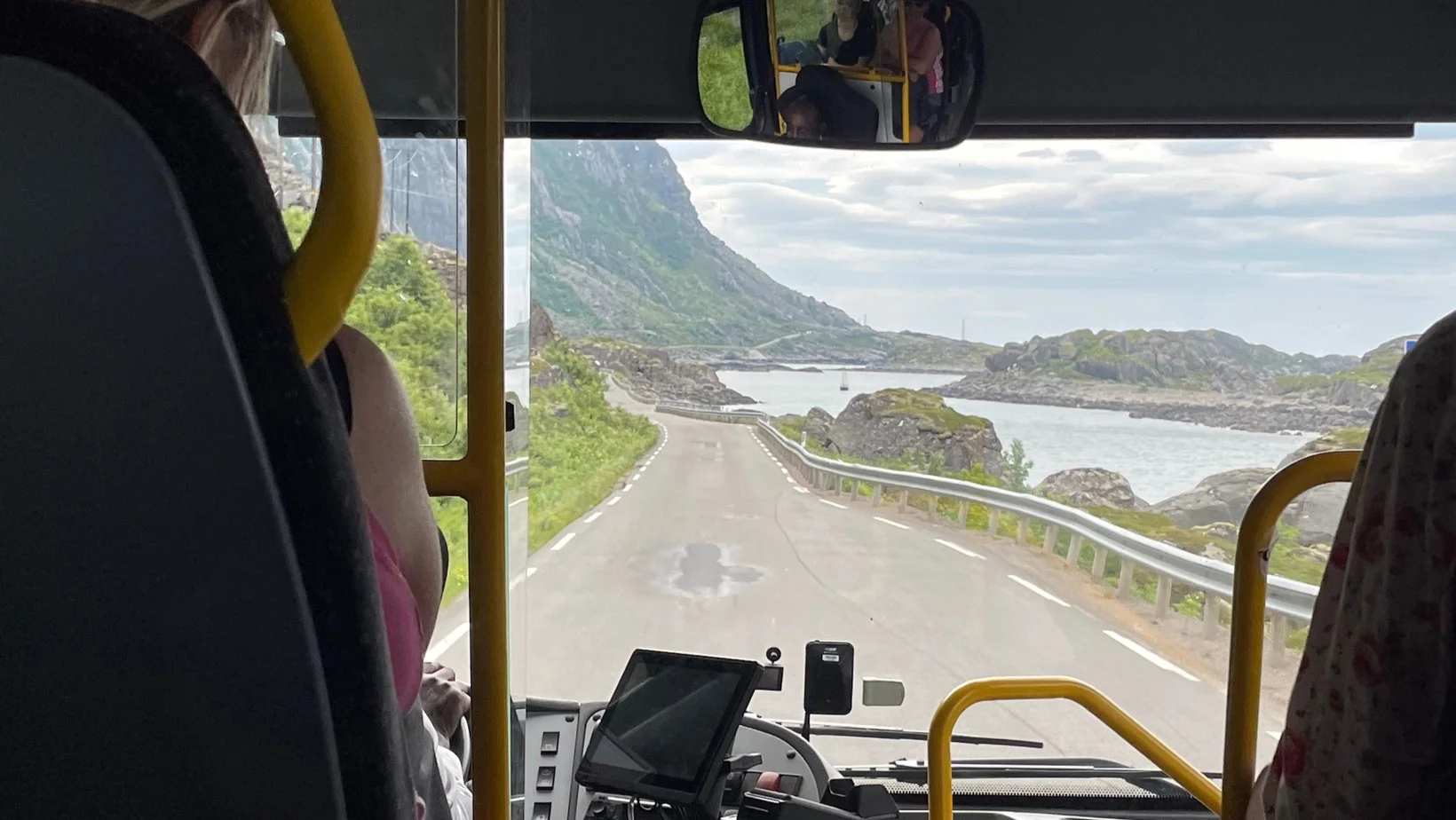 741: Svolvær – Leknes: This service supplements the main line with extra departures between the two main towns of Lofoten.
742: Leknes – Å: This route runs a few additional departures a day from Leknes to the westernmost part of Lofoten. At the time of writing the fare is NOK 127.
743: Svolvær – Henningsvær: This 35-50 minute route runs several times per day and is popular with both locals and tourists. At the time of writing the fare is NOK 84.
767: Leknes – Stamsund: A popular route with both tourists and locals because of the Hurtigruten port in Stamsund. At the time of writing the fare is NOK 84.
There are other lines across Lofoten, but these are some of the most useful for tourists. To fully understand the available options, use the journey planner tool on Reis Nordland. Check Google Maps for the names of bus stops close to where you are visiting.
Express boats and ferries in Lofoten
The planning tool on Reis Nordland also includes express boats and ferries. I mentioned the express boat between Bodø and Svolvær earlier, but there are also some useful local ferries.
751: Svolvær – Skrova – Skutvik: This route links Svolvær to the charming island of Skrova. Some departures continue on to Skutvik, just a few miles from the E6, the main north-south highway through Norway. Read more about this ferry here.
773: Reinefjord: From Reine, this ferry serves a handful of remote communities in Moskenes. It's popular with tourists making the hike to the picturesque Bunes beach.
837: Hadsel: This ferry links Stokmarknes at the southern end of the Vesterålen archipelago with the islands at the eastern edge of Lofoten.
Unlimited travel pass in Nordland
If you are planning to travel a lot by public transport in Lofoten, consider buying the Travel Pass Nordland. It's a great deal if you don't have a car and will be spending at least a few days in Lofoten.
Available for NOK 1290, this pass allows seven days of unlimited travel on buses and express boats throughout Lofoten and all of Nordland County. Children under 16 pay half.