Planning a trip to Oslo and wondering what to pack? Considering the reputation of Scandinavia, the weather in Oslo can be surprising! Let's take a look at what to expect in all seasons.
If you've never been to Norway's capital, you could be forgiven for thinking the weather in Norway is always freezing in the winter and chilly in the summer. The reality is quite different!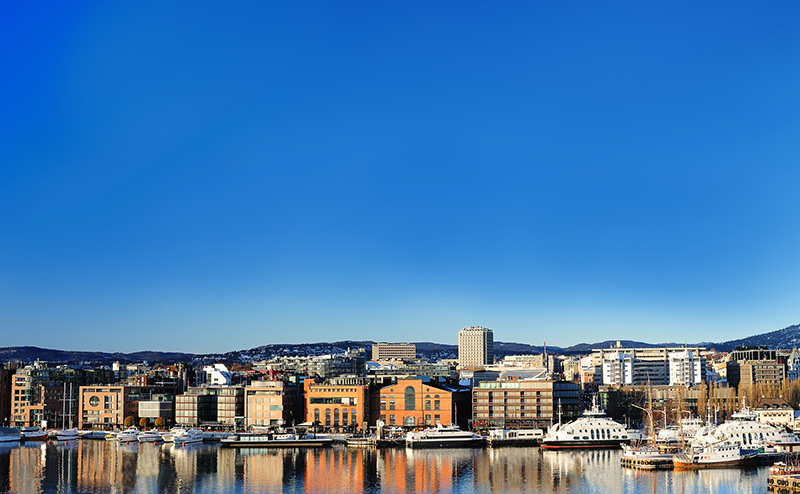 Let's take a look at what you can expect from the weather in Oslo, Norway's capital city.
It's true that parts of Norway fit that description. If you're visiting Svalbard you'd best take a lot of warm clothing even in mid-summer! But despite being at a more northern latitude than Moscow, the Norwegian capital experiences much milder weather.
One reason for this is that Oslo sits on the coast. It's protected from the sea by the Oslofjord and benefits greatly from this location. Coastal cities are generally warmer than landlocked cities in a similar position. But Anchorage in Alaska is also a coastal city of similar latitude to Oslo and that's below freezing for almost half of the year!
So, the main reason for this disparity is the ocean currents. The Gulf stream is a current of warm water that originates in the Gulf of Mexico, travels up the Eastern USA and then across the Atlantic towards Europe. So it's not enough to just be 'on the coast' – it's got to be the right coast. And the Norwegian coast is exactly that!
A year-round city
So, far from just being a winter city, Oslo is a year-round city. The climate is classed as 'warm-summer humid continental climate' or Dfb, if you're familiar with the Köppen climate classification system.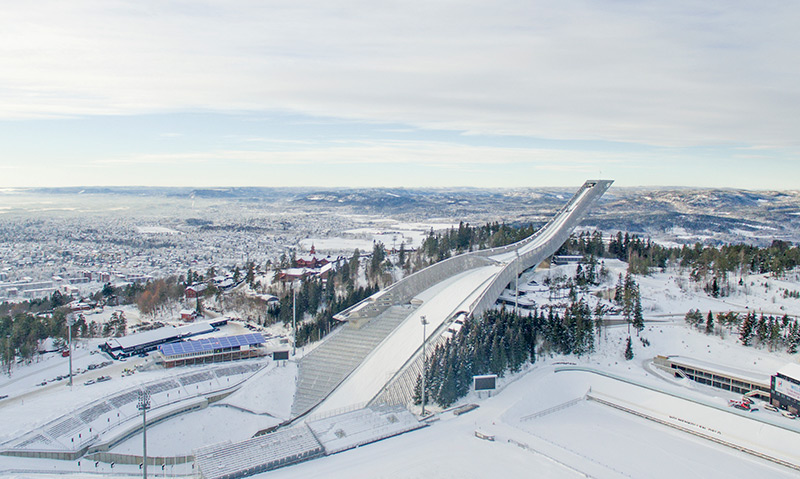 This means the weather is similar to what you'd expect in a continental setting. There's no great difference in precipitation, or more accurately no 'dry season'. In the summer there's a good chance of t-shirt weather and a very low risk of being meltingly hot!
Oslo is a very active city and there are outdoor activities throughout the year within a short distance of the centre. In winter, snowfall around the city lends itself to skiing and winter sports.
The Oslofjord in summer gets warmer than you'd think thanks to being sheltered by the land on either side. Spring and Autumn let you take your pick as the weather will be mild enough to allow anything, including strenuous activities like hiking, without the risk of overheating.
Oslo weather: season by season
Unless you live in southern California, you're probably used to the idea of seasons! In some parts of Norway, it can often feel like there's five seasons because of the early dark and wet winter followed by the brighter, snowy winter.
Precipitation is pretty constant around the year. On average it rains, snows or hails on about 15 days per month – ranging from 10 in March to 17 in December. That's less than the rainy city of Bergen and, even on the rainy days, it's rarely a constant stream of water from the sky. In fact, the average precipitation is just 1-2mm per day.
Now, let's take a look at the seasons in more depth and some of the things Oslo has to offer throughout the year.
Winter weather in Oslo
As a former Winter Olympic host, the city is known for the cold season. The average highs of 0C in December dip down to -2 in January and February. But remember, those are average temperatures, so you can expect several days above freezing.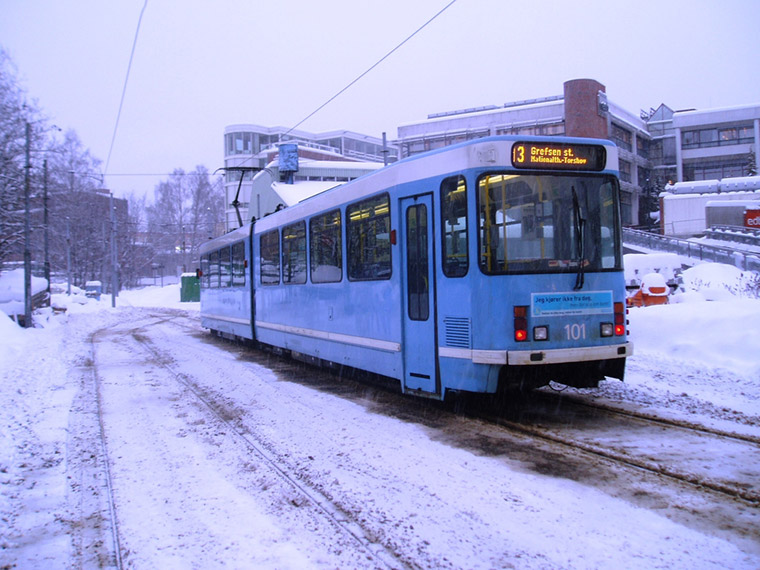 Of course, the nights are colder with average lows of around -8C in midwinter. Areas around the city can get much colder but prolonged cold snaps from the Siberian air to the east are rare in Oslo.
Snow will fall, usually starting in December and continuing until March. Despite this, the centre of Oslo itself isn't all that snowy. The urban heat is enough to drive off much of the snow that falls there. It's also not that uncommon to go a whole winter with very little snowfall.
Instead, the snow tends to fall and gather in the more elevated suburbs and in the forests and rolling hills that surround the city. This gives a great opportunity for picture-postcard moments if you head a little way north with a camera!
As soon as the snow hits, the Norwegians will generally strap sticks to their feet and indulge in cross-country skiing. If you visit in winter and there's snow around, the chance of seeing someone on the T-Bane (Metro) with skis or toboggans gets close to 100%!
If you don't fancy the exhausting exertion of cross-country skiing, Oslo Winter Park has 18 slopes where you can indulge in downhill skiing and snowboarding.
Spring weather in Oslo
Despite being technically the driest season, Spring in Oslo is a pretty wet experience. Not so much from water falling from above but meltwater from the surrounds all flowing towards the sea.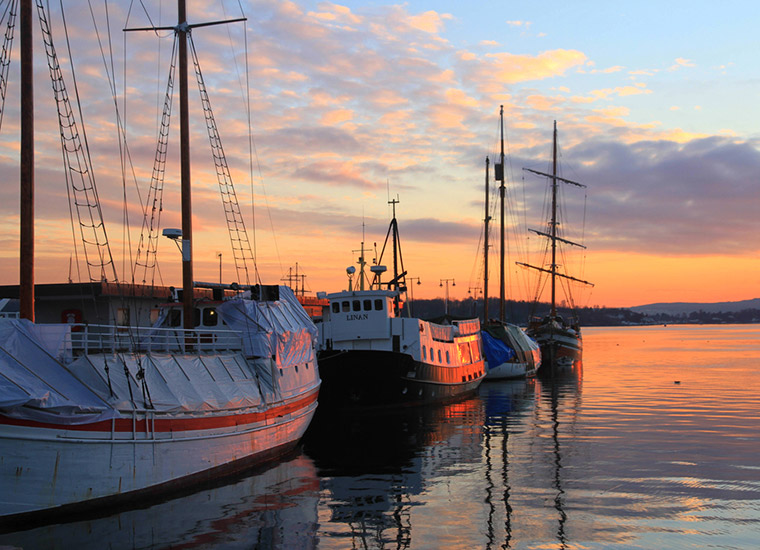 The temperature starts to rise quite rapidly, though it'll still be quite chilly. The sun that has been shying away for much of the winter comes through for longer each day and the world thaws and comes alive. The season will start with average highs of around 3C in March up to 15C in May.
This is a great time of year to try something like kayaking on the Oslofjord, hiking in the Oslo hills or take a stroll along the Akerselva river. All of these get you close to nature in the season when it blooms.
Summer weather in Oslo
The warmest season in Oslo is also technically the wettest. The city doesn't get too much rain, but you also can't bet on long dry spells. The temperature is rarely going to get higher than 25C and rarely lower than 10C with average highs of 19-22C and lows of 10-13C.
The highest recorded temperature in Oslo is over 30C so, even though intense heat isn't out of the question, it's unlikely and it's even less likely to stick around for too long!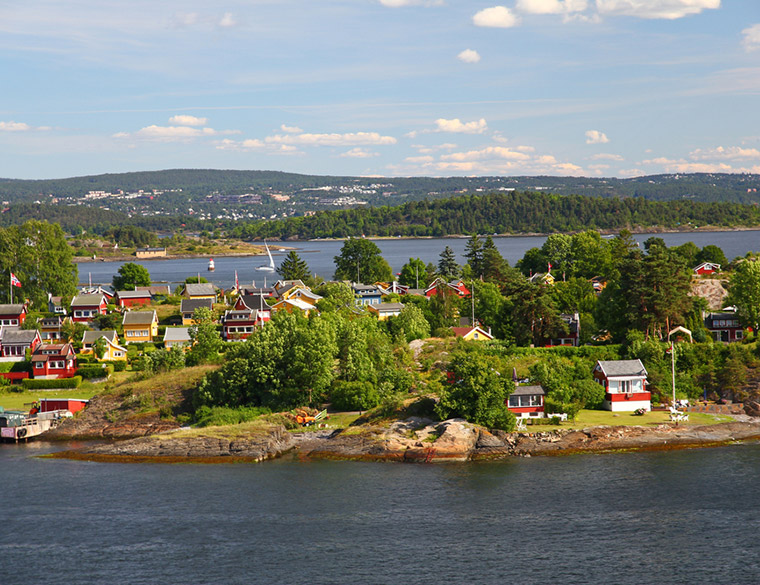 There's a wealth of outdoor activities available in the Oslo summer. From picnicking in the city's many sculpture parks to mountain biking in the forests and hills, there's something for everyone.
By July the Oslofjord will be 'up to temperature' and the beaches along the coast give access to water that's warm enough even for non-Norwegians to take a dip! Maybe.
Autumn weather in Oslo
As summer ebbs away and the leaves on the trees change colour and fall to the ground Oslo starts to prepare itself for winter. Average high temperatures drop from 15C in September down to just a few above freezing in late November.
You won't see too much of the turning leaves in the city, but you won't have to head too far North to catch nature's last stand in all its glory. Autumn gives you the last chance to get some hiking in before the snow starts to fall, now that the weather has chilled out a little.
Now that the sun is starting to make itself scarce again, the night will quickly start to become crisp and frosty. That's why one of the best things to do in Oslo in Autumn is to curl up in front of an open fire with a good book!
What to wear in Oslo
In spring you'll still need a decent coat that's warm and waterproof for most of the season. You'll also need to make sure your shoes are waterproof. It might just about be warm enough to get away with canvas shoes but that meltwater will soak you through if you're not careful!
Summer in Oslo is mostly jeans or shorts, and t-shirt weather. Always have a light jacket or sweater to hand as the nights can still feel a little bit chilly. You'll want to be sitting outside as long as you can to enjoy the late, light, Oslo nights.
In autumn it's similar to spring. The water coming at you from the sky makes a waterproof coat a must. But the temperature can be quite variable so it's best to have a few layers that you can add or remove when you need to.
The winter brings the cold and, even though it's not Arctic exploration weather you still need to be prepared. A thick winter coat, or snow coat, is a must along with a hat and gloves. Thick snow boots that can cope with harsh weather are recommended, though if you're not planning to venture out of the city you can get away with regular boots and some nice thick socks.
As for style, that's really not my forte. Then again, as long as you have a woollen sweater and an outdoor coat you won't look too out of place among the locals! And if the weather turns out to be colder than you expected then you have a great excuse to invest in a classic Marius sweater!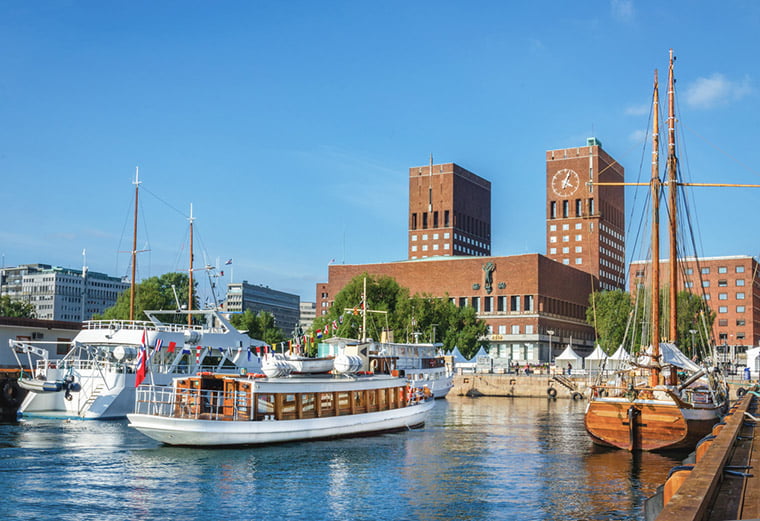 Finding accurate weather forecasts
Now you have an idea of what to expect, no matter when you visit Norway's capital, you'll probably might want to do a bit more specific research, especially if you've got a trip planned.
Once you're about a month out you can start to see long-range forecasts. These will still be highly subject to change, but you can start to pick up on any trends, like a particularly mild or cold winter.
Once you're ready to start packing for your trip, the short-range forecasts should give you an accurate picture of what you're likely to expect. There's still time to get to the store and buy an extra sweater for a chilly autumn, or maybe a swimming costume if it looks like being a hot spring!
One of the best resources we've found is yr.no, a Norwegian weather service that I, and many Norwegians, use every day. Unlike a lot of the global companies that are simply taking raw data and presenting it, with no local presence of their own, yr.no is based in Norway and offers more insight and context to what is happening. For example, their publish regular news reports about Norwegian weather trends.
The website has accurate hour-by-hour reports that cover the next couple of days and longer-term forecasts that are less accurate but give an idea of what to expect. They also have an app so that, everywhere you go, you can always take the weather with you!