Last weekend's changing of the clocks marked the start of my favourite time of year in Norway: the transition from the long winter into spring. During this time the days become noticeably longer, leaves return to the trees, flowers come out to bloom, and everyone is a couple of notches happier as we race towards constitution day on May 17. It's not an easy transition though. On Thursday, I awoke to find the first snowfall in over a month: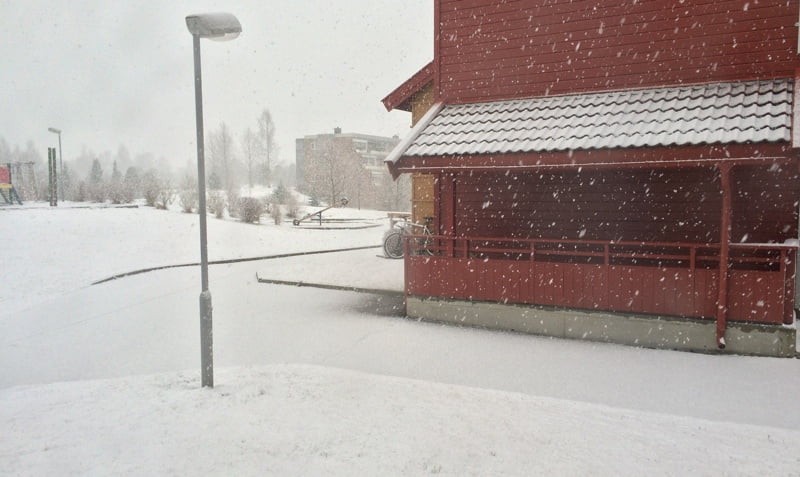 But within three hours, it was all gone.
As I wrote in the five seasons of Norway, this changing of the season tends to be focused around Easter week.
"Hang on, did you say Easter week?"
Yes, Easter week. For in Norway, the majority of people take the entire week leading up to Good Friday off work. It's as important a fixture in a Norwegian's calendar as Christmas and the July vacation. Technically, Monday to Wednesday is working time (and perhaps Thursday too, I'm not sure to be honest) so the week off should cost employees at least three days of their holiday entitlement.
Even after almost four years in Norway, I'm still not used to taking the whole week off so never make any plans. I simply don't think about Easter until it's upon me, because in England it was never anything more than a long weekend. Perhaps one day I'll remember to make advance plans!
Many Norwegians take the opportunity to head to the hills for one last skitur before the snow disappears, or down to the Mediterranean for some much-needed sun after the darkness of wintertime. Me? I've been taking long walks around Trondheim to reflect on a few things.
Trondheim is finally my home
Time flies. In just a few weeks I'll have been living in Norway for four years. An even bigger realisation was that in those same few weeks, I'll have lived in Trondheim for longer than I lived in Oslo. I felt at home quickly in Oslo, perhaps it was the thrill of moving abroad, or the number of people who visited me from England, or the friends I made, or the big city life (big being a relative term here, of course!), whatever it was I felt comfortable there.
Not so with Trondheim. It took me a lot longer to feel settled here, to feel it's a place I could spend the next few years, let alone the rest of my life. Over the past few months me and Gerry have started to plan a house purchase and that's driven me to look at Trondheim in a different light. I'm just back from a stroll around the city and you know what? I live in a really lovely place.
Writer's block is no longer a problem
I've blogged a lot less than usual lately. To be honest, I've struggled with what to say, because having lived here for almost four years I've covered the majority of things that newcomers notice: brown cheese, hja! and cross-country skiing, for example.
What I notice now is a lot more detailed: the quirks of running a limited company, the differences in tax law, the differences between the political parties, regional dialects, and so on. I feel less motivated to write about things like this because I can't imagine there's many people interested in them.
Maybe I'm wrong, but in any case, the last year has been an experiment in having other writers contribute to Life in Norway, chiefly Whitney, Carmen Cristina and Dave. It's been a big success. Hearing the stories of other people of different nationalities, living in different cities and doing different things with their lives is giving you, my readers, a much more rounded picture of, pardon the obvious, life in Norway. If anyone else wants to contribute, especially anyone living in Bergen, Oslo or the Arctic region, just let me know.
Happy Easter, everyone!