The Norwegian fjords are a spectacular sight at any time of year, but particularly beautiful in their winter coat. Here's everything you need to know about visiting the fjords of Norway in the winter season.
From steep mountains plunging straight down into the water to the historic farmsteads, tumbling waterfalls and tiny communities, the fjord region of Norway is the country's leading tourist attraction.
Many people planning a visit do so in the summer. That's understandable, as the weather is generally better and the days longer. But as the photos in this article hint at, there's something incredibly special about the Norwegian fjords in their winter coat.
However, you'll find when visiting Norway in the winter that it's most definitely low season. While there's a lot of positives about the Scandinavian winter, you must also put more effort into planning your trip in advance.
For example, some attractions and accommodations will be closed. There will be fewer dining options. Most importantly, many of Norway's scenic mountain roads will be closed.
So, before you rush into planning a winter trip, read on!
Why visit the Norwegian fjords in the winter?
There are some definite benefits to visiting the fjord Norway region in the winter. First and foremost, the fjord landscape can be simply stunning with a sprinkling of snow. It's hard to get across in photos just how beautiful the winter tint can be.
Another plus point for those watching their budget is that it's cheaper compared with high season. That goes for car rental prices and accommodation, but also international flights to Norway.
There's also far, far fewer crowds. Well known villages such as Geiranger and Hellesylt are transformed from bustling tourist hotspots of the summer back into sleepy communities.
Downsides of visiting the fjords in winter
That being said, there's no doubt that visiting the region at this time of year is a bit of a gamble. Early in the winter, rain could freeze on the cold roads making driving a challenge.
Later in the winter, snowstorms can cause significant delays or even close roads. If you are a nervous driver or you've never driven in such conditions, factor this into your decision.
Both rain and snow can also ruin your hoped-for scenic views too, of course! While the pictures on this page show the winter landscape at its best, you should be prepared for less.
Planning is important when it comes to acommodation and attractions. For example, many campsites will be closed, even those that offer cabin rental. You may be restricted to hotels in established towns, or at best, a lesser choice of cabins.
Attractions are also likely to be operaitng on short hours or even closed. Many museums open for just a few hours in the winter (for example, 11pm-3am). The Flåm railway runs just four departures compared with eight or more in the summer.
Planning tips for a winter trip
Of course, for many people it's this lack of things to do that is precisely the reason for planning a trip in the winter! If you've decided to go ahead with your plans, here are some things to bear in mind. In short: it's plan, plan and plan some more.
Choose the right time: Visiting in the October-January period can be a gloomy experience. Rainfall is typically at its highest, and the short days mean sightseeing is limited.
However, February-April is a wonderful time to visit the fjords. Typically, there is more snow and more daylight in which to enjoy the scenery. Some mountain roads will still be closed, however.
Consider not driving: The chances are you'll be just fine driving in the winter here, especially if you are used to winter conditions. However, if you run into a snowstorm or a closed road or miss a ferry, it can ruin your trip.
If you'd rather not take the chance, it is possible to explore the fjords by public transport. The popular Norway in a Nutshell trip does run during the winter, but the Bergen-Sognefjord ferry does not.
Norway in a Nutshell covers part of the famous Oslo to Bergen railway, the Flåm railway and a ferry ride on the Aurlandsfjord and Nærøyfjord. There are different options for starting points and optional overnight stays, but there are fewer itinerary options in the winter because there are fewer departures on most services.
I have not taken this tour during the winter but I would highly recommend considering it, especially if you are planning on spending time in either Oslo or Bergen while you're in Norway. It is a natural add-on to a winter stay in either city.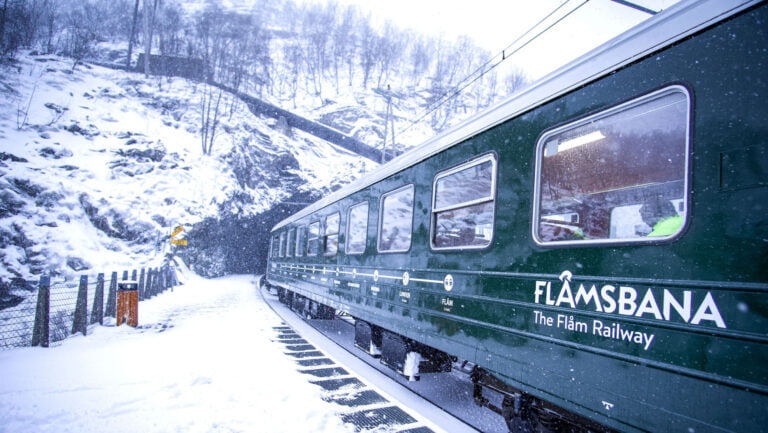 There are some advantages to taking the trip out of high season. Of course there is the spectacular scenery from the train window, and the chance to see frozen waterfalls on the Flåm railway. Weather dependent, of course! But the biggest benefit is the trip is so much quieter than in high season.
Don't assume anything: As I have mentioned several time now, some attractions are closed or operate much shorter opening hours during the winter. Guided tours may not be available. Open-air museums will likely only have their indoor exhibits open. The list goes on!
If there's something you're really keen to see, check. If you find a museum on Google Maps, check with the museum itself to see if it's open. Don't rely on Google listings or other websites.
Plan some spare time: I hear from many people planning a trip in Norway. While I don't offer help with itineraries, I do see one common thread. People try to pack in so much stuff in a short space of time.
While that's understandable given the high cost of visiting Norway, I would strongly encourage planning in some downtime into your itinerary, espeically in the winter.
With no crowds, it's a wonderful time to relax in the serenity of the fjords. It also helps to have some buffer time should anything go wrong with your travel itinerary.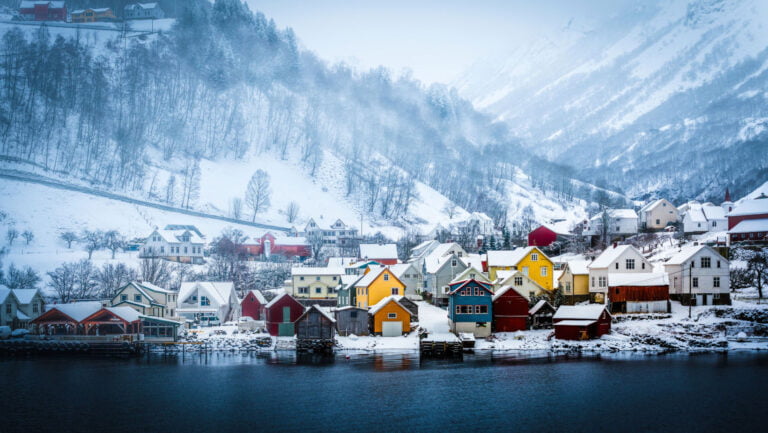 Ask the locals: If you are driving and making your own way around the region, it's a great idea to ask for local advice. Noone knows the roads and viewpoints better than them. Locals tend to be friendlier in the winter, which is not always the case when the crowds of selfie-stick weilding tourists descend in the summer months!
Dress appropriately: Last but definitely not least, plan your wardrobe! While winters in Norway are not necessarily as cold as many people think, that's not always the case in the mountains. The weather in and around the mountainous fjord region is notoriously changeable.
Best fjords to visit in the winter
Because of winter road closures and other accessibility issues, some fjords are easier to visit than others.
Aurlandsfjord/Nærøyfjord: As mentioned previously, the Aurlandsfjord and Nærøyfjord are a top choice due to their proximity to the Flåm railway and the Oslo to Bergen line.
Booking a Norway in a Nutshell self-guided tour takes the hassle out of planning, although it can be more convenient and cheaper to book your own individual tickets, especially if you want to include overnight stops or add in some other activities.
Hardangerfjord: From Bergen, the Hardangerfjord is a fantastic choice for a winter trip. The E16 and route 13 remain open year-round and it takes under three hours to reach the town of Eidfjord.
Lysefjord: From Stavanger, the Lysefjord sightseeing ferry doesn't run outside the summer season. However, the Lysefjord is accessible by car thanks to the year-round Lauuvik/Forsand to Lysebotn car and passenger ferry operated by Kolombus.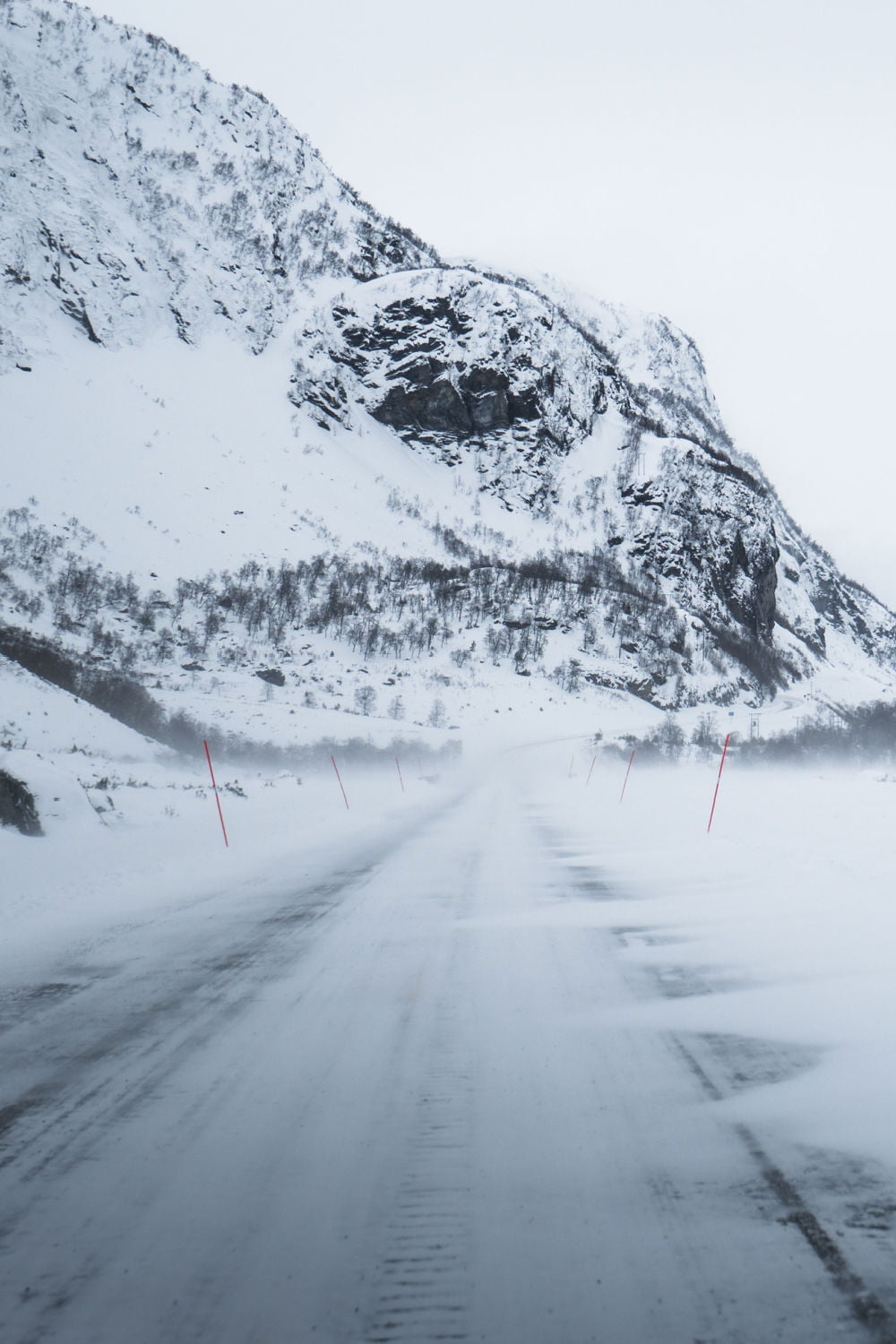 If the departure times work for a roundtrip, you can leave your car at Lauuvik/Forsand and join the ferry as a roundtrip foot passenger to save money.
If visiting the Lysefjord area, the Preikestolen trail is one of the few of Norway's famous hiking trails that's actually open over the winter. However, it should be done with a guide. Guided tours including transport are available from Stavanger.
Nordfjord: The view from the Loen Skylift cable car is spectacular at any time of year. In the winter, the panorama can bring tears to grown adults' eyes—as long as it's a clear day, of course!
Alpine ski touring is popular here for experienced skiers. The Nordfjord is accessible via the E39 but be aware of the road closures over the mountains to the east, including towards Geiranger.
Road closures in the winter
The Norwegian Public Roads Administration decides when to close and open roads and mountain passes for the winter season. Specific dates can vary by several weeks each year based on local weather and road conditions.
Here are some of the most common closures relevant to those of you planning a winter road trip to the fjords.
Aurlandsfjord: While access to the Aurlandsfjord by car is relatively straightforward using the Lærdal tunnel, the alternate 'snow road'—a popular summer tourist route—is closed from mid-October to early June.
Geirangerfjord: The famous Trollstigen pass is closed from mid-November to mid-May. This adds at least 30 minutes on to the drive from Åndalsnes.
Approaching the fjord from the south/south-east is also more difficult with the closure of route 15 from Langvatnet and Geiranger. The tourist road Gamle Strynefjellsvegen is also subject to winter closure. These also impact visits to the Nordfjord.
Sognefjord: North of Balestrand, the Gaularfjellet road is closed between Mel and Mjell typically from early December to late April. Route 55 Sognefjellet between Rustasætre and Turtagrø is closed from mid-November to late April, making access from central Norway more difficult.
Have you visited the fjords of Norway during the winter? What were your favourite memories? Can you share any tips with our readers? Let us know in the comments below.