Going beyond Norway, it's time to explore the Baltic countries.
I've spent three years exploring Norway and the Nordics, taking in such places and sights as Bergen, the Flåm Railway, the northern lights, Helsinki, Stockholm, and Copenhagen. I've ventured further afield to Tenerife, taken several trips back to the UK, and even hopped across the pond to Minneapolis. But one region that's completely escaped my attention is the Baltics – until now.
Having said that, the Baltic states – Lithuania, Latvia and Estonia – have been on my to-do list for years. Much like the Nordic countries, each of the Baltic states has its own history, culture, language and customs.
Although I know the basics (Estonia is closely aligned to Finland, for example), I'm really looking forward to finding out more for myself. With cheap flights galore to all three capitals – Vilnius, Riga and Tallinn – there's no excuse for not checking out the other side of northern Europe in 2014. Off we go..!
Tallinn, Estonia
The adventure kicks off next weekend with a visit to Tallinn. I'm taking the new Estonian Air flight direct from Trondheim to Tallinn and spending the weekend there. Not enough time to fully explore a country of course, but enough time to get a feel for its capital. I've been recommended / warned about the cobbled streets of the old town, so sturdy shoes are the first item going in my backpack! Others have recommended the communist museum and various bars.
When I travel solo – as I will be to Tallinn – I take a very different approach. I like to spend entire days wandering nowhere in particular, almost getting lost on purpose, rather than ticking off the tourist sights. By taking this approach I always find interesting streets, people, museums and parks, all helping me to better understand the local way of life.
Update: read  my postcard from Tallinn.
Riga, Latvia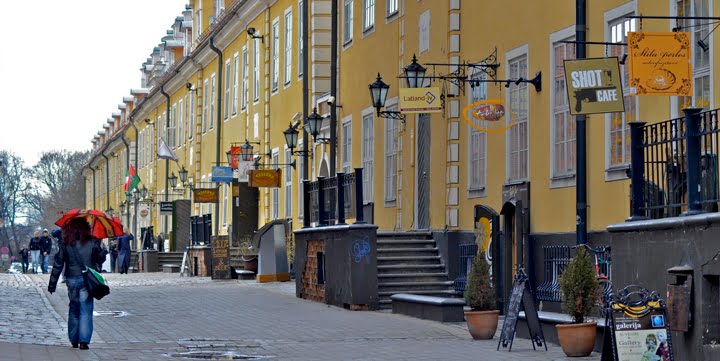 To the south of Tallinn is the Latvian capital Riga. Me and Gerry are heading here in April after snapping up super-cheap flights, again direct from Trondheim. What I know about Riga is this:
The city has a lot of Art Nouveau architecture, much like Ålesund
It has the liveliest nightlife of the three capitals
It's popular with British stag and hen parties
This could go either way!
Update: read my postcard from Tallinn.
Vilnius, Lithuania
Gerry came back from a conference in Lithuania a few years ago raving about the country, so there's been a vague plan in my mind to return ever since. The old town of the capital Vilnius looks beautiful and I get the impression it will be the most unspoilt of the three capitals, with local culture prevailing over tourist traps. Am I completely wrong?
Also on the list for Lithuania is the second-largest city Kaunas, a city that's quite literally been "through the wars". I don't have a date set for Lithuania yet, but I'll be watching out for cheap flights so it could well end up being a last minute thing.
Tips and recommendations
I'm interested in hearing from you about any great local restaurants, interesting bars, and quirky museums. Given that I live in one of the most expensive countries in the world, I'd also like to know if any goods are particularly cheap and therefore worth shopping for in the Baltic states…
So, over to you!
Photo credits: XisPics, Paula Soler-Moya, Stephen Downes, Mamuff