Norwegian fjords cruises are top of the travel bucket list of so many people around the world. Here's how to plan yours, including what to know and what to avoid.
Norway's spellbinding coastline, enriched with historical cities, globally-known fjords, and tiny fishing communities have made the country a go-to destination for many travel enthusiasts eager to explore Scandinavia.
Options to travel the country are many and varied, with road trips a popular option. But while a scenic drive provides awe-inspiring views, the experience on the deck of a ship as it sails the length of a fjord is hard to beat.
Small, brightly-coloured wooden cabins contrast against the green mountainsides, and birds circle overhead. Only in this way you can truly appreciate the sheer size and scale of these natural waterways.
In this article, I'll introduce these popular cruises in Norway and explain why so many people want to join. I'll also provide tips and advice for choosing the best itinerary for you, and how to make the most of your experience.
Pros and cons of a Norwegian fjords cruise
The dramatic landscapes of Norway are best appreciated from the water, letting travellers grasp the true grandeur of the fjords. Some itineraries sail up more than one fjord, giving guests a thorough introduction to one of nature's wonders.
However, many potential cruisers might be unaware of recent developments regarding cruising these waters.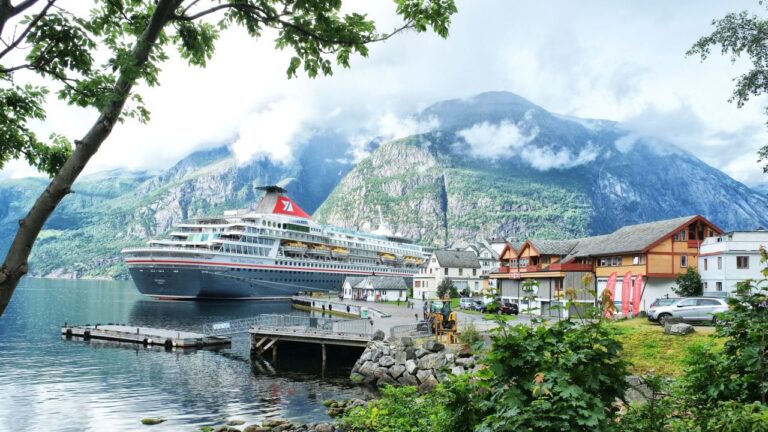 The Norwegian government has set forth restrictions, allowing only zero-emission vessels to cruise certain UNESCO World Heritage-listed fjords, set to begin in 2025.
This initiative, aiming at environmental preservation, essentially excludes the vast majority of traditional cruise ships from accessing some of Norway's iconic fjords. This includes the Geirangerfjord, Aurlandsfjord and Nærøyfjord.
It's not the only issue to be aware of. As Norwegian fjord cruising's popularity surges, so does local concern about overtourism. Recent years have seen an upsurge in anti-cruise sentiments, with notices in certain destinations urging cruise tourists to reconsider their visits.
Port calls in the Norwegian fjords
There are many ports used by cruise ships in the fjords, including Eidfjord, Flåm, Geiranger, Hellesylt, Nordfjordeid, and Olden. They all have one thing in common: their small size!
Although the villages all have pretty settings, there isn't a lot to do in the ports themselves. It's wise to book an excursion or at least make a plan to do something with your time off the ship.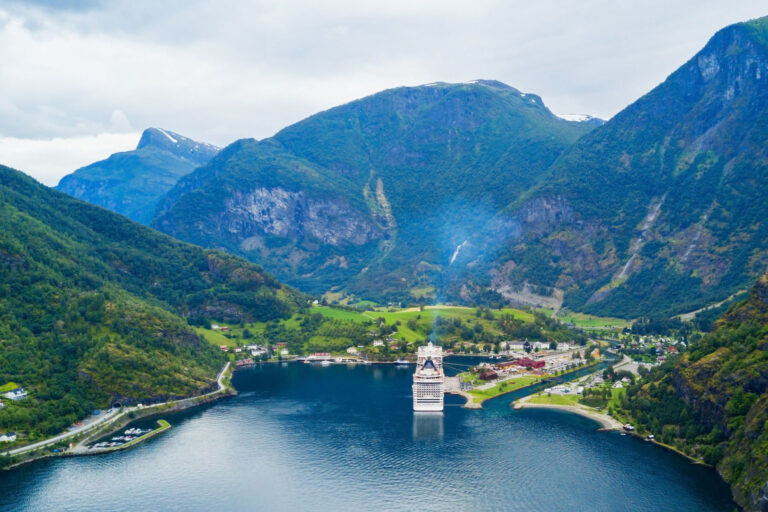 On the other hand, you may prefer to stay on the ship to enjoy the facilities while it's quiet. If your cruise ship has a spa, you may find special offers on port days. You can still enjoy the scenic sailaway when the ship leaves port.
Choosing a Norwegian fjords cruise
Cruising the Norwegian fjords is more than just ticking off a bucket list adventure; it's about selecting the right experience. First and foremost, it's important to understand that there is no such thing as a "typical" cruise.
They range in cruise length, accommodation standard, departure port, destinations, and onboard activities among many other factors. Any one factor can drastically alter the cruising experience, for the better, or for the worse.
It's not just about the ports
Most travellers make their cruise choice based on the ports of call. But when considering a fjord region itinerary, it's crucial to study the route in more detail, because the fjords matter just as much as the ports, if not more.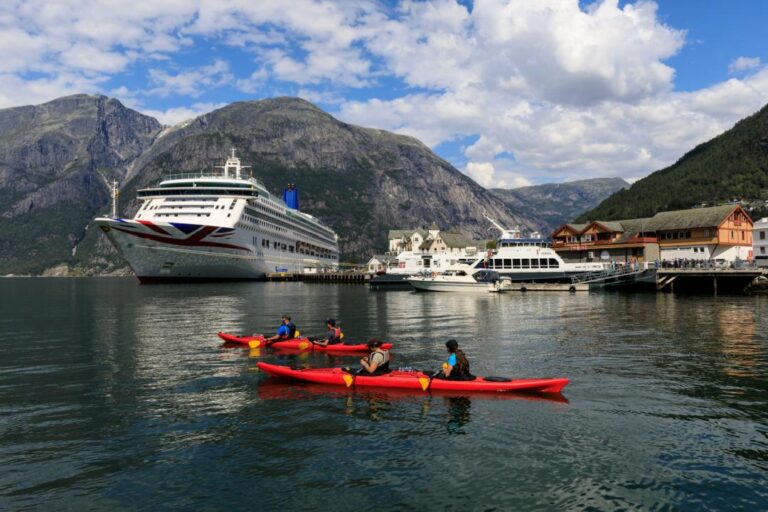 Determine the number of fjords the cruise will traverse and at what times. Some itineraries focus on ports, while others incorporate scenic cruising into the itinerary that might mean you spend a day sailing up and down a fjord but without a port call.
Some ships spend all day in tiny ports, only cruising the fjords very early in the morning or late into the evening. Though Norway's prolonged summer daylight provides ample viewing opportunity, it might not be the immersive experience some seek.
That's especially true if you prefer a leisurely dining experience followed by a show in the evening, rather than spending your time on deck.
Finally, it's not uncommon for some cruise lines to advertise fjord cruises that predominantly dock in major cities such as Bergen and Stavanger. While you'll still experience scenic coastline, it may not be the fjords experience you're imagining.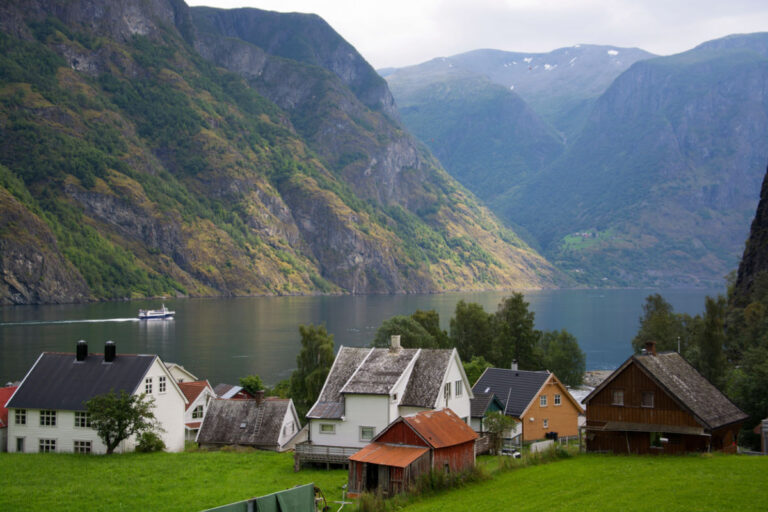 With that in mind, let's look at some of the most popular types of cruise itinerary.
The time-honoured Norwegian coastal route
Dating back to 1893, dual-purpose vessels have traversed the Norwegian coastline, offering both cargo and passenger services. Today, Hurtigruten and Havila Voyages continue this tradition on the Norwegian coastal route.
While they lack the entertainment extravagance of mainstream cruise liners, the coastal cruise ferries compensate with the charm of an authentic Norwegian experience and ever-changing scenery.
Another major difference from tradition cruise lines is that these ships make brief scheduled stops at numerous ports, providing a snapshot of life in multiple towns and villages. They also allocate ample time at more prominent ports like Ålesund, Trondheim, and Tromsø, allowing passengers to explore.
One important point. You will see spectacular scenery throughout the voyage, but the number of famous fjords visited by the ship is actually very small.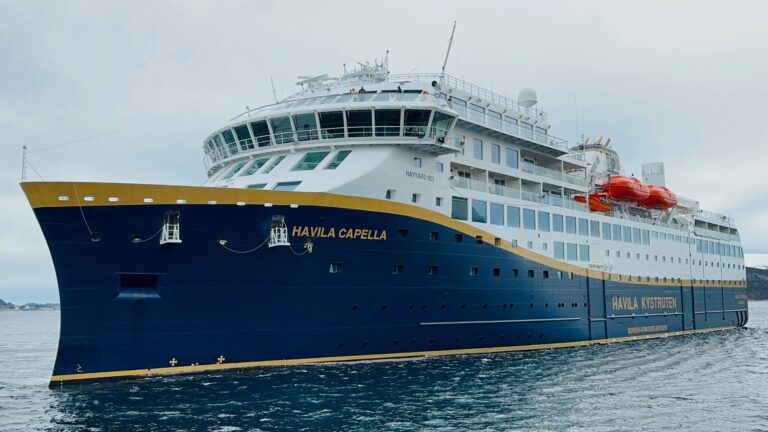 Sailing into Northern Norway's narrow Trollfjord is a wonderful experience. During the summer the ships sail along the Geirangerfjord and in the autumn, the Hjørundfjord is often included on itineraries. Otherwise, the coastal route is not a fjord-focused voyage.
From the U.K. to the fjords
Some of the cruise ships most often spotted in the Norwegian fjords are lines sailing from the U.K. that focus on the British market.
Three of the ships from P&O Cruises regularly sail to the Norwegian fjords. These include two of P&O Cruises' adult-only ships and the LNG-powered Iona. The line offers 35 sailings from Southampton between April and September, the majority lasting seven days with a regular itinerary. A handful of longer 12-day voyages are also available.
Fred Olsen Cruise Lines offers five-night to eight-night cruises from Southampton and Newcastle in the spring, summer and early fall. Occasionally there may be fjord itineraries from other ports such as Southampton or Dover. During the winter, Fred Olsen's focus switches to northern lights cruises to the north of Norway.
Many other cruise lines provide regular trips to the fjords, with departures from various U.K. locations and other European ports. Celebrity, Cunard, Holland America, and Norwegian Cruise Line (NCL) are among the options.
AIDA and MSC Cruises are among the European Lines to visit the fjords, although these lines often depart from Germany or Denmark.
Norwegian fjords plus other destinations
Multiple cruise lines offer extended itineraries that not only encompass the Norwegian fjords but also integrate other destinations like the British Isles, Iceland, or other parts of Northern Europe such as the Faroe Islands.
For instance, NCL and Viking feature fjords in their larger Northern European tours, giving travellers a more expansive experience.
A 15-day 'Viking Homelands' itinerary from Viking Ocean Cruises starts in Stockholm. It calls in to historic ports including the Åland Islands, Gdansk, Bornholm, Copenhagen and Aalborg on its way to Norway and the fjords. This itinerary includes just one fjord–the Hardangerfjord on the way to and from Eidfjord–but it might suit those looking for a wider introduction to the region.
Another example of what's possible is from NCL on their new ship Norwegian Prima. An 11-day itinerary from Southampton includes stops at Zeebrugge and Amsterdam on the way to Norway's Geirangerfjord, before the ship makes its way to three ports of call in Iceland.
DIY fjords exploration
For those averse to long cruise journeys or seeking a more personal experience, several smaller vessels provide short sightseeing cruises. This option is perfect for integrating into a more extensive Norwegian road trip.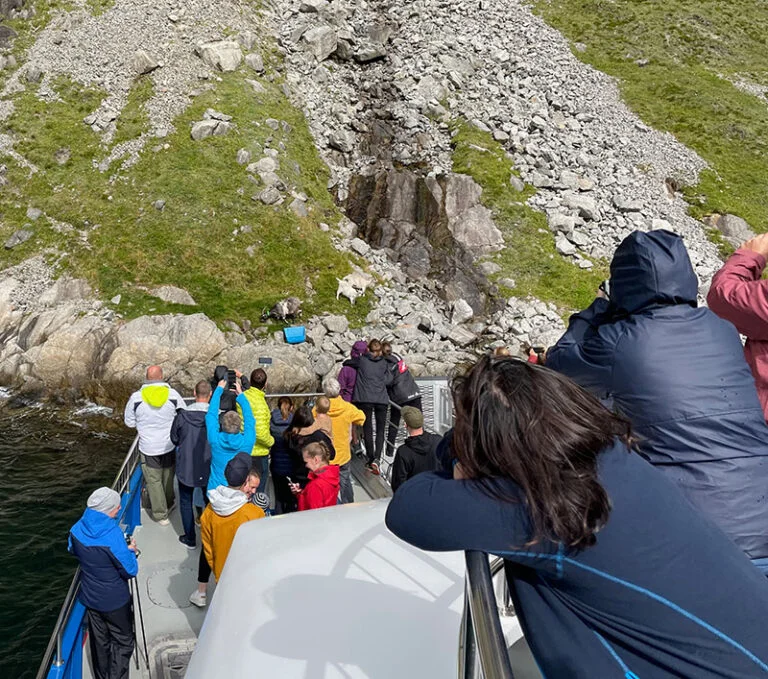 Some cruises, like the silent electric ferry from Flåm to Gudvangen through the Aurlandsfjord and Nærøyfjord, or the Lysefjord sightseeing cruise, don't even require having a car, making them perfect for foot travellers.
The Flåm to Gudvangen trip can be reached by train relatively easily (albeit slowly) from Oslo or Bergen thanks to the Flåm railway. For the Lysefjord trip, daily departures run from central Stavanger during high season.
What to pack for a Norwegian fjords cruise
This is a topic worth a blog post on its own. In fact, watch out for one, coming soon! In the meantime, here is some general packing advice for such a trip.
The fjords present a blend of chilly breezes, unpredictable rain, and awe-inspiring vistas. Yet you may also experience beautiful, sunny days. As such, you'll need to pack your case with thought.
Layered clothing: The key to staying comfortable is layering. Start with a moisture-wicking base layer, add a warm mid-layer like a fleece or sweater, and finish with a waterproof and windproof outer layer.
Waterproofs: Rain is common in Norway, especially in the fjords. Pack a lightweight waterproof jacket and trousers. Consider an umbrella too, but remember, it might not stand up against strong fjord winds.
Footwear: Comfortable walking shoes are a must for exploring towns and villages. For hikes, consider waterproof hiking boots with good grip.
Accessories: A beanie, warm gloves, and a scarf will keep you warm during chilly morning excursions or when you're out on the deck admiring the views.
Binoculars: Enhance your experience by getting a closer look at those distant waterfalls, wildlife, and mountain peaks.
Backup power: With the stunning landscapes, you'll be taking lots of photos. Bring a portable charger to ensure your camera or phone doesn't run out of juice. There will be charging points on board, but you'll have to leave the deck to use them!
You may also like to check out our packing list for a northern lights tour. While you (hopefully!) won't need as much cold weather clothing, it may still prove useful when planning what to bring to Norway.
In conclusion, Norway's fjords offer something for every traveller, be it a comprehensive cruise experience or a DIY exploration. The key is to choose the experience that aligns best with your own preferred travel style.
Have you taken a Norwegian fjords cruise? What are your top tips for travellers planning a similar trip? Let us know in the comments below.