Hipp Hipp Hurra! Follow along with Norway's Constitution Day celebrations from Trondheim in 2019 – as they happened.
Whether you're a native Norwegian or you've always dreamed of attending a syttende mai celebration, welcome!
Being a foreigner on another country's national day is always a tricky business. Yet I get so many questions from others about Norway's Constitution Day that back in 2019 I decided to spend the day documenting the celebrations.
Read more: How to Celebrate Norway's National Day From Home
Given the restrictions on 17 May in 2020, I thought it would be nice to take a trip down memory lane. Enjoy!
If you want to submit photos from around Norway, please feel free! The best way is to tag us on Twitter @lifeinnorway
---
Live Updates:
(Refresh your browser for the latest updates)
19:00: The End: Not the end of the celebrations by any means, but it's certainly the end of my day after a 12-hour shift of live blogging!
Thanks to everyone who's followed along during the day. Given the amount of Facebook shares and retweets I've seen, this live blog must've reached tens of thousands of people during the day. For one final time, gratulerer med dagen!
18:50: In Bergen: Fine weather in Vestlandet today! I don't know how warm it was in Bergen, but it looks like a lovely day. It ended up hitting 19C in Tronhdeim by the way, a fantastic temperature for mid-May!
View this post on Instagram
18:35: Heading Home: Hands-down the worst thing about syttende mai is the bus trip home! Buses run to a Saturday schedule all through the day. Everyone wants to head home at about the same time, after the russ parade. I managed to snag a seat at the very back but it very quickly became standing room only. Getting off the bus before the doors closed was an almighty challenge!
18:20: In Lofoten: A quick trip to the north of Norway to Svolvær, the largest town on the Lofoten islands.
17:30: WATCH: Russetoget. The students have recovered from their monster hangovers so it's time for the day's last parade. Russ are Norway's graduating high school students and so unsurprisingly this is the liveliest parade of them all.
17:15: Proud buses. Even Trondheim's buses are getting in on the act and showing their national pride today!
16:45: Fighting Homophobia: A reminder from Visit Norway that we share Constitution Day with this important campaign for LGBT+ rights around the world.
Powered by Equality! 🇳🇴 🌈 Celebrating Diversity!
17th of May is not only our National day, but also the International day against homophobia, transphobia and biphobia. https://t.co/fmu0fr69Ef #visitnorway #PoweredByEquality pic.twitter.com/69iKYpeN5w

— Visit Norway (@visitnorway) May 17, 2019
16:30: Relaxing in the Royal Residence Gardens: A popular place to take a break! It's also a great spot to see the wide variety of bunads being worn. Learn more about the national dress of Norway here.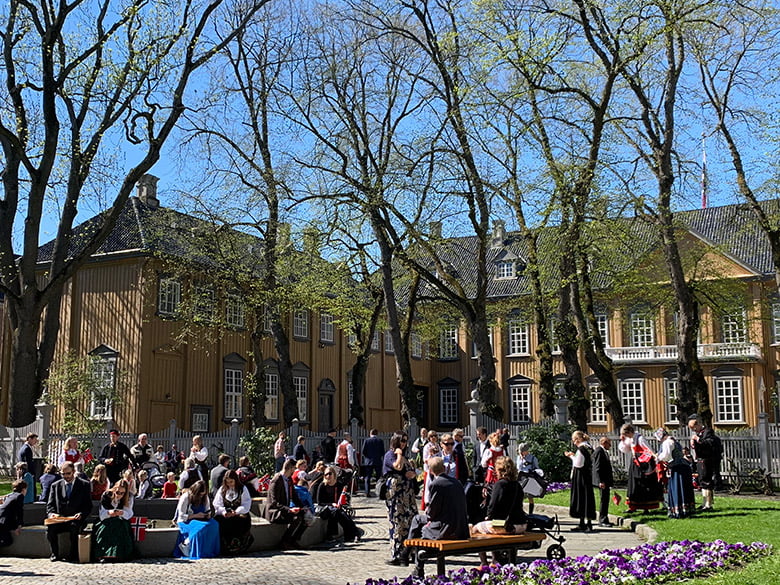 15:50: One more waffle? That's the question everyone is asking themselves right now. Just one more?
15:40: WATCH: Ila Brass Band: There's a bit of a lull in the proceedings after the folketog. Bands do their best to keep the upbeat atmosphere going all across the city. Not just in the centre either, there's live performances at the hospital and in many suburbs. Here's Ila Brass Band playing earlier today outside Vår Frue Kirke (The Church of Our Lady) in Trondheim.
15:20: Forbes: How Norway Celebrates Its National Day. Just joined us and wondering what's going on? Check out my article for Forbes: "Every year on May 17, Norwegians shed their typically reserved shell to dress up, hit the streets and party. It's a day full of national pride, yet there's no displays of military power and the politicians keep quiet. Norway's Constitution Day is all about the children." Read the full article here.
15:05: In Oslo: Just a few people in the capital today then…
14:45: Folketoget in Trondheim. The second parade of the day is underway. The people's parade is a big mix of social groups, sports clubs, non-profit organisations, and more. It goes on for a very long time, so I've compiled a few different clips to give you a feel of the festivities. Enjoy!
14:30: Private parties. While it seems like the whole of the city is out in the streets today, there's plenty of private parties going on to. Like this one, hosted by local startup Pineleaf Studios, the clever coders behind Dwarfheim. I even got myself a glass of champagne. Skål!
14:20: In Mo i Rana: Our journey around continues with this picture from Completely David up in the small town of Mo i Rana, Nordland. Gratulerer med Dagen, David!
13:55: Norwegian cakes. A big part of syttende mai is giving yourself permission to stuff yourself silly. This applies just as much to adults as it does to kids! Check out this article for an idea of what Norwegians might be tucking into during this long, lovely, sunny afternoon.
13:40: Happy Birthday, Norway! I just stumbled upon this video on Maria Sandberg's Instagram and simply had to share it. This is most definitely the tourist image of Norway and not representative of everyday life, but it's a great video nonetheless. Enjoy!
View this post on Instagram
13:00: Interlude. Back in Trondheim, there's plenty of live music to keep the crowds entertained between the parades. Things are starting to get a little lively on Nordre gate, as you'll see in this video!
12:40: In Hamar: Continuing our look around the country, here's a clip from today's parade in Hamar. Thanks, Dave! Blue skies there too. Fab!
12:20: Not everyone has the day off! Trondheim's best bar (and Life in Norway HQ) Work-Work is open for business. These three lovely people are ready to serve coffee and waffles until the sun goes down. And the sun goes down very late in this part of Norway in May!
11:50: VIDEO: Barnetoget in Trondheim: Watch a set of short clips from today's children's parade through the streets of Trondheim, Norway. All together now, hipp hipp, hurra! Now, where's the ice-cream?
11:20: In Ålesund: It seems like it's a fantastic day everywhere, judging by the pictures I'm seeing! This one is from Ålesund and comes from friend of the blog, Elise. Takk, Elise, og gratulerer med dagen!
11:00: In Oslo: Throughout the day we'll take a quick look at Twitter to see how the celebrations are unfolding around the country. Firstly, down in the capital…
Gratulerer med dagen! Today is #Norway's national day 😍 Enjoy the celebrations! Here from #Oslo © Dariusz R Kieres #17mai #17May #Norway 🇳🇴 pic.twitter.com/j5AWXdK45R

— Elusive Moose (@elusive_moose) May 17, 2019
10:30: Barnetoget! The children's parade is up and running. Schools from all over Trondheim are marching along with their teachers. Video coming soon!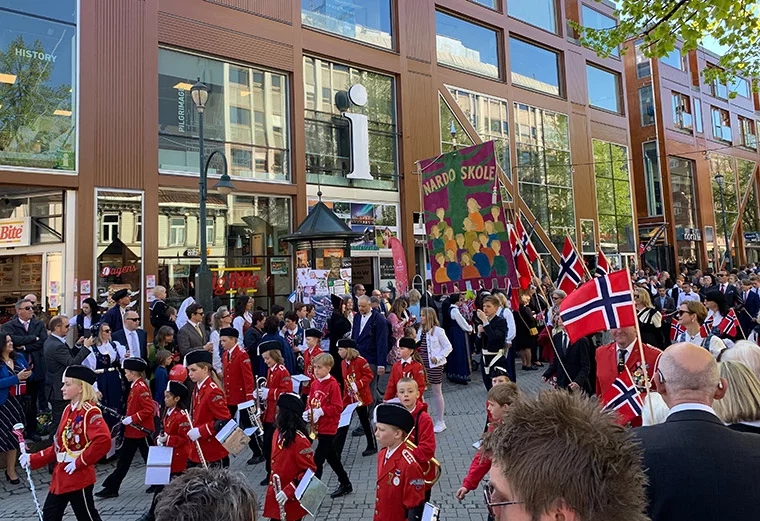 10:00: Waiting time. Crowds line the streets of central Trondheim waiting for the start of the barnetog, the children's parade. There's a different route this year due to work in the city centre, and it's hard to find a good vantage point!
09:45: Fotballfest! For football fans, the party started last night with the traditional 16th May games. Rosenborg's disastrous season continued with a 0-2 defeat at home, while Vålerenga beat Strømsgodset in Oslo to continue their excellent start to the year. The 16th May games tend to draw the year's biggest crowds.
09:15: NRK's live coverage. Not everyone is up and about this early. For those who aren't early risers, NRK's live coverage on #17mai is almost as good as ours! Every year, reporters up and down the country bring stories of the celebrations to our TV screens.
08:45: VIDEO: Live Music from Byåsen Musikkorps. A short video clip from the Byåsen Musikkorps entertaining the Hurtigruten passengers earlier this morning. Once the concert was complete, the band led a short parade of passengers from the ship to Nidaros Cathedral.
08:25: Hello Hurtigruten! Arriving passengers on the MS Polarlys watch on as a marching band greets them. I hear the national anthem for the first time, it's sure to be the first of many!
08:05: Perfect day for it! It really is a great day. The sun is out and clear skies are forecast, with temperatures set to reach 18C. These cruise ship tourists are lucky!
07:45: Celebrations in Israel. There are a handful of Norwegians holding a double celebration in Tel Aviv this morning! Supergroup Keiino qualified from the second semi-final of the Eurovision Song Contest last night to take their place in tomorrow's final. Congratulations! If you haven't heard the Sami-influenced song, give it a listen here.
07:25: Forbes: How Norway Celebrates Its National Day. If you're wondering what all this is about, I've done my best to explain and set expectations for the day over on Forbes:
"Every year on May 17, Norwegians shed their typically reserved shell to dress up, hit the streets and party. It's a day full of national pride, yet there's no displays of military power and the politicians keep quiet. Norway's Constitution Day is all about the children." Read the full article here.
07:00: Wreath-laying at Nidaros Cathedral. For many the day starts by remembering those no longer with us. Wreath-laying ceremonies are taking place across the city, including this one at the grave of former Prime Minister Ivar Lykke at Nidaros Cathedral.
06:30: Good morning everyone! Welcome to Life in Norway's Live Blog from the syttende mai celebrations in Trondheim. I've just arrived in the city centre and it's an absolutely beautiful morning.
It's very quiet right now, but that won't last long. Just as I say that, I turn the corner and there's some russ partying on the Torvet bandstand. An early start or a late night for them?