The Scandinavian region explained in numbers, facts and figures.
Welcome to Scandinavia. This region of Northern Europe conjures up all kinds of images in the minds of people all around the world. But what is the region really like?
One way to figure things out is through statistics. We've previously looked at Norway stats, but what do the numbers tell us about life in Scandinavia?
But first things first. For the purposes of the statistics in this article, we use the most common definition of Scandinavia. That includes Denmark, Norway and Sweden, but does not include other Nordic countries such as Finland or Iceland.
The land of Scandinavia
Norway and Sweden are defined by populous southern cities, the vast Scandinavian mountains, and big areas of very little in the north. Aside from that, Norway has its fjords while Sweden has its forest and lakes.
Denmark, however, is different. The land is mostly flat, arable land split between the Jutland peninsula and hundreds of islands.
The total land area of the three Scandinavian countries is 878,435 km2, consisting of: Denmark 42,933 km2 (excluding Faroe Islands and Greenland), Norway 385,207 km2 (excluding Svalbard) and Sweden 450,295 km2.
This puts Scandinavia behind the likes of Egypt, Mauritania and Bolivia, all of which have a total area of just over 1 million square kilometres.
Population of Scandinavia
As of late 2020, the population of Scandinavia was an estimated 21,602,034 people. That's made up of 5,837,213 in Denmark, 5,384,576 in Norway and 10,380,245 in Sweden.
The population density figures illustrate the differences in the physical sizes of the countries: 137.65/km2 in Denmark, 14.2/km2 in Norway and 25/km2 in Sweden.
Immigration stats in Scandinavia
There are an estimated 3,428,000 foreign-born residents living in Scandinavia, which is approximately 15.87% of the region's total population.
This breaks down as follows: 617,770 in Denmark (10.58%), 790,497 in Norway (14.68%) and 2,019,733 in Sweden (19.46%).
The biggest group of immigrants in Sweden is from Syria, followed by Iraq, Finland, Poland and Iran. In Denmark, the biggest group is from Turkey, followed by Poland, Syria, Germany and Romania. In Norway, the biggest group is from Poland, followed by Sweden, Somalia, Lithuania and Pakistan.
The cities of Scandinavia
Scandinavia is most often associated with nature, but the majority of its population live in big cities. The three capitals–Stockholm, Copenhagen and Oslo–are the three biggest cities in Scandinavia.
Comparing populations is always tricky as it's often a matter of arbitrary boundaries that change over time. With that in mind, the three biggest Scandinavian cities show some clear differences.
Stockholm holds the title of Scandinavia's biggest city with a population of 975,904, although that rises to 1.6 million when considering the Stockholm urban area.
Copenhagen ranks second with a population of 794,128, which also rises to 1.6 million for the urban area. Norway's capital city Oslo stands third with a population of 697,549. The urban area of Oslo just tops one million.
After the capitals, the Swedish cities Gothenburg and Malmö are the next biggest. Then comes Denmark's Aarhus, followed by Norway's Bergen.
Stats about the Scandinavian languages
The languages Danish, Norwegian and Swedish all share a common history. Some people suggest the three are merely dialects of a common Scandinavian language.
However, put a Dane, Norwegian and Swede in a meeting and watch what happens! Chances are they will switch to English as a lingua franca.
Approximately 20 million people in the Nordic countries speak a Scandinavian language as their native language, a figure that includes an estimated 5% Swedish-speaking minority in Finland. Native speakers of Scandinavian languages outside the Nordic region are rare.
As Sweden has the biggest population topped up with the Swedish-speaking minority of Finland, it's no surprise that Swedish is the most used Scandinavian language.
The mutual intelligibility between the Continental Scandinavian languages is asymmetrical. Various studies have shown speakers of the Norwegian language to be the best at understanding other Scandinavian languages.
Travel stats about Scandinavia
Up until last year, Copenhagen had been the busiest airport in Scandinavia by number of passengers since 2002. However, the travel restrictions of 2020 saw a colossal drop in traffic at every airport.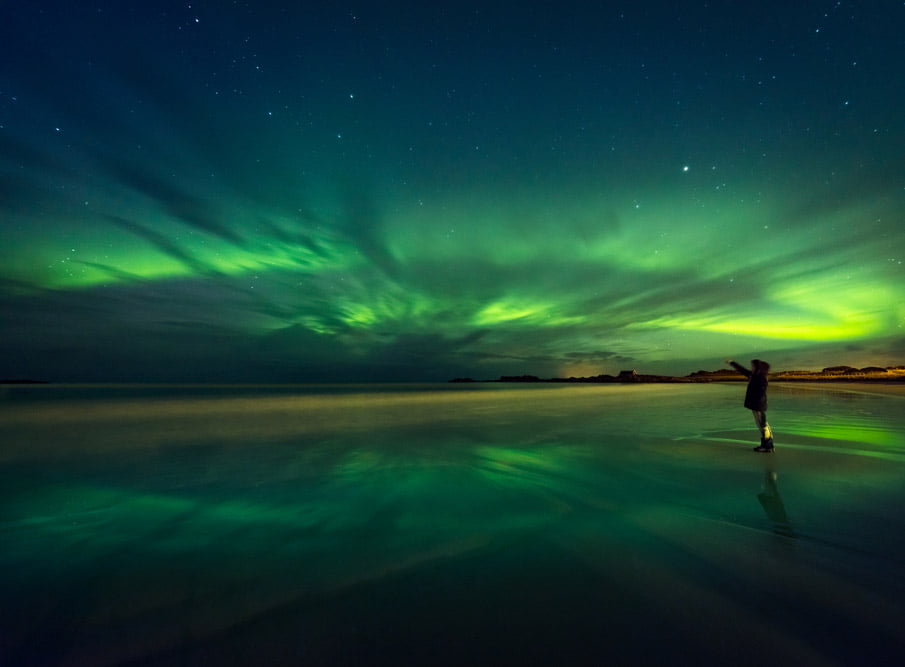 Given the strong Norwegian domestic air network, it was Oslo Airport that saw the most passengers during 2020 at 9,021,729. That was down from 28,592,619 in 2019.
Oslo Airport replaced Copenhagen Airport as the top of the charts. Denmark's Copenhagen Airport saw its passenger traffic drop from 30,256,407 in 2019 to 7,525,441 in 2020. Third-placed Stockholm Arlanda Airport dropped from 25,642,703 to 6,535,776 during the same period.
The health crisis caused an abrupt halt to tourism across the entire region. Prior to 2020, Norway had enjoyed a boom in international tourism. In particular, the Norwegian fjords, the Oslo region and Northern Norway enjoyed growth.
In 2019, there were 35.2 million overnight stays in commercial accommodations across Norway. That was an increase of 4%, which was 1.4 million more compared to 2018. International visitors provided the majority of the increase.