Up-to-date Norway stats: Discover the statistics, facts and figures that help to explain and provide context about Norwegian life in 2021.
Whether you're studying Scandinavia, researching an article or a paper about Norway, or just curious about the region, facts about Norway are an important thing to get right.
If that's what you're looking for, you're in the right place. Let's take a look at Norway in numbers.
Statistics about Norway
Statistics, numbers and other information about Norwegian society are not generally that difficult to find. However, what's often missing is the context and/or interpretation.
A single number doesn't tell you very much. For example, what about an average annual salary for a specific job role of $100,000. Is that a lot? What if last year it was 10% higher? What if the salary remained stable but the cost of living shot up?
As you can see, there is so much context that has to be provided when we consider any statistics. That's why politicians from different parties can often use the same data to tell two very different stories!
So, this article seeks to present official stats sourced from several places–adding context where necessary–to give a fair overview of Norway. Are you ready? Then let's get going…
Norway population stats
As of December 2020, Norway's population is 5,391,369. Would you believe, that's an increase of more than two million people since 1950!
What caused such a drastic increase in the population of Norway? Well, in the years following World War II, a high birth rate drove an annual increase of approximately 1%.
During the 1980s the growth rate slowed. Since 2004, immigration played a major role in the increasing population, although this too has slowed since around 2012.
Read more: Oslo Stats: Norway's Capital City in Numbers
Projecting future population figures is a difficult job. Based on medium-level fertility, life expectancy and net immigration, it seems likely that population growth will continue over the next 40 years, but at a slower rate. The best estimate for Norway's population in 2050 is 6.3 million.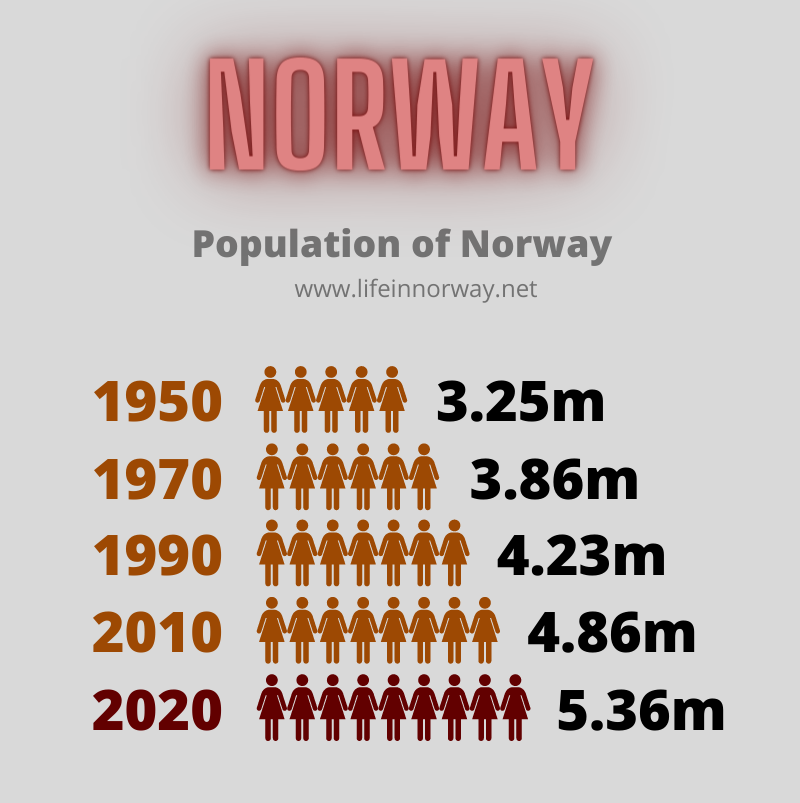 As with most other European countries, Norway has an economic challenge to deal with relating to the ageing population shift. Norway already has a relatively long life expectancy, especially for women. More on that later.
However, in 1950, around 8% of the population was aged 67 or over. Today, it's almost 15%. That figure is projected to grow to 18% by 2030 and to almost 23% by 2050. The economic challenge is simple: how can a country deal with a growing population of pensioners while the proportion of taxpayers dwindles? We'll see.
Norway immigration stats
So, what role does immigration play in Norway's demographic breakdown today? At the beginning of 2021, there were 800,094 people living in Norway who were born elsewhere. In addition, there were 197,848 people who were born in Norway to immigrant parents.
In Oslo, almost one-in-three of the city's population is an immigrant or has immigrant parents. A quarter of all Norway's immigrants (including children born to immigrant parents) live in Oslo.
As for the source country of immigration, there is an interesting mix of countries. The top three are all EU/EEA countries, which makes sense given the relative ease of immigration thanks to the freedom of movement laws that Norway abides by through its EEA membership. Many of the other countries in the top ten have undergone serious conflict in recent years, with asylum being granted to many people.
At the beginning of 2021, the largest groups of immigrants in Norway were:
Poland (102,147)
Lithuania (41,322)
Sweden (35,598)
Syria (32,791)
Somalia (28,402)
Germany (25,231)
Eritrea (23,523)
Iraq (23,265)
Philippines (23,058)
Thailand (21,528)
Many of our readers are from the US and the UK. So for all those wondering, there are 15,480 UK citizens living in Norway, and 9,612 from the US.
The reason for the slowdown in net immigration has largely been a drop in labour-based immigration since 2011. However, the number of refugees has also dropped sharply since the European refugee crisis of 2015.
Stats on families in Norway
At just 1.53, the fertility rate in Norway in 2020 was the lowest since records began. The post-war baby boom hit its height in 1961. But after the early 1960s, the rate began to drop sharply.
The recent fall in birth rate is mirrored across the Nordic region, and in fact there are many European countries with a lower rate right now. These include Germany, Finland, Portugal, Italy and Spain.
Read more: Scandinavia Stats: The Region in Numbers
An interesting related stat is that the average age of a mother when giving birth is much older than it used to be. Since the 1970s, the average age has increased by around five years.
In 2020, the average age of first-time mothers was 29.9 years. First-time fathers were on average 32.1 years old. Compared with 2019, that's an increase of more than a month for both mothers and fathers.
Data shows that of the marriages registered in Norway, 39% will end in divorce. This is actually slightly less than it was in the early 2010s. However, this drop may be due to the fact that less people are getting married. And of course, there is no data available on non-married cohabiting couples that split up.
Life expectancy stats in Norway
How long can a baby born in Norway today expect to live? That's what the life expectancy figures attempt to estimate. A newborn boy should live to 81 years, while a newborn girl should live to 84.5 years.
These numbers are at their highest ever. In the immediate post-war years, newborns would be expected to live to just 69.3 (boys) or 72.7 (girls).
During some periods in history, Norwegian women had the world's highest life expectancy. That's not the case today, although Norwegian women are still expected to live longer than women from many other European countries.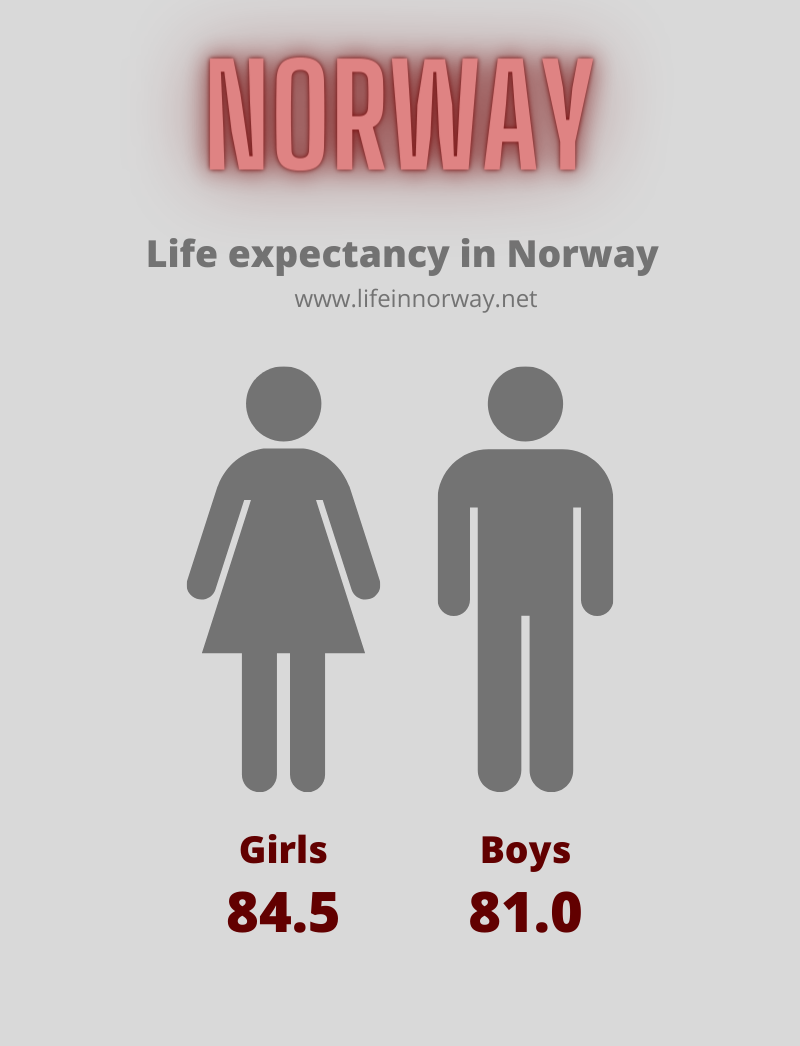 Cancer (28%) is the biggest cause of deaths in Norway, recently surpassing cardiovascular diseases. Violent deaths–including accidents, suicides and murders–have remained relatively stable since the post-war years.
Working life in Norway
Since 1972, the rate of men in the workforce has remained relatively stable, although there has been a slight decline since 2008. The number of women working has increased significantly since the 1970s, but has also declined slightly since 2008.
What has happened since 2008? One reason can be found in that the largest decline for both sexes was among the under 25s. This is linked to the increasing numbers of people taking higher education.
The total labour force numbers 2.8 million people. That's slightly more than 50% of the population. Women make up 47% of the workforce, but they do work shorter hours on average, as more work part-time. That being said, the number of women working full-time hours has increased from 47% in 1980 to 63% by 2018.
Norway's average annual wage has increased from NOK 29,700 in 1970 to NOK 556,000 in 2018. While that looks like an incredible increase, we must adjust for inflation! That being done, it's still an increase of 121%.
Driving and transport stats in Norway
The number of registered vehicles in Norway was 3.3 million in 2018. This figure includes vans, lorries and buses. Private cars account for 2.8 million of this figure.
Electric car stats in Norway
Norway is known as an electric car hotspot, and the stats show that's with good reason. In 2010, there were just a few thousand hybrid cars sold, with virtually no electric cars. Because of significant government incentives, that's totally changed.
But by 2018, more than 40,000 hybrids and almost 50,000 electric cars were registered. In 2018, electric and hybrid cars totalled 60% of all newly-registered private cars.
In 2019, the total number of registered electric cars on Norway's roads numbered 260,000. The number of rechargeable hybrids was 115,000.
Electric bicycles have also seen a marked increase in recent years. In 2018, more than 60,000 electric bikes were imported to Norway. That's an increase of more than 40% from 2017.
Crime in Norway
Norway is perceived as a safe country, but do the stats back that up? We've previously published an entire article about crime stats, so you'll find the full detail there. However, here's some interesting highlights.
Almost 50% of all offences that are fully investigated and closed remain unsolved. Approximately one-in-five offences result in a court prosecution, with the majority of these resulting in punishment. However, less than 10% of offenders receive an unconditional prison sentence. To learn more, read more about Norway's prison system.
Around 30% of all offences are property thefts. This is a marked decline over a long period, most likely due to the increased use of home security systems and car alarms. Drug offences have fallen from an all-time high of 47,300 in 2013 to 31,600 in 2018.
Sexual offences is one area of crime that has shown an increase. In 2018, more than 8,000 sexual offences were reported. There has been a long-term increase since the early 1980s, when the annual average had hovered around 1,000 for a few decades.
Murder remains relatively rare in Norway. During the whole of 2020, just 31 murders were committed.
Thanks for reading! Many of the stats used on this page are courtesy of the great work done by Statistics Norway. There's a lot more we plan to cover in the coming weeks. What Norway stats do you want to know?