A city known for its stunning setting, rich cultural history, and charming Scandinavian ambiance, Bergen is a must-do when visiting Norway. Here's our suggestions for the best things to do in Bergen, Norway.
Located on Norway's west coast, Bergen is the second-largest city in Norway and one of the most popular destinations for travellers seeking an authentic Norwegian experience.
Known as the gateway to the fjords, the city is used as a base for many people planning to visit the famous waterways. Yet Bergen stands apart as a destination in itself, whether you're into history, culture, food or outdoor experiences.
Although I've only lived in Oslo and Trondheim in Norway, I've been to Bergen countless times for events, family trips and simply to spend some time in the city. I've gotten to know the city really well, so if you're thinking of visiting Bergen, this is the article for you.
An introduction to Bergen
As Norway's second largest city, Bergen is home to around 280,000 people. Its natural setting surrounded by mountains and water makes it one of Norway's most picturesque cities, despite its size.
Bergen also attracts tourists because of the charms of the city itself, its proximity to the fjords, its large cruise port and its accessibility. Bergen Airport Flesland is served by multiple daily flights from Oslo and many international destinations, while the Bergen Line railway is world famous.
Bergen has a rich history that dates back to the Viking Age. Founded in the year 1070 by King Olav Kyrre, Bergen grew quickly, soon becoming an important centre of trade for the entire west coast. Its membership of the Hanseatic League saw the city become a European trading hub notably in fish and timber.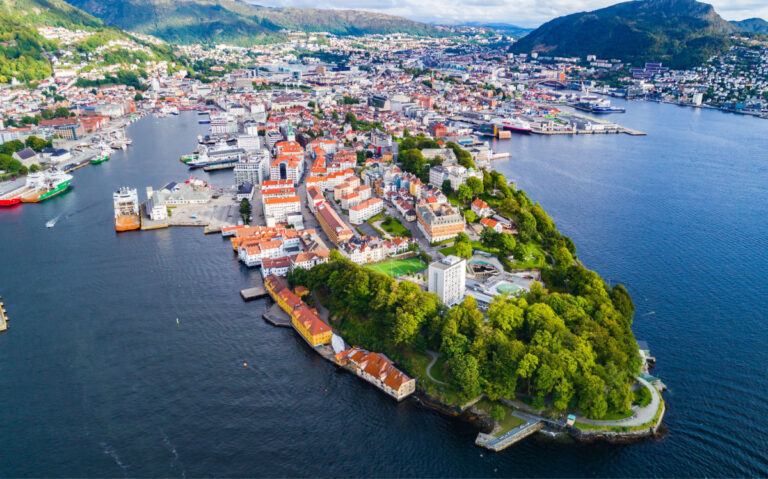 Today, Bergen is a thriving centre of industry, education and culture. The maritime industry remains a major player while tourism is important too. On that note, let's take a look at the top things to in Bergen.
There's so much to do in Bergen
Bergen is the perfect starting point to explore the best of Norwegian nature. But travellers should make sure to spend at least some time in the city before moving on.
Bergen travel resources: Find a hotel – Car rental – Book tours
Why? Well, from a UNESCO World Heritage site at the very heart of the city to a funicular railway that gives you an incredible panoramic view in just a few minutes, Bergen is packed with must-see sights. Let's dive right in!
UNESCO World Heritage site Bryggen
1. Historic Bryggen: The waterfront Bryggen district has managed to retain its distinctive character and charm despite several fires and hundreds of years of change to the city around it. Its origins date back to the 14th century when German traders moved into Bergen and the city joined the Hanseatic League.
The trading buildings and warehouses were built with traditional wooden construction methods. Importantly, reconstruction and renovation has been carried out using those same methods, something which is key to its status as a World Heritage site.
Many visitors to Bergen take a quick photo of the famous colourful buildings and move on. That's such a shame! Spend must a few minutes exploring the narrow alleyways and courtyards and you'll appreciate the area so much more.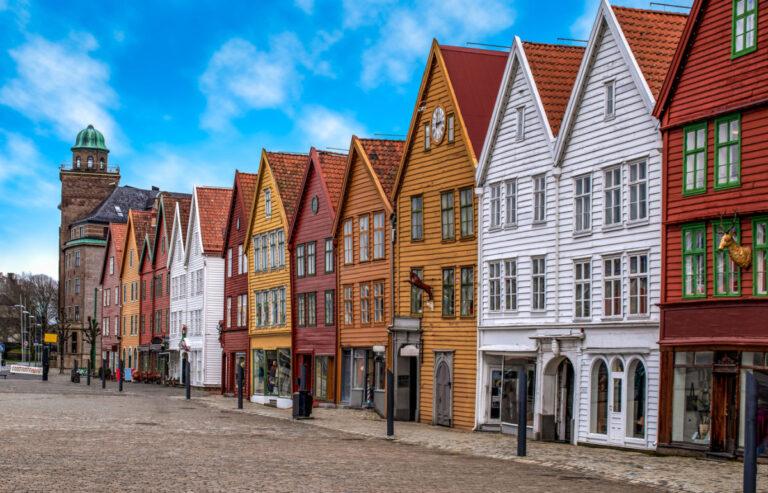 One thing I like about the neighbourhood is that it's still a trading district today. Several independent boutiques and small cafes are hidden away down the narrow alleyways, another great reason to spend a little time exploring.
Mount Fløyen
Despite it being one of Norway's biggest cities, Bergen is still full of nature lovers. Why? You'll soon figure it out! The city is surrounded by mountains, full of hiking trails galore.
2: Ride Fløibanen: This funicular railway whisks visitors from the city centre up to the top of Mount Fløyen in just a few minutes. The reward? The phenomenal view of the city and its surroundings.
There's much more to Fløyen than just the viewpoint at the top of the funicular, so make sure to allow time to explore the surrounding area. At the very least, wander down past the restaurant to meet the goats who call this area their home!
When I'm in town, I prefer to take the train no later than mid-morning for the quietest experience. If you're spending more than a few hours in the city, consider going up in the evening. It's less crowded and the view is no less spectacular.
3. Hike round Fløyen: While up at Fløyen, why not do as the locals do? While tourists rush to the viewing platforms, locals head straight for the hiking trails.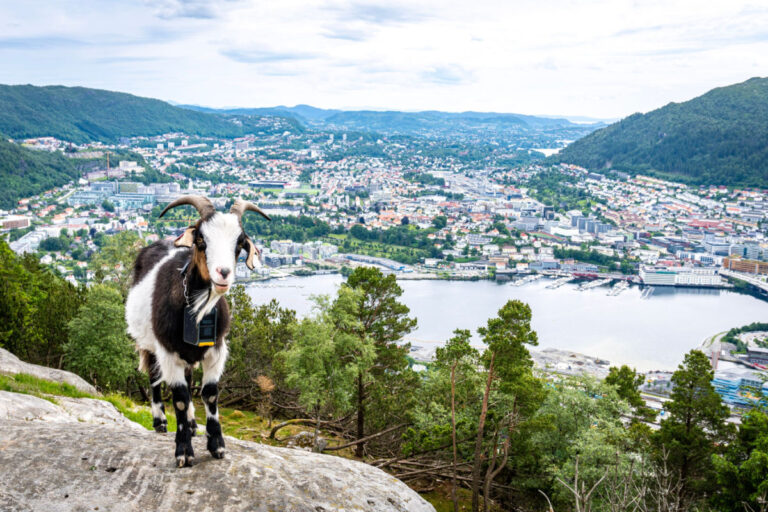 There's something for everyone here, from a gentle stroll to an all-day hike across the mountain ridge to Ulriken. For a short walk with a nice reward, follow the signs for the short 10-15 minute trip to lake Skomakerdiket. During the summer there is free canoe rental at the lake.
4. Troll Forest: Also allow a few minutes to explore Trollskogen, the troll forest hidden behind the Fløyen service buildings. Here you'll find various wooden troll sculptures amongst the trees that kids will love discovering.
It's a good alternative to experience some nature if you don't have time for a hike. Curious to learn more? I've recorded this YouTube video to give you a tour.
Bergenhus Fortress
5. Explore the fortress grounds: Between the cruise ship port and Bryggen you'll find the impressive grounds of Bergenhus fortress. Originally a garrison with a tower acting as the royal residence and a large banqueting hall, this site is a former protector of the coastal city.
Bergen travel resources: Find a hotel – Car rental – Book tours
However, the fortress grounds are better known today as an outdoor festival venue. Major concerts, festivals and events take place here throughout the year.
A reminder of the city's importance during the Middle Ages, Rosenkrantz Tower is one of Scandinavia's best Renaissance-era monuments. Haakons Hall is the largest secular building from the medieval era in Norway.
Downtown Bergen
6. Bergen Fish Market: Since the 12th century, the city's fish market has been the meeting place for merchants, fishermen and hungry visitors.
Today there is a large indoor fish market and food hall that's open all year round, while the outdoor market is open for most of the year except for the winter.
You can find fresh fish and seafood and local farmers market style food, perfect if you're staying In self catered accommodation. But there are also restaurants at in the indoor food hall and takeaway options outside if you just want to grab a quick bite to eat.
7. Bergen Cathedral: The earliest known historical records of Bergen cathedral dates from the year 1181. It's been destroyed by fire, rebuilt and renovated several times, most recently in the 1880s.
What makes this cathedral quite different from any other in Norway is the cannonball embedded in the exterior wall. It is from a sea battle between the English and Dutch fleets during the Battle of Vågen in 1665, part of the Second Anglo-Dutch war.
8. Bergen Aquarium: The aquarium was founded to share knowledge about Norwegian marine fauna but today hosts all manner of exotic fish, reptiles and even penguins.
Open every day from 10am to 6pm, it's a popular family attraction for the city. To get there you can walk along the Nordnes peninsula or take the Beffen ferry…
9. Ride the Beffen ferry: The historic (and tiny!) Beffen passenger ferry has operated for more than 120 years around the harbours of Bergen. Today it's mostly a tourist service, serving the Fish Market, the Nordnes peninsula for the aquarium and Sandviken. The latter stop is ideal for visiting the Fisheries museum and Old Bergen museum.
Museums in Bergen
10. Bryggens museum: No tour of Bryggen is complete without a visit to Bryggens Museum to gain more insight into the area's history. This is especially so during this period when the Hanseatic museum is closed for renovation.
The permanent exhibition at Bryggens museum showcases the archaeological discoveries from the 1950s dig that would eventually save the district. Beyond the district, there is an exhibition on the impact of World War II in Bergen, and a look back at Bergen's time as one of Europe's most important trading centres during the Middle Ages.
11. KODE Bergen Art Museum: The city's lake Lille Lingegårdsvannet is well-worth a walk if the weather is nice.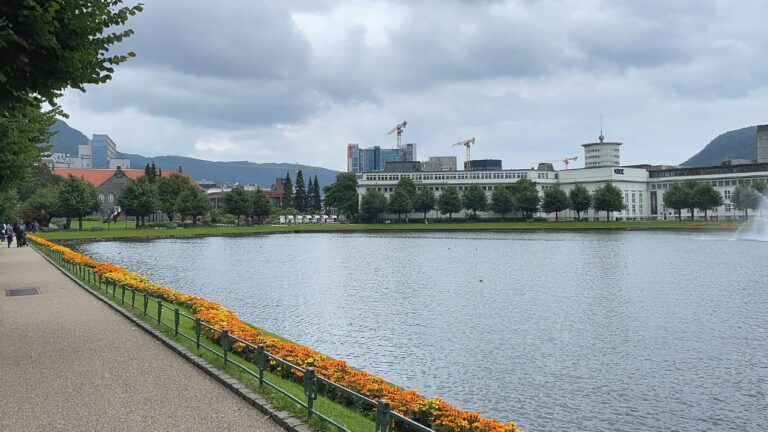 On one side of the lake you'll find the four buildings of Bergen's Art Museum KODE. It's one of Scandinavia's largest such museums and as such, offers a diverse look at art history from around the world.
Visitors can admire works from world-famous artists including Picasso and Miró. There's also plenty of focus on Norwegian artists. Works from the Norwegian romantic era including the fjord landscapes of Nikolai Astrup are on display.
12. Leprosy museum: This is perhaps one of the most unusual places on the list, but bear with me! What used to be a leprosy hospital is now a memorial to this terrible disease and a showcase for scientific progress.
Also known in some parts of the world as Hansen's disease, leprosy is a long-term bacterial infection that has affected humanity for thousands of years. What has this got to do with Bergen? Well, at one point, Bergen was a European centre for research into the condition.
A visit to Bergen's leprosy museum is not a thrilling experience but it is an educational one. On your visit, be sure to visit the small church adjacent to the hospital. Ask the staff if it's open. Here, both patients and the public attended services, although they sat in different parts of the church and used different entrances.
13. University Museum of Bergen: Natural history comes under the spotlight in the university museum. Items on display range from the Age of antiquity right through to today, featuring specimens of animals, fungi, plants and minerals from the university's vast collection.
There's a focus on what we have learned from the sea bed but also from the western Norway region. For example, visitors can study the world's oldest known example of the Hardanger fiddle, an important part of Norwegian folk music history.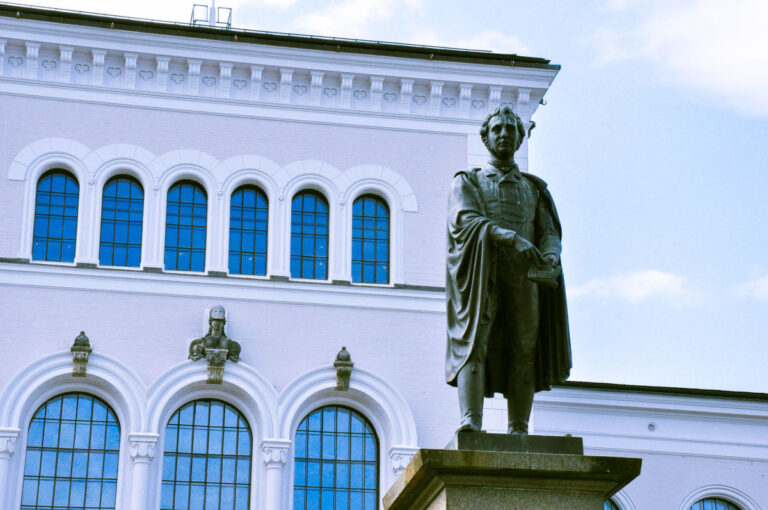 14. Maritime museum: The maritime industry has long been an important part of Bergen's economy and culture all along the Norwegian coastline. Bergen's maritime museum chronicles this history and showcases some fascinating archaeological finds.
The development in shipbuilding techniques is presented, sure to be of interest to anyone with an interest in ships and sailing. There's also an exhibition covering the stories of many Norwegian vessels that were engaged during battles in World War II.
15. Bergen science centre: Although aimed at children, you can let your inner child run free at Bergen science centre.
Bergen travel resources: Find a hotel – Car rental – Book tours
Highlights include a look at the human body and the interactive energy zone. If you do travel with children, they can produce their own weather report and learn about the ocean through wave machines and ship simulators.
From the city centre, walk through the park Nygårdsparken to reach the interactive museum.
16. Gamle Bergen museum: This open-air museum takes visitors back to Bergen as it was in the 19th century, when Bergen was one of Europe's biggest wooden cities with plenty of busy public squares.
Several of the buildings at the museum are open to visit including the former pharmacy, while actors play the roles of masters and servants in comedic "slice of life" performances throughout the day.
Grab a map to make sure you don't miss any of the open buildings and alleyways. One word of warning though! If you're the kind of person who gets squeamish at the dentist, you may want to prepare yourself before visiting the dentist's house!
Country estates of Bergen
One downside of Bergen's status as Norway's biggest city cruise port is that the downtown district can get very busy during summer. There is some respite available, however, out in the city suburbs.
17. Edvard Grieg's former home: It's impossible to miss the importance of Edvard Grieg's legacy in Bergen. The world-famous Norwegian composer is celebrated throughout the city, from several states to a concert hall in his name.
If you're interested in finding out more about Grieg, his music or his legacy, head to Troldhaugen. The villa and country estate formerly home to Grieg is now a museum and a home for regular recitals.
18. Gamlehaugen royal residence: The official vacation residence of the Norwegian royal family in Bergen, Gamlehaugen can be visited during the summer months on a guided tour.
The building's first floor has been converted into a museum devoted to the memory of Christian Michelsen, Norway's first prime minister and the last private owner of Gamlehaugen.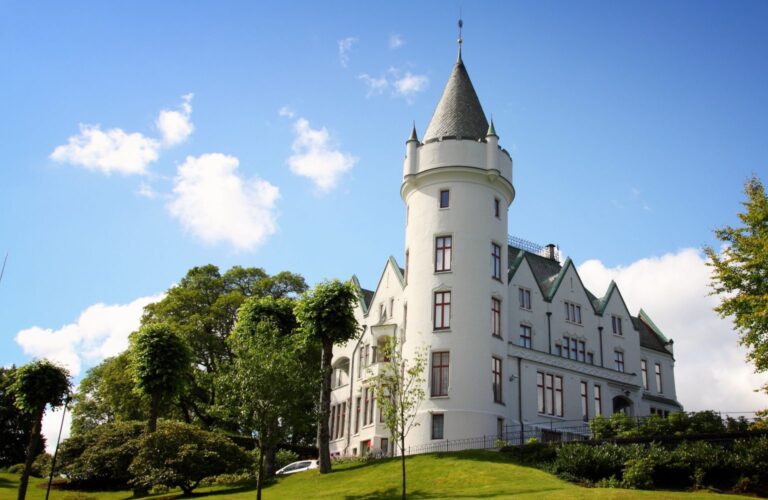 19. Damsgård country house: This smart 18th-century wooden rococo building is one of the finest examples of the style in Europe. Around the time it was built, Bergen's elite spent their time and money building luxury countryside retreats. At one point there were 70 of these mansions outside Bergen.
Damsgård was one of the best examples. The lavish home features a fully-restored ballroom, which you can see as part of a guided tour. Another enjoyable part of your visit will be wandering through the pleasure gardens, recreated in the 1980s as it was 200 years before.
Churches in Bergen
I already mentioned Bergen cathedral, but there are many other religious buildings of note in and around the city.
20. Fantoft stave church: Many of Norway's magnificent stave churches are difficult to visit without a car. Traditionally built outside of villages, many of the stave churches still standing are in rural locations around the fjord region.
However, a short ride from downtown Bergen on the light rail system is Fantoft Stave Church. This remarkable wooden church was relocated piece-by-piece from a fjord village to Bergen in the 19th century in order to preserve it.
The church was burned to the ground in 1992 in an arson attack, but it was then rebuilt as close as possible to the original design, so what stands now is even more impressive.
The church is only actually open for a few hours a day during high season, but it's still worth a visit at any time of year. The forest setting means there are many vantage points of this wonderful building.
21. St. Mary's church: Bergen's oldest building is a fine example of Romanesque architecture. Believed to date from between 1130 and 1170, the church is in basilica style, relatively rare for a Norwegian parish church.
Easy to visit just behind the end of Bryggen, the church is worth a look for its unique rococo-style pulpit and altarpiece, likely from Lübeck, and commemorative paintings.
22. St John's church: A landmark in the city, St. John's Church (Johanneskirken) is home to Bergen's tallest church tower. That, coupled with its hilltop location, means the 19th-century neo-Gothic church is easy to spot from the pedestrian streets of downtown Bergen.
The church can house more than 1,000 people and often hosts organ recitals in the summer and Christmas concerts in December.
Shopping in Bergen
23. Marken: The boutiques and independent stores lining the cobbled street Marken makes it one of the more interesting shopping districts in the city. It's just a few steps from the city lake and the light rail terminus.
Are you arriving into Bergen by train? Then you'll find the street directly opposite the station entrance, and it's an ideal short-cut to the city centre and Bryggen areas.
24. Bryggen's Christmas shop: I mentioned earlier the boutiques in the Bryggen district. But in the front of one of the main buildings you'll find the Christmas store. Surprisingly, this is a Christmas store that is open all year round.
So no matter when you visit Bergen, Julehuset gives you a chance to experience traditional Scandinavian festive decorations, and even buy some for yourself if you want to add a Norwegian touch to your own celebrations back home.
Christmas in Bergen
While we're on the topic of Christmas…! The festive season is an intriguing time to visit the city.
25. Pepperkakebyen: Bergen's gingerbread town is truly an assault on the senses. As you can see in this video, it looks amazing. But I can promise you that it smells even better!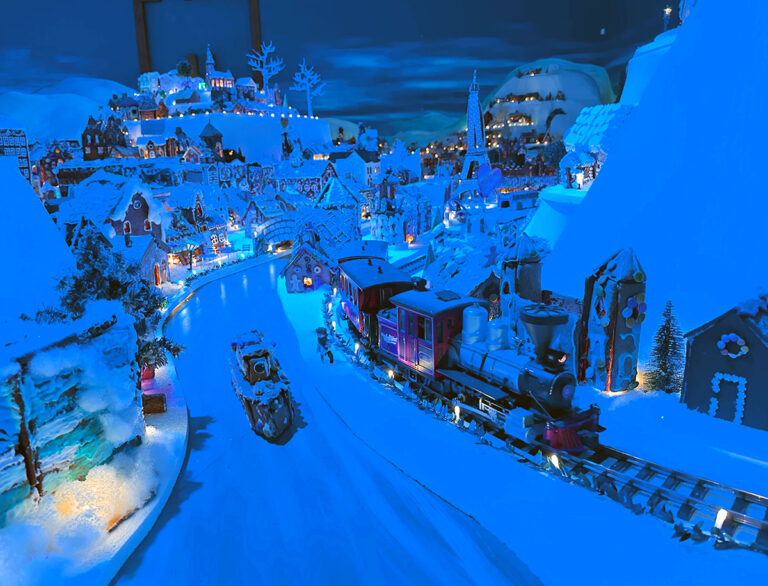 Made every year by local schoolchildren, community groups, and local companies, the gingerbread town is open from mid-November until the end of the year.
Highlights for me were the gingerbread version of the city's football stadium, the riverboats, and the trains making their way around the gingerbread town. If you are visiting Bergen in the run-up to Christmas, a trip to Pepperkakebyen is an absolute must.
26. Bergen Christmas Market: The scent of roasted almonds and the sweet taste of gløgg—a trip to Bergen completes the sensory overload at Christmas time! Every year, Festplassen is transformed into a festive wonderland full of wooden stalls selling everything from food and drink to handmade gifts.
Getting out and about
If you've made it this far, thank you for reading! As I said at the very beginning, Bergen is a wonderful base to use for tours around the fjord region. Here are some of the best.
Bergen travel resources: Find a hotel – Car rental – Book tours
27. Rødne fjord cruise: If you're not planning to visit the famous fjords during your visit to Norway, this relatively short sightseeing cruise could be for you. It's the perfect way to get a taster of fjord landscape without the days needed for a 'proper' trip.
While the 3.5-hour roundtrip doesn't visit the famous fjords, it does visit the wonderful nature of the Osterfjord and sails through the narrow Mostraumen straits. Best of all? It's available year-round.
28. Norway coastal voyage: Since 1893, cargo and passenger vessels have sailed along the Norwegian coast on a scheduled service, most of the time from Bergen.
While today's operators Hurtigruten and Havila still carry both cargo and local passengers, they are best-known for their Bergen-Kirkenes-Bergen roundtrip voyages, known by people in the know as BKB.
Most days, a vessel leaves Bergen in the late afternoon to set out on its epic 11-day voyage to Kirkenes and back. You don't have to do full the trip. Both companies offer shorter voyages such as Bergen to Trondheim, while port-to-port booking is also possible.
29. Oslo to Bergen railway: If you're wondering how to travel between Norway's capital city Oslo and the coastal city Bergen, then you should at least consider the railway.
The Bergen Line covers a distance of approximately 496 kilometers, and its highest point, Finse, is located 1,222 meters above sea level. It's widely considered to be one of the world's most scenic train journeys, soaring high over the Hardangervidda mountain plateau.
The railway was constructed in the late 19th century and was completed in 1909. It was built to connect the capital city of Oslo with the coastal city of Bergen, and it was an important transportation route for both people and goods.
Today it's just as popular with tourists as it is with local Norwegian passengers and there are several daily departures in both directions.
Other things to do in Bergen
Of course, there are many more things to do in Bergen. One of the best ways to find something that's right for you is to look through the available tours in Bergen.
Where to stay in Bergen
Personally, I like to stay in the Radisson Blu Bryggen to be within steps of the World Heritage sites.
But I have also stayed at the cheaper Scandic Byparken to be in the middle of the city centre and save a little cash. Search through available hotels in Bergen here.