What are the biggest disasters that could affect Norwegian society? Government risk analysis gives us an idea.
Generally speaking, Norway is a safe country to live in. We enjoy a relatively low crime rate and a high standard of living. However, the last 18 months have reminded us all that accidents and crises do happen.
The recent quick clay landslide in Gjerdrum, the coronavirus pandemic and cyber attacks on the Parliament are just some examples.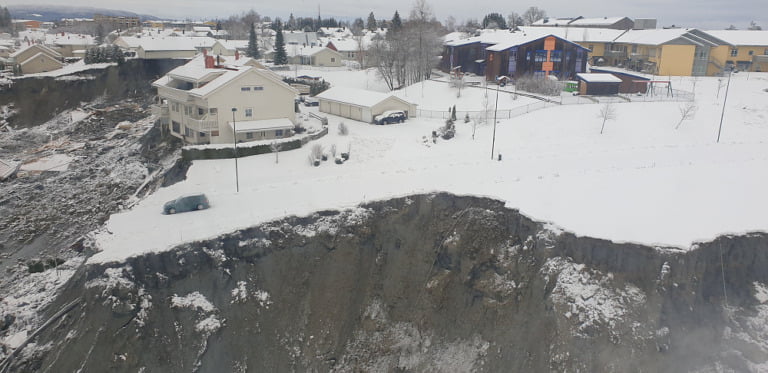 Risk analysis from a government department gives us insight into potential disasters in Norway, how likely they are, and what the country is doing to prepare.
The importance of scenario planning
The Norwegian Directorate for Civil Protection (DSB) publishes the Analyses of Crisis Scenarios (ACS) document every year. It is a comprehensive threat and risk assessment featuring specific scenario planning. It's a fascinating read.
"The risk analyses cover all sectors and levels of government in order to develop an understanding of, and create awareness about, the broad range of potential consequential events and consequences," said director Cecilie Daae in the 2019 report's introduction.
What struck me most is how many of these scenarios have actually happened in the last 18 months or so since the report was published.
The most likely disasters
The likelihood of the 21 unintentional events analysed in the report varies greatly. The graphic below shows the assessed 'transferred likelihood'.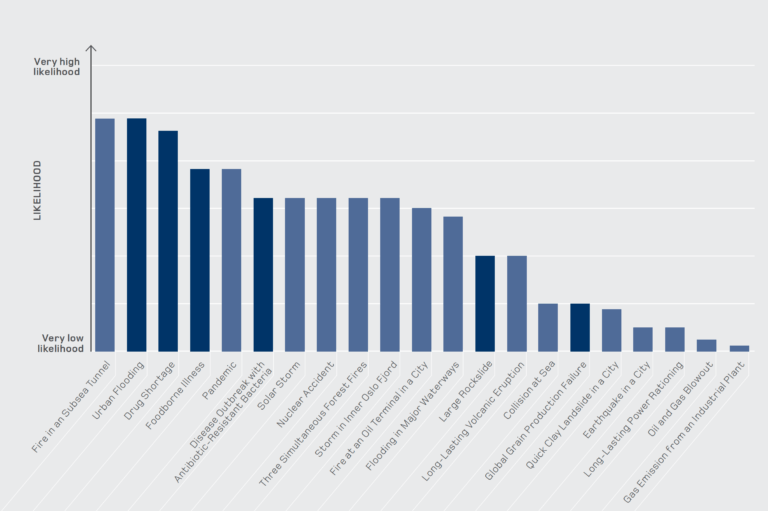 Scenario-specific likelihood is low, but transferred likelihood considers the likelihood of a similar scenario on a national basis, i.e. happening somewhere in the country.
Now, I'll take a look at the broad categories of disasters and crises analysed in the 2019 ACS report.
Extreme weather and flooding
Between 1980 and 2017, 77% of losses related to natural disasters in Norway were due to storms. Damage caused by storms accounted for 56% of compensation payouts.
The report defines extreme weather events as strong winds, torrential downpours, high water levels and/or waves, droughts, heavy snowfall, or a combination of weather elements.
A storm in the Oslofjord and flooding in Lågen and Glomma are two scenarios highlighted in the report. In the latter example, a heavy snowfall throughout winter combined with late snowmelt could cause serious issues in the Gudbrandsdalen and Østerdalen valleys.
Finally, flash flooding in a city was studied using a scenario based in Drammen. While the potential impact was deemed to be low-to-medium, the report highlights a very high risk of such a scenario in a town along the Oslofjord in the next 100 years.
Landslides and avalanches
Most Norwegians know of the risks of quick clay landslides, known as kvikkleireskred in Norwegian. In late 2020, the world found out too, as images of the Gjerdrum landslide made global headlines.
Quick clay was originally deposited below sea level. Salt from the seawater has been washed out of the clay after the land uplift from the last ice age. This gives the clay an unstable structure that liquifies when overloaded.
But quick clay landslides aren't the only risk. Rockslides and avalanches are also highlighted as major risks.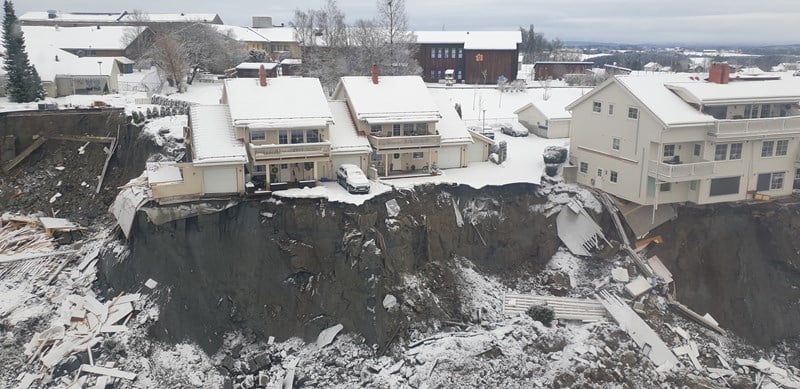 Scenarios examined include the collapse of the Åknes mountain into a fjord, which could cause a tidal wave. This scenario was depicted in the disaster movie The Wave, and is based on previous incidents such as the Tafjord disaster of 1934 that killed 40.
Another key scenario studied is a quick clay landslide in a city. Trondheim's Bakklandet is one well-known area at risk. Although the risk is low, the potential fatalities, economic costs and damage to cultural heritage would be extremely high.
Communicable diseases
In a spooky prediction, the 2019 reports lists a flu-like pandemic as the greatest risk to Norway. And so it came to pass.
The report examined a pandemic scenario, along with a foodborne illness and a disease outbreak from antibiotic-resistant bacteria.
Forest and wild fires
Norway's forests are of great importance to climate and biological diversity. Forests provide a basis for commercial activities and value creation in the production and processing of timber and wilderness products. They are also important areas for outdoor recreational activities. Fires put many of these assets at risk.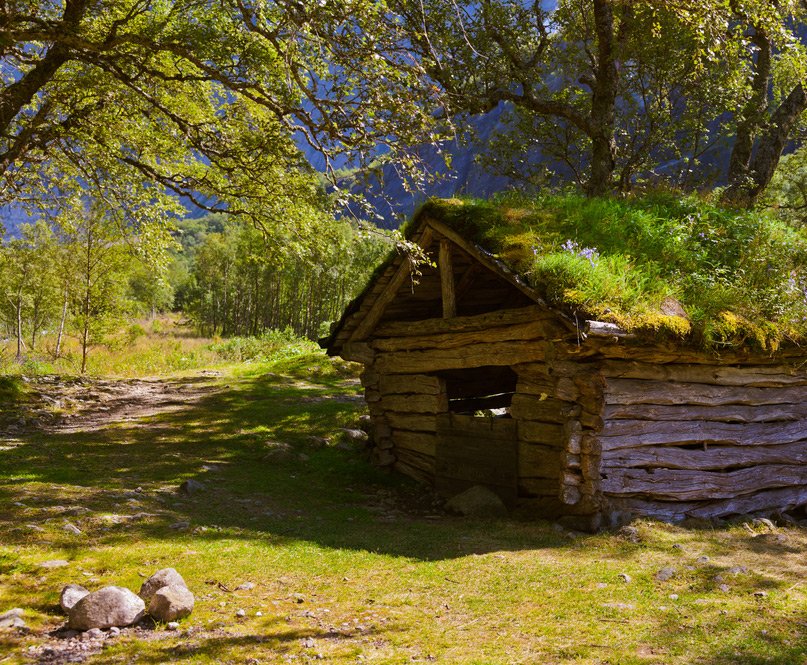 Climate change could increase the risk of such fires. Summer 2018 was hotter and drier than normal. 887 forest and wilderness fires were recorded, more than twice as many as in the previous two years.
The specific scenario examined in the report imagines three simultaneous forest fires that would stretch emergency services.
Space weather
Electromagnetic 'solar storms' are often depicted in science fiction stories, but the risk from them is very real. The 1859 Carrington Flare caused fires and electric shocks across the telegraph system.
The biggest risk today is to the global power system and disruption to satellites and communication systems. A solar storm is one of the few disasters in the report that would impact the entire country.
Volcanic activity
Wait, there are volcanos on mainland Norway? Well, no. But the impact on Norway from a considerable eruption on Jan Mayen island or Iceland could be significant.
A long-term volcanic eruption in Iceland could cause air pollution across much of Norway and disrupt transatlantic goods transport, such as pharmaceuticals.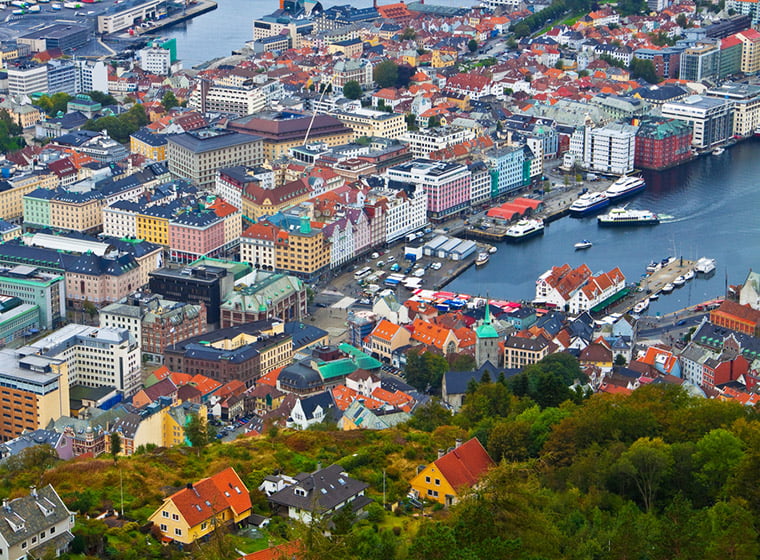 Earthquake
Norway lies far from the plate boundary of the American and Eurasian plates, yet earthquakes in Norway do occur. The report examines the low-risk yet possible impact of an earthquake on a city.
Should an earthquake occur in the Øygarden fault off the coast of Bergen, the number of fatalities, economic losses and damage to cultural heritage would be severe.
Chemical and explosive incidents
Toxic, flammable and explosive chemicals are used in several Norwegian industries. Explosive events can be triggered by use, production, storage or transport of such substances. Terrorism is also a possibility.
Specific scenarios studied in the report include a fire at an oil terminal in a city and gas emissions from an industrial plant. While the first scenario is considered more likely, both would result in significant economic damage.
Nuclear accident
While there is some ongoing research, Norway has no commercial nuclear power stations. So, as with volcanos, the risk of a nuclear accident impacting Norway is an external one.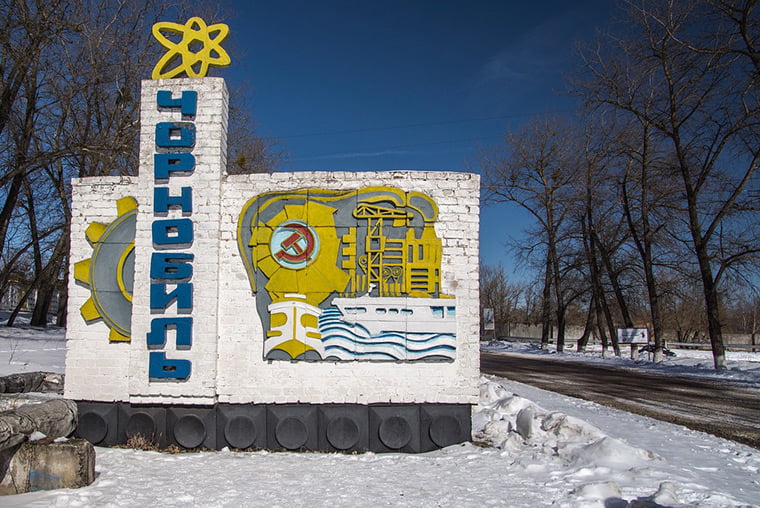 But it's one that must be planned for, as the Chernobyl accident of 1986 showed. Radioactive fallout from Chernobyl reached Norway.
The scenario in the report focuses on apotential nuclear accident in Britain. High fatalities, long-term illnesses and natural damage would result, along with significant economic costs.
One of the preventative measures highlighted in the report would include a shutdown similar to ones we have experienced in the last year. People would be required to stay at home, and the government would face a significant challenge in securing safe food and drinking water.
Offshore accidents
The oil and gas industry remains a very important one for Norway. Oil exploration and extraction at sea is demanding in terms of safety. There is significant potential for major accidents with serious consequences for people and the environment.
It has happened before. The most serious accident on the Norwegian continental shelf happened in 1980. The semi-submersible rig Alexander L. Kielland capsized in a storm, killing 123 of the 212 people on board.
Safety improved significantly in the period from 2000 to 2016, with the number of declared "near miss" incidents falling. While a major oil blowout is seen as highly unlikely, such an incident would have major environmental and economic costs.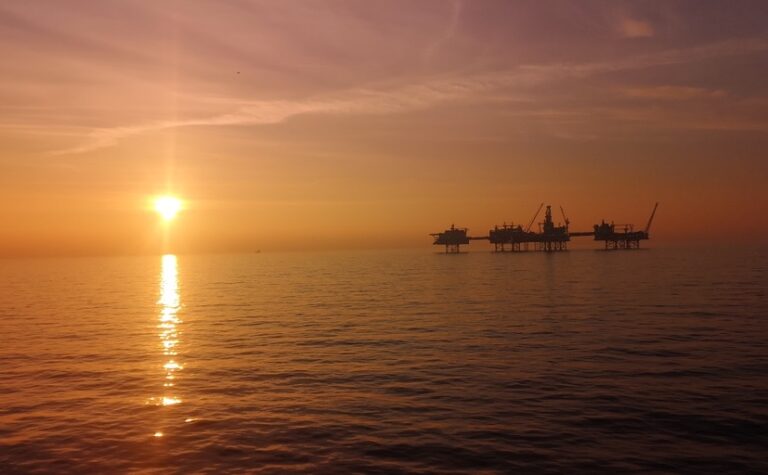 Helicopter traffic now remains the greatest risk to individuals working on the Norwegian continental shelf. 13 people died when a helicopter crashed in April 2016.
Transport accidents
Road traffic accidents are the biggest challenge for transport safety, even though Norway has one of the best road safety records in the world. That being said, tunnel safety remains a high priority for Norwegian authorities.
A fire in a road tunnel is one of the scenarios examined in the report. 40% of Norway's tunnel fires occur in just 4% of the tunnels, with steep, subsea tunnels most at risk.
The scenario looks at the risk of a lorry fire in the subsea Oslofjord tunnel between Drøbak and Hurum. Such a scenario is highly likely to occur in Norway. Toxic smoke would be the biggest danger to human life, but the incident would be isolated.
Air accidents, train crashes and maritime incidents are also mentioned in the report. A second scenario looks at the possibility of a collision between a tanker and a cruise ship at sea. The report also mentions the risk of increased shipping traffic in the waters around Svalbard.
In early 2019, the Viking Sky got into trouble in stormy waters off the west coast of Norway. The stranded vessel lost power and drifted perilously close to land. More than 500 people were airlifted to safety.
Read more: The Norwegian Coast Guard In Pictures
Supply failures
With Norway being a relatively small country by global standards, it relies on imports for many goods, not least medicines. Global epidemics, security situations and other issues could impact the global supply chain resulting in a shortage of key products.
Global drug supply chains are complex and Norway's ability to influence them is limited. Health authorities have an agreement with a wholesaler for the delivery of drugs. The wholesaler must maintain an expanded inventory of 660 critical drugs equivalent to two months of ordinary sales.
DSB's report also examines a global grain production failure and long-term power rationing. The latter could occur if a period of drought left Norway's substantial hydropower infrastructure unable to generate enough electricity to meet demand.
Violence
Both politically-motivated and revenge-motivated violence are highlighted as potential risks in the report. Of course, Norway is no stranger to political terrorism. The Oslo and Utøya attacks of 2011 killed 77 people.
The report examines the possibility of multiple, coordinated terrorist attacks in a city. A school attack is also considered, based in part on real incidents in Finland and Germany.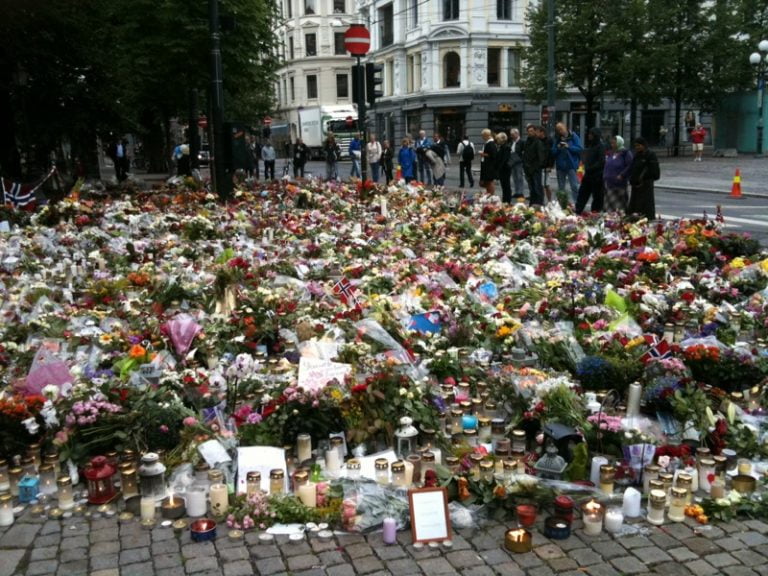 According to the report, many municipalities and counties have included "intentional acts such as school shootings" in their risk and vulnerability analyses and emergency response plans.
Aggression by a foreign state
The security policy situation in northern Europe "has not been as demanding for a long time" states the report. As such, aggression by one or more foreign state is considered.
"Norwegian security and defence policy must increasingly assume that changes to our security policy surroundings can occur very quickly. There is also a need to build up expertise and preparedness aimed at strengthening Norway's capacity to deal with hybrid threats," the report continues.
Hybrid threats are defined as the combination of multiple conventional and unconventional tools of warfare.
Cyber attacks
Finally, the report considers a topic that Norway has suffered from several times in recent years. Cyber attacks on the Norwegian parliament have raised many questions internally about data security and who the responsible parties are.
The report considers two different scenarios for data attacks: one targeting financial infrastructure and another targeting electronic communications.
While the potential impact is extremely high, the report states that "only a few actors have the capacity to conduct a successful cyber attack such as the one outlined in this scenario, but there are none that are known to have such an intention."
You can read the full report here.