Norway travel experiences are dreamt about by many. Plan your dream trip to Norway with help from people who live here.
Hello and welcome! My name is David Nikel, the author of the Moon Norway guidebook. From the world-famous fjords to the northern lights dancing overhead, Norway is full of incredible travel experiences.
I'll show you how to see the best of this magnificent country, from the most interesting museums and galleries to the best hotels and campgrounds.
The aim of this travel guide is both to inspire your trip planning and give you all the information you need to plan the trip of your dreams. Ready? Let's go!
Something for everyone
Recent research done by the tourism authorities revealed the top reasons people travel to Norway. Top of the list was the spectacular Norwegian fjords. A surprise to absolutely no-one!
Also listed by travellers as top reasons to come to Norway were the northern lights, exploring historic sites, and simply spending time out in nature.
It just goes to show that Norway really does have something to offer everyone, whether you're a city lover, a family with demanding kids, or a Scandinavia-obsessive desperate to find some hygge!
When & where to visit
The best time of year to visit depends on what you want to do and what sort of experience you're looking to have. Do you want to see the country's World Heritage Sites? See the fjords? Take a road trip?
Cities can be enjoyed year-round. The coastal villages of the south are best enjoyed during the summer, while the season for hiking, skiing and other outdoor activities varies on exactly where you plan to visit.
Whatever your plans and hopes your trip, here's our advice on the weather you can expect, and when to visit Norway.
Are you looking for some inspiration on where to go? From the northern lights to the range of fjords on offer, it can be hard to decide on your priorities. Here's a good place to start your planning:
Oslo: It's worth spending a few days in the Norwegian capital, especially if you're arriving at the city's international airport, before heading off to the countryside. The museums are the best in the country.
Bergen: Norway's second city is known as the gateway to the fjords, but it offers plenty to do on its own. If travelling between these two major cities, take one of the world's most picturesque railway journeys.
Fjords: World-famous and for good reason, the Norwegian fjords draw millions of tourists to Norway every year. See the famous Geirangerfjord or Nærøyfjord, or how about one of the lesser-known alternatives?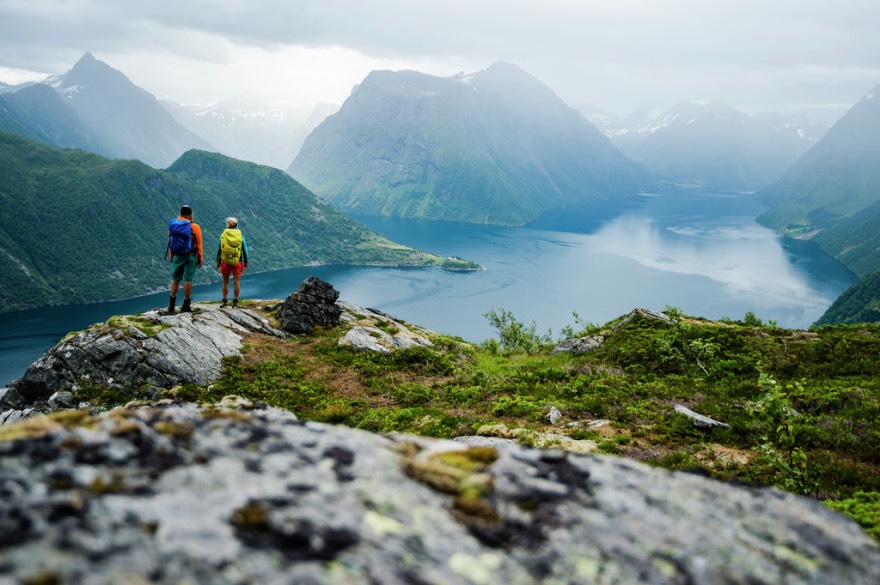 Lofoten: Dramatic scenery and less tourists than the fjords have made Lofoten the new must-do destination in Norway. Hire a car and enjoy a road trip to remember.
Where to stay
Given the relatively high cost of visiting Norway, securing your accommodation should be high on your list of travel planning priorities.
Although there are plenty of chain hotels in the country, Norway offers a diverse range of accommodation to suit all budgets.
If you're planning on taking a road trip through the Norwegian fjords or the Arctic region, consider staying on one of the many campsites. You don't even need to stay in a tent or motorhome, unless you want to of course!
Many campsites have wooden cabins for rent, and fisherman's cottages known as rorbuer are a common sight throughout Lofoten.
These can vary from simple wooden shelters to swish mountain lodges with all the conveniences of modern life.
Top Norway travel tips
Not every trip is going to be the same, as not every reason for visiting Scandinavia is the same. Even though we are all different, with unique needs and expectations, these travel tips should help to make the planning process easier.
Business Travellers: If you've never visited a Scandinavian country before, you may be shocked to find a very relaxed approach to work and office lifestyle.
In most industries dress isn't very formal, and working hours are not long. While you're here, be sure to make some time to explore!
Healthcare: Tourists are entitled to urgent healthcare in Norway, but it's vital to understand the rules and who pays.
In an emergency situation, call for an ambulance by dialling 113 from any telephone. Is travel insurance necessary? Find out here.
Car Hire: Booking a rental car in advance is the best way to guarantee the best availability and the best rates. Avoid stress at the airport desks and reserve your car of choice today.
Sales Tax Refund: If you are planning on picking up some souvenirs on your trip, familiarise yourself with the tax refund rules.
Most people will be entitled to a welcome rebate on any big ticket items you've bought in Norway when you leave the country.
Mobile Data: If you need access to data on your smartphone for more than a couple of days, it may be worth investing in a pre-paid Norwegian SIM. Here are your options.
Further reading
Pre-travel checklist
Before you visit Norway, here's a quick checklist of important things to consider:
Guidebook: Plan your ultimate trip with the Moon Norway guidebook
Accommodation: Book your hotel in advance and save money
Car Rental: Book in advance to get the best rates on your choice of rental car
Travel Insurance: Don't run the risk of travelling to Norway without adequate cover
VPN: Secure your laptop and smartphone's internet connection while you travel
Tours & activities: Save money by pre-booking tours & activities