Enjoy this archive black-and-white photography from a travelling Swedish photographer in the early 1930s.
Before the travel restrictions of 2020-21, Norway was an incredibly popular travel destination for foreigners. Hopefully, it will be again soon!
One of the drivers of Norway's popularity is the spectacular landscape photography that makes its way around the world on social media.
But while the global spread of such photos is a relatively new phenomenon, travel photography itself is nothing new. We've previously published these wonderful souvenir lantern slides from fjord Norway. Today, we take another dip into the archives.
A keen Swedish photographer
Berit Wallenberg (1902–1995) was a Swedish archaeologist and art historian. She was born into the influential Wallenberg family with bankers, industrialists, politicians and diplomats.
She began a keen interest in photography as a teenager. Both alone and together with her family, Berit travelled extensively. She was never without her camera.
Thanks to the Swedish National Heritage Board, we can enjoy some of her vacation photos from trips to Norway and Denmark, along with her travels within her home country.
1930s Trondheim
First up, let's take a look at her snaps from Trondheim in central Norway. The old town bridge leads from downtown Trondheim to the Bakklandet neighbourhood. It's one of my favourite photo spots to this day!
Then we have boats in the old harbour, near to the central station. The boat in the foreground is part of the Trondheim fire service.
Which reminds me, if you're enjoying these pictures, check out this collection of Trondheim in flames over the years!
Stops on the Bergen line
From this collection, it seemed Berit enjoyed some time on the Norwegian railways.
The Oslo to Bergen railway is widely considered to be one of the world's most beautiful, but I can only imagine what it must be like to have experienced the ride without seeing many photographs in advance!
First up, we have Finse. This tiny station is as remote as it gets on the railway network with no road connection. At 1,222 metres above sea level, it's Norway's highest railway station.
Berit also stopped off at Voss, where she caught sight of this cyclist passing by. Today Voss is known as an outdoor sports hotspot, but I wouldn't fancy doing any off-roading back then on this basic bike!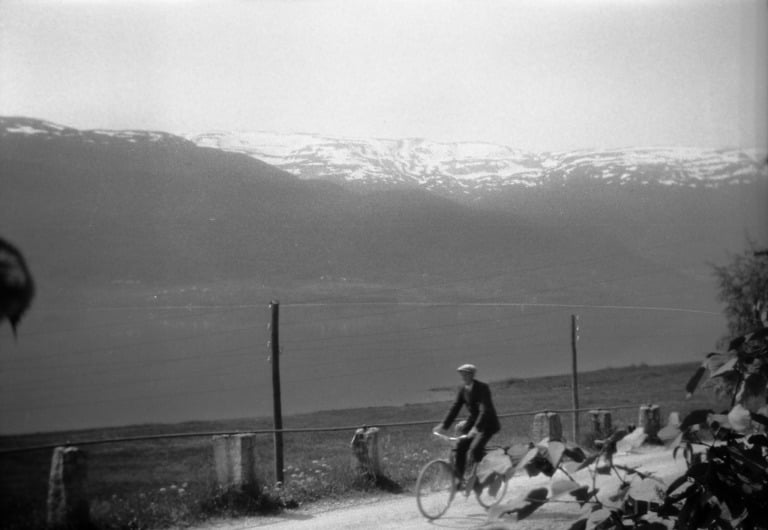 1930s Bergen
The Hanseatic trading buildings of Bryggen were a major tourist draw back in the 1930s, for Berit at least! Although this photo depicts everyday life passing by rather than hordes of tourists.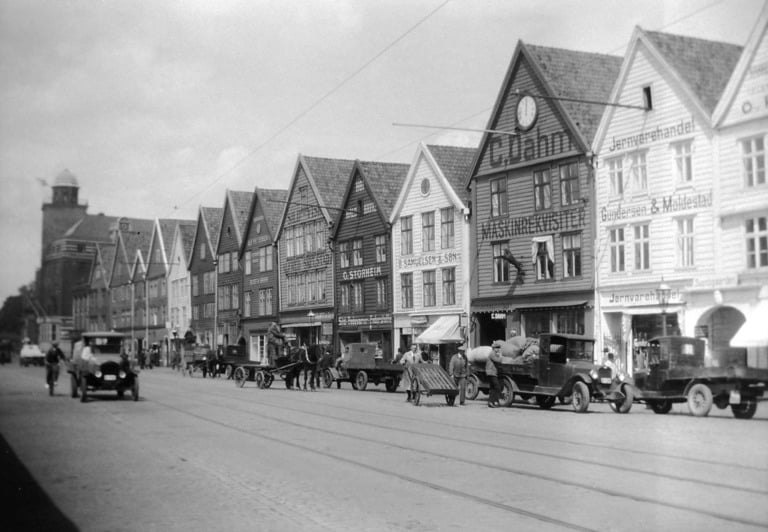 You can learn more about the history of Bergen here. Or if you want to see what the city looks like today, check out these Bergen photographs from more recent times.
1930s Oslo
Finally, a snap from Norway's capital city. The photo shows Stortorvet, the square outside Oslo cathedral. Those cars!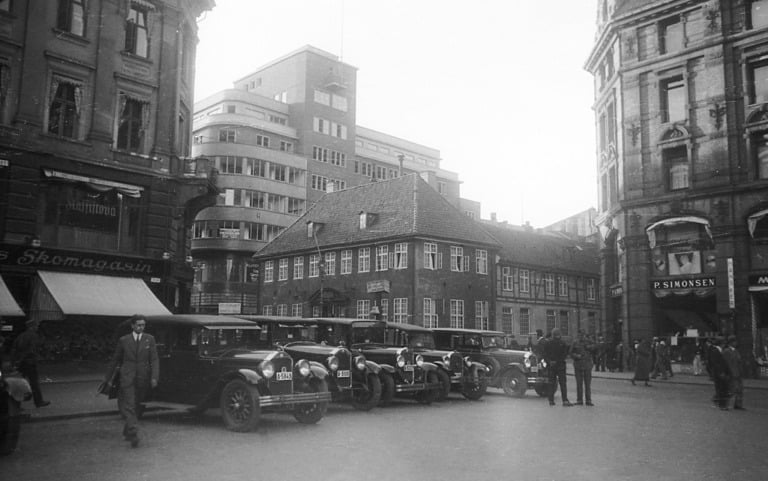 As I mentioned earlier, Berit travelled and took photos extensively. So much so, that the collection of her photos held by the Swedish National Heritage Board numbers 25,000!
In the 1980s, Berit herself presented the collection as a gift in the hope the photos would be of interest for future research.
Elsewhere in Scandinavia
Beyond Norway and her home country of Sweden, the collection includes photos from Denmark, Iceland, France, Britain, Switzerland, Germany, Italy and several other countries. I couldn't resist sharing a few more!
Firstly, a couple of snaps from Denmark again in the early 1930s. The first shows a local market in Nakskov on the southern island of Lolland. The second shows cars and a building in front of the tower of St. Bendt's church in Ringsted.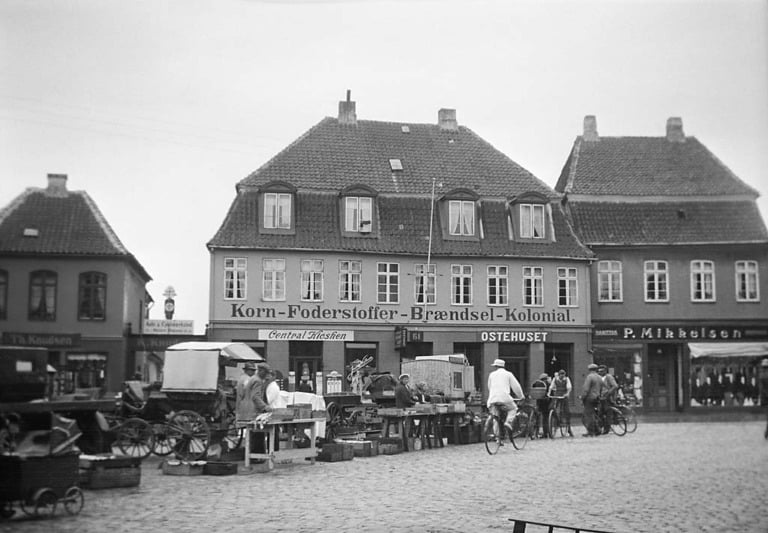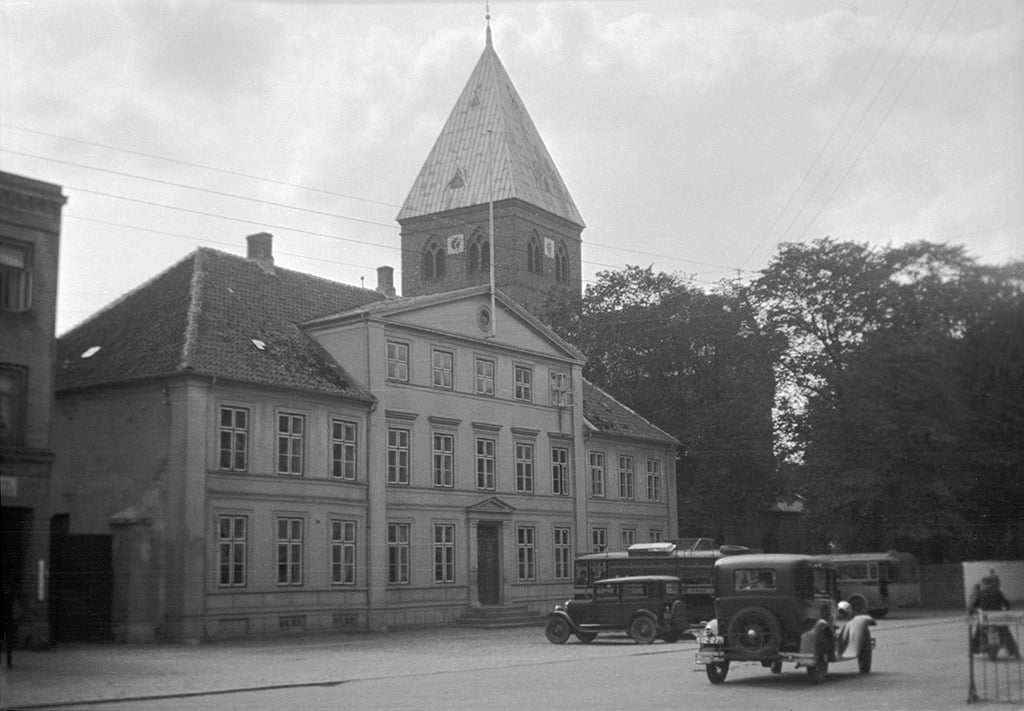 Finally, we take a look at Berit's home country, Sweden. The first photo shows a fascinating form of transport – a church boat!
The boat took people from Sollerön island in lake Siljan to the church at Mora on the mainland. Today the island is connected to the mainland by two bridges.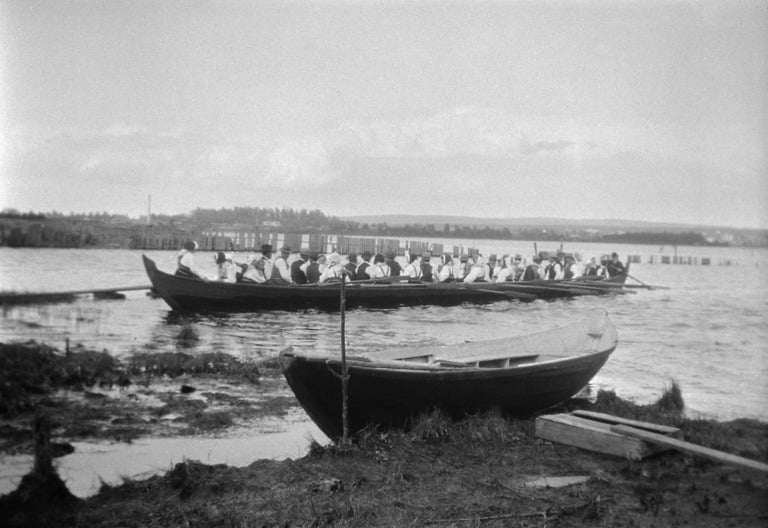 The last photo shows people enjoying the experience at Stora Sjöfallet, a waterfall and national park in Northern Sweden. Although, the person on the left doesn't seem to be enjoying things so much!
Thanks to the Swedish National Heritage Board for digitising so many of Berit's collection, and for making them available for us to publish.