…when you've got Sarpsborg v Lillestrøm?
With tonight's Champions League Final receiving blanket coverage across Europe, including here in Norway, today's blog post is almost inevitably about the beautiful game. There's a big Manchester United connection in Norwegian football with former favourites Ole Gunner Solskjær and Henning Berg both managing clubs, Molde and Lillestrøm respectively. Both are being interviewed around the clock on Norwegian TV ahead of tonight's final!
When most people think of Norwegian football they think of Rosenborg, with good reason. The club from Trondheim has taken the Tippeligaen (Norwegian Premier League) title in 16 of the last 19 seasons. Such is Rosenborg's dominance, they are still favourites for this year's title, despite languishing in 11th place (out of 16) after the first 8 matches of the season.
The new season is only just underway in Norway, it's a summer league due to the climate. Nowhere is that more necessary than in Tromsø, the most northerly top flight club in the world and current leaders of the 2011 Tippeligaen. Some British football fans may remember this "white classic" from the UEFA Cup in 1997:
Oslo is home to Vålerenga, the capital's sole club in the top flight following Lyn's fall into bankruptcy in 2010. Thanks to their second place finish (behind Rosenborg of course) in the 2010 Tippeligaen, Vålerenga will participate in the next UEFA Cup. Now as my current hosts Wendy and Dave have season tickets, they have demanded I support Vålerenga. I am yet to commit, but as the only major team in Oslo I think it's inevitable! They may change their mind soon though, as they've failed to win in the 4 games since I arrived in Oslo. Tomorrow they travel to Sogndal looking to kick-start their season.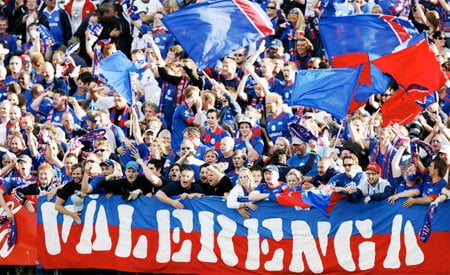 Right now I am just settling down to watch Sarpsborg v Lillestrøm live on TV2 Sport. Sarpsborg's ground looks like a non-league ground and to be perfectly honest, I've not been impressed with the standard of football I've seen so far. The games I've watched on TV have been entertaining as the pace is akin to English football, but the skill level is well below par. I reckon most League 1 teams could have a decent crack at a Tippeligaen team.
I won't write about football a lot on this blog, but I will make the odd remark, especially if I end up visiting Norway's Ullevaal Stadion for a Vålerenga home game.
Update: Final score was Sarpsborg 2 Lillestrøm 4, really good game.
Update 2: Vålerenga did indeed kick-start their season with a 1-0 win at Sogndal thanks to a shocking own-goal. Still, they all count! I also watched an impressive Tromsø stuff Brann 4-0 to stay top of the Tippeligaen after nine games.