Having read an article penned by English expat David Nikel on his excellent Life in Norway blog about Norwegian obsession with English Premier League football, it got me thinking about how the culture lower down the domestic leagues is quite different to your top-level TV watchers.
I first encountered Norwegian football as a result of an off-hand conversation with a colleague during a football tournament I attended in Denmark in 1998. I should point out that I am a referee of some 17-years' experience – mainly within the English non-league scene.
Anyway – as a result of this conversation with a colleague by the name of Dave Corrigan, I ended up applying, and getting a place at, what is the world's largest youth football tournament, called the Norway Cup.
Youth Football – The Norway Cup
It takes place each year in Oslo, mainly up on the vast sporting complex at Ekeberg, but also on grounds in Rustad, Furuset and Abildsø. It has some 1,400 teams (from Under 11s to Under 19s – both boys and girls teams), 30,000 participants and 400 referees coming from all over the world to participate in an event that lasts during the whole of the last week of July.
As a result of enjoying the week immensely – I have been going back every year since 1999 – and I now fulfill the task of overseeing the UK group of 50 or so Referees who attend each year.
For most small Norwegian teams this is the highlight of their youth season, with a chance to pit themselves against some very good foreign and domestic teams, and just to have a good time. The main finals are covered live on TV2 at the end of the week, and a half hour early evening highlights programme is also shown by TV2. One of Norway's biggest daily papers, Dagbladet also devotes several pages daily during the week to cover the tournament.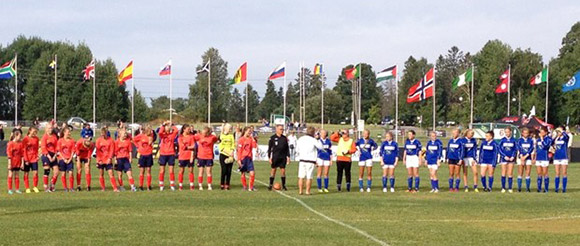 As a result of talking to several colleagues in Oslo, and after leaving my last major job with a hefty wedge of cash I decided to take the plunge and try to move to Oslo in 2009. Sadly it didn't come off totally how I wanted – with some problems back in England I had to return after a few months there. However during that time I got a taste of lower league Norwegian football first hand.
I got a letter of recommendation from the English FA to send to the Oslo Football Association to allow me to officiate in football in Norway. As with most facets of Norwegian life – the whole procedure to get registered and out on games was efficient to the extreme. Within about 2 weeks of obtaining the paperwork, I was on the system and was assigned a few games to referee.
The main differences between English and Norwegian football are quite marked. In England, referees are members of the local County Football Association. In Norway – you are members of a football club. If you've watched any domestic games on TV in Norway – then you will have noticed that when they show who the referee is before kickoff – the club of which they are a member always follows their name. I myself am a member of a club called FC Dania – which was setup for Danish ex-pats working and living in Oslo to come together to play football.
The other main difference was in the way I was given games. In England, you get a list of fixtures a month in advance by email (although until a couple of years ago it used to be by normal post). In Norway we get access to a computer system called "FIKS" – which lists all games you get given for the whole season, in one go. If officials are unavailable for some reason then their games are put into a central holding pool on the computer system – which then allows other referees who are available to pick up these spare fixtures.
The Norwegian Football Pyramid
Back to the actual football itself. The Tippeligaen (Premier Division) and the Adeccoligaen (the Norwegian equivalent of the Coca Cola Championship) football is run on a national basis. The next two divisions (the Fair Play Ligaen and the 3rd Divisjon) are run on Regional lines.
There are 56 teams in the Fair Play Ligaen divided into four groups, and at the end of the season the winner of each group earns promotion to the second highest league, Adeccoligaen. The bottom three teams in each group are relegated to the Third Division. The Fair Play Ligaen is the highest league a reserve team can participate in, and only reserve teams from the Tippeligaen clubs (first tier) are allowed to enter.
The 3rd Division has 12 parallel sections, and the winner of each is promoted to the Second Division. Ten sections consist of 14 teams each, from the South of Norway, the last two sections consist of 12 teams each, from the North of Norway (the counties Nordland, Troms and Finnmark). In the sections with 14 teams, the bottom three teams are relegated to the Fourth Division, and in the two sections with 12 teams each; the bottom two teams are relegated
Reserve teams of clubs from the two top divisions can participate in the Third Division. Reserve teams of clubs from the Adeccoligaen cannot play in the Second Division, and so cannot be promoted from the Third Division.
From there downward – Divisions 4 through to Divisions 8 are the English equivalent of the County Football Leagues and are administered by the various regional football associations.
I normally operate as a referee on Division 6 and below and run the line as an Assistant Referee on Divisions 4 and 5.
Most teams in Norway follow the German system of being part of a multi-sport organization, which lends itself well to efficient running and decent facilities. Almost every club now has both grass pitches and 3G Artificial Turf – which is a godsend in the colder autumn and winter months!
Lower down the system the amount of volunteers who help out to make sure these teams run efficiently is a breath of fresh air compared to some English clubs you encounter lower down the system. Respect for referees and their opponents took some getting used to at first – I found it akin to being like we see in Rugby Union.
Games locally from the 4th Division downwards take place on all-nights during the week – mainly not to conflict with English football on Saturdays or the Tippeligaen and Adeccoligaen games on Sunday – as those who work and play lower down normally then go and watch their senior local clubs at the weekend. Normally, if you so wish, you can just about find some form of live domestic football to watch every night of the week. Indeed some clubs at 4th and 5th Division Level can get a couple of hundred spectators watching them.
The professional game
Turning to the Tippeligaen and Adeccoligaen. Over the past few years, the popularity of these leagues has grown significantly. The standard of play generally is pretty good – and the fact that you can watch just about any Tippeligaen game on "free-to-air" TV or via the Internet (I subscribe to a package that TV2 offer via their website and iPhone apps that allows me to watch any Tippeligaen or Women's Premier League game live from the UK) is another reason that interest has grown over the last few years.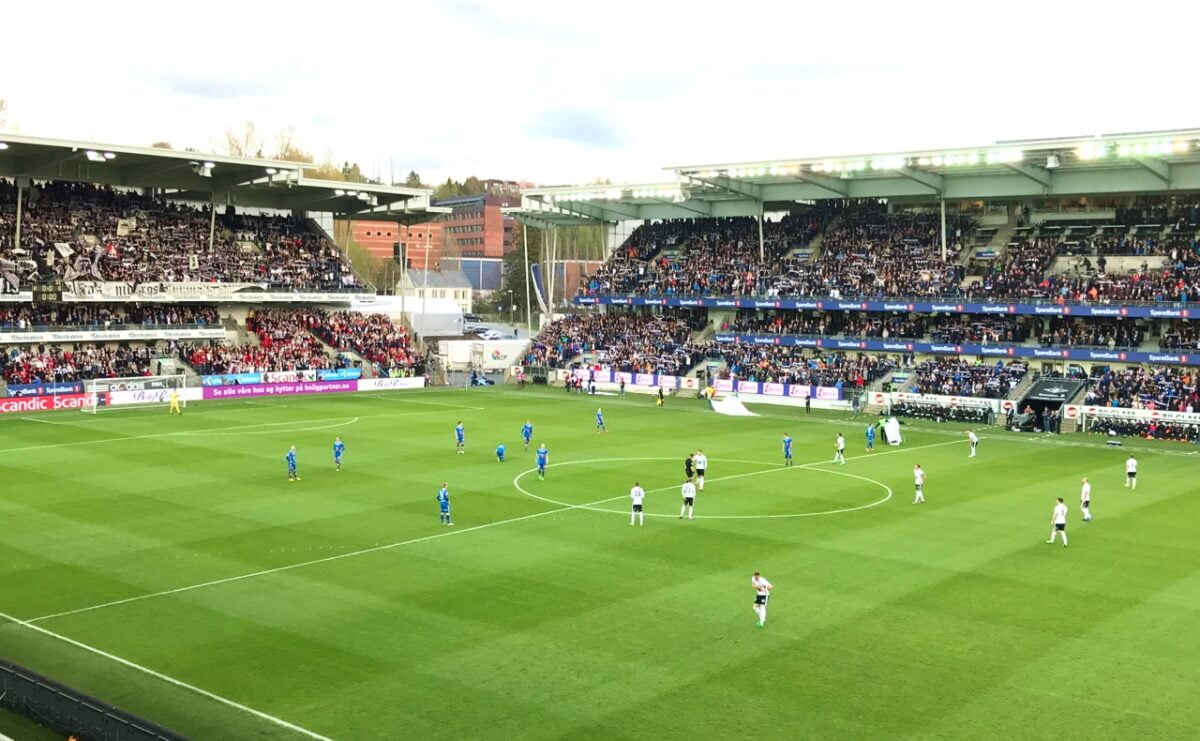 Games in the Adeccoligaen normally only get an average crowd of 3,000 to 4,000 spectators – mainly due to the stadia used being on the small side – akin to those found at English League 2 level.
Tippeligaen attendances are a different story. In 1986 – over a 132 game season, the average crowd was just over 3,000. In 2000 – it had grown to just under 6,000 over a 182 game season. In 2007 – interest peaked with an average of 10,473 people attending games in the top division. Over the past couple of years attendances have stabilized to around 9,000 people going to one of the 240 games played in a season.
Several teams have moved to new stadia or significantly upgraded their facilities in a quest to provide a more pleasing product to new fans.
Interest is starting to pick up again with the Norwegian Football Federation having started to release some guidelines to clubs in connection with the marketing side of things. Facilities are getting better year on year, which in turn will attract better standard of players, and as a consequence of that, more crowds turning up to watch these games.
Personally – I'm of the opinion that Norwegian Football at all levels has a bright and sustainable future – it's not all doom and gloom!