Both Oslo and Bergen are good choices for a city break when visiting Norway. Here's what to expect in both cities and how to choose between them.
Norway's two biggest cities Oslo and Bergen offer unique and diverse experiences, from their rich cultural heritage to their outdoor experiences. There are plenty of things to do in both places.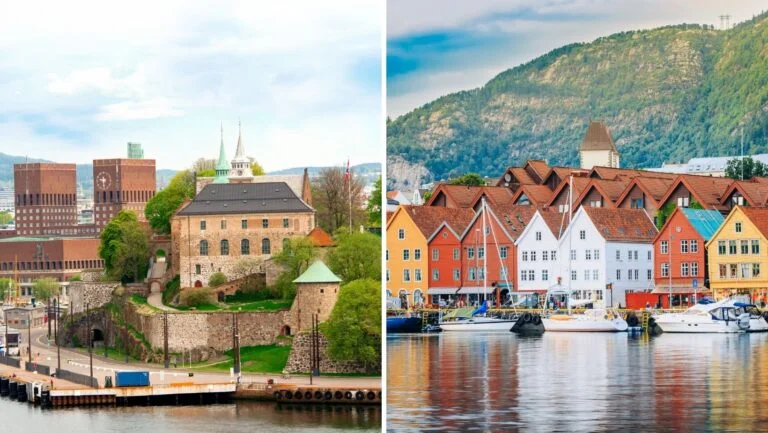 If you're planning a trip to Norway and can't decide between these two destinations, we'll help you decide. Discover what sets each city apart, from their food, art, and entertainment scenes to the best outdoor activities and sights.
Let's start by taking a general overview of both cities. We'll begin with the capital.
An introduction to Oslo
Oslo is one of Europe's fastest growing capital cities and offers a growing list of cultural attractions.
The combination of historic buildings, emerging art destinations, comfortable accommodations, and modern architecture attracts a diverse range of travellers to Norway's dynamic capital city.
A city full of surprises to first-time visitors, Oslo is a much more cosmopolitan place than any other Norwegian city. One in three residents were born outside of Norway, so mosques, temples, and a diverse array of food and shopping options are a common sight just steps from the more typical downtown fare.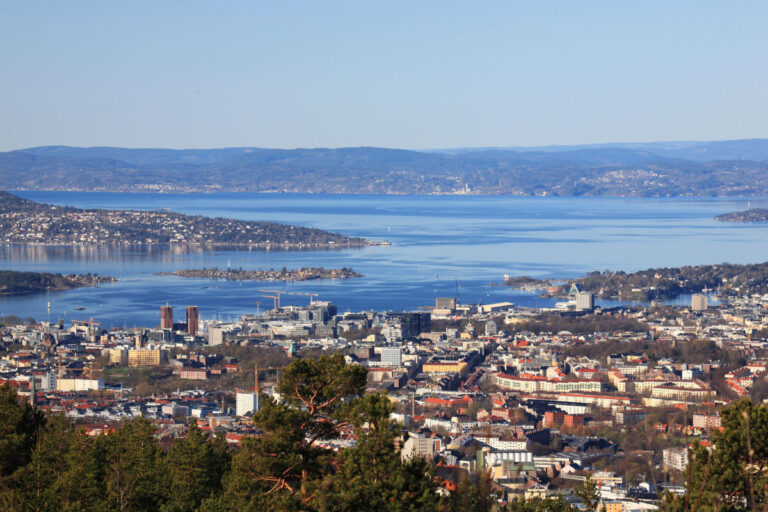 Many visitors are surprised at Oslo's proximity to the great outdoors, offering more recreational opportunities than perhaps any other city of its size in the world.
An extended stay in Oslo puts you within easy reach of great cities such as historic Fredrikstad or sporty Lillehammer, both worthy of a day trip if you'll be staying more than a couple days in Oslo.
Oslo in numbers
The population of Oslo has just topped 700,000 for the first time, according to Norway's official population statistics. Oslo is projected to reach 742,133 residents by 2030 and 809,155 by 2050.
An introduction to Bergen
Bergen has long been a magnet for Norway's artists, musicians, and creatives. As such, a fierce cultural rivalry exists between residents of Oslo and Bergen, something you'll quickly discover when striking up a conversation with a local.
Central Bergen gets uncomfortably crowded during the summer when multiple cruise ships unload thousands of American, British, and German tourists to the Bryggen Hanseatic wharf every day.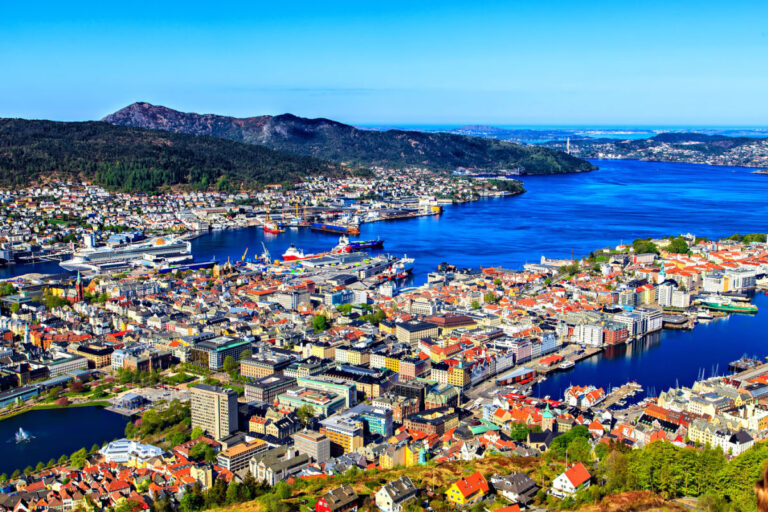 As such, daytimes are best spent exploring the city's rich cultural attractions beyond the wharf, such as the outstanding Bergen Art Museum or the fairy-tale Fantoft Stave Church, one of the few easily accessible stave churches in the country.
As the biggest city along the vast west Norwegian coast, Bergen is the perfect start or end point for exploring the fjords, with or without a car. Fast ferries leave for the fjords daily, while a rail trip on the famed Bergen Line connects with the magnificent Flåm Railway and a boat tour of the UNESCO-listed Nærøyfjord.
Bergen in numbers
The population of Bergen was 288,841 at the end of 2022, according to Norway's official population statistics. Bergen is projected to reach 300,000 residents by 2030.
Museums
Both cities host a range of museums showcasing the cultural heritage and history of Norway. However, there are differences. Oslo has a strong focus on art and design, while Bergen focuses more on maritime and trade.
Top museums in Oslo
The capital has taken huge strides forward in the world of art and design in recent years. The new National Museum and new Munch Museum have placed Oslo on the global art map like never before.
The National Museum is truly vast and you should plan to spend at least half a day if you want to explore it fully. Paintings dominate, but there's also plenty of sculptures, design exhibitions and other art installations to enjoy.
Over on the Bygdøy peninsula, the Norwegian Museum of Cultural History, Fram Museum and Kon-Tiki Museum are all of great interest to international visitors. The latter two provide fascinating deep-dives into the era of exploration.
Top museums in Bergen
No tour of Bryggen is complete without a visit to Bryggens Museum to gain more insight into the area's trade and maritime history. The permanent exhibition reveals the archaeological discoveries from the 1950s dig that saved the district.
It's worth setting aside several hours to explore the several buildings of KODE Art Museum. Art history from around the world is on display including greats such as Picasso and Miró. Works from the Norwegian romantic era feature heavily, including the colourful fjord landscapes of Nikolai Astrup.
Archaeological discoveries from the 5th century sit alongside models of more well-known discoveries from the Oslofjord area at Bergen's maritime museum. Elsewhere, Gamle Bergen museum is an open-air museum providing an insight into old Bergen.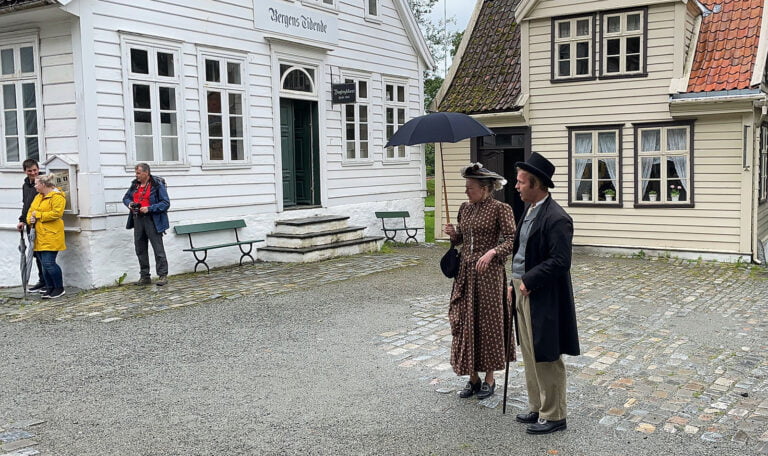 Each city has a major museum currently under substantial renovation. In Oslo, the popular Viking Ship museum is set to reopen in 2025 as the much larger Museum of the Viking Age. In Bergen, the Hanseatic museum will reopen in 2026, although a temporary exhibition is available in the Hanseatic assembly hall.
Other attractions
Not into museums? No worries! There's plenty of other things to do in both cities.
Things to do in Oslo
One of the most famous tourist attractions in Scandinavia is the quirky Vigeland Sculpture Park. Located a short metro or tram ride from downtown Oslo, the park contains the life's work of Norwegian sculptor Gustav Vigeland.
Vigeland's impressive work includes more than 200 sculptures in bronze and granite. Many of the sculptures are of humans of all ages in various states of joy or distress.
Towering over the city, the new Holmenkollen ski jump has been an icon of Oslo since it opened in 2010. Visiting the ski jump can be as simple as walking around and admiring the architecture, or visiting the ski museum and taking the lift up to the top of the tower for a sensational view over the city.
Oslo Opera House is a great place to start your exploration of the rapidly developing waterfront area. The award-winning sloped architecture allows visitors to walk right up to the top of the roof.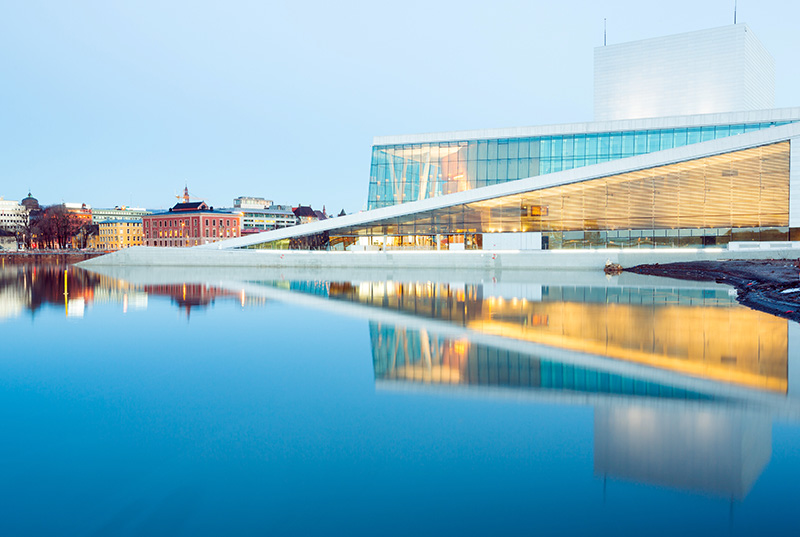 From the roof, you'll see some of the popular urban sauna facilities that have sprung up over the past few years. Do as the locals do: heat yourself up beside the coals before cooling off in the fjord.
For a walk through Oslo's industrial history take a stroll along the five-mile-long Akerselva river. The riverside trails are popular with dog walkers and cyclists, and people taking a shortcut to popular areas like the vintage of boutiques and quirky cafes of Grünerløkka.
Things to do in Bergen
The most popular starting point for tourists visiting Bergen is the UNESCO World Heritage site Bryggen. I mentioned the museums earlier, but the district is best enjoyed by simply wandering. Don't miss the boutiques hidden down the narrow alleyways between the buildings.
The Fløibanen funicular is a supremely popular transport option for both locals and tourists. The panoramic view of the city from the top is simply fantastic. Many locals dine at the restaurant or go out on hikes from the many trailheads.
A short ride on the light rail system followed by a ten-minute walk brings you to Fantoft Stave Church. This remarkable building is actually a reconstruction of the original, which had been moved here piece-by-piece from rural Norway in the 19th century to prevent its destruction.
Sadly, the church was destroyed in an infamous arson attack in 1992. Five years later, the church was rebuilt as close as possible to original specifications. Planks, columns and supports were dovetailed or pegged together.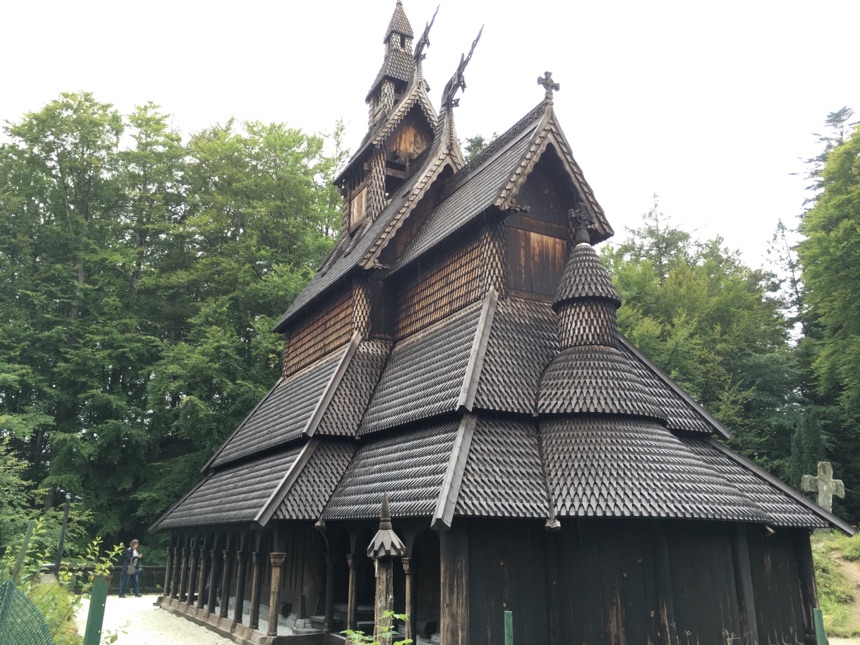 Other popular things to do in Bergen is to visit the Fish Market or take a walk down to Bergen Aquarium. The cable car is a popular alternative to the funicular.
Hiking
As with all Norwegian cities, there are fantastic opportunities for enjoying nature in both Oslo and Bergen.
Despite a population of well under a million, Oslo is surrounded by water and forest, so in the summer there are awesome hiking, biking, and boating opportunities, while in the winter you are never more than a 20-minute metro ride from a cross-country ski trail.
The best places for hiking in Oslo include the Nordmarka forest and the Akerselva river. Sognsvann lake is a good choice for a simpler walk. The lake is accessible on the metro and the trail around the lake is a comfortable 3.3.km.
In Bergen, the mountains surrounding the city provide almost endless amounts of hiking options. Many locals start by taking the Fløibanen funicular or the cable car. Many hiking trails begin from the top of both transport options.
Accommodation
There are great accommodation options at both ends of the scale in both cities. Neither city is cheap, but there are options that are better on the budget.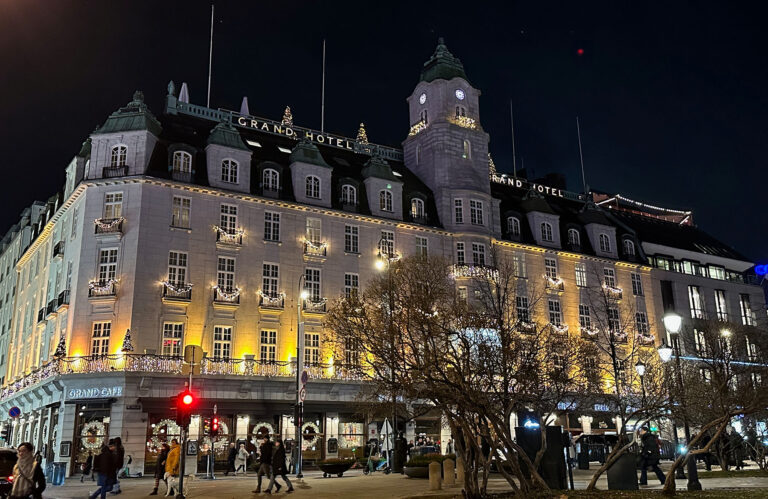 In Oslo, the Grand Hotel is a popular luxury destination at the heart of the city. The Thief at Tjuvholmen and the recently-opened Sommerro Hotel in Frogner are other luxury options.
At the budget end, Oslo offers simple hotels such as the Anker Hotel, Cochs Pension and Citybox Oslo. If you just want a bed for the night, these are all good options.
In Bergen, the recently-restored Hotel Norge is a jewel at the heart of the city. Elsewhere, the Radisson Blu Royal Hotel is a good option for those wanting to stay in the Bryggen district. At the lower end of the price scale, Citybox run several simple budget-friendly hotels.
Dining options
Unsurprising considering their size, Oslo and Bergen have more dining options than any other Norwegian cities. At the highest end, Oslo has a clear advantage with many restaurants recommended in the most recent Michelin Guide.
Maaemo has the rare honour of three Michelin stars. Hot Shop, Hyde, Kontrast, Schlägergården and Statholdergaarden also received a Michelin star.
Known for its biodynamic, organic and wild ingredients, Maaemo has firmly established itself over the last decade as Norway's best restaurant. The Michelin Guide Nordic described an evening there as an "exceptional dining experience."
Two restaurants in Bergen received a Michelin star. Located in the Bergen Børs Hotel, Bare offers "wonderfully seasonal Norwegian ingredients" used in "bold, adventurous dishes" according to the Guide. Meanwhile, Lysverket was awarded a star for its "intelligently crafted, balanced dishes" that "burst with flavour."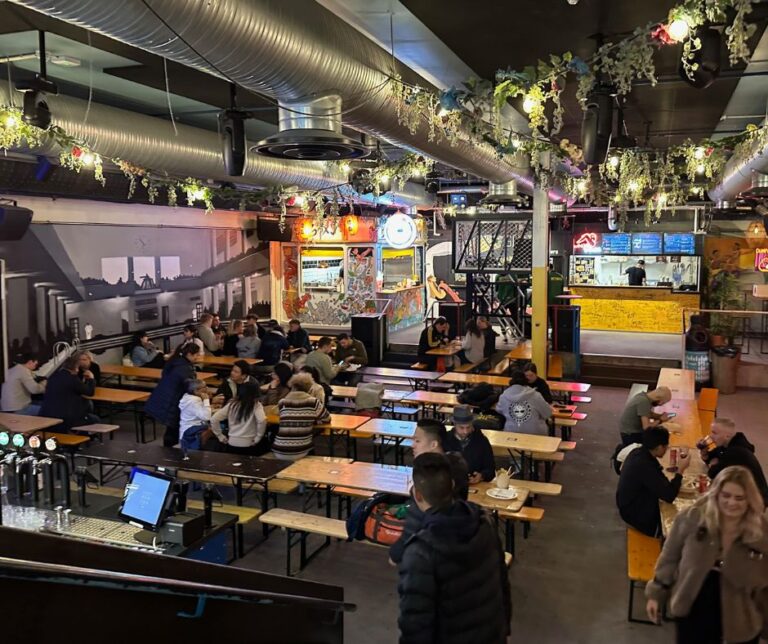 Street food is popular in both cities too. In the capital, Oslo Street Food, Vippa and Mathallen are three popular food halls with varying concepts. Bergen's fish market is a popular place to grab a quick bite.
Weather
Separated by a massive mountain range, Oslo and Bergen can experience drastically different weather on the same day. While Oslo is increasingly known for warm summers and cold winters, the weather in Bergen tends to be milder and wetter.
The weather in Oslo
In winter, snowfall around the city is common from December through to March. The average highs of 0C in December dip down to -2 in January and February, but it gets colder at night.
In summer, there are average highs of 19-22C and lows of 10-13C. Recent years have seen days of 25C+ become more common. Precipitation is pretty constant throughout the year. On average it rains or snows on about 15 days per month, but it's light on many of these days.
Read more: The Weather in Oslo
The weather in Bergen
Let's start out by addressing the issue of rain, or precipitation, to be more specific. On average, Bergen 'enjoys' 239 rainy days of the 365 days of the year. That makes it one of Europe's rainiest places.
Of course, that doesn't mean it's going to be pouring with rain all day on those days. Nevertheless, it's a good idea to take a rain jacket no matter the season.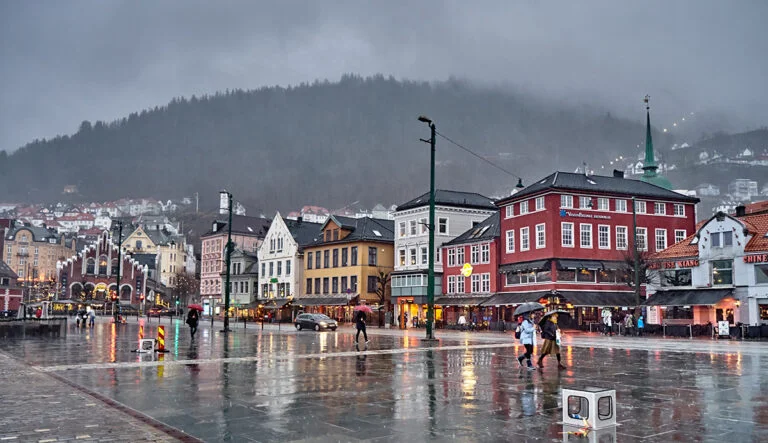 Winters in Bergen are milder than you may think, with average temperatures above freezing throughout the season. Summers are mild too. The average in July and August hovers around 15C, although days above 20C are common.
Read more: The Weather in Bergen
Transport
Neither city is well suited for driving as a tourist. Parking is extremely expensive and can be difficult to find. Both cities have good public transport options, especially Oslo.
Public transport in Oslo includes local trains, the metro (T-Bane), trams, buses and even local ferries. All popular tourist attractions can be accessed via public transport, including the Nordmarka forest.
This makes the purchase of a day or week-long ticket a good idea when visiting Oslo. You'll likely get good value from it. Depending on your plans, you could also consider the Oslo Pass which adds on entry to many attractions.
In Bergen, the light rail system (Bybanen) has recently expanded. You can take the light rail from the airport all the way into the city. The light rail is also useful for visiting Fantoft Stave Church and the cable car.
The rest of the city is covered by a comprehensive bus network. However, many of the tourist destinations in downtown Bergen are walkable as the city centre is relatively compact.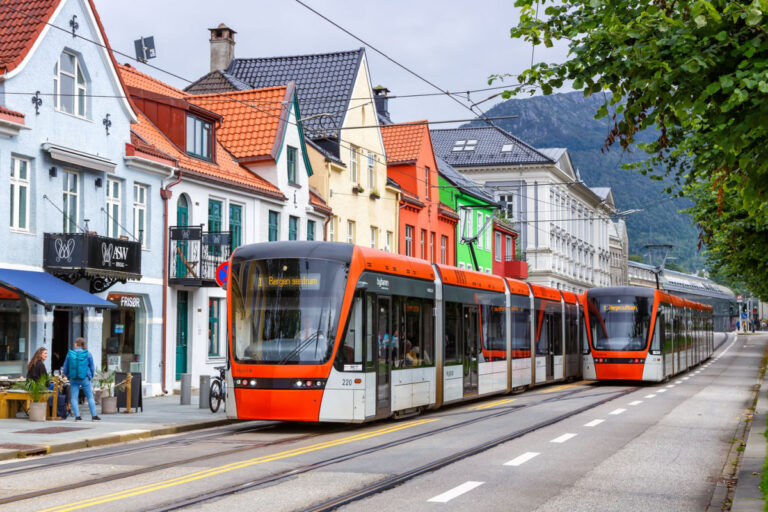 Fares in the two cities are similar. A single ticket costs NOK 40 in both cities. A 24-hour ticket in Oslo costs NOK 121 compared to NOK 105 in Bergen, while a 7-day ticket is notably cheaper in Bergen (NOK 235) than in Oslo (NOK 335).
For Oslo, you can find out more about transport at Ruter. For Bergen, head to Skyss.
Should you choose Oslo or Bergen?
The answer is, of course, it depends! The point of this post wasn't to pick a winner, but to compare and contrast the two popular cities and help you choose the ones that works best for you.
If you have the time, include both cities into your itinerary. How? You could take a road trip over the mountains and through the national parks. Or, if you prefer, a ride on the world-famous Oslo to Bergen railway.
Which city do you prefer? Let us know your thoughts on Oslo and Bergen in the comments.